Andaman Itinerary For 6 Days
Andaman Itinerary For 6 Days
The far-flung archipelago of Andaman & Nicobar Islands consists of 572 islands, out of which only 37 are inhabited. The islands of Nicobar are off-limits to tourists, and we can only visit a few islands in Andaman. Located in the Bay of Bengal off the eastern coast of India, the Andaman Islands are a sight to behold. Sun-kissed beaches, azure waters, exhilarating water activities, intriguing history, and abundant natural beauty are just a few of the reasons to visit this tropical paradise. Additional attractions include spectacular sunsets, limestone caves, mangrove rainforests, and abundant marine life. In fact, it is an excellent destination for scuba divers and snorkelers as it is home to a plethora of vibrant coral and exotic marine life. This itinerary will take you through the most inhabited and exciting areas of the Andaman Islands.
Suggested Andaman Itinerary for 6 Days
Day 1 of Andaman Itinerary: Port Blair
The only way to get to the remote islands is to fly into Port Blair. Direct flights are available from Delhi, Kolkata, Mumbai, and Chennai to Veer Sarvankar International Airport in Port Blair. Check the flights and connectivity before planning your vacation, as the timetable changes randomly. In Port Blair, there isn't much to do. However, Cellular jail should be on your agenda. The Cellular Jail, also known as Kala Pani, was a colonial prison that housed several prominent Indian freedom fighters. The horrifying stories of brutality and depravity are sure to have a sobering effect. There is also a light and sound show in the evening (6 pm-7 pm). If you have time left, you can go to the coconut palm-fringed Corbyn Beach and watch a scenic sunset. Enjoy a leisurely meal and spend the night in Port Blair.
Day 2 of Andaman Itinerary: Havelock and Radhanagar Beach
To get to Havelock (Swaraj Deep Island), you can use a seaplane, a government-operated ferry, or a private ferry. Choose Markuzz Ferries for your ferry transfer since they are spacious and comfortable Catamarans. They offer air conditioning, nice seats, clean restrooms, and a small snack bar. The trip will take about 1.5 hours and will cost close to Rs1400 ($20) one way. If you can't get tickets in Markuzz, you'll have to use Green Ocean Ferries, Aashi, Sea Link, or government-operated boats, which are cheaper but have subpar facilities and may take longer.
During this trip, we plan to spend as much time as possible on Havelock Island, which is noted for its clean beaches, lush green forests, and rich underwater treasure. Take the morning ferry (departs from Haddo Jetty) to Havelock and get off at Swaraj Deep Jetty. To get to your hotel, you'll need to take a taxi/auto from there. Check into your hotel and spend the rest of the day at Radhanagar Beach. The secluded beach is located on the western coast of Havelock Island. The Radhanagar Beach (Beach 7) is ranked among Asia's top ten most gorgeous beaches, and you'll see why when you visit. The crescent-shaped beach spans 2 kilometers and has an average width of 30 to 40 meters.  Velvety sand, excellent waves, emerald waters, picturesque sunset, and scarce crowds make this beach a perfect place to relax and enjoy. There are no water sports on the beach. Taj Exotica Resort & Spa is a 1-minute walk from the famed beach. If you can afford the upscale resort, go for it. 
Day 3 of Andaman Itinerary: Elephant Beach, Havelock
Today we are going to visit Elephant Beach. A small cruise boat will take you to Elephant Beach from the Swaraj Deep Jetty in less than 30 minutes. The round-trip ferry would cost Rs1000 ($14) per person. It leaves you there for three hours, and you are free to do whatever you choose during that time. The same jetty will bring you back after the allotted time.  Another way to reach Elephant Beach is by trekking. The trail begins at the Forest Camp, which is located 8 kilometers from the jetty. Because the trail runs through dense rainforests, it is recommended that you bring an escort with you on the one-hour trek. You can get a guide for 500 rupees (USD 8). The guide will accompany you to Elephant Beach, assist you while you are there, and bring you back to the Forest Camp. Keep in mind that if you go trekking, you must return the same way you came. You will not be able to go back on the ferry.
Havelock's Elephant Beach is a great place to go snorkeling. The crystal-clear water, rich coral reef formations, and amazing marine life near the coast provide for an unforgettable snorkeling experience. You're going to have the time of your life if you love water activities. There's Jet skiing, banana boats, an underwater sea walk, parasailing, and a slew of other water activities. Except for snorkeling (Rs1500) and parasailing (Rs3250), most of the activities cost Rs600. Elephant Beach is quite crowded and extensively commercialized. If you are not interested in water sports, you can skip going there and spend the day at other beaches such as Beach 2, 3, and 7. The last boat leaves Elephant Beach by 3 p.m. The rest of the day is free for you to do whatever you choose. If you're in the mood to venture out again, Beach 2 and 3 have some nice restaurants and beach shacks.
PS: If you want to do scuba diving in Havelock, arrange a morning excursion so you can return in time to explore Elephant Beach. Scuba diving will take around two hours to complete. The diving establishments are located at Govindnagar Beach No. 2, which is quite close to the Jetty. Keep in mind that the last ferry to Elephant Beach departs from the jetty at noon and make your plans accordingly. You'll have a long day ahead of you, but scuba diving in Havelock is highly recommended.
 Day 4 of Andaman Itinerary:  Neil Island
Today we are going to leave for Neil Island (Shaheed Dweep). The Markuzz ferry from Havelock Jetty to Neil Island Jetty leaves at 10 a.m. and takes one hour. Neil Island is smaller than Havelock and has laid-back vibes. The island was inhabited only in the 1960s and has been slowly rising on the popularity charts due to its unexplored coral reefs, picturesque beaches, amazing biodiversity, and lush forests. There are three main beaches in Neil Islands – Sitapur Beach, Bharatpur Beach, and Laxmanpur Beach. Nestled between tropical forests and clear turquoise seas, the beaches look spectacular. Each one of them has its own charm.
The sea around Bharatpur Beach is full of corals and schools of fish. It is the only place in the Neil Islands where you can enjoy water sports. However, snorkeling and scuba diving can be enjoyed on all three beaches. Sitapur Beach is also called "Sunrise Beach" as it offers spectacular sunrise views in the morning. The beach is known for its limestone formations. Laxmanpur Beach is a broad spur of white shell sand and you can find an abundance of corals and shells in the shallow, clear waters. The Natural Bridge, also called Howrah Bridge by the locals, is the highlight of Laxmanpur Beach. The bridge is made of natural rock formations. Most of the resorts on Neil Island are located on Bharatpur Beach. Stay overnight on Neil Island.
PS: You can go to Kalapathar Beach early in the morning before leaving for Neil Island to see a breathtaking sunrise. The beach is located on the southern side of Havelock and is approximately 6.5 kilometers from the jetty. It is easily accessible by car, taxi, or bike.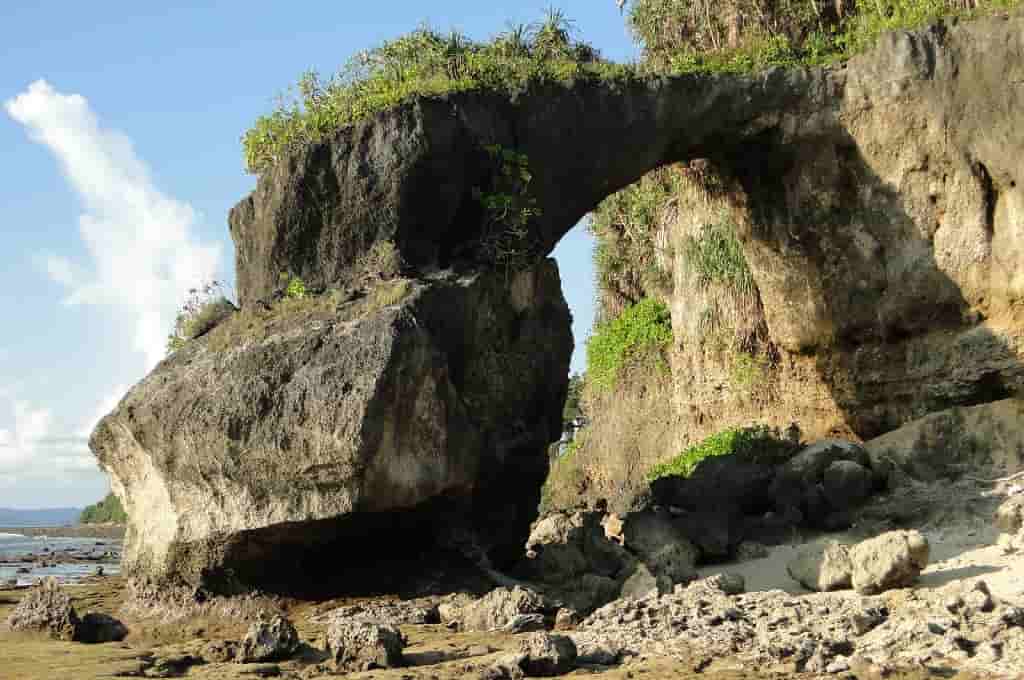 Day 5 of Andaman Itinerary: Port Blair and Ross Island
It is now time to return to Port Blair. The Markuzz Ferry, which runs from Neil to Port Blair, departs at 11:30 a.m. and takes one hour. On reaching Port Blair, we are going to visit Ross Island. The tiny island is only a kilometer from Port Blair and is easily accessible through a 15-minute boat ride from the Aberdeen jetty. The island closes at 3 p.m. for day visitors, so plan ahead. You can still visit the island if you don't get there in time for the last boat. Ferries depart at 4 p.m. for the light and sound display, which begins at 5:30 p.m. Tickets must be purchased three days in advance. Ross Island is closed on Wednesdays.
For nearly a century, Ross Island served as the administrative headquarters for the Indian Penal Settlement. It had all the modern comforts procured by the Britishers until an earthquake struck the island in 1942. The ruins of a church, a bakery, a museum, a jail, a cemetery, and several other structures are scattered all over the island. Ross Island (recently named Netaji Subhash Chandra Bose Island) exudes a rustic and one-of-a-kind charm.  What impresses you the most is the myriad flora and fauna that can be found on the serene island. It is home to deer, peacocks, and a variety of other birds. The trees have reclaimed the island and wrapped their roots around the crumbling ruins, creating an eerie and intriguing sight. There are no cars allowed on the island, but you can explore the island in a golf cart if you don't want to walk. Return to Port Blair for dinner and a night's stay.
Day 6 of Andaman Itinerary: Fly Back
The flight to your next destination would most likely depart in the morning. Pack your belongings and head to the airport. It's time to say goodbye to the Andamans.
PS: If you have an extra day, you can plan a visit to Baratang Island. However, be prepared for a long and exhausting day. I felt that it was not worth going to Baratang Island. 
Things to know before visiting Andamans
The best time to visit Andamans is between

November

and March. The months of April and May can be quite warm, particularly in the afternoons. The weather begins to heat up and become humid in the following months. The monsoon season is from June to

September

, and it is better to avoid that season. March to June – 22°C to 33°C, June to September – 27°C to 30°C, October to Feb – 20°C to 30°C
Although the islands are in the same time zone as Bangkok, they follow Indian Standard Time. As a result, the day begins very early. Go to bed on time so that you can wake up early to make the most of the light.
Ferries must be reserved in advance because they are the sole way to travel between islands. All your carefully laid-out plans will go haywire if you can't find a suitable ferry.
Only private ferries can be booked online and in advance. Government ferry tickets can only be purchased at the counter two days before the trip.
Boarding closes approximately 20 minutes before departure. Before that, you have to get your luggage scanned and your tickets verified.
Bring sunscreen, sunglasses, caps, an umbrella, flip-flops, a swimsuit, cover-ups, and mosquito repellent with you.
The locals are straightforward, honest, and trustworthy.
Getting

vegetarian

food is not a problem in Andamans.
The mobile network is extremely patchy, with no connectivity on smaller islands. For a stable connection, you need to rely on the hotel's WIFI. The WIFI is sometimes only accessible in the hotel's lobby.
Big

hotels

accept cards, but you'll need cash for cabs, small eateries, tickets, and a variety of other small transactions. Payments with Digital Wallets are also accepted in many places.
Although there is no Uber or Ola in the Andamans, taxis are easily available. They usually have a set fare for each route and don't bargain much. You will be offered package deals by most of the taxi drivers you come across.
Auto rickshaws are easily accessible on all Andaman Islands. Because the distances are short, it makes sense to choose this less expensive method of transportation.
Most beaches close at 5 p.m., and this is strictly enforced by the lifeguards patrolling the beaches.
If you are daring enough to kayak through the mangroves at night in Havelock, you will be able to view the bioluminescent plankton that makes the water shimmer every time the paddle dips in the water. The waters are said to be home to a few crocodiles, so go at your own risk.
Foreign visitors to the Andaman Islands are no longer required to get a "Restricted Area Permit" as of July 2018. Foreign visitors with a valid Indian tourist visa can now visit the Andaman Islands and stay for the duration of their visa.
Onge, Jarawa, Sentinelese, and Andamanese are the four tribes that live on Andaman. They can be fiercely hostile. Do not make interaction with tribals. It is strictly prohibited by the Indian government and is a punishable offense. This is the most effective way to cut off them from the modern world and allow them to carry on with their age-old traditions.
PC: Omna Harjani
Subscribe to Our Newsletter