15 Best Luxury Honeymoon Destinations in the World
Luxury Honeymoon Destinations in the World
After months of stressful wedding planning and a week of frantic wedding celebrations, a newlywed couple needs time to cherish their new relationship and strengthen their marriage vows. And a honeymoon is the perfect way to unwind, relax, and spend quality time together away from distractions. This is a once-in-a-lifetime trip, and you should not make any compromises. So, if you have the means, treat yourself to a luxury honeymoon. An exotic location with extravagant resorts, rare experiences, gourmet food, wine, and spa options are what make a honeymoon luxurious.
Planning the trip is an incredible experience and an opportunity to include some special touches. There is no shortage of romantic destinations around the world to begin the next chapter of your life and make lasting memories. But first, it is vital to decide what type of vacation you are planning, as this will help you choose your honeymoon destination. The possibilities are endless: tranquil sandy beaches, snow-covered mountains, a cultural quest, a wildlife safari, or a gastronomical adventure. Choose a location that celebrates your bond and caters to both of your preferences. Need some inspiration to get started? Here are the top 15 most unique honeymoon destinations to consider if luxury and romance are your priorities.
1). Bora-Bora, French Polynesia
Bora Bora, also known as the playground for the rich and famous, is undeniably one of the best luxury honeymoon destinations in the world. The tropical destination is expensive and should only be considered if you are in for a big splurge. Bora Bora will enchant you with its out-of-this-world landscapes. There's everything you need for a relaxing beach vacation in the lap of luxury: pristine sandy beaches, aquamarine lagoons, soaring volcanic peaks, protected coral reefs, thriving marine life, and intimate water excursions. The glamorous overwater villas that encircle the islands are the icing on the cake for your extravagant honeymoon.
Places to Visit in Bora Bora: Matira Beach, Coral Gardens, 4*4 Excursions, Mount Otemanu, Lagoonarium, Leopard Rays Trench
Best Luxury Resorts: St. Regis, Pearl Beach Resort, The Conard, Four Seasons Resort, Intercontinental, Le Meridien, Sofitel, Maitai Polynesia, Blue Haven
Recommended: 3-4 Days
Best Time to Go: April-November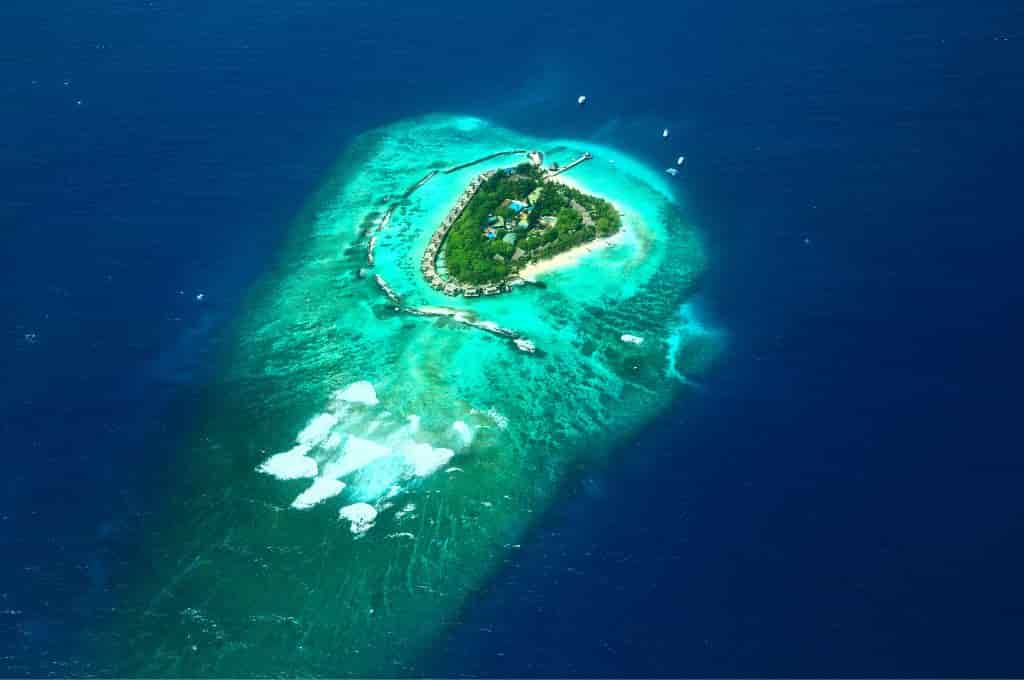 2).  Maldives, Indian Ocean
You've probably seen photos of picture-perfect overwater villas suspended over crystalline waters, turquoise lagoons, and miles of sandy beaches. The Maldives is an ultimate desert island paradise that attracts honeymooners from all over the world. The beauty of the remote Indian Ocean island chain must be seen to be believed. The spectacular resorts are located on private islands and offer extravagant services and amenities. There are no 'popular landmarks' to check off the list. Relax in hammocks in your over-water villas, watch spectacular sunsets fade into the horizon, have candlelit dinners on your own private beach, and enjoy relaxing spa treatments. Given that this region is home to 5% of the world's reefs, snorkeling, and scuba diving must be on the agenda.
Best Luxury Resorts: Six Senses Laamu, Per Aquum Resort, Jaoli, Sonava Jani, Maalifushi, Gili Lankanfushi, Four Seasons Resort, Anantara Kilavah, Huvafen Fushi, St. Regis, One & Only, Waldorf Astoria, Ozen Reserve Bolifushi, VARU by Atmosphere, and so many more
Recommended Duration: 3-4 Days
Best Time to Go: December-April
3).  Hawaii, USA
If you want to spend a luxurious honeymoon in the United States, the volcanic archipelago of Hawaii should be at the top of your list. Infinite beaches, craggy shores, active volcanoes, lush rain forests, and dramatic landscapes make Hawaii one of the most-loved vacation spots for newlyweds. You can easily spend 6-7 days on the beautiful islands. Enjoy water sports in the dolphin-rich waters, go whale watching, indulge in stargazing on the stunning beaches, and take a helicopter ride for panoramic views. If you're looking for something more, the impressive wildlife and fascinating culture and history will not disappoint. The laid-back vibes and never-ending culinary options add to the fun factor.
Places to Visit in Hawaii: Maui, Honolulu, Molokai, Oahu, Kauai
Best Luxury Resorts: Hilton Hawaiian Village Waiki Beach Resort, Hyatt Regency Maui Resort & Spa, Sheraton Kauai Resort, Wailea, Maui Resort & Spa, Halepinna Waikki, Four Season Resort, Maui, Prince Waikiki, Ritz Carlton Residences,
Recommended Duration: 6-7 Days
Best Time to Go: April-November
4).  Greek Islands, Europe
The breathtaking Greek Islands are an excellent luxury honeymoon destination if your wedding is in the summer. The white-terraced villas, blue-domed churches, black-sand beaches, dreamy sunsets, the dramatic volcanic caldera, and ultra-romantic hotels make Santorini a magical getaway for a post-nuptial holiday. Mykonos is ideal for partygoers. The charming fishing town is known for its friendly atmosphere, crazy nightlife, and wild beach parties. If you don't feel like partying, there are sun-kissed beaches, art galleries, artisan stores, quaint cafes, iconic windmills, and white-washed monasteries to visit. Other islands like Crete, Paros, Naxos, Zakynthos, Corfu, and others can be explored if you have the time and inclination.
Places to Visit in Greece: Santorini, Mykonos, Zakynthos, Crete, Paros, Naxos
Best Luxury Resorts in Santorini: Grace Hotel, Perivolas Hotel, Katikies Hotel, Cosmopolitan Suites, Vora Villas, Vedema, Katikies, Mystique, Andronis, Canaves Oia Suites
Best Luxury Resorts in Mykonos: Grace Hotel, San Giorgio, Belvedere Hotel, Santa Marina, Kivotos, Mykonos Grand Hotel & Resort
Recommended Duration: 6-7 Days
Best Time to Go: April-October
5).  Italy, Europe
Italy's old-world charm has made it a favorite among honeymooners. If you decide to visit Italy to wash your post-wedding stress, you will be spoiled for choice. From architectural marvels, ancient Roman ruins, & legendary artworks to sprawling vineyards, mesmerizing coastlines, & delectable cuisine, Italy has it all. You can stay in one city or travel around to different towns. Discover the ruins of Rome, go on a wine tour in Tuscany, take a romantic gondola ride in Venice, admire the picture-perfect villages of Lake Como, learn about the country's culture in Florence, or explore the phenomenal coastline of the Amalfi Coast – this beautiful country has something for everyone. Don't pack too much into your itinerary because Italy and honeymoons are best enjoyed at a leisurely pace.
Best Luxury Resorts in Italy: Aurelia Residence (rome), Papillo Hotels & Resorts (Rome), Sheraton Parco de' Medici (Rome), Santa Caterina (Amalfi), JW Marriott Venice, Hilton Molino Stucky (Venice), Bauer Palazzo (Venice), Ca' Sagredo's (Venice), Filario (Lake Como), Casta Diva (lake Como),  Villa d'Este (Lake Como), Grand Hotel Tremezzo (Lake Como), La Sirenuse (Positano), Covo dei Saraceni (Positano), San Pietro di (Positano), Castello banfi – II Borgo (Tuscany), La Pescaia (Tuscany), Castello di Casole (Tuscany)
Recommended Duration: 2 Weeks
Best Time to Go: April-October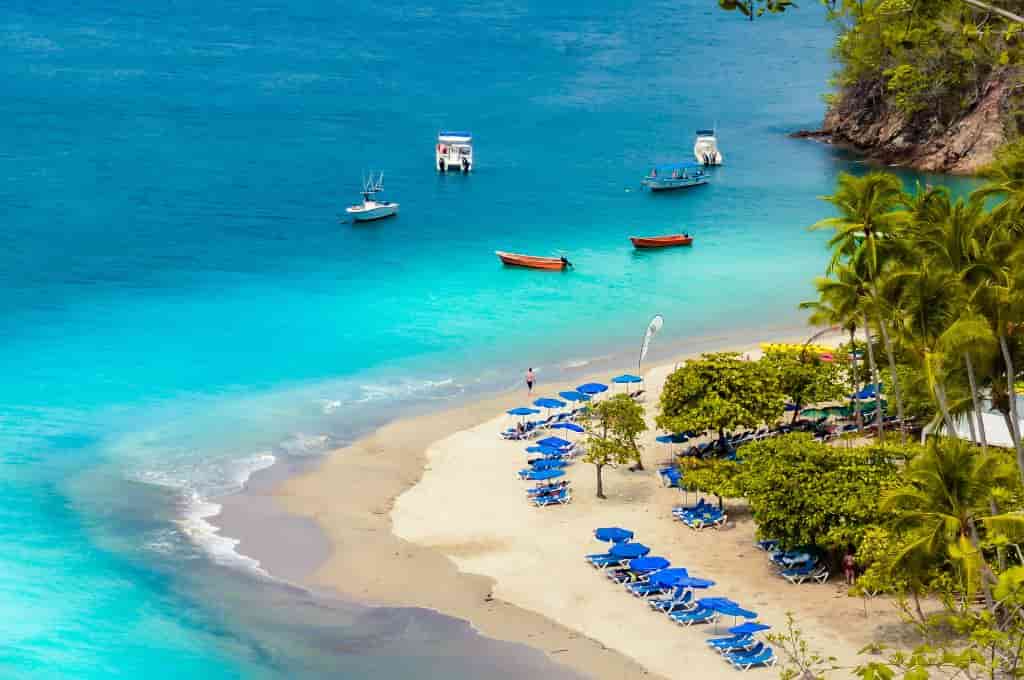 6).  Costa Rica, Central America
Costa Rica has long been a favorite destination for eco-tourists thanks to its misty cloud forests, exotic wildlife, rich biodiversity, and unspoiled surf beaches. Embraced by the Pacific Ocean and the Caribbean Sea, Costa Rica is home to a dizzying variety of cultures, climatic conditions, flora, and landscapes. Peninsula Papagayo, a 1400-acre eco-luxury resort and residential colony in northwest Costa Rica, is a great place to spend your honeymoon. Miles and miles of protected rainforest, sea cliffs, mangrove swamps, and white-sand beaches make the peninsula appear truly magical. If you're looking for adventure, try ziplining through virgin forests, paddling through bioluminescent plankton, or hiking one of the many mountain trails. Otherwise, simply relax by the pool with a glass of wine at your high-end resort and soak in the beauty of your surroundings.
Best Luxury Resorts in Costa Rica: Aguas Claras, Viejo, Kura, Four Seasons Resort, W Resort,  Los Altos Resort and Spa, El Silencio Lodge & Spa, Nantipa, Hacienda AltaGracia, Andaz Peninsula Papagayo
Recommended Duration:
Best Time to Go: December-April
7).  Seychelles, Indian Ocean
Seychelles is another jewel in the Indian Ocean that makes our list. The azure waters, glittering lagoons, palm-fringed beaches, living coral reefs, and the sheer number of exclusive resorts make Seychelles an ultra-romantic destination for newlyweds. The archipelago has a romantic wilderness attached and is less commercialized than the other nearby countries. Seychelles has 115 islands, with Mahe being the largest and busiest. You will find spellbinding allure and a pristine environment on any island you visit. The beauty of the tropical paradise is enough to enchant you, but if you want to do some activities with the most special person by your side, you can always stroll through the virgin rainforests, spot the rich wildlife, enroll in a private yoga class, and enjoy water sports. Take a helicopter ride to Fregate Island Resort for an out-of-this-world experience.
Places to Visit in Seychelles: Mahe Island, Cousine Island, La Digur, Praslin
Best Luxury Resorts in Seychelles: Fregate Island Resort, Constance Ephella, Six Senses Zil Pasyon, Four Seasons Resort, North Island, Denis Private Island, Lapa Rios, Nayara Tented Camp
Recommended Duration: 7-10 Days
Best Time to Go: April-November
8).  Iceland, Europe
Moving away from beaches, let's consider an out-of-the-box honeymoon location: Iceland. Iceland is jaw-dropping in any season. Summer days are endless, and winter nights are preferred for viewing the Northern Lights. The picturesque country is known for its black sand beaches, serene lagoons, remote hinterlands, and hot springs. The Blue Lagoon is a must-see on any Iceland itinerary. It is a geothermal spring tucked between snow-clad mountains. Swim with your spouse in the warm spring water with recuperative properties.  Move around the Golden Circle to see Iceland's finest attractions, including the Gull Foss waterfall, Geysir geothermal area, and Thingvellir National Park. If you enjoy adventure sports, you can climb glaciers, ride snowmobiles, explore ice caves, and go heli-skiing. A trip to Troll Peninsula is also recommended. It is a hinterland of snowy mountains, emerald valleys, and icy waters. Admiring the Northern Lights from Deplar Farm's geothermal pool can be the ultimate romantic experience.
Best Luxury Resorts in Iceland: Silica Hotel, Retreat Hotel (Blue Lagoon), Hotel ION (Reykjavik), UMI Hotel, Edition Hotel, (Reykjavik), Canopy by Hilton Reykjavik City Centre, Alda Hotel (Reykjavik), (Blue Lagoon)
Recommended Duration: 7-10 Days
Best Time to Go: All Year Round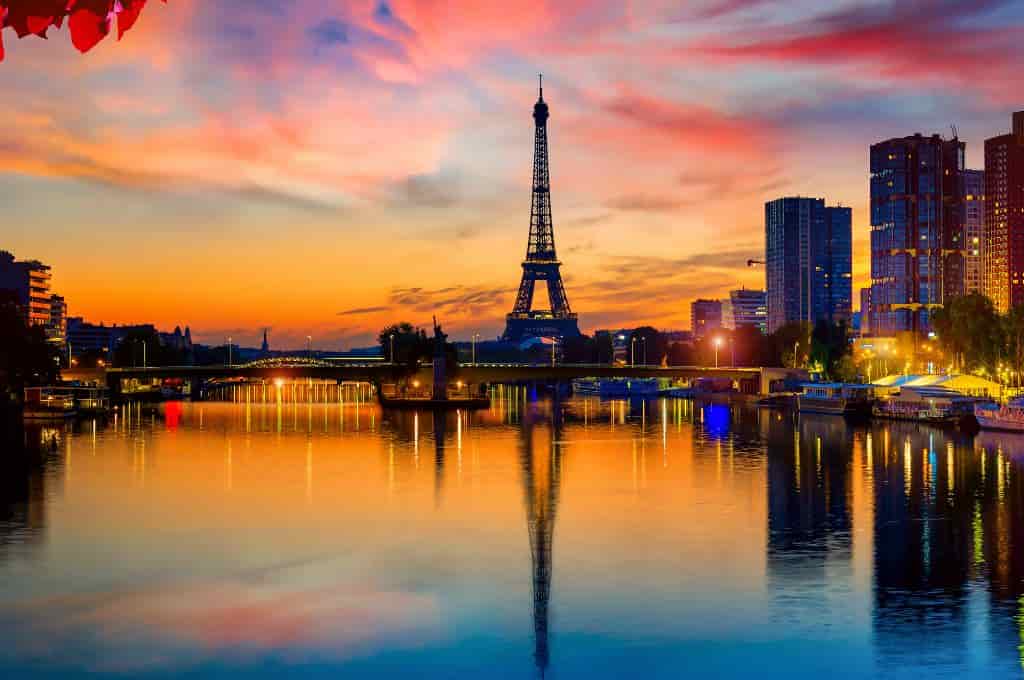 9).  France, Europe
France is one of the most romantic countries in the world, thanks to its idyllic topography, vibrant culture, and romantic monuments. Generously peppered with imposing landmarks, Paris was built for lovers. The café spills out onto the cobblestoned streets, which are lined with chic boutiques, art galleries, and swanky eateries, and the Seine runs right through it all. You're in for an exciting experience of courtship and glamour. Stay in a luxurious suite facing the Eiffel Tower, explore the iconic attractions, take a cart ride through the city, enjoy a coffee in one of the pedestrian cafes, shop for designer gifts from top brands, and sail across the Seine. A road trip to the castles of the Loire Valley can also be planned. In this pretty country, you can travel to a number of other cities besides Paris. Head to the South of France if you are looking for some sunshine. Nothing beats the beauty of charming coastal towns like Cannes, Nice, Lyon, and Saint Tropez. The French island of Corsica is breathtakingly beautiful.
Best Luxury Resorts in Paris: L'Hotel, Le Bristol, Hotel de Crillon, Brach Paris, Hotel Plaza Athenee, Le Chalet Zannier, Grand-Hôtel du Cap-Ferrat (Nice), Peninsula, Chateau Saint Martin
Recommended Duration: 10 Days
Best Time to Go: April-October 
10).  Switzerland, Europe
Switzerland lives up to the hype and will leave you speechless with its stupendous landscapes. It has everything you need for a dreamy honeymoon. Hike frozen glaciers and snow-capped mountains, explore emerald meadows and fairytale villages, gorge on hand-crafted cheese and luxurious Swiss chocolate, and partake in thrilling adventures. The country is small and compact, and traveling between cities is simple. So, follow your heart and go wherever it leads you – the thundering Rhine Falls, the ever-popular Interlaken, the jaw-dropping Jungfrau, pretty Zermatt, glamorous St. Moritz, lakeside Montreux, ski town Andermatt, and the capital city Geneva. Switzerland is a year-round destination because each season offers something unique and exciting. During the winter, people flock to Switzerland to ski and enjoy the beauty of the snow-covered Alps. It is one of the most expensive countries in the world, but aren't we in the mood to splurge?
Best Luxury Resorts in Switzerland: Kempinski Grand Hotel des Bains (St. Moritz), Calton (St. Moritz),  Hotel Palafitte, Park Hotel Vitznau, Dolder Grand Zurich, Ritz Carlton (Geneva), Kempinski Palace Engelberg Titlis, Beau-Rivage Palace (Lausanne), Chedi Andermatt, The View Lugano, AlpenGold (Davos)
Recommended Duration: 7-8 Days
Best Time to Go: All Year Round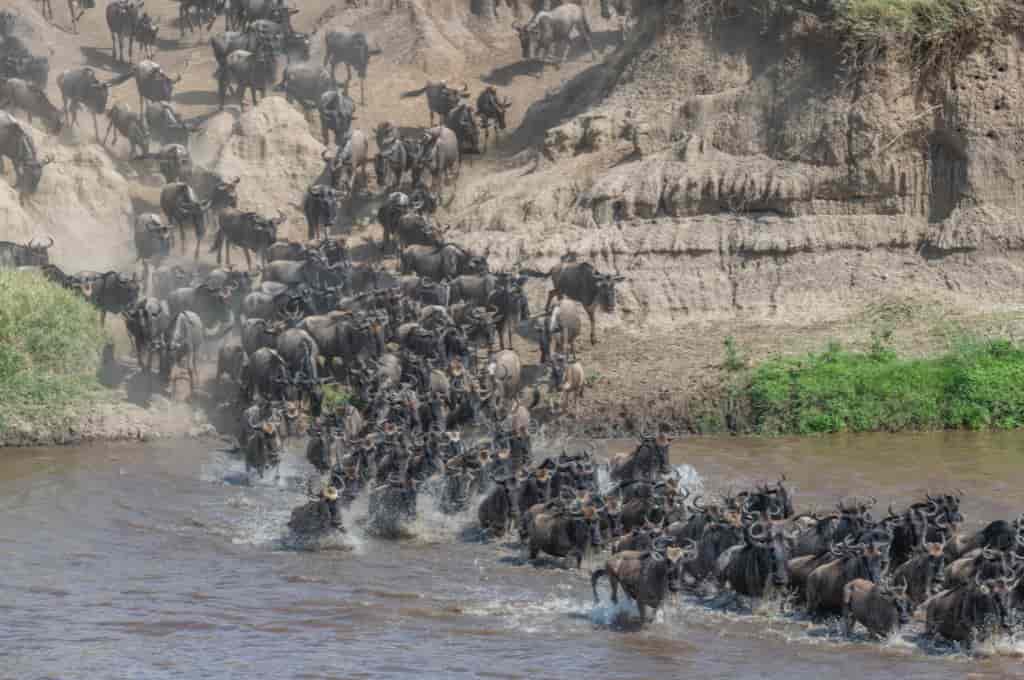 11).  Tanzania, East Africa
Tanzanian safari is the ultimate bucket list experience for adventure seekers and wildlife enthusiasts. This type of bush-and-beach honeymoon is becoming increasingly popular in recent years. The Serengeti National Park is home to the Big Five: lions, elephants, rhinoceroses, buffaloes, and leopards. Serengeti is not for the faint-hearted but it can be a one-of-a-kind honeymoon where you can combine wildlife viewing with bush breakfasts and starlit dinners. If you can make it in the summer or autumn, you will be in for a visual treat. During this time, the Serengeti Wildebeest Migration occurs, and hordes of wildebeest, zebras, gazelles, and impalas migrate from Tanzania to Masai Mara (Kenya) in search of mating and green grasslands. The movement attracts predators and lots of mammals succumb to them. Zanzibar is a popular destination for beachgoers. The eloquent capital city is known for its sandy beaches, history, hammams, roadside inns, Stone Town, Darajani Market, and a few seriously elegant honeymoon resorts.
Best Luxury Resorts in Tanzania: Singita Grumeti, Four Seasons Safari Lodge Serengeti, Singita Sasakwa Lodge Serengeti, Mwiba Lodge Serengeti, Namiri Plains Serengeti,  Lamai Camp Serengeti, Zuri Zanzibar, Zanzibar Serena Hotel, Melia Zanzibar, Residence Zanzibar, 
Recommended Duration: 7-10 Days
Best Time to Go: July-October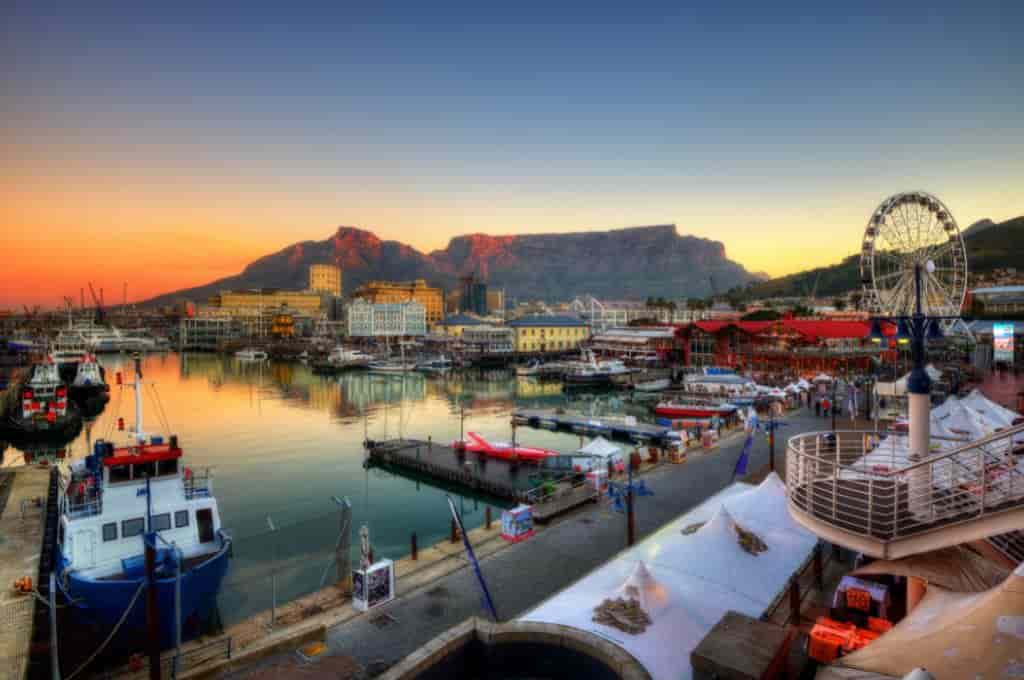 12).  South Africa
South Africa's Cape Town and the Cape Winelands have everything you need for a romantic getaway with your significant other. Swim with penguins, go whale watching, visit art galleries, try premium wines, and dine at some of the world's best restaurants. The bustling V&A Waterfront, Cape of Good Hope, Boulders Beach, and Table Mountain are by far the most sought-after attractions in and around Cape Town. You can explore the spectacular Garden Route by car or with a private guide. It is one of the world's finest drives, winding through indigenous forests, tranquil lakes, sprawling wetlands, sandy beaches, dramatic lagoons, and charming towns.
One of the main draws of South Africa is the big game safaris in Kruger National Park. Greater Kruger Park is the place to stay if you want exclusivity, authenticity, and less crowded safaris. These intimate and luxurious private game reserves feature eco-friendly lodges, infinity pools, private dinners, and spa treatments.
Best Luxury Resorts in South Africa: Silo Hotel (Cape Town), Delaire Gaff (Cape Town), One & Only (Cape Town), Oyster Box Hotel, Sabi Sand Game Reserve, Klaserie Nature Reserve, Timbavati Private Nature Reserve, Malamala Game reserve. Ulusaba Rock Lodge, Kagga Kamma Nature Reserve
Recommended Duration: 10-12 Days
Best Time to Go: November-May
13).  Fiji
Surrounded by crystal clear turquoise waters, Fiji is a cluster of isles and atolls in the heart of the South Pacific. It's over 1300 miles from New Zealand's North Island, and the airfare to get there will put a dent in your wallet. However, Fiji provides you with a delightful sense of seclusion, and what could be more romantic than being alone in the middle of nowhere? Almost every opulent resort has its own private island, providing guests with complete tranquility and unrivaled luxury. Teeming wildlife, lush vegetation, powder-soft beaches, and colorful coral reefs are excellent backdrops for romantic photographs. You can keep yourself physically active with activities like windsurfing, hiking, kayaking, scuba diving, snorkeling, skydiving, Fijian dancing, and helicopter tours. Visiting the Bouma National Heritage Park is another option. Fijian cuisine is scrumptious, and you will relish it.
Best Luxury Resorts in Fiji: Turtle Island, Nanuku Auberger, Kokomo Private Island, Likuiliku Lagoon Resort, Fiji Mariott Resort Momi Bay, Six senses, Namale
Recommended Duration: 1 Week
Best Time to Go: June-September
14).  Caribbean
The Caribbean is another popular beach destination for honeymooners. It's a preferred option for a winter honeymoon, but it's also of great value in the spring and summer. There are numerous islands in the region that can be used to melt away your wedding stress. The islands of Nevis and Saint Kitts are remote with lazy vibes. Their USP is volcanic peaks, tropical rainforests, immaculate beaches, and exceptional views. Saint Kits has several freshwater pools encircled by forests that offer a unique natural bathing experience. 
If you want more than just a beach, Saint Lucia in the Caribbean is the place to go. Visit the Soufriere area to see the Pitons, Sulphur Springs, and Diamond Falls Botanical Gardens. Other tropical islands that offer an extravagant experience with guaranteed sunshine, gorgeous beaches, private villas, exciting nightlife, trendy eateries, and offshore activities include St. Vincent, Grenada, Canouan, St. Barts, St. Martin, Turks & Caicos, Aruba, and Martinique. The decadent Necker Island in the British Virgin Islands ought to be seriously considered if money is not an issue at all. The island offers historic towns, sailing opportunities, sand-related activities, fresh seafood, and a rich cultural heritage.
Best Luxury Resorts in Saint Kitts & Nevis: Park Hyatt, Banana Bay, Brice & Helen Garden, Golden Rock Inn, Park Hyatt, Four Seasons, Bella Mont Farm Resort, Sunset Reef
Best Luxury Resorts in St. Lucia: Jade Mountain, Sugar Beach, Body Holiday, Hotel Chocolat, Anse Chastanet, Ladera, Marigot Bay Resort
Recommended Duration: 6-7 Days
Best Time to Go: December-April
15).  Antarctica
Let us conclude our list with an over-the-top honeymoon destination that everyone dreams to visit once in a lifetime. Antarctica is not a typical honeymoon destination, but if you are up for an adventure and have no financial constraints, why not travel to the edge of the world for your dream vacation? Sail from Ushuaia (the world's southernmost city) on a luxury cruise ship such as the Hebridean Sky. The ship passes through the dreaded Drake Passage, so bring your medications. As you cruise through, you will see penguins, whales, seals, and seabirds. 
The striking raw interiors of the seventh continent will enchant you with their phenomenal glacial beauty. Kite-skiing, snowshoeing, hiking, and the Polar Plunge swim are just a few of the activities offered on the continent. For more adventure, explore the ice caves, islands, harbors, channels, and Emperor Penguin colony. The two land-based accommodations are Whichaway Camp and Wolf's Fang. Don't worry, the heated sleeping pods, fine dining, and free-flowing champagne will keep you warm as you watch icebergs float by. The other, more common option is to stay on the ship after you land and disembark for activities.
Best Luxury cruises for Antarctica: Island Sky, Le Lyrial, Ushuaia, Sea Adventurer, Silver Explorer Cruise Stay, Ocean Nova
Recommended Duration: 10-12 Days
Best Time to Go: November-March
Subscribe to Our Newsletter