Kerala Itinerary - 7 Days
Kerala Itinerary for 7 Days
If you are visiting India and want to explore the country beyond the popular tourist destinations, plan a trip to Kerala. One of the most beautiful states in India, Kerala is often overlooked by travelers as they exhaust their time visiting the all-time favorites – Golden Triangle, Rajasthan, Goa, Kashmir, Uttarakhand, etc. 
Known as "God's Own Country", Kerala is situated on the Malabar coast of South India. Lush green vegetation, miles & miles of scenic shoreline, sprawling tea gardens, and serpentine backwaters make Kerala a paradise for nature lovers. The state is known for its aromatic herbs & spices, colorful street art, fragrant cuisine, ayurvedic treatments, vibrant festivals, and traditional dance forms.
If you are looking for tranquility, relaxation, and solitude, then Kerala should definitely be on your list. Seven days are definitely not enough to explore Kerala in depth. But it is sufficient to capture the essence and beauty of this stunning tropical paradise. This 7-day Kerala itinerary will take you to some of the state's most beautiful and diverse attractions, including backwaters, hill stations, beaches, and cultural sites. Here's the suggested itinerary:
Best time to visit Kerala
Kerala is a year-round destination but September to March is the ideal time to visit Kerala. December is one of the busiest months due to the holiday season. The weather is pleasant, humidity is negligible and you can visit all the major attractions of Kerala – backwaters, tea plantations, and beaches. April and May can be very hot and humid and best avoided. During that period, you can explore the higher altitude regions like Munnar and Wayanad which are relatively cooler. From June to August, Kerala is flooded with torrential rains, making it difficult to explore most regions of Kerala. 
How to get around Kerala
All the cities, towns, and villages of Kerala are very well connected by an efficient road transport network. These buses are ideal for budget-conscious travelers. Local trains are also a convenient way to travel between major districts of Kerala, offering you stunning views of the green countryside. However, if you have the budget, the best way to travel in Kerala is by private vehicle/taxi. It gives you flexibility, saves time, and makes life much easier. Ola and Uber are available in big cities. If you want to travel a short distance within the city, an auto-rickshaw is the best option.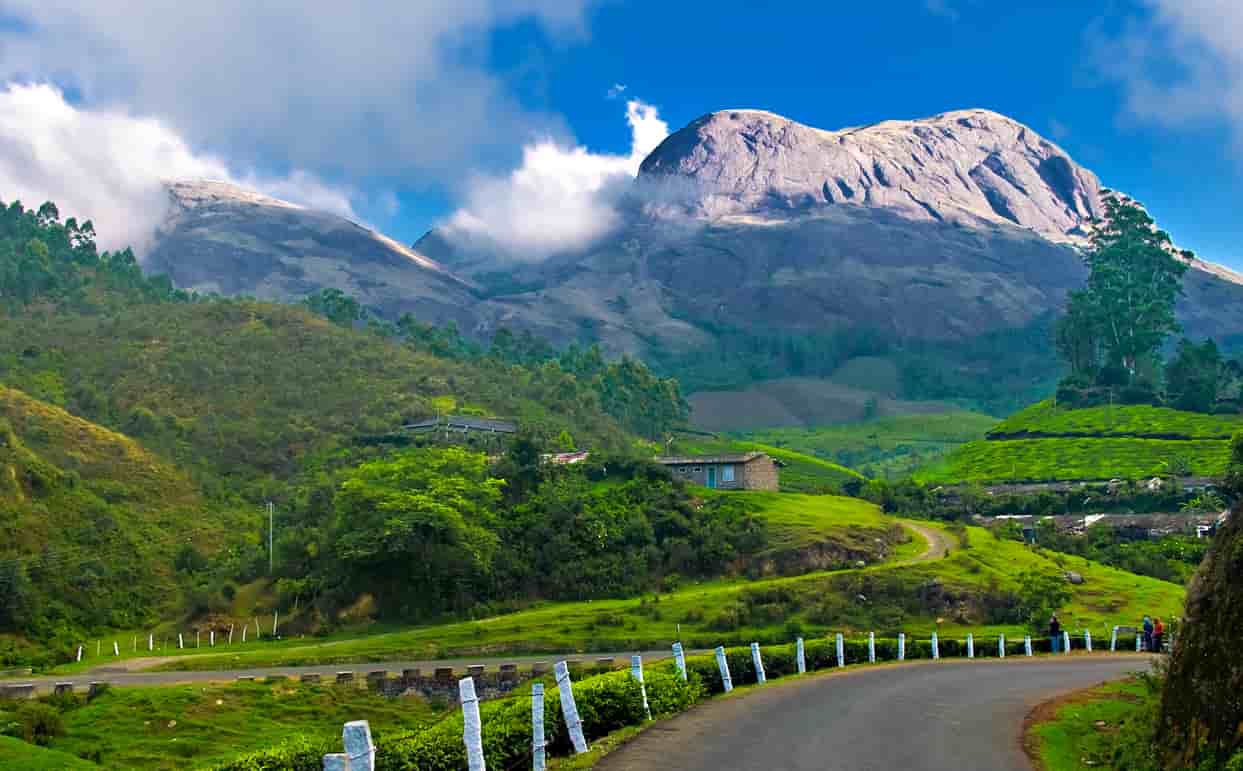 Shopping in Kerala
Spices, Ayurvedic medicines, Mural paintings, cashew nuts, oils, tea, coffee, coir products, coconut-shell handicrafts, and Kathakali Masks are a few of the products that are worth buying in Kerala. Some of these products are really good, so don't miss the opportunity to indulge in some shopping.
Language in Kerala
Malayalam is the official language of Kerala, but English is widely spoken and understood here. Kerala has the highest literacy rate in India, but their English proficiency is quite basic. However, if you are comfortable with English, you should have no issues communicating with locals.
Top Foods to Try in Kerala
Kerala is loved for its distinct, authentic, and colorful cuisine, and you must indulge in its gastronomic delights. Some of Kerala's traditional delicacies are must-haves. The dishes that you must definitely try are
Idiyappam topped with curry, Curry with Puttu and Kadala, Erachi Varutharacha curry served with Malabar Parota, Erissery, Appam with Ishtu, Nadan Kozhi Varathathu, Ghee-roasted dosa with Kerala-style sambar, Karimeen Pollichathu, and so on
Must-do experiences in Kerala
Watch a Kathakali / Theyyem Performance
Enjoy an Ayurvedic Treatment
Stay in a houseboat
Cruise the backwaters
Visit a tea-plantation
Eat the traditional Keralan meal served on a banana leaf
Take a spice tour
Watch the Snake Boat Race (from July to September)
Attend a cooking lesson

Suggested 7-day Kerala Itinerary
Kerala is very well connected to all parts of India and there are feasible options to reach major cities by train and plane. Kerala has three international airports – Kochi, Thiruvananthapuram, and Kozhikode. We are starting our journey from Kochi and ending it at Thiruvananthapuram. This itinerary is designed with the assumption that you have a vehicle at your disposal. If you are using other modes of transport, make the required adjustments.

Kerala Itinerary – Day 1: Kochi – Munnar
Reach Kochi (Cochin) and leave straightaway for Munnar. The drive will take about 4 hours and you can enjoy the scenic views en route. The roads are extremely well maintained, so you won't have to worry about a bumpy ride. There are waterfalls and Spice gardens on the way and you can stop there if you have the time. Munnar is famous for its quaint waterfalls, pristine valleys, blankets of mist, and rolling tea plantations. The charming hill station is just perfect for having a relaxing evening and admiring the spectacular panoramic views.
Kerala Itinerary – Day 2:  Munnar
Today, we'll explore Munnar, a hill station in the Western Ghats located approximately 5,250 feet (1,600 meters) above sea level. Spend the day visiting the Eravikulam National Park, dropping by a tea plantation, relaxing at one of the waterfalls, or simply walking around the picturesque villages. There is an option to go boating at Mattupetty Dam, Echo Point, and Kundala Lake. You will be engulfed by breathtaking manicured emerald-green tea plantations wherever you go. At every turn, you'll want to stop and click pictures. In the evening, you must see Kathakali or Kalaripayattu, which is a very energetic Kerala Martial Arts show.
Kerala Itinerary – Day 3:  Munnar – Thekkady
You should start early as it takes 3-4 hours to reach Thekkady from Munnar. Thekkady is the center for visiting Periyar Wildlife Sanctuary & National Park. Spread over 300 square miles, Periyar National Park is home to species like tigers, elephants, bison, deer, and langurs. There is a scenic lake at the heart of the sanctuary. You can explore the sanctuary, enjoy a lake cruise, and admire the elephants frolicking in the lake. Consider a spice plantation tour to learn about Kerala's spices. If you want to spend the night in the jungle, there are a few lodgings inside the Periyar Reserve.
Kerala Itinerary – Day 4:  Thekkady – Kumarakom/Alleppey
Kerala is famous for its scenic backwaters, which are a network of interconnected brackish lagoons, canals, and lakes that run parallel to the Arabian Sea coast. Backwaters connected by artificial canals form an economical mode of transportation. For centuries, locals in Kerala have used the backwaters for transportation, fishing, and agriculture. Most of the travelers visiting Kerala have one activity on their bucket list – to cruise along the enchanting backwater regions of Kerala. Kumarakom and Alleppey are the two best locations to explore the backwaters. They are two corners of Vembanad Lake but provide different experiences. Alleppey is a town-based destination whereas Kumarakom is a group of small islets. You can choose any one of them.
Drive from Thekkady to Alleppey (Alappuzha) will take nearly 5 hours. Alleppey, also known as the 'Venice of the East, is popular for tranquil houseboat cruises. Alleppey has more choices if you are interested in spending the night on a houseboat. It has rows of houses facing the canal which gives you a closer look at life in the tropical villages. You can float on a houseboat amidst stunning views, palm-fringed coasts, abundant greenery, and the maze of winding canals and waterways. Alleppey also has several beaches, temples, spas, and wellness centers, that you can visit during your stay.
If you opt for Kumarakom,  it would take you three hours to reach your destination from Thekkady. Kumarakom is a cluster of small islands on the Vembanad Lake in the Kuttanad region of Kerala. The 14-acre bird sanctuary here is a popular stopover for migratory birds and an ornithologist's paradise. It is known for mangrove-colored lagoons, green paddy fields, and coconut groves. Located in the background of Vembanad Lake, Kumarakom is less crowded than Alleppey and has some of the best luxury resorts in Kerala. Few of the resorts offer a package with a night on a houseboat. Taking a sunset cruise on the serene backwaters is highly recommended.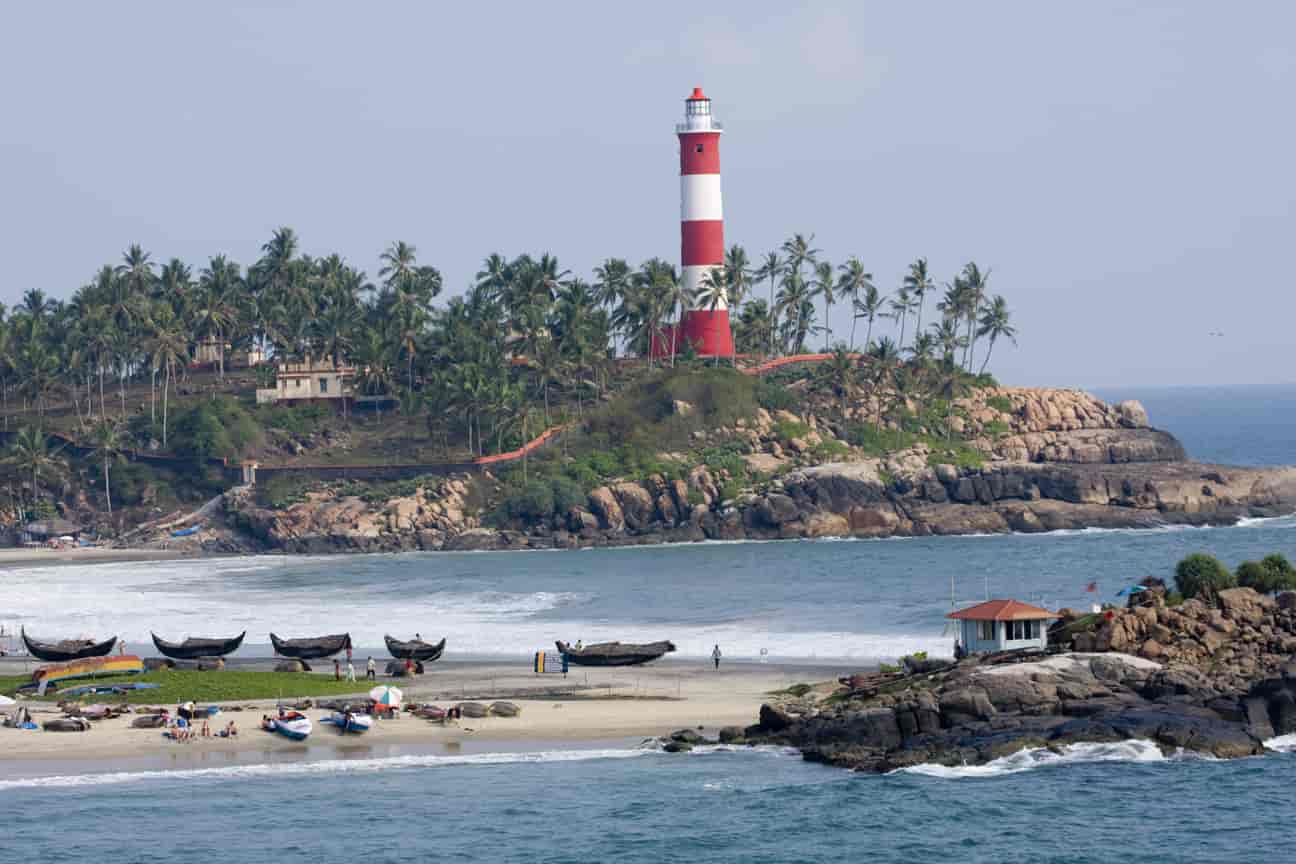 Kerala Itinerary – Day 5:  Kumarakom/Alleppey
You have the entire day to enjoy the various attractions of your chosen location – Kumarakom or Alleppey. You don't have to rush around ticking attractions off your list. These locations are ideal for indulging in famed ayurvedic treatments, sampling delectable cuisine, rejuvenating yourself, and learning yoga.
Kerala Itinerary – Day 6:  Kumarakom/Alleppey – Kovalam
Drive to Kovalam from Alleppey / Kumarakom will take approximately 4/4.5 hrs. respectively. It is time to explore the beautiful beaches of Kerala and what better place than Kovalam? The beaches of Kovalam are in demand due to low tidal waves and shallow waters which makes them ideal for sea bathing. You can spend a day here visiting the Lighthouse and the spectacular crescent beaches – Kovalam Beach, Lighthouse Beach, and Samudra Beach. Kovalam is also known for its temples. So make time to visit the temples as well. You have the option to stay at some plush beachside resort for the day.
Kerala Itinerary – Day 7:  Thiruvananthapuram
The capital city of Kerala, Thiruvananthapuram, is just 16 km away from Kovalam. If you want, you can explore a few interesting places in Thiruvananthapuram – Padmanabhaswamy Temple, Napier Museum, Observatory, etc. 
This also brings us to the end of the 7-day Kerala Itinerary. You can head back to your next destination from Thiruvananthapuram. The suggested itinerary is just a guide and you can easily change it according to your convenience.
Alternative itineraries for Kerala
If you don't want to rush, you can skip Thekkady and spend more time in Munnar or the tranquil backwaters. It would take you 4-5 hours to travel directly from Munnar to Kumarakom/Alleppey. In that scenario, Kochi-Munnar-Kumarakom/Alleppey-Kovalam-Thiruvanthapuram would be your route.
In case you do not wish to visit Kovalam, go back to Kochi from Alleppey/Kumarakom and take the return flight from Kochi. The journey from the backwaters to Kochi takes about two hours. Without visiting Kovalam, the suggested itinerary is Kochi-Munnar-Thekkady-Kumarakom/Aleppey-Kochi.
Interested in spending more time in Kerala? There are numerous other places in Kerala to visit, including Trivandrum, Varkala, Bekal, Kanyakumari, Malabar, Thrissur, Kannur, Wayanad, and others.
Subscribe to Our Newsletter