10 Reasons for visiting Russia
10 Reasons for Visiting Russia
If you want to explore a tourist destination with stunning architecture, long-drawn history, intriguing art & culture, idyllic countryside, & wonderful big cities, then Russia would be just perfect for you. Russia is an extraordinary country offering limitless & diverse landscapes. Most people overlook Russia as it is considered harsh, far-off, inaccessible, and unsafe. However, it is time to look beyond stereotypes and prejudices. In recent years, Russia has eased its visa rules to a large extent and everything is much more manageable. As a result, there has been an exponential increase in tourists to Russia. Now, there is no reason to put off your visit to Russia. If you need some inspiration, check out these reasons for visiting Russia. Apply for a Russian visa and start planning your trip.
1)  Russia is the Biggest Country in the World
Russia is the largest country in the world and covers an area of 17 million square kilometers. Russia is a transcontinental country – a country that is located on more than two continents. 23% of Russia is located in Europe and the rest 77% area is in Europe. However, more Russians live in the European part of Russia than in the Asian part. Spanning over 11 time zones, Russia has borders with 16 countries in the world. Its scale and magnificence are reflected in the diversity of its landscapes, culture & climatic zones. The vastness and diversity make it an ideal destination for every type of traveler. 28% of Russia is still undiscovered due to poor connectivity and extreme conditions, but there is still so much to see and do. If you want to experience its magnitude, you have to leave the cities and explore the exhilarating landscapes & mystical culture.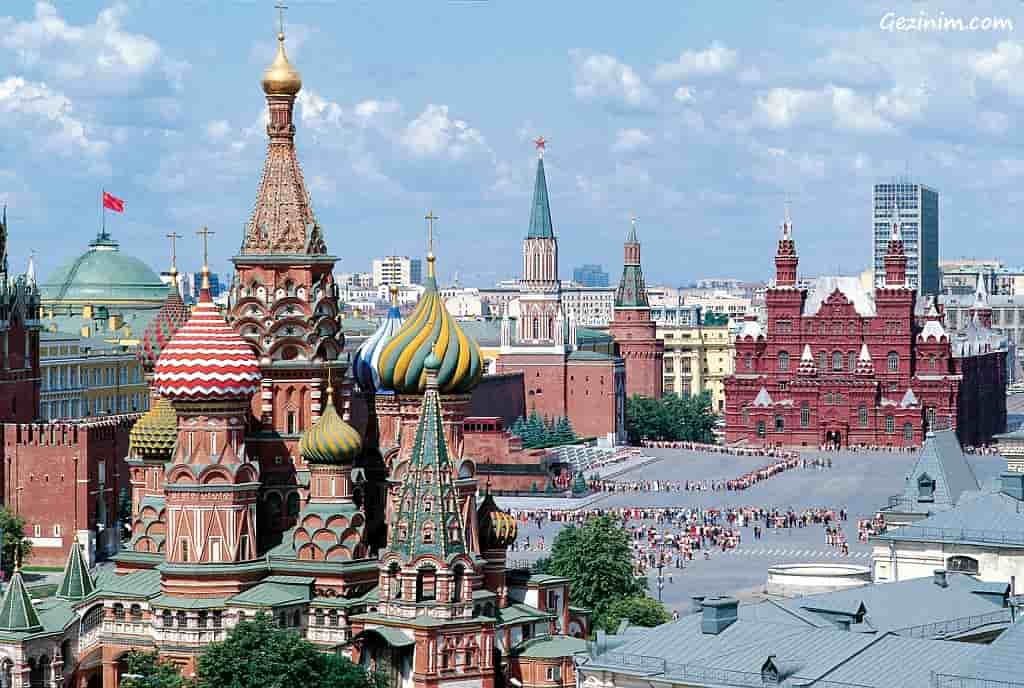 2)  Russia has Amazing Natural Wonders & Landscapes
Russia is well-known for its exceptional natural treasures that are scattered all over the country. Baikal Lake is the largest & deepest freshwater lake in the world and contains about 22% of the world's freshwater. This lake is located in Siberia, one of the coldest regions in the entire world. Another staggering wonder is the Golden Mountains of Altai – the scenic mountain range is home to snow leopards and Altai argali(the world's largest sheep). Mount Elbrus is a composite volcano and a popular hiking destination in Russia. Other accessible geographical wonders are Curonian Spit (sand dunes), Kungur Cave, Geyser Valley, Elton Lake, Kamchatka Volcanoes, Ruskeala National Park, Lena Pillars, Russian Taiga Forest, etc. Besides these, there are so many unexplored natural wonders in Russia, but reaching them is quite a challenge.
3)  Moscow – Russia
Moscow is one of the most populous places in the entire world with a population of approximately 12 million permanent residents. The capital city is peppered with glittering palaces, majestic fortresses, & beautiful churches that will impress you with their opulent architecture and unique style. These include the glorious Red Square, Kremlin Palace, Lenin's Mausoleum, Bolshoi Theatre, Saint Basil's Cathedral, and many other historical structures. Even the metro stations are a testament to the grandeur of the city. Besides its historical significance, Moscow has a lot to offer visitors. It is a fascinating blend of traditional culture and contemporary creativity. The captivating Russian ballet dancers, traditional cuisine, luxury hotels, world-class restaurants, amazing nightlife, and trendy pubs are added attractions.
4)   Saint Petersburg, Russia
With a glorious blend of Russian and European architecture, Saint Petersburg is the heart of Russia. The cultural epicenter of Russia showcases the country's rich history and culture. The elegant architecture, lavish baroque buildings, onion-domed churches, & vivid structures are just stunning. The number of must-see attractions might overwhelm you. The highlights are Peterhof Palace, State Hermitage Museum, Palace Square, Catherine Palace, Yusupov Palace, Vasilyevsky Island, and Tretakov's Gallery. 
The city has nearly 342 bridges linking the vast network of rivers and canals. Few of these bridges are really impressive for their technicality & aesthetics. If you visit Petersburg in summer, you might be lucky enough to see the famous White Nights – a near-midnight sun phenomenon where the sky only reaches twilight and does not go into darkness. This city is not as big as Moscow, but it is still very large, compared to other metropolises in Europe and Asia. Saint Petersburg has been the main Russian seaport for centuries so it has played an important role in the development of the country.
5)  Ethnic Complexity of Russia
The lengthy political past, complex history, and intangible heritage have impacted Russia to a large extent. Due to its geographical location between East & West, Russia's culture has been gradually reshaped and transformed over the years. About 146 million people & nearly 150 ethnic groups inhabit different parts of Russia. Ancient religions still exist among the indigenous tribes in Russia. The majority of Russians follow the Russian Orthodox Church but Islam, Buddhism, & Judaism are still practiced in some areas. The ethnic groups have their own language, traditions, cuisine, and dress code. The vibrant and rich culture can be seen everywhere – literature, dance forms, folk music, theatre, costumes, and art. You are bound to be fascinated and impressed by the unique Russian culture.
6)  Ride the Trans-Siberian Railway, Russia
If you are looking for an unforgettable travel experience, hop abroad on the Trans-Siberian Express in Russia. The train ride from Moscow to Vladivostok is 9290 kilometers long and takes you through remote and hard-to-reach locations in far-flung Siberia. Connecting branches also run into North Korea, China & Mongolia. The route takes 8 days to complete and stops at some of the most scenic sites for about 20 minutes. Nothing can beat the experience of gazing out of your Trans-Siberian cabin window as you whiz past the glassy blue Lake Baikal, magnificent steppes (rolling treeless plains) & the majestic Urals. 
7)  Discover the Golden Ring of Russia
If you looking to get away from crowded tourist destinations, explore the Golden Ring route. The Golden Ring includes a series of Medieval towns located northeast of Moscow. It consists of main 8 towns – Pereslavi-Zalessky, Rostov Veliky, Sergiev Posad, Yaroslavl, Kostroma, Suzdal, Ivanovo, & Vladimir. This is your chance to explore Russian architecture from the 12th-18th century in all its glory, as these towns have remained largely untouched by innovation and industrialization. Enjoy authentic Russian architecture, traditions, food, & ancient art while visiting the popular Golden Ring
8)  Immerse yourself in the Epic Russian History
Russian history is rich, complex, and fascinating. It extends over a period of 1150 years and the country has been involved in more than 100 wars. From the tales of the Mongolian invasion & Tsarist regime to periods of enlightenment, revolution, and dictators – Russia has gone through so many upheavals & turmoil and you can see the impact everywhere you go. The spectacular palaces reveal intriguing tales about the Tsars while the structures like Kremlin remind us of Soviet-era and modern Russia. Whatever period you may be interested in, Russia will bring it alive for you. The country is steeped in history and each city has its own story to tell via architecture, culture, and people.
9)  Enjoy Russia's World-renowned Art & Literature
For the connoisseurs of art and literature, Russia is a dream destination. Tolstoy, Chekhov, Pushkin, Dostoyevsky, Gogol,  – all these revered authors have lived and worked in Russia. Their writings and perspective will help you understand Russian literature in depth. Russia boasts of an amazing art collection. Most cities in Russia have at least one museum displaying amazing art pieces. Moscow & Petersburg have countless galleries and museums. Hermitage Museum (Petersburg) is the second-largest art museum in the world and houses 3 million paintings and attracts over 4 million visitors every year. The Tretyakov's Gallery (Petersburg), Pushkin Museum of Fine Arts (Moscow), and the Moscow Museum of Modern Art will leave you awe-struck with their huge collection of ancient, modern, and contemporary Russian art. Even outside the museums, you can see art on display everywhere in the beautiful cities.
10)  Entertainment Options in Russia
Russia is just not about sightseeing. There are lots of activities to keep you busy and entertained. You cannot leave Russia without watching Russian ballet. The country is home to the most skilled ballet dancers and it is a delight to watch their unique style. Book a seat in the Bolshoi Theatre for a fairy tale performance by the graceful dancers. Russians take their theatre as seriously as ballet. Moscow has over 70 theatres and is considered one of the world's top theatrical capital. Lovers of classical music can watch a symphony performed by Russian classical musicians. If you are a party lover, you have come to the right place. The Russians love to party and are known for their exceptional restaurants, happening bars/clubs & crazy nightlife. Many cultural events and festivals are held throughout the year. White Night's summer festival takes place in Petersburg in summer where you can participate in non-stop events and parties.
For your next vacation, give Europe, Mexico & Asia a miss. Come out of your comfort zone and explore Russia for a unique and challenging experience.
Subscribe to Our Newsletter