COVID-19: Evacuation Experience - Vande Bharat Mission
COVID-19: Evacuation Experience
Vande Bharat Mission
PS – The post is a bit long as I have tried to cover all aspects. If you are only interested in the actual journey, click here.
At the beginning of March, I flew to Atlanta from Delhi. It was for a special occasion that mattered to me. Maybe I should have skipped traveling, but who could have predicted that COVID-19 would cripple the whole world and we would be locked in our homes for weeks?
After a few days after my arrival in the USA, WHO declared COVID-19 a worldwide pandemic and this led to widespread panic. There was a mad rush to reach home all over the world as countries were closing their borders.  Before I could ponder the available options and prepone my tickets, Indian borders were sealed for three weeks and I was locked out of my country. It was out of my hands now.
Subsequently, the lockdown was further extended for three weeks and I started losing patience. Despite taking such extreme measures, the conditions were not improving in India and we had no clue when we would be allowed to return.
Most of the countries were calling back their citizens, but there was no initiative from the Indian government. Maybe people should have been given a period of 4-5 days to come back to their country or their native place. Lots of subsequent difficulties and heartache could have been avoided. But as they say 'Hindsight is always 20/20' The government was trying its best and it should be lauded for taking such bold initiatives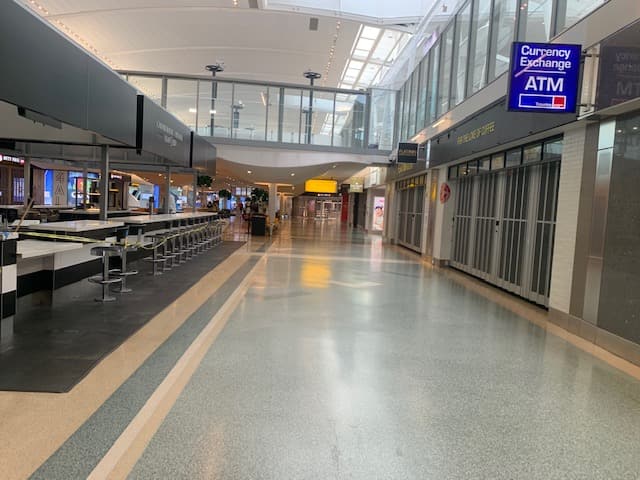 I had no clue about the number of people who wanted to come back to India. There was hardly any coverage. During my endless scanning of news and social media channels, I came across a Facebook group called "SOS Global Indians". At that time there were around 2000 members in it. Today it has more than 15000 members. It is estimated around 40,000 people waiting in the USA for evacuation. The group started by Michael Khanna became a lifeline for many people in the USA. 
I came across so many people and it was heart-wrenching to hear their stories. Pregnant women, senior citizens, terminally ill patients, young mothers – all just wanting to travel back to their country. People wanted to get back to perform the last rites of their close ones or look after their ailing parents. Many young Indians had been laid off, some parents were separated from their young kids and many students/visitors had no place to stay or money left to eat. Medicines and insurance were running out, visas were expiring and people were going into depression. They just wanted one thing – to go back to their country, to their home, to their families
 It was heartening to see that many Indians and Indian associations selflessly came forward to offer their services, medicines, home, and food to their fellow countrymen. It however saddened me to see the outlook of a few people in India. There was a consensus that the Indians who were stuck abroad should not be bought back anytime soon. They were called selfish, greedy, and the reason for all the problems in India. It is easy to find a scapegoat, but I am sure one will have a different perspective if your children or parents are in despair somewhere in the world and you are helpless to do anything.
In the first week of May, the Indian government decided to start evacuation flights for its citizens. That was unexpected and there was general euphoria amongst all the Indians stranded abroad.  Unfortunately, the flights were too less and the passengers too many. There was a mad scramble to get registered. The procedure seemed simple – register yourself with Embassy, and they will conduct a random selection and give you a call. If you agree, you will be sent a mail and then Air India will book your tickets. There was lots of confusion and ambiguity – OCIs were not allowed, the calls were not followed by emails, people were not receiving their tickets, they were selected hours before the flight, selection criteria were not clear, and lots more. The Embassy personnel were working day and night, even on weekends, but there was too much pressure from all sides. The problems were manifold, but the evacuation was actually happening. As a part of the Vande Bharat Mission, the first repatriation flight from the USA left from San Francisco to Mumbai on (9th May 2020) 
It was a historic moment and something to be proud of. People had issues and they were not unfounded. The one-way ticket of $1400 was on the higher side, there was no transparency in selection, there were very few flights, and the rules of quarantine were not clear. Some areas of India like West Bengal, Bihar, Assam, Kerala, and Rajasthan were completely ignored. It was a start nevertheless.
I did not get a call in Phase 1 and was skeptical of getting a chance in Phase 2. After seeing the rush and urgency of other people. I realized that my need was less pressing than other applicants. On the other hand, I am not so big-hearted that I would miss any opportunity to go back. On 22nd May I got a call from Embassy that I had the option to fly from New York to Bangalore on 25th May. I live in Delhi and did not want to fly to Bangalore. They gave me only 15 minutes to make a decision, otherwise, the next person in line would be given a chance. The moment I had been waiting for the past 3 months was there and I did not want to let it go. So I said yes.
I started having second thoughts as soon as I confirmed. New York is one of Covid's hotspots and I had to stay there for a day to catch the morning flight. Instead of Delhi, I was taken to Bangalore and had to quarantine there for 14 days and then fly back to Delhi. After contemplating for hours and spending the whole night tossing and turning in my bed, I decided to stick to my decision. This was what I had been waiting for, so why the hesitation? The conditions and health hazards of traveling were not going to improve anytime soon, so what option did I have?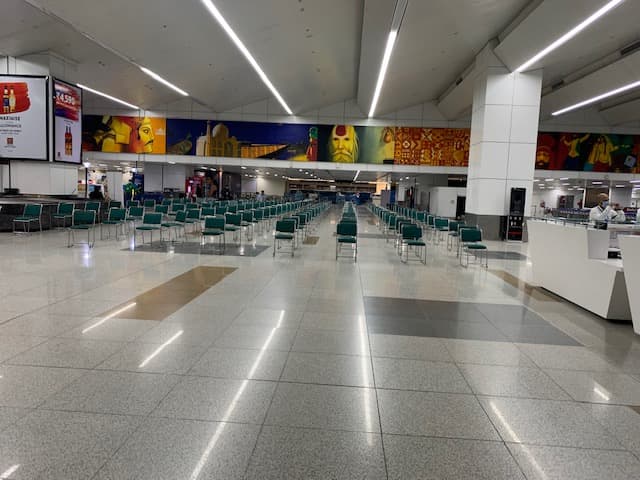 My flight was on the 25th morning, so I had to reach New York a day before. I booked a room in Hotel TWA inside JFK airport. The Atlanta-JFK flight was nearly empty, the airport was deserted, and barring 1-2 shops everything was closed. I was carrying minimum baggage to avoid the use of trolleys. But the walk to the hotel was a long one and my hands were aching by the time I reached the hotel lobby. I was carrying homemade food with me but there was no tea/coffee-making facility in the room. I wandered for half an hour looking for some coffee – in the hotel and nearby terminals. Everything was closed, and I suddenly realized that there was no one beside me in the terminal. I rushed back to the sanctuary of my room.
THERE WERE SERPENTINE QUEUES when I reached the airport at around 7 am. A few passengers were standing in check-in line from 5:30 am for an 11:15 am flight. Everyone was in masks but there was hardly any social distancing. There was no priority for elderly or pregnant women. After one and a half hours, we reached the health desk where our temperatures were taken. By now I was aware that a few passengers were getting down at Delhi during the 'Technical Halt' mentioned in the Air India schedule. So I started meeting Embassy officials (they are at the airport for every flight) and AI staff to get my tickets changed to Delhi. I had to run from pillar to post and wait for half an hour, but it was done. A big relief. 
After the security check, I bought the long-due coffee at the only shop that was open at the terminal. I kept thinking if I was following the rules. Did I sanitize my seat, faucets, hand baggage, laptop, mobile, and coffee glass? Had I cleaned my hands before touching my face? Had I gone too close to the security personnel? It was impossible to stick to the prescribed procedure.
Boarding started soon. Being part of a very active FB group, I knew what to expect in these special flights and was mentally and physically prepared.
The flight crew was covered in personal protection equipment from head to toe.
There was no social distancing/middle seats were also occupied.
The food for the entire journey of 14 hours was lying on our seats in a big plastic packet when we boarded the flight.
The food packet had sandwiches, juices, snacks, yogurt, water, cake, etc. Sufficient to fill your stomach but nothing to look forward to
The big packet also included a face shield, masks, and hand sanitizer pouches
No tea/coffee was served. In fact, there was no service of any sort. 
No blankets and pillows and no in-flight entertainment.
It is not compulsory to wear masks/face shield. It is for your own safety. Shields are more comfortable as it is easy to breathe. 
All these rules applied to Business Class and First Class too. In fact, during the entire duration of the flight, I hardly saw any of the crew. The flight was jam-packed. I sanitized my seat and sat down.  Everyone cooperated, wore their masks/ face shields, and was soon sleeping or watching movies on their devices. There was not much movement in the flight. After my heavy breakfast at the airport, I was not hungry. I had downloaded movies but realized I had lost my earphones during the endless rounds of sanitizing. I took a light sleeping pill and dozed during most of the flight
We landed in Delhi. Most of the passengers were going to fly to Bangalore. Around 15 of us got down at Delhi airport. Since the time we deplaned, we were never left alone. We cleared immigration, collected our luggage, installed the Aarogya Setu app, and filled out forms. Temperatures were checked, and baggage was screened by customs officers. The whole process was well organized and proper social distancing was maintained. The airport staff was very careful and cautious. They would not touch your passport/papers, won't help anyone with luggage, or physically assist you in any way. Surprisingly, fellow passengers showed a lot of solidarity with each other and were willing to help anyone in need.
As we were only a few, the whole process took about an hour. Now we were taken to a room where we had to select a hotel for quarantine. They had choices of hotels ranging from 3 stars to 5 stars at very affordable rates. Staying at JW Marriott at around Rs 4500 ($60) all-inclusive was a steal and I went with that option. We were taken to a public bus to be dropped off at the hotel. We were not charged any money for the bus, but every state has different rules. So keep some Indian rupees handy. 
They bundled all of us in a non-air-conditioned bus with outside temperatures soaring at 45 °C (115° F) The bus stopped at each hotel and it took them 15 minutes to get all the formalities sorted. By the time we had covered the second hotel, I started feeling dizzy. Thankfully, soon it was my turn. I got down, identified my luggage, and rushed to the lobby. They took my temperature. It was 104 °F. It seems the scorching sun had managed to skyrocket my temperature in less than an hour. For once I would have appreciated the 'Welcome Drink' but I was only offered water. In two minutes the temperature was back to normal. Not very efficient testing equipment. It was claimed that COVID tests would be done before and after the flight, but till now I had been only tested for fever. 
The check-in was smooth and I went to my room. The Institutional quarantine had been reduced to a week according to new guidelines. After that, we have to undergo one week of home quarantine. I would not be allowed to venture out of the hotel room during the entire stay. I would be given breakfast, lunch, and dinner in my room on disposable plates. One table had been placed beside the room door and everything we need would be kept there. There would be no room cleaning and after every three days, we would get linen which we have to change ourselves. No one can come to meet us and we can order extra food from the room-service menu on a chargeable basis.
The rooms are plush, big, and comfortable. The staff is courteous, helpful, and prompt. They ring the bell when they leave your food. I am enjoying the luxury though I am sure I will be itching to go out of the room soon. But I am not complaining. I have just taken a long flight back home, but it feels as if I have won a battle. I had lots of insecurities, fears, and nightmares before flying. It took all my determination, willpower, and courage to pull it through alone. I hope I have no after-effects from this journey. Now just waiting to go home.
Update – The hotel stay went well. It is not easy being confined to your room, but I kept myself busy with my blog and phone calls. On the 8th morning, I checked out. They just took my temperature and asked me to spend one more week in-home quarantine. Nothing more. My daughter came to pick me up and I reached home after 3 months – the longest I have been away. 
Why are people unhappy with Vande Bharat Mission?
Time for India to resume International flights?
Subscribe to our newsletter