Best Things to do in Delhi
Best Things to do in Delhi
India's populous capital city has been in the news lately for all the wrong reasons. Pollution, safety issues, and riots may have given Delhi a bad name, but you cannot overlook this amazing city with its mesmerizing mixture of history, culture, and modernity. On your first visit, Delhi might overwhelm you with its sights, sounds, traffic, pollution, and complexities but it will soon grow on you. You will fall in love with its intriguing heritage, delectable cuisines, endless shopping opportunities, vast green spaces, and chaotic vibes. If you are careful and do NOT do certain things in India, you are going to have an amazing time.
Delhi is just not a starting point for exploring India. You must stop in Delhi to explore the countless sights and experiences that can be enjoyed in every part of the city. Delhi is always brimming with activity and it is never easy to decide what to see and do. This guide to must-see places will help you make the most of your stay in the bustling capital.
One of the best ways to see Delhi's top attractions is to take a hop-on/hop-off tour organized by the Delhi Government. Air-conditioned tourist buses run throughout the day, stopping at all the major sights and giving travelers the chance to board and get off wherever they like and stay as long as they want. Another good way to travel in Delhi is by the Delhi metro. It is one of the best in the world and is very well-connected. Traveling in the metro is also the best way to avoid traffic snarls.
Delhi is a paradise for history buffs and architecture lovers. You will stumble upon historical monuments at every nook and corner of the sprawling city. The heritage city has been inhabited since 600 BC and traces of its rich eventful past can be seen wherever you go. UNESCO heritage sights and majestic Mughal monuments are plenty and you have to choose what you want to see depending on the time at hand.
Your tryst with history begins with the renowned UNESCO site Qutub Minar – the tallest brick minaret in the world. The majestic 73 meters victory tower was built in 1193 and is one of the most visited attractions of Delhi. However, you are not allowed to climb up to the tower.
Another UNESCO World Heritage site that you cannot miss is the Red Fort (Lal Qila). The historical complex with its tall sandstone walls was built in 1648 by Shah Jahan and was the residence of the Mughal Emperors for more than two centuries. Red Fort is now a shadow of its former glory, but it gives you a vivid glimpse of the grandeur, architecture, and tales of a bygone era. You can spend a memorable day there exploring the staggering complex with its museums, gardens, public halls, mosques, courtyards, and private quarters of the royal families.
Humayun's Tomb is another jewel in Delhi's rich heritage. The monument, depicting the best of Persian and Indian craftsmanship, is impressive due to its perfect symmetry, lush gardens, water channels, and fine architecture. The Mausoleum built for Mughal Emperor Humayun was also declared a UNESCO World Heritage Site in 1993. Purana Qila, Safdarjung Tomb, and Jantar Mantar are some other historical monuments that you can visit if you have the time and inclination.
Visit the Modern Marvels of Delhi
Delhi is one of the oldest inhabited cities in the world and has been built and rebuilt many times. It has layers and layers of vibrant history. If you are not looking for centuries-old heritage sites, there are other options. You can visit the impressive complexes which are relatively recent additions to Delhi's list of architectural marvels. Lutyens' Delhi, designed by British architect Sir Edwin Lutyens, has awe-inspiring structures like India Gate, Rashtrapati Bhavan, Parliament House, and Raj Ghat.
India Gate is popular amongst visitors and locals alike. People flock there to admire the magnificent 42-meter-high stone arch, have a picnic in the lush gardens, and enjoy the hustle-bustle around. The memorial is dedicated to soldiers who lost their lives in the First World War and has an eternal flame burning beneath the massive structure to honor the martyrs. The best time to visit India Gate is during the evening when the sandstone fountains and the majestic structure are brilliantly lit.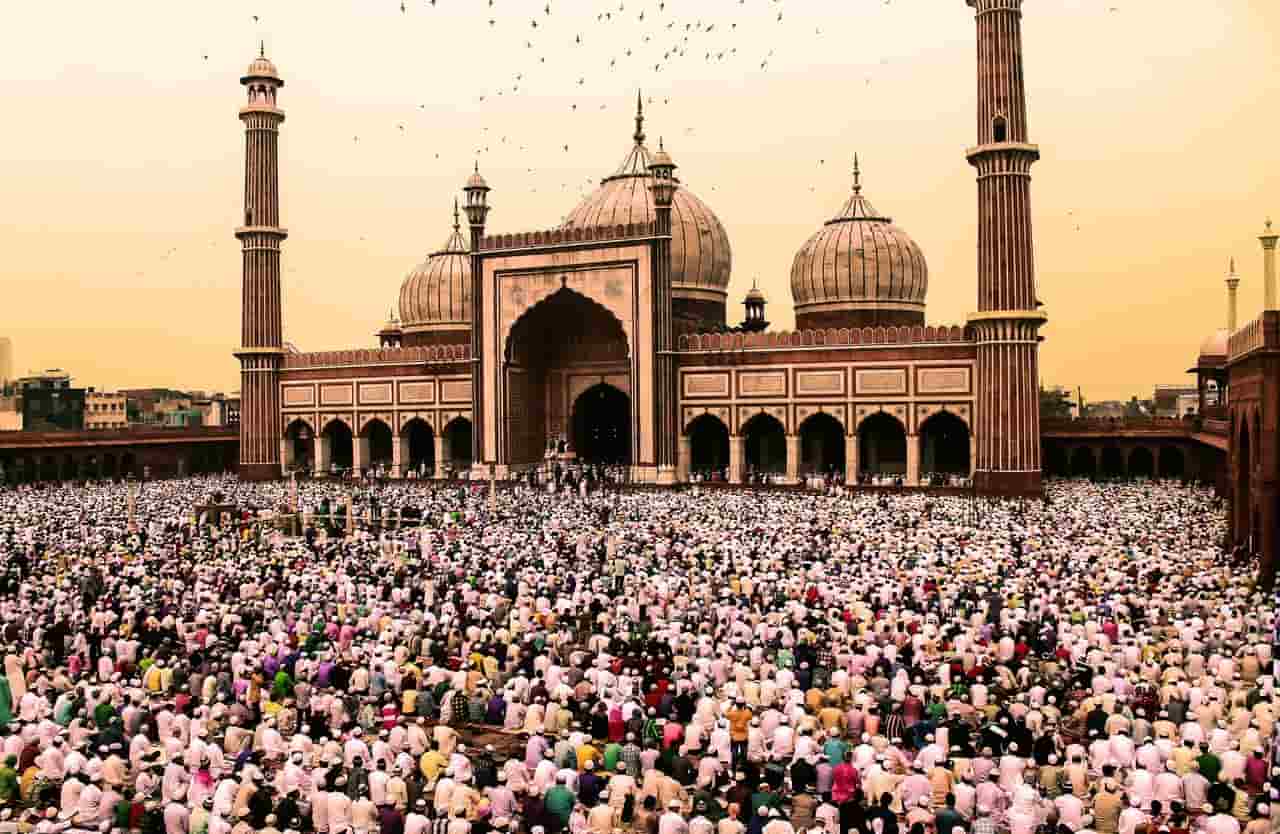 India has an amazing diversity of cultures and religions within its borders. Delhi provides a perfect opportunity to grasp the significance and principles of the different ethnicities in India. You can visit the popular Sikh temple- the 18th century Gurudwara Granth Sahib or you can appreciate the 17th century Jama Masjid – the largest mosque in India. The famed Shri Digambar Jain Mandir is a good place to get a peep into the Jain culture. If you are looking for serenity, equality, and religious harmony, head to the Lotus Temple. The stunning temple is brilliantly constructed to resemble a lotus flower with 27 white marble petals. Rising from the surrounding pools, the artistic masterpiece attracts visitors from all over the world.
There is no dearth of Hindu temples in Delhi, but Akshardham Temple is a must-visit. The popular temple was opened in 2005 and is one of the largest Hindu temples in the world. It showcases 10,000 years of Indian culture and architecture through its intricately carved interiors. The massive complex also boasts of IMAX theatre, ornate gardens, musical fountains, and a 15-minute boat ride depicting Indian mythology and heritage. A trip to Akshardham Temple is a completely fun-filled package and you can expect it to be crowded at all times.
Indulge in a Shopping Spree in Delhi
Delhi has slowly and steadily become the shopping hub of the country. The city caters to all needs and to all budgets. Flea markets of Janpath and Sarojini Nagar are the favorites amongst the youth looking for trendy gear at bargain prices. If you are hunting for beautiful Indian handicrafts, fabrics, and ethnic treasures, you should go to Dilli Haat or the government emporiums located at Baba Kharak Singh Marg. 
Dilli Haat is a large open-market food and craft bazaar where local artisans from all over the country get an opportunity to showcase their artifacts. Authentic regional food, traditional handicrafts, affordable prices, live performances, and the rustic atmosphere makes a visit to Dilli Haat a truly enjoyable experience. Dilli Haat located opposite the INA market is the original one and the one you should be targeting.
Lajpat Nagar, Karol Bagh, Chandni Chowk, and Palika Bazar caters to the need of middle-class shoppers. The urban villages of Shahpur Jat, Ghitorni, and Hauz Khas Village are the preferred destination for shoppers scouting for art galleries and expensive Indian wear. If you are a mall hopper, you will be spoiled for choice. Select City Walk, The Qutub, DLF Promenade, Ambience Mall, and DLF Emporio can compete with the best malls in the world and offer all the coveted national and international brands. If you want to experience the typical Delhi vibes, you have to explore the classiest and trendiest markets of Delhi like Khan Market, South Extension, Connaught Place, and Greater Kailash.
One quality that sets Delhi apart from other Indian cities is the widespread green spaces. The capital city is known for its sprawling public parks. Lodhi Gardens, Sunder Nursery, Deer Park, Nehru Park, and Garden of Five Senses are the most-visited parks in Delhi.
If you want a break from the cosmic swirl, Lodhi Gardens is your best option. Nestled in the heart of the city, the beautiful gardens will calm and energize you. The huge lush lawns are dotted with ancient ruins, picturesque verandas, captivating ponds, and blooming flowers making it popular amongst nature and history lovers. Perfect place to spend a relaxed morning/evening in the lap of nature.
Visit Chandni Chowk, Delhi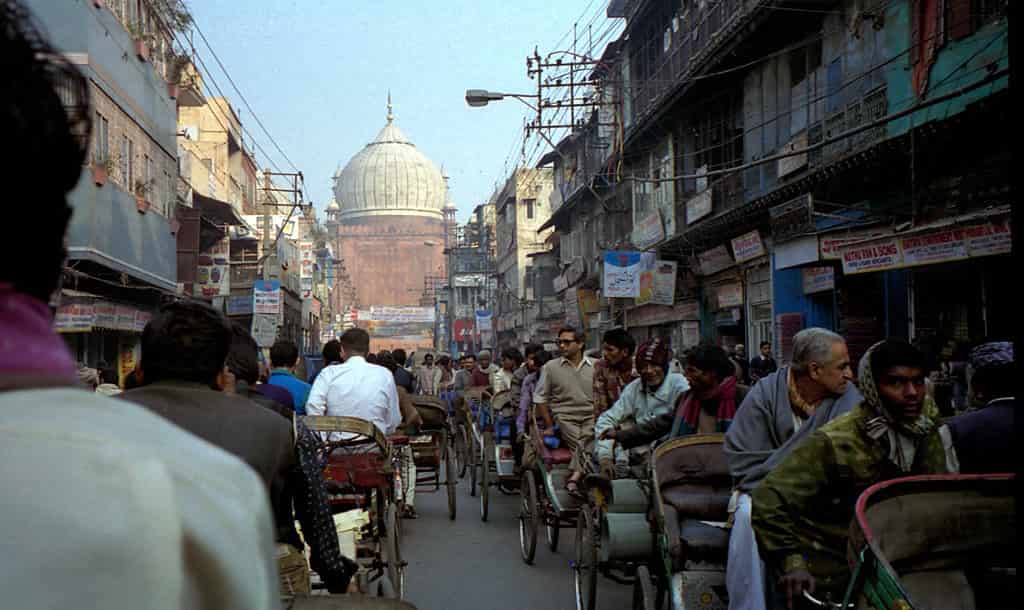 You cannot leave Delhi without visiting the iconic Chandni Chowk. The narrow winding by-lanes of the historical market may engulf you with its frenetic pace, boisterous crowds, and constant chaos. But you have to experience the rustic, old-world charm of the oldest and busiest markets in Delhi. 
Chandni Chowk, established in the 17th century by Shah Jahan, has so much to offer the visitors and the locals. In the crowded sub-markets of Chandni Chowk, you can buy everything conceivable at competitive prices. Then there is the mouth-watering street food which will make you addicted for life. The majestic Red Fort and Jama Masjid are in the vicinity and so are many Havelis from the Mughal era, which are hidden amongst the bustling shops. You can opt for a Heritage Walk tour if you are not ready for the "organized chaos" of the legendary Chandni Chowk.
Still not sure? Check 5 Reasons to visit Chandni Chowk
Check the Museums in Delhi
If you want to absorb the incredible history and culture of India, it makes sense to visit the renowned art galleries and museums in Delhi. Rail Museum, Dolls Museum, National Museum, National Science Museum, Nehru Planetarium, and National Gallery of Modern Art are definitely worth your time. Dolls Museum, displaying dolls wearing the native clothes of different countries, is a favorite amongst children.
Enjoy Delhi's Mouth-watering Food
Delhi provides you with the best gastronomical experiences. Who hasn't heard about the yummy street food of Chandni Chowk? The famous Indian Chaat, melt-in-mouth desserts,  and other lip-smacking street food can also be enjoyed at Bengali Sweet Home, Bikanerwala, and Haldirams. Chole Bhature of Sitaram Diwan Chand (Paharganj), Karim's Kabab, Dolma Aunty's Momos (Lajpat Nagar), Roshan ki Kulfi (Karol Bagh), Biryani from Anand (CP), Nagpal's Kachori (Lajpat Nagar), Masala Dosa of Saravana Bhavan (Janpath) are some of the must-try picks for the foodies. Delhi gives you a chance to taste specialties from all parts of India.
If money is no constraint, there is Bukhara, Dum-Pukht, Dhaba, The Spice Route, Indian Accent, Masala Library, Big Chill, and other high-end restaurants serving you flavourful delicacies in plush surroundings. Delhi food adventure is not limited to Indian cuisine. You get the best of Chinese, Italian, Mexican, Thai, Lebanese, and all the other international cuisines you can think of.
Have Fun at Hauz Khas Village, Delhi
The capital city is not all about heritage, history, and shopping. Delhi is abuzz with trendy cafes, clubs, pubs, and nightclubs, making it an amazing city to hang out in at night. Hauz Khas Village in South Delhi is THE place if you are looking for some 'cool' party spot. The trendy village, popularly known as HKV, is known for its art galleries, swanky boutiques, trendy eateries, and buzzing bars. During the daytime, you can explore the crumbling tombs and the adjoining Deer Park, spend some time window shopping or maybe enjoy a leisurely lunch in one of the hip cafes. As the night falls, youngsters flock to HKV to drink and party. If you really want to enjoy Delhi's nightlife, you just have to turn up at Hauz Khas Village on a Saturday night.
Delhi is always hosting exhibitions, fetes, concerts, theatres, and festivals. You can usually find an event that might interest you. Any trip to India cannot be complete without taking a 3-4-day break in Delhi so that you get a chance to explore a few of its treasures. 
Subscribe to Our Newsletter