11 Famous Food of Rajasthan
If you want to absorb the culture, history, and essence of a country, you must experiment with the local food. Every country has its own cuisine, but Indian food is in a class by itself. It is incredibly diverse, changing every few kilometers to reflect local culture, weather, and produce. One region of India that stands out for its traditional, authentic & mouth-watering cuisine is the royal state of Rajasthan.
Rajasthani food has also been influenced by the rich heritage and climatic conditions of the region. The major chunk of the state is a desert and the dearth of water and fresh produce has majorly impacted the local cuisine. Most of the dishes have evolved keeping in mind these limitations. Lentils, flour, corn, ghee, coarse grains (bajra & millet), milk, oil, dry fruits, and spices are used extensively. Surprisingly, none of these constraints have had any effect on the flavor, aroma, or taste of the food in Rajasthan.
You'll come across a variety of innovative and intriguing delicacies that will leave you drooling for more. From savory snacks, tangy condiments, & spicy curries, to crispy bread & succulent sweets – you are never going to run out of things to try in Rajasthan. It's not a good idea to taste everything in a brief span of time because Rajasthani cuisine is rich and heavy, and the hot climate makes digestion difficult. I've compiled a list of 11 Rajasthani delicacies that you must taste. Choose your favorites and prepare for a gourmet extravaganza you'll remember for years.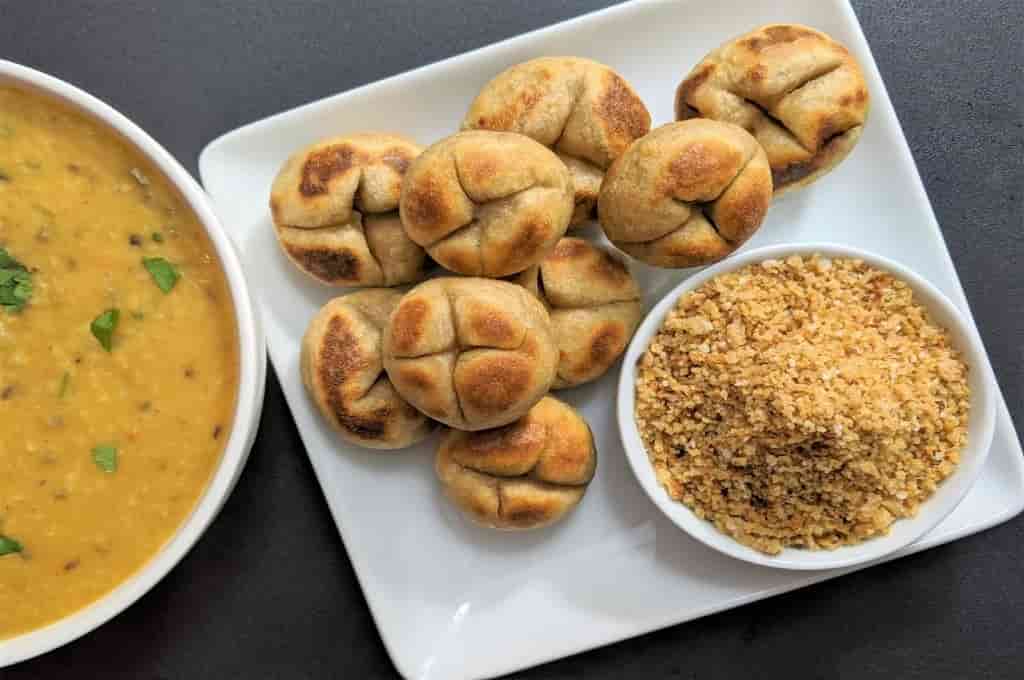 1).  Dal Bati & Churma
No wedding or occasion in Rajasthan is complete without the iconic Dal Bati & Churma. This traditional Rajasthani dish is widely available across the state. Despite the fact that it is difficult to prepare, it is cooked in almost every home in Rajasthan. Bati is round wheat balls that are either fried or roasted in a traditional charcoal oven. On the outside, they're crunchy, yet on the inside, they're soft. So, how do you go about eating them? They are broken into little pieces and dipped in spicy dal (lentil curry) and ghee (clarified butter). The Baati soaked in dal can be eaten with your fingers (the traditional way) or with a spoon. Churma is mostly served alongside Dal Bati. This delectable dessert is made by crumbling Batis and liberally sprinkling them with nuts, saffron, cardamoms, and sugar/jaggery.
2).  Gatte ki Sabzi
Gate ki Sabzi (vegetable) is a popular dish served all over India, but no one cooks them better than the Rajasthanis. It is supposed to be a vegetable but hardly uses any greens. Steamed and fried gram flour dumplings are added to a rich gravy made with curd and spices. The spicy curry seeps into the Gatte and makes them soft and aromatic. This delicious Marwari dish is best enjoyed with either Rotis (Indian flatbread) or plain rice. There are multiple versions of this traditional dish like Govind Gatte and Shahi Gatte. A rice dish called Gatte ki Khichdi is also prepared using dry gram flour dumplings.
3).  Ker Sangri
A typical Rajasthani vegetable is prepared using locally sourced ingredients. Ker is a piquant wild berry and Sangri is a long bean grown in the desert areas of Jaisalmer and Barmer. Both products are stored in dried form in all Rajasthani households. To make Ker Sangri, the two ingredients are first soaked and boiled. They are then stir-fried with raisins, dried mango, and dried red chilies, among other native spices and herbs. The spicy, acidic concoction is a kind of pickle with a long shelf life. The dish may not look very appetizing, but once you taste it, you will love the distinctive taste. A variation of Ker Sangri which is also much-loved is Panchkuta. Along with the previously mentioned items, Gunda (another wild berry) and Kumat (seeds from a deciduous tree's pod) are also added to make Panchkuta. Ker Sangri and Panchkuta go perfectly with Bajra ki Roti (millet flatbread) and fluffy puris.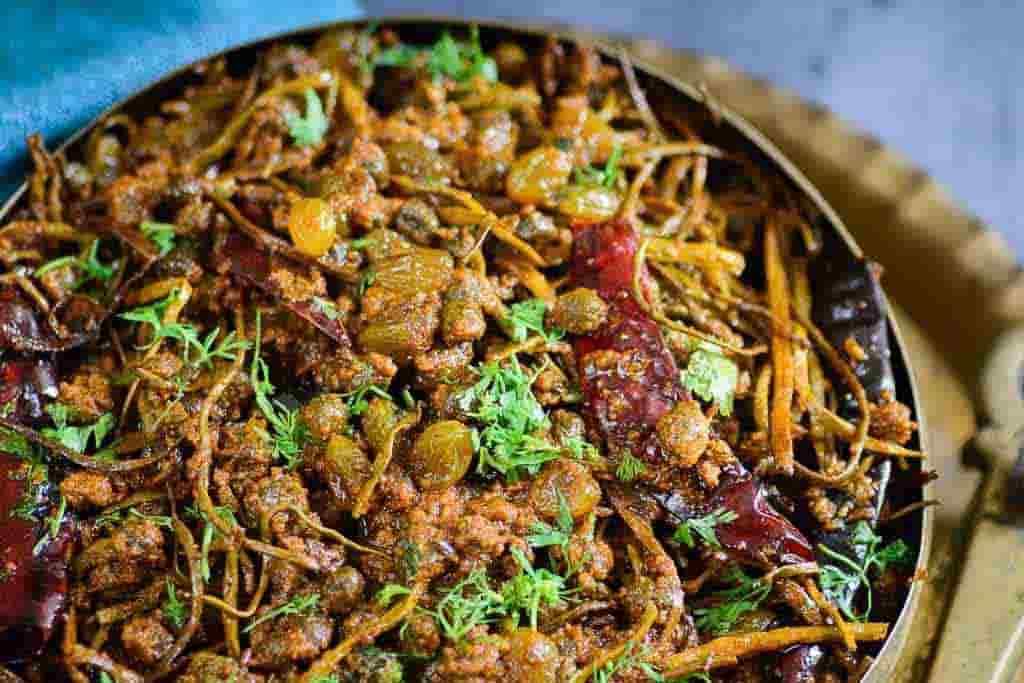 4).  Kabuli
You may have not heard about this flavorsome specialty from Jodhpur. This is a vegetarian version of the Afghan dish "Qabali" or "Kabuli." Because of the close ties that existed between Marwar and the Mughals, the rice dish made its way to the royal courts of Marwar and was altered by royal chefs to suit the Indian palate. Jodhpuri Kabuli is considered a gourmet delicacy. Vegetables and bread are fried in ghee and simmered in a spicy curd gravy with generous use of whole spices and garlic. The fragrant curry and cooked rice are layered alternately in a heavy-bottomed vessel before being topped with dry fruits, fresh fruits, and saffron. It is then covered and cooked on low heat to enhance the flavors and taste. The dish is aromatic, colorful, and delicious. It is similar to Biryani but differs in that the ingredients in Kabuli are fried. The best place to eat Kabuli is in a Marwari kitchen or some wedding/celebration in Rajasthan.
5). Chakki ki Sabji
Chakki ki Sabji is another Jodhpur dish that deserves to be included on this list. The preparation of this delicacy is time-consuming and complex. You must prepare a soft wheat flour dough. Place the dough in a sieve and rinse it under running water until the starch has been removed and only the gluten bits remain. Add spices to the gluten and beat it until it gets soft and rubbery. Tie the chakki (gluten) into knots and deep-fry them in ghee. Add the Chakkis to a curd-based spicy curry and you are good to go. Making a fine Chakki (gluten) ki Sabji is a vanishing skill. If you are fortunate enough to visit a traditional household in Jodhpur, you may be able to enjoy authentic Chakki ki Sabji. Otherwise, you'll be able to taste it in a restaurant or during any gatherings and festivities.
6).  Pyaaz ki Kachori
Walk through any crowded street in Rajasthan, and you will be tempted by the tantalizing aroma of the Pyaaz Kachori being fried nearby. Somewhat similar to Samosa, Kachori is a fried, round puffed pastry made from plain flour and stuffed with a spicy filling of potato and onions (pyaaz). It is served with tamarind and coriander chutney. Many varieties of this scrumptious snack can be found throughout India, but if you're in Rajasthan, choose the Pyaaz ki Kachori. You get the best Pyaaz ki kachori in Jodhpur and Jaipur. The tastiest Pyaaz ki Kachoris in Rajasthan can be found at Rawat Misthan Bhandar in Jaipur and Janta Sweet Home & Surya Namkeen in Jodhpur
7).  Mirchi Bada
If you are looking for a hot and spicy snack to go with your evening tea, look no further. A large green chili is stuffed with mashed potatoes, dipped in a batter of gram flour, and then deep-fried. Mirchi Bada is served with mint chutney and tomato sauce. It was the city of Jodhpur that popularized Mirchi Badas (chilly fritters) and even now, no one does it better than Jodhpur. Mirchi Badas from Jodhpur's Chawdhary Namkeen is out of this world. If you enjoy spicy food, don't miss tasting this delish street food of Rajasthan. Mirchi Badas are in high demand, and many people take them home to consume later. They must be kept refrigerated since they are perishable.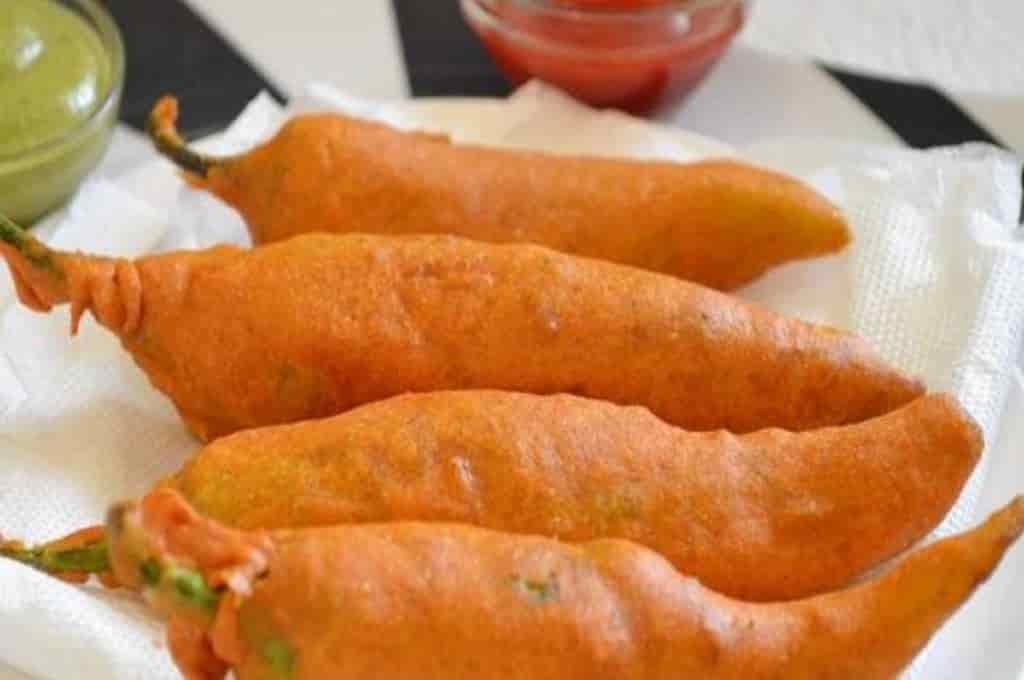 8).  Ghevar
Rajasthanis are said to have a sweet tooth, and you'll agree once you see the incredible variety of delightful sweets available there. Ghevar is a Rajasthani dessert that has its origins in Jaipur. A batter of refined flour, ghee, ice, and milk is used to make the disc-shaped Ghevar. The thick concoction is poured in small batches into hot ghee until it forms a circle. After that, the crunchy delicacy is soaked in sugar syrup and topped with saffron, almonds, pistachios, and Vark (edible silver foil). The entire procedure is complex, and only a few people are capable of mastering the art of achieving the desired texture and shape. Ghevar can be topped with Malai (cream) or Mewa (milk solids) for added flavor. The signature sweet of Rajasthan is traditionally associated with the Teej & Gangaur festivals, but local sweet shops sell it year-round. For decades, the legendary LMB has been the go-to shop for buying Ghewars.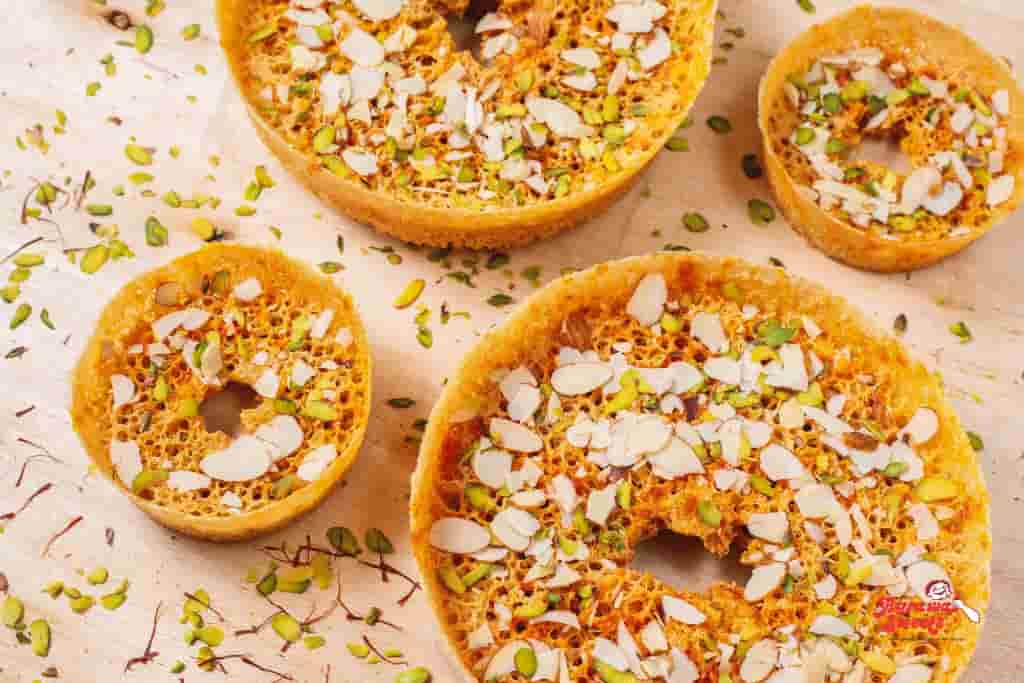 9).  Mawa ki Kachori
A variation of the popular Pyaaz ki Kachori, but with a twist. Mawa Kachori is a sweet dish, rather than a savory one. The kachoris are filled with mawa (reduced milk) along with dry fruits and herbs and then dunked in sugary syrup. If you want to sample the best Mawa ki Kachoris, Jodhpur should be your next stop. Head to Jai Ramdas Munnilal or Rawat Mishtan Bhandar in Jodhpur for the best Mawa Kachoris in town. Enjoy this lip-smacking delicacy to your heart's content because you won't find it anywhere else but Rajasthan. Wait, don't eat more than one at a time because the Kachoris are really rich and your stomach might not be used to such heavy food.
10).  Pheni/Fenni
If you visit Jaipur during the winter, you must sample the delectable Pheni. It is traditionally offered during the Makar Sankranti celebration. Pheni is made using refined flour and a generous amount of ghee. The crusty dessert is essentially vermicelli fried in a round form. It is then dipped in saffron-flavored sugar syrup or served with hot milk. Making Pheni is a long and intricate procedure that only expert chefs can master. The quality of Phenis sold by Sambhar Fini Wala is unmatched. In Bikaner, you can find Kesar Pheni, a variety of Pheni.
11). Non-veg Dishes
Rajasthan has the greatest percentage of vegetarians in India, accounting for over 75% of the population. Naturally, the state is best known for its vegetarian food and traditional desserts. However, if you're looking for non-vegetarian options, you won't be disappointed. Meat curries like Laal Maas and Mohan Maas are popular with meat eaters. As I am a strict vegetarian, I will leave it to you to explore and learn more about these non-vegetarian dishes.
There is plenty more to taste if you are there for a longer period of time and wish to enjoy more of the tempting Rajasthani cuisine. You can try Rajasthani Kadi, Papad ki Sabji, Methi Bajra Poori, Aam ki Launji, Bajre Ki Roti, Lassi, Masala Chaach, and Raab. If desserts are your weakness, you're in for a treat. Jalebi, Mohan Thal, Malpua, Balushahi, Gujia, Imarti, Kalakand, Daal Halwa, and a variety of other sweets are easily available. Let me know which Rajasthani food is your favorite.
Subscribe to Our Newsletter