Best Things to do in Dubai Mall
10 Best Things to do in Dubai Mall
Renowned as the world's largest mall, the Dubai Mall in the heart of Downtown Dubai, is an epicenter of endless shopping, dining, leisure, and entertainment in Dubai. Placed adjacent to the world's tallest building – Burj Khalifa, there is so much to see and experience here that you can keep yourself busy for days. So what are the activities or experiences that you would prefer to add to your Dubai Mall checklist? If you don't have an idea about this, just refer to our guide of top things to do in Dubai Mall for a prompt and quick dose of inspiration.
1.  Shop to your heart's desire in Dubai Mall
You'll realize that this is not your average mall the moment you drop in here. With a whopping 1200 plus shops, you can expect to find here large-sized outlets of almost all your most adored brands including Adidas Originals, American Vintage, Burberry, Parfums Da Marly, Cartier, Dior, and Women's Secret to name a few. Even if you look forward to spending 10 to 15 minutes in these shops, you'd require an average of 250 hours to check them out all. So pre-plan is a must, particularly if you're here for some serious shopping. Not a shopaholic? Just forego these high-end stores; there are still nine other options beyond which let you return home with the most treasured moments.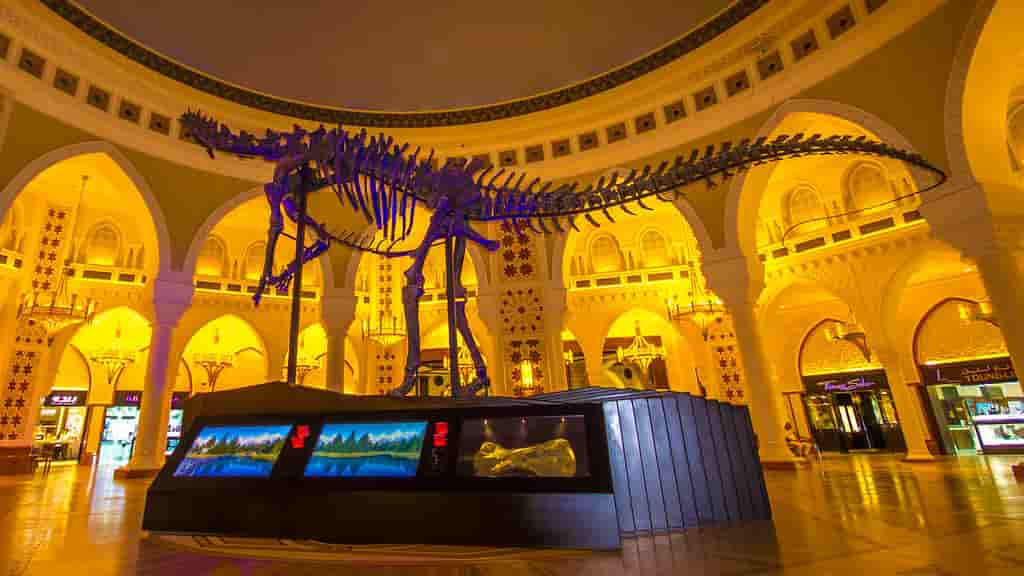 2.  Dine food from all over the world in Dubai Mall
200 plus dining choices, ranging from a sprawling food court to the classiest sit-down options and relatively affordable food vendors, make sure that you would never run out of energy or precisely go hungry here. For the finest assortment of desserts, lattes, and cheesecakes, one of our top suggestions is Cheesecake Factory. With a classic Indian touch in both its flavors and décor, Peppermill is one of the mall's popular dining venues for authentic Asian cuisines. For dining with stunning views, consider Tribes Carnivore overlooking Burj Khalifa and Gia with direct views of the Dubai Fountain show are unmissable.
3.  Let your kids take charge of the miniature metropolis
KidZania Dubai Mall is one spot that is exclusively created to please your younger ones from 2 to 16 years of age. Modeled to take after a real adult world powered by a well-developed economy, this is more than just a place to drop those kids who don't want to join their parents on a dining or shopping spree. A learning experience that is perfectly combined with fun and entertainment. There are 60 real-life activities for kids to enjoy in this 7,000 m2 edutainment center. 
The streets are dotted with banks, fire stations, shops, and restaurants, replicating a mini-city. KidZania allows the kids to choose a career and deal with situations and hurdles that they encounter during their role-play. The kids can participate in their favorite adult jobs, from piloting a plane and baking a pizza to fashion walking on the ramp to working as an RJ. And they never return empty-handed from here as they get paid for all their creativity and efforts with KidZania's own currency, KidZos.
Location: Second Floor
Timings: 10 am to 10 pm, Thursday & Friday: 10 am to 11 pm 
Price: Starts at 80 AED for Adults and 110 AED for Kids. Online tickets are cheaper
4.  See unique and rare sea creatures at Dubai Aquarium and Underwater Zoo
Dubai Aquarium, with its largest of its kind 10-million-liter tank inhabited by over 33,000 marine creatures, is one of the main attractions that would instantly grab your attention once you enter the mall. Dubai Aquarium holds the Guinness Book of World Awards for the world's most extensive acrylic panel. Yes, you'll get to admire a part of it for free, but we would definitely urge you to pay a nominal fee to explore its other sections plus an underwater zoo that hosts the massive King Croc that weighs over 700 kilograms. You get to walk through its 48-meter-long underwater tunnel and further take part in a variety of adventurous yet fun-filled activities including diving with sharks, shark walkers, cage snorkeling, and glass-bottom ride. 
Location: Ground Floor
Timings: 10 am to 10 pm
Price: Starts at 90 AED

5.  Ride advanced go-karts in Dubai Mall
If you can't get away from pulse-racing action or exhilarating speed, head on to Ekaart Zabeel at the Dubai Mall's Zabeel Extension. You get to ride here the state-of-the-art electric go-karts that are environment-friendly and hence come with zero emissions. This is ideal for all including your older kids above 14 years. So bring your group, contest against your friends or like-minded racers, and even get your racing time tracked.
Location: 9th Floor
Timings: 10 am to 11 pm, Thursday & Friday: 10 am to 12 am 
Price: Starts at 95 AED
6.  Visit the Middle East's biggest candy shop in Dubai Mall
Facing Dubai Aquarium and Underwater Zoo, this mega candy store in the Dubai Mall spans over 10,000 square feet and is one of the ultimate places in the world to satiate your cravings for sweets. With over 5000 different varieties of candies, you'll find here everything from the most unique and tantalizing chocolates to the classics and even those that bring back sweet old memories. Beyond its vast collection, this store will delight both your kids and the kids inside you with these tonnes of sweets arranged in a variety of shapes and themes. See Candylicious airplane as well as lollipops, candies, etc dangling over your head!
7.  Enjoy ice skating at Dubai Mall
Dubai has strong sunshine with scorching temperatures year-round. But this doesn't mean that you've to abandon your love or penchant for your favorite snow or winter pursuits. And the Dubai Mall has sorted this too for you, with its massive, Olympic-sized Dubai Ice Rink where people of all age groups can enjoy a whirl on its glazing icy floor. Moreover, it's ideal for all levels alike, from super pros to the first-timers and even your little ones above two years of age with the appropriate skating aids to choose from. For those who wish to enhance or tweak their skating skills, the facility offers diverse skating lesson packages. You have the option to rent out this place for birthday parties and events too.
Location: Ground Floor
Timings: 10 am to 12 am, Thursday & Friday: 10 am to 1 am 
Price: Starts at 75 AED

8.  Discover the thrill of Virtual Reality in Dubai Mall
It's not just the most immersive and innovative Virtual Reality experiences that await you at the Dubai Mall's VR Park; you'll also get to enjoy the finest in Augmented Reality here. VR Park blurs the lines between perception and reality and promises you adventure and entertainment at an epic scale. The theme park has rides and experiences that cover all genres like horror, adventure, action, etc.  So are you ready to challenge reality? Entry here is free, and you can pay as you go as you hit its many killers rides like Burj Drop, Cozmojet, Dubai Drone, Dune Bash, Flying Chairs, etc. Apart from this, there is a Super10 pass that allows you to take in your favorite VR park rides and attractions for a single price.
Location: Second Floor
Timings: 10 am to 12 am, Thursday & Friday: 10 am to 1 am 
Price: Starts at 35 AED for individual attractions and an adult day pass costs 150 AED
9.  Snap a pose with Dubai Dino & Human Waterfall in Dubai Mall
With its size equating to 200 football pitches (exactly 12 million square feet overall), the Dubai Mall receives a jaw-dropping footfall of over 75 million visitors per year and this includes people from all walks of life. So what makes it a favorite of every desire and pocket? While it is top-of-the-range shopping, dining, and leisure attractions that cater to the well-heeled, there are many free attractions that you can relish as you wander across this mall. From the display of the 155-year-old Dino skeleton (Dubai Dino) to Fashion Avenue and the iconic Human Waterfalls, they all are unique, and intriguing, and also make a wonderful photo op.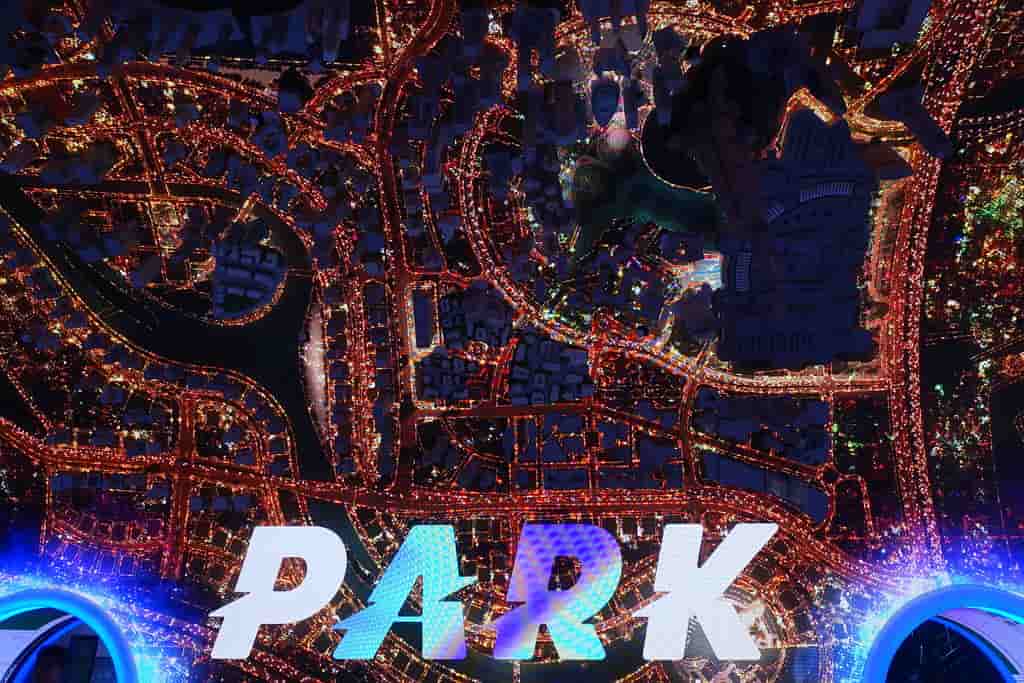 10.  Spectacle Dubai Fountain Show
No list of things to do or see in the Dubai Mall, Downtown Dubai, or Dubai itself is complete without mentioning this spectacular extravaganza of water, light, and music. Placed on Burj Lake, it lies outside of the Dubai Mall and adjacent to Burj Khalifa. Till the launch of the Palm Fountain at Palm Jumeirah's Pointe recently, it was the world's largest fountain. That said, this (yet another free attraction) is still a crowd-pleaser and would forever remain a timeless favorite in Dubai.
11.  Enjoy Dubai's only A380 Flight Simulator
This advanced flight simulator resembles the cockpit of a real plane and allows you to experience the Biggest Airbus A380.  Select one of 12 busy airports, take the help of an instructor, and navigate the cutting-edge simulator. The 30-minute activity is your chance to become a pilot for a while. This one of its kind flight simulators will help you to experience the exhilaration of flying a famous commercial airplane.
Location: Second Floor
Timings: 10 am to 10 pm, Thursday & Friday: 10 am to 12 am 
Price: 325-375 AED
12.  Experience Fear at the Hysteria
If you are an adrenaline junkie, thrill-seeker,  or horror-movie lover, you should definitely add Hysteria to your to-do list in Dubai Mall. As you pass through the dimly-lit dark corridors of the 15-room mansion, you will encounter ghostly figures, zombies, and dreadful surprises that will bring you face to face with your darkest nightmares and deepest fears. The 15-minute experience is definitely not recommended for the faint-hearted. Children below 16 years cannot enter the one-of-its-kind haunted attraction Hysteria.
Location: Second Floor
Timings: 10 am to 12 am, Thursday & Friday: 10 am to 1 am 
Price: Starts at 35 AED
Conclusion
The above list is by no means the ultimate. Dependent on your preferences, you can play football at Goal, enjoy fascinating activities at Caboodle and watch world-class movies in utmost comfort at the Reel Cinema, among many others. In fact, the Dubai Mall is more than just a gigantic shopping destination; it boasts of everything to satiate grown-ups and little ones alike in a cool, fun-filled ambiance. So whether you're planning for a whole week or just a few hours trip in Dubai, visit Dubai Mall – it's certain to appeal to all age groups
Subscribe to our newsletter