11 Best Greek Islands to Visit
11 Best Greek Islands to Visit
Striking blue waters, stunning coastline, a bounty of beaches, white-washed villages, and archaeological ruins – the Greek islands have everything going for a perfect holiday destination. Greece has more than 6000 islands scattered in the Ionian and the Aegean Seas, and 227 of them are inhabited. There is a popular misconception that most of the Greek islands are similar. However, each island has something different and new to offer. So, where does one actually start exploring?
Travelers often end up visiting the white-washed walkaways of Mykonos and the cliff-clinging towns of Santorini. But besides these two famed islands, there are many hidden gems like Paros, Naxos, Corfu, and Milos waiting to be discovered. The choices can be overwhelming as there are hundreds of stunning islands to choose from. To make your decision easier, we have compiled a list of the 11 best islands to visit in Greece. Pick the ones that match your vacation goals.
SANTORINI – FOR THE ROMANTICS & LUXURY TRAVELERS
Best Time to Visit Santorini: April to early November
Soaring above the turquoise sea, Santorini definitely lives up to all the hype it gets. The whitewashed houses perched on steep hillsides, black-sand beaches, the charming blue-domed churches, the well-preserved archaeological sites, and the dramatic volcanic caldera – everything is just picture-perfect. The island is considered one of the most romantic destinations in the world and provides a jaw-dropping backdrop for some enviable pictures.
You can spend hours strolling the winding, cobblestoned streets, climbing the steep pedestrian staircases, and admiring one of the world's most famous sunsets. The luxury boutique hotels, acclaimed wineries & eateries, and high-end boutiques add to the allure of the iconic island. The highlights are the picturesque towns of Fira and Oia, the smoldering crater of Nea Kameni, the hot springs at Palia Kameni, and the Minoan ruins at Akrotiri.
How to reach Santorini?
Santorini has direct flights from many European cities like Rome, London, Paris, Naples, Venice, and of course Athens. If you are in Athens, you have the option to take a ferry from Piraeus Port (5-7h). From Mykonos, it takes three hours to reach Santorini by ferry.
MYKONOS – FOR THE PARTY LOVERS
Best Time to Visit Mykonos: May to October
If you are looking to party, Mykonos should be your go-to island. The picturesque fishing town is known for its wild beach parties, vibrant nightlife, luxurious hotels, gay-friendly atmosphere, and some very romantic spots. Mykonos is visited by the rich and famous, and chances of bumping into a celebrity are always there.  The fun-loving island is abuzz with trendy bars & cafes, atmospheric taverns, beach clubs, and live entertainment options. Mykonos Town (Chora), Little Venice, Golden Super Paradise, and Cave Paradiso are a few spots that attract lots of revelers and party lovers.
Chora is a delightful maze of narrow bougainvillea-draped streets, slathered in white and packed with artisan stores, terraced cafes, designer shops, and art galleries. If you are not in the mood to party, you can explore the iconic windmills of Kato Mili, the white-washed monasteries of Ano Mera, the tiny island of Delos, and the umpteen sun-kissed beaches (Nammos, Fokos, Ellia, Paraga, Scorpios, etc.). Try jet-skiing, parasailing, or windsurfing if you want to satisfy your adrenalin rush. Mykonos is also a great place to base your vacation in the areas as it is within easy reach of a few islands for day trips.
How to reach Mykonos?
You can fly to Mykonos directly from a few European cities like Amsterdam, Barcelona, London, Dublin, & Paris. It will take you about 40 minutes by flight and five hours by ferry to reach Mykonos from Athens. It is easy to get there from the other islands by daily speedboat connections.
CRETE – SOMETHING FOR EVERYONE
Best Time to Visit Crete: May to October
Crete, the largest Greek Island, is another sought-after destination in Greece. Crete offers more than just dramatic landscapes. It is remarkably diverse, culturally rich, and steeped in history. There are countless attractions to keep you busy – ancient Minoan ruins, gorgeous beaches, traditional villages, charming Venetian port towns & sun-kissed mountains. Chania is the most beautiful city in Crete. Part of it was destroyed during the second world war, but the historic center is still intact and should be explored at leisure. Impressive historical sites like Knossos Palace, Phaistos, Aptera, Malia, Arkadi Monastery, & Kato Zakros are scattered all over the island. Sun-seekers can relax on the dreamiest beaches such as Falasarna, Seitan Limania, Val, Elafonisi, & Balos Lagoon. For adventure lovers, there is the option to hike through Aradena Gorge & Samaria Gorge.
How to reach Crete?
Ferries from Athens take around 9 hours, so consider flying to save time. Both Chania and Heraklion have international airports and you can reach Crete via direct flights from major European cities like Milan, Berlin, Amsterdam, Barcelona, and Athens.
CORFU – FOR FAMILIES & SIGHTSEERS
Best Time to Visit Corfu: April to early November
Corfu is a cosmopolitan town due to its strong connections to the rest of Europe. You can see an intriguing mix of Greek, British, Venetian, and French influences wherever you go. Corfu is blessed with lush greenery, stunning architecture, admirable diversity, and rich history. It is located on the western side of Greece and is away from the other popular Greek islands, but still worth a visit. The Old Town is a UNESCO World Heritage-listed site. The impressive fortresses, Renaissance palaces, Baroque churches, and vaulted passageways are bound to make a lasting impression.
Take time to discover the rich historical past, go on a winery/olive oil tour, and visit the Vlacherna Monastery & Angelokastro Castle. If you still have time, book a diving excursion to explore the underwater caves & old shipwrecks or enjoy a boat ride to Pontikonisi. The island is dotted with gorgeous beaches and coves like Mirtiotissa, Paleokastritsa, Agios Gordios, Rivonia, Glyfada, and Dasia. There are enough sights and activities in Corfu to keep travelers occupied.
How to reach Corfu?
Corfu has an international airport and you can take flights from a few European countries, besides Athens. It is a 90-minute ferry ride from Igoumenitsa – a city located in the northwest part of Greece. Corfu is also a major stop on the Greek islands' ferry routes, so getting there should not be a problem.
RHODES – FOR THE HISTORY BUFFS
Best Time to Visit Rhodes: April to October
Another Greek island that should be on your wish list is Rhodes. It is an ultimate summer destination with an average of 300 days of sunshine per year. Rhodes is Europe's oldest continuously inhabited town and one of the best-preserved medieval cities in Europe. So, take time to stroll the streets of the Old Town of Rhodes where you will discover the Palace of the Grandmaster, Ippokratous Square, Byzantine churches, Ottoman mosque, Roman ruins, and countless minarets & synagogues. If you need a break from all the sightseeing, Tsambika, Faliraki, Agios Pavlos, Glystra, & Lindos are a few of the beaches that you can visit. Those looking for a family outing can plan an excursion to the Butterfly Valley, Lindos Village (Acropolis of Lindos) & Saint Paul's Bay. The island is also known for its buzzing nightlife.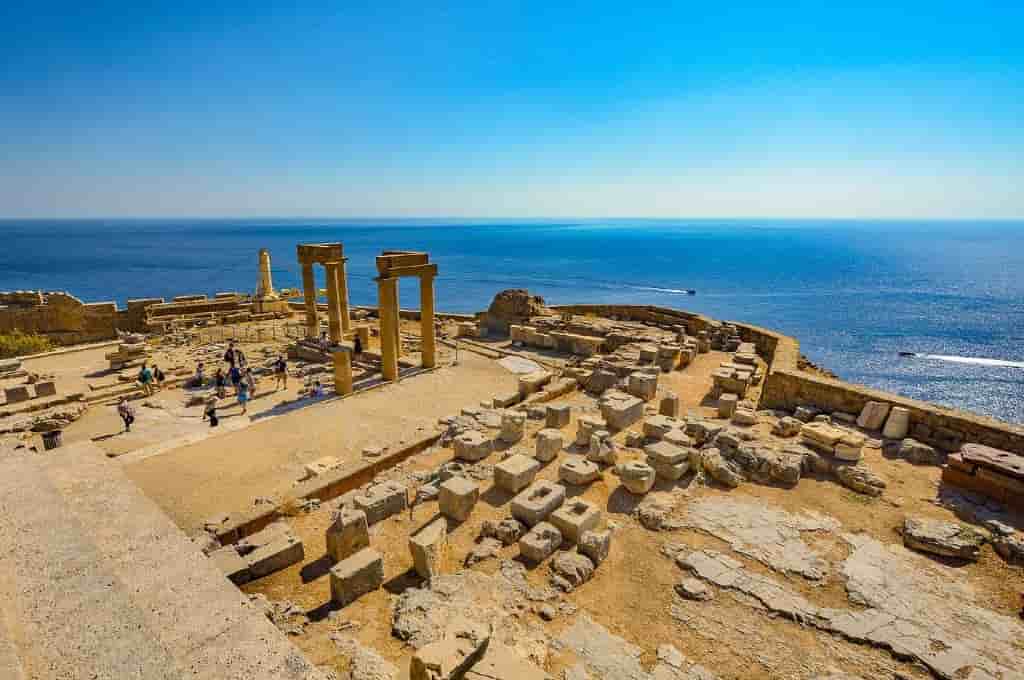 How to reach Rhodes?
Rhodes is 13 hours by ferry from Piraeus (Athens). Since Rhodes is situated a little away from Athens, it is best to take a flight from Athens (1 hour) or Thessaloniki (1 hour). It is also connected by air to many other cities from around the world.
KEFALONIA / CEPHALONIA – FOR THE BEACH LOVERS
Best Time to Visit Kefalonia: April to October
Kefalonia has some of the most rugged and dramatic coastlines among all the Greek Islands. Large sections of the classy Venetian architecture were destroyed during an earthquake in 1953, but Kefalonia still attracts travelers because of its scenic landscapes. The biggest attraction of Kefalonia is the exotic beaches nestled between pine trees & rugged rock formations. Forested mountains, olive plantations, deep blue waters, and the quaint countryside add to the island's beauty.
Towns like Argostoli, Assos, and Fiskardo are colorful and charming. Melissani Sea Cave and Mount Ainos are the preferred spots for adventure-seekers. If you are a connoisseur of wine, you must visit Kefalonia for the famed Robola winery. Myrtos Beach, Horgota Beach, Skala Beach, and Antisamos Beach are a few of the exotic beaches where you can relax or enjoy some snorkeling/diving. If you have time, you can take a day trip to explore Ithaca, one of the most laid-back islands in Greece.
How to reach Kefalonia?
There are frequent flights to Kefalonia from Athens, Zakynthos, and Corfu. During summer the airport also receives flights from various locations around Europe like Rome, London, Frankfurt, Munich, Venice, etc. There are no direct ferries from Athens to Kefalonia.
PAROS – FOR THE YOUNG CROWD
Best Time to Visit Paros: April to October
A Greek island that is rapidly climbing the popularity charts is Paros. The island has the beauty and charm of Santorini and Mykonos but is much quieter and cheaper. A perfect blend of pristine beaches, traditional towns, fishing ports, and historical sites. Parikia, the capital city, is crammed with boutiques, bars, and eateries. The whitewashed houses with their blue domes are fringed by colorful bougainvillea, and you are bound to fall under the spell of the quaint town. Parikia is dotted with noteworthy historical sites like Panayia Ekatontapyliani Monastery and a Venetian Castle offering phenomenal views of the Aegean Sea.
Take time to visit the pretty little villages scattered all over Paros – Lefkes, Marpissa, and Naoussa. And don't miss the Kolimpithres beach in Paros. The artistic rock formations and crystal-clear waters make this beach one of the most picturesque beaches in Greece. Paros is also known for water sports activities. Golden Beach is ideal for windsurfing. Hop over to Antiparos (10 minutes by boat) if you are looking for some peaceful sandy beaches or want to explore the colorful reefs & shipwrecks.
How to reach Paros?
Several flights fly from Athens airport to Paros daily (40 minutes). There are frequent ferries from Piraeus to Paros (3-4 hours). Paros is a short ferry ride away from Mykonos (1h), Santorini (2-3h), and Naxos (30mts).
NAXOS – FOR THE BEACH LOVERS
Best Time to Visit Naxos: April to October
Naxos offers similar experiences to its elite neighbors (Santorini and Mykonos) but is way less crowded. One gets a chance to imbibe the local culture and traditions on the laid-back island. Naxos has miles and miles of pure white, sandy beaches, and you are spoiled for choice. Some of the best beaches in Naxos are Agia Anna, Agios Prokopios, Paralia Aliko, Mikri Vgla, Kastraki, and Plaka. The island is best for windsurfing, kitesurfing, and other water sports as the island's west side has perfect conditions for surfing. If you want to get away from the beach, explore the unspoiled mountain villages with their magnificent Venetian mansions and whitewashed cubic houses. Lovers of ancient ruins can visit the temples of Demeter, Dionysus, and Apollo. Other must-see attractions are the Castle of Naxos, Kastro, Ancient Quarries, and the Church of Panagia Drossiani.
How to reach Naxos?
You can catch a flight to Naxos from Athens (30 minutes). Alternatively, a ferry from Piraeus takes around 5-6 hours. Ferry services are also available from Santorini (1-2h), Mykonos (30-50 minutes, only peak season) & Crete (3-4h)
SKIATHOS – FOR RELAXATION & FAMILIES
Best Time to Visit Skiathos: April to early November
If you want to relax on an idyllic little Greek island, head to Skiathos.  Sultry, fine-sand beaches, laid-back vibes, rugged cliffs, white-washed villages, pine & fig-covered vaulted mountains, and endless turquoise sea – Skiathos is just spectacular. Despite its size, it is home to more than 60 beautiful beaches. Lalaria Beach, Banana Beach, Koukounaries Beach, Kastro Beach, and Kehria Beach are preferred. If you can drag yourself away from the sun-kissed beaches, explore the centuries-old churches, ancient monasteries, and medieval ruins.  Paralia Lalaria, Agios Nikolaos Church, Panagia Evangelistria, Papadiamantis House, Skiathos Old Town, Skiathos Sea Caves, and Kounistras Monastery are the most-visited tourist spots.
How to reach Skiathos?
You can catch a ferry to Skiathos from a few Greek cities like Thessaloniki, Evia, and Volos. There is no direct ferry to Skiathos from Athens.  Skiathos has an international airport. It receives daily flights from Athens (30 minutes) and seasonal flights from cities like London, Gatwick, Bristol, and Manchester.
MILOS – FOR COUPLES & NATURE LOVERS
Best Time to Visit Milos: April to October
The volcanic island of Milos is one of the most diverse and dramatic Greek islands. Milos is slowly hogging the limelight and Instagram is flooded with pictures of the striking island. It has lots to offer visitors – colorful beaches, hot springs, underwater caves, staggering cliffs, idyllic villages, and hiking trails. Milos has more than 70 beaches, each different in its own way.  The extraordinary colors and interesting rock formations make the beaches unique. Sarakiniko Beach is one of a kind. The tall alabaster-white volcanic rocks merge into the deep blue sea and look really spectacular and eerie. Gerakas, Firiplaka, Kastanas, Papafragas, Tsigrado, and Provatas beaches are also good options if you want to spend a day at the beach. For a glimpse of the local history, explore the ancient theatre, catacombs, and the Archaeological Museum. Plaka, Klyma, Adamas, and Pollonia are a few of the prettiest towns in Milos offering great bars, cafes, and shops.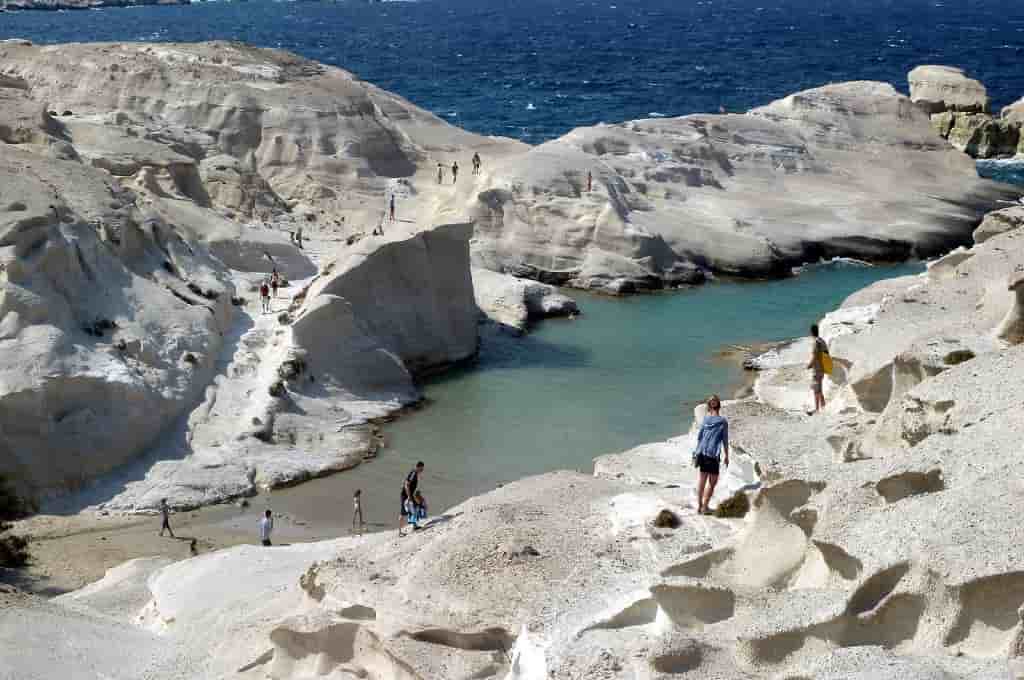 How to reach Milos?
Frequent ferries run between Milos and Piraeus (3-4h). From Santorini, it takes 2 hours to reach Milos. There is a small domestic airport in Milos and you can fly from Athens to Milos.
ZAKYNTHOS / ZANTE – FOR THE BEACH LOVERS
Best Time to Visit Zakynthos: March to November
Zakynthos Island is another must-visit Greek island. Hilltop villages, secluded coves, forested wilderness, limestone cliffs, turquoise waters, buzzing nightlife, and exotic beaches – the perfect holiday destination. Travelers come to Zakynthos mostly for the beaches like Kalamaki, Alykes, Argassi, Laganas Zante, Gerakas, and Lagana.
However, the highlight of Zakynthos is Novagio Beach also called Shipwreck Beach. Only accessible by boat, the iconic beach looks stunning with its dramatic towering cliffs, emerald waters, and white sand. In the middle of this beach lies a rusty old shipwreck that was washed up onto the beach in 1983. You might have seen Pinterest and Instagram splashed with the clicks of Zakynthos, but no pictures can do justice to the beauty of the Ionian island. If you are lucky, you might be able to spot the endangered Caretta-caretta sea turtles on the island. Take time out to visit the Post-Byzantine Museum, Solomos Square, Saint Marks Square, & the Venetian Castle in the town of Zakynthos.
How to reach Zakynthos?
You can reach Zakynthos by ferry from the port of Killini within a one-hour trip. There is no direct ferry from Athens to Zakynthos. Zakynthos receives domestic flights from Athen and Kefalonia all year round. You can also catch a flight to Zakynthos from several countries in Europe.
Getting around the Greek Islands
The cheapest way of getting around the Greek islands is by sea. Many ferries crisscross the Aegean Sea and you can reach most of the islands by ferry, hydrofoils, or catamarans. For smaller islands, the connectivity may not be so good, and you need to do some research in advance. The sailings may be canceled due to bad weather, so always keep track of your bookings. You can book ferries in advance on ferryhopper.com.  or Ferryscanner.com. It is not possible to see all the above islands in one trip. Try to restrict yourself to a group of islands that are close to each other so that you do not spend unnecessary time and money on transfers.
If you want to save time, consider flying to select islands. The fares are quite affordable if booked well in advance. Flights are less likely to be canceled or rescheduled. Many of the larger Greek islands like Mykonos, Santorini, Corfu, Crete, and Rhodes have their own airports. After landing on these bigger islands, you can take a boat to the nearby islands and save precious time.
Subscribe to Our Newsletter