Udaipur Itinerary For 2 Days
Udaipur Itinerary For 2 Days
Udaipur, hemmed by the scenic Aravalli and sitting on the picturesque Lake Pichola, has an unrivaled setting and is THE most beautiful city in Rajasthan. It is also known as "The City of Lakes" and "Venice of the East" as it is surrounded by many serene artificial lakes, including Fateh Sagar Lake, Jaisamand Lake, and Rajsamand Lake. Every nook and cranny of the romantic city will captivate you with its intriguing past, cultural vibrancy, architectural marvels, local folklore, and stunning splendor. It exudes old-world charm and has the perfect laid-back vibes to help you escape the hustle and bustle of city life.
Rana Udai Singh founded Udaipur as the new capital of the Mewar Kingdom in the 16th century. The royal town remained the capital of Mewar until 1818 when it became a princely state of British India. As a result, it is not surprising that the entire region is liberally dotted with tranquil temples, historic Havelis, imposing forts, and floating palaces. The best places to visit in Udaipur are scattered throughout the town. However, because the city is small, you can see most of it in two days if you plan well. This guide has you covered, as it walks you through a curated itinerary that includes top attractions.



Udaipur Itinerary: Day 1
Start your day early if you want to make the most of your limited time here. The Jagdish Temple is located in the heart of the old city, and one must pass through it to get to the City Palace. So we'll start with Jagdish Temple and then move on to City Palace, a must-see landmark in Udaipur. It will be lunchtime by the time you finish City Palace. Many lake-facing hotels, restaurants, and rooftop bars surround the lake, allowing you to enjoy the view while grabbing a bite. After lunch, you can take a boat ride with a stop at Jag Mandir Palace and then go shopping. If you'd rather watch the sunset over Lake Pichola, you can shop first and then return for a gorgeous sunset. After a long and exhausting day of sightseeing and shopping, it is best to have a leisurely dinner and retire early.
1). Jagdish Temple, Udaipur
The Jagdish Temple was built in 1651 AD by Maharana Jagat Singh and is dedicated to Lord Vishnu, the preserver of the Universe. It features an impressive four-armed statue of Lord Vishnu carved from a single piece of black stone. To reach the largest temple in Udaipur, one must climb 32 steep marble stairs. The three-story Indo-Aryan temple has been adorned with ceiling art, ornate shrines, elegant sculptures, painted walls, carved pillars, and a Garuda statue. Photography is not permitted inside the Jagdish Temple. Follow temple protocol by removing your shoes and covering your shoulders and knees.
Visit Timings: 4:30 am – 1 pm & 5 pm – 8 pm
Visiting Duration: 30 minutes
Entry Charges: Free
2).  City Palace, Udaipur
The City Palace is just a short walk from Jagdish Temple. This marble and granite palace is the highlight of your Udaipur itinerary. City Palace is located on a hill and provides a 360-degree view of the city and the lake. Maharana Udai Singh built the grand palace on the banks of Lake Pichola in 1559 AD. It was constructed over 400 years ago with contributions from several rulers of the Mewar dynasty. From the outside, City Place resembles a fort, and the architecture is a perfect blend of Rajput and Mughal designs. You'll need at least two hours to explore the maze of hidden rooms, corridors, terraces, courtyards, gates, museums, and gardens. Admire the spectacular grandeur of Bhim Vilas, Sheesh Mahal, Badi Mahal, Zenana Mahal, Amar Vilas, and Mor Chowk. The memorabilia, furniture, and paintings on display at the Museum and Crystal Gallery (extra charge) are impressive. Photography is permitted for a fee.
Location: Silawat Wadi.
Visit Timings: 9:30 am- 5:30 pm (no tickets after 4:30 pm)
Visiting Duration: Entry Charges: Rs.30/   Museum Entry Charge: Rs 250/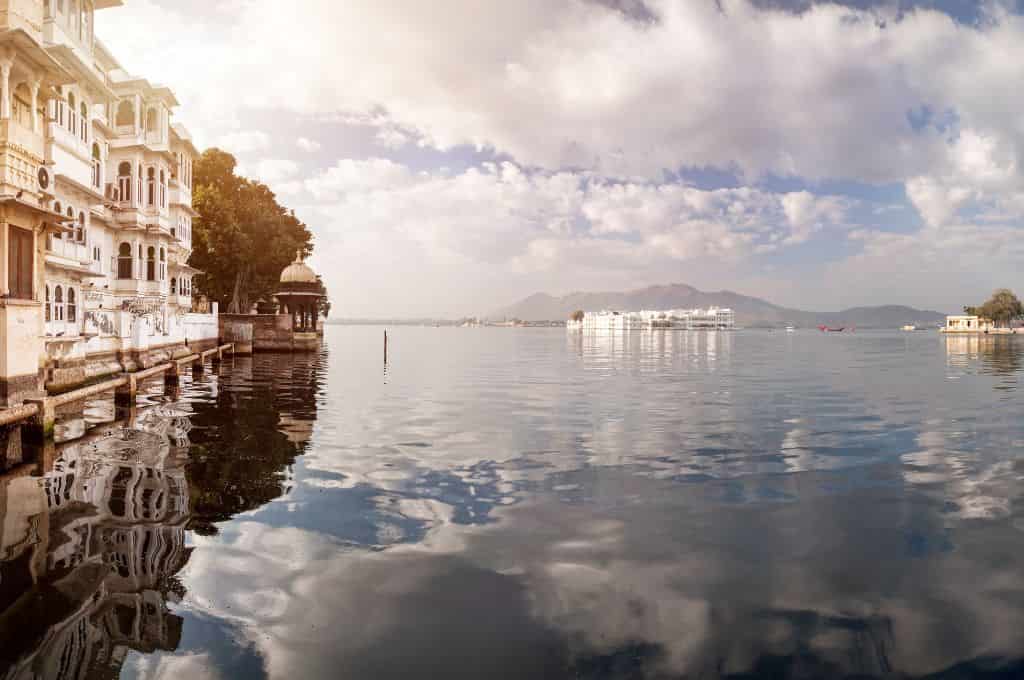 3).  Lake Pichola, Udaipur
Lake Pichola is one of Udaipur's largest and oldest artificial freshwater lakes, and there is a lot going on around it. The lake was created initially as a pond in 1362 AD by a nomad named Picchu Banjara. Maharana Udai Singh later commissioned the development of this pond and expanded the lake by constructing a stone masonry dam. Lake Pichola is home to the exquisite Jag Mandir and the Lake Palace Hotel (Jag Niwas). The Taj Lake Palace Hotel is one of the most unique hotels in the world, but you can only visit it if you stay there. Take a boat ride on Lake Pichola, especially at sunset, to take in the incredible views. The government-operated ferries depart from Municipal Boat Ride Point (no stops at the Jag Mandir Palace). If you don't want to get on a boat, Gangaur Ghat is another great place to watch the sunset, with the entire city painted in golden hues.
4).  Jag Mandir, Udaipur
During your boat ride, you have the option of stopping at Jag Mandir, an island on Lake Pichola. Boats for Jag Mandir depart from the City Palace jetty. Since Jag Mandir is a private domain, you must purchase a separate ticket to gain access. You can also rent a private boat where you won't have to share space with anyone. Jag Mandir Palace, also known as "Lake Garden Palace," dates back to the 17th century and is finely crafted with intricate Rajput and Mughal architecture. The luxurious Gul Mahal and the beautifully manicured gardens are a sight to behold. The palace has now been converted into a hotel and is a popular venue for royal Indian weddings. If you're hungry, stop by Darikhana, which serves delectable Rajasthani cuisine.
Visit Timings: 10 am – 6 pm
Visiting Duration: 30 minutes
Entry Charges: Free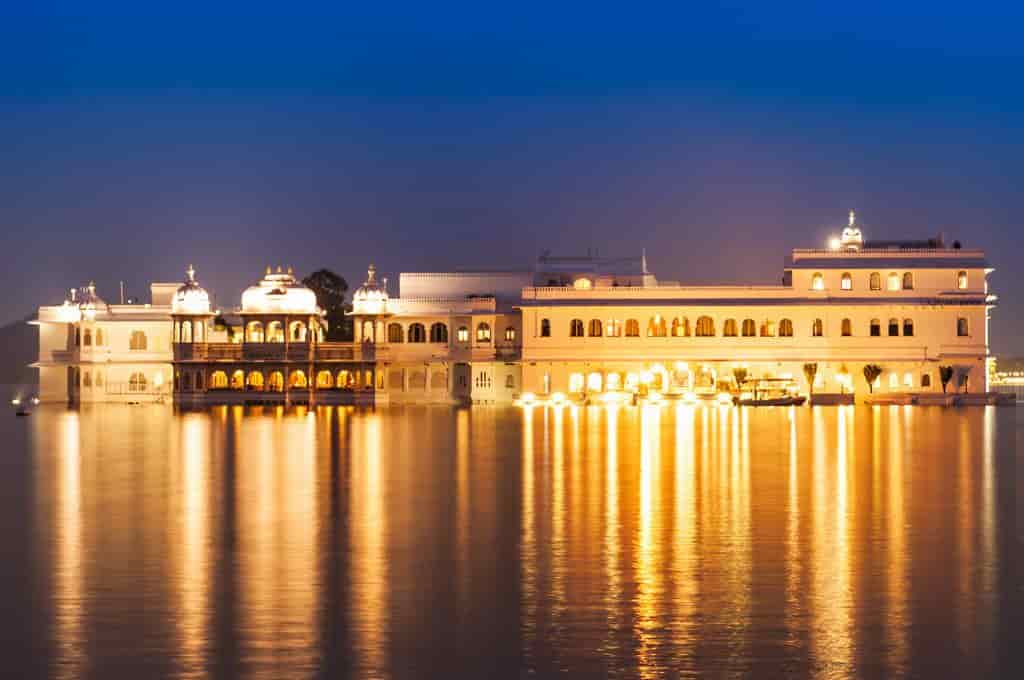 5).  Shop in the Local Markets
A trip to Udaipur would be incomplete without exploring the narrow and winding streets of the city. The lively bazaars are lined with quaint and artsy shops, as well as street vendors. Hathipole, Bapu bazaar, and the area around Jagdish Temple are great places to stock up on silver jewelry, bandhani/batik clothing, leather items, Mojadis, miniature paintings, local handicrafts, and endless souvenirs. When doing street shopping, bargain hard because shopkeepers usually quote 2-3 times the actual price. Those looking for high-end bohemian clothing and accessories should go to the boutiques and the Ganesh Handicraft Emporium. While you're there, keep an eye out for the street art and murals that are all over Udaipur's old city.
Udaipur Itinerary: Day 2
Today we would be stepping out of the main city. Begin your day with a visit to the Monsoon Palace, which is located 9 kilometers from the city center. After reaching the hilltop and admiring the panorama, proceed to Fateh Sagar Lake, which is the next stop. We spend some leisure time there before heading to Shilpgram. A few hours spent at the artisan village will add a cultural twist to your Udaipur vacation. Shilpgram's restaurant serves mouth-watering traditional fare for lunch. Return to your hotel to freshen up before the Bagore ki Haveli cultural spectacle. After you've finished watching the show, eat your dinner and call it a day.
1).  Monsoon Palace, Udaipur
Monsoon Palace, also known as Sajjan Garh Palace, is located on top of the Bansadara Hills, just outside of Udaipur. The 19th-century regal edifice built by Maharana Sajjan Singh was intended to be an observatory to track monsoon clouds, hence the name. The project was never finished because the king passed away, and the royal family started using it as a hunting and recreation lodge. You may ride a shared taxi/van to get to the fort. If you have a car, you can drive up to the palace. The hike takes about 1-2 hours as it is all uphill the entire way. The palace features a variety of pillars, domes, turrets, and jharokas in the true Rajasthani style, all made of marble with intricate inlay. The structure, however, is poorly maintained, and there is not much to see there. The primary purpose of our visit is to experience the sweeping panoramas of Udaipur, including all of its beautiful palaces and lakes.
Visit Timings: 9 am – 5 pm
Visiting Duration: 2 hours
Entry Charges for Indians/Foreigners: Rs.110/Rs.300
2).  Fateh Sagar Lake, Udaipur
Fateh Sagar Lake is another artificial body of water that was built during the reign of Maharana Jai Singh in 1678 AD. While visiting the lake, you can take in spectacular views of the surrounding mountains and verdant gardens. On the shimmering blue waters, you can ride a boat, speed boat, or jet ski. If you don't feel like taking a spin on the water, you can sit on the benches facing the lake and soak in the beauty of the area while watching the locals enjoy their day. The lake is also home to Udaipur's solar observatory. Don't pass up the opportunity to gorge yourself on the wide selection of local snacks offered by the countless street food vendors stationed there.
3).  Shilpgram, Udaipur
Shilpgram is a 70-acre village-themed arts and crafts complex on the outskirts of Udaipur. The compound includes small huts made of mud and other natural building materials which highlight the ethnic diversity of India's western states. Shilpgram has an ethnographic museum that showcases the lifestyles and cultures of the people and tribals who live in this region. Additionally, there are shopping opportunities, camel rides, live pottery demonstrations, cultural events, and authentic village vibes for visitors to enjoy here. An excellent spot to buy local treasures and support local artisans. It also has a large open-air amphitheater with seating for 8000 people.
Visit Timings: 11 am – 7 pm
Visiting Duration: 2-3 hours
Entry Charges for Indians/Foreigners: Rs.30/Rs.50
4).  Bagore ki Haveli, Udaipur
Dharohar Folk Dance is an evening cultural extravaganza held in the courtyard of Bagore ki Haveli, an old mansion turned museum. The glasswork and mural paintings on the Haveli make it very beautiful. However, the Haveli closes at 5:30 p.m., after which the entire area transforms into a cultural spectacle. The hour-long show is a captivating medley of Rajasthani music, dance & and puppetry presented by local artists dressed in vibrant local attire. Tickets sell out quickly, so arrive early to ensure a spot or book your tickets ahead of time.
Show Timings: 7 pm
Visiting Duration: 1.5 hrs
Entry Charges for Indians/Foreigners: Rs.90/Rs.150
Alternate Tour Suggestions:
If one of the above attractions does not pique your interest, you can switch to one of the attractions listed below. Everything in Udaipur is close and easily accessible, so minor changes to the itinerary will not create any issues.
Saheliyon li Bari:  The Garden of Maids, sitting along the banks of Fateh Sagar Lake, offers lotus pools, crystalloid fountains, chiseled kiosks, marble pavilions, and elephant-shaped structures. The elegant garden was created by Maharana Sangram Singh and presented to his queen and her 48 maids. The queen along with her female companions used to come here for recreation.
Ahar Cenotaphs:  A cenotaph is an empty tomb or monument built to honor the deceased, in this case, the Maharajas of Udaipur. There are a total of 250 cenotaphs and 19 chhatris to commemorate the 19 maharajas who were cremated at the Ahar Cenotaphs. All of the cenotaphs in the Ahar Cemetery have exquisitely carved domes, charming statues, and columned pavilions.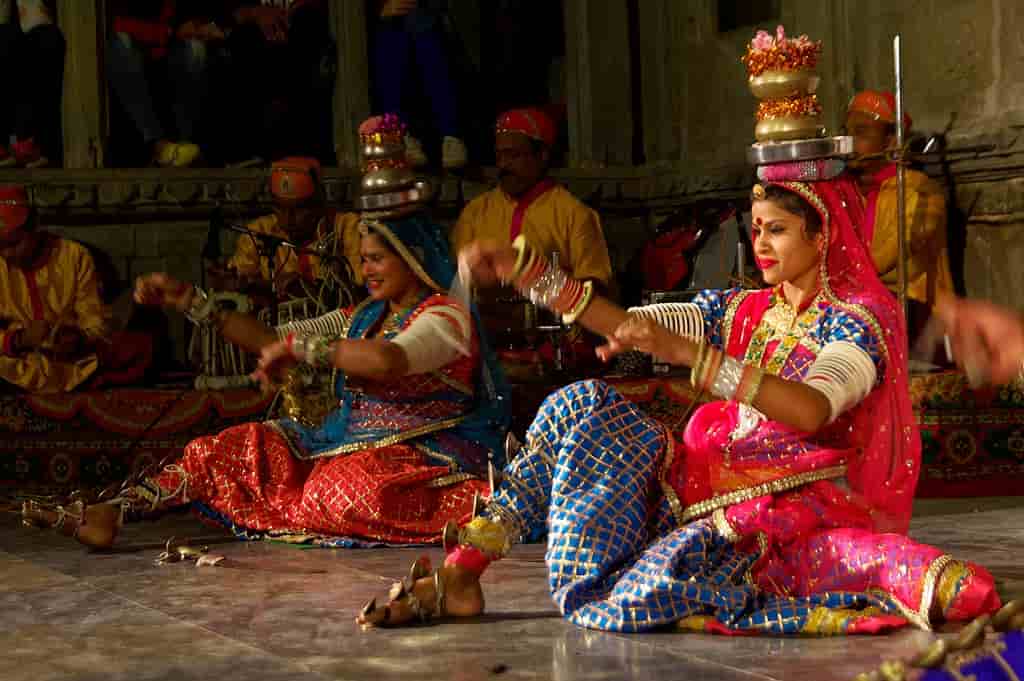 Best Time To Visit?
Udaipur is best visited between October and March. The hotels would be quite pricey, though, as this is the busiest travel season for both locals and international travelers. In December and January, it may get a little chilly, but nothing a couple of layers can't fix. The months of April and May are unbearably hot, and the monsoon season lasts from July to September. However, Udaipur is spectacular during the rainy season, with the city and its outskirts covered in lush greenery. If you go in September, you may be able to avoid the worst of the rain.
How to Reach Udaipur?
Since Udaipur is an internationally renowned tourist attraction, you should have no trouble finding modes of transport that fit your needs and price range. Before planning your trip, make sure to check the most recent travel advisories, road conditions, and schedules. Make your transport arrangements ahead of time.
By Air: The Maharana Pratap Airport, also known as Dabok Airport, serves Udaipur. Fly into this airport from major Indian cities such as

Delhi

,

Mumbai

, Jaipur, and others. The airport is approximately 22 kilometers from the main city, and you can take a taxi to the city center.
By train: The two main railway stations in Udaipur are Udaipur City Railway Station and Rana Pratap Nagar Railway Station. Udaipur is conveniently linked to most parts of

India

by train, with multiple alternatives from major cities such as Delhi, Mumbai,

Jaipur

, and Ahmedabad, among others.
By Road: Udaipur is accessible by road thanks to an extensive network of national and state highways. You can drive to Udaipur from nearby cities and states. Buses (state-run and private) leave from cities such as Jaipur, Ahmedabad, Delhi, and Mumbai. You can also travel to Udaipur by car or taxi.
How to Get Around in Udaipur?
Many attractions of Udaipur are within walking distance of one another. Keep in mind that traffic in Udaipur can be clogged up, particularly in popular tourist areas, so plan your journey accordingly.
Walking: The old city of Udaipur is very walkable, and this can be a great way to explore the narrow streets, markets, and famous landmarks. Walking is the best way to get a feel of the old city and its intriguing culture.
Auto Rickshaws: They are the city's most affordable mode of transportation and can be found almost anywhere. They work best for short distances within city limits. Before beginning your ride, negotiate the fare or request that the driver use the meter. They can also be rented through Uber and Ola
Cycle Rickshaws:  In some areas of the city, cycle rickshaws are an option for a more leisurely and environmentally friendly ride. They are slower but provide a one-of-a-kind experience.
Taxis: They are more comfortable and convenient, especially if you are traveling with a group or have a lot of luggage. You can book them through your hotel or through Uber and Ola. Ride-hailing apps are the best option to avoid being charged extra.
Car Rentals: If you prefer the flexibility and independence of having your own vehicle, you can rent a car with a driver. This is particularly helpful if you intend to visit attractions outside of the city. Do not attempt to drive because traffic in most Indian cities is chaotic.
Guided Tours: Joining guided

tours

, whether walking tours or organized day trips, can be a convenient way to explore Udaipur's attractions with the insight of a local guide.
Bicycle Rentals: If you're feeling adventurous, rent a bicycle and explore the city at your own pace. The relatively flat terrain of Udaipur makes it great for cycling.
Two-wheelers: You can easily rent them from shops after putting down a deposit. They are inexpensive and provide you with flexibility. However, driving anything on Indian roads is never easy.
Where to Stay in Udaipur?
Udaipur is a fantastic destination for everyone, including singles, couples, and families. There is no shortage of fine hotels in Udaipur, and you can find accommodation to suit all pockets. Consider staying in one of Udaipur's most luxurious hotels if you can afford it. You'll feel like royalty at the Oberoi Udaivilas, Taj Lake Palace, Rafles, and The Leela Palace. If these properties are out of your price range, the Taj Fateh Prakash and Jagat Niwas are two other amazing heritage properties worth looking at. Other upscale accommodations in Udaipur include Trident and Aurika. Zostel is a good safe option for budget travellers.
Where to eat in Udaipur?
Rajasthanis are passionate about food, which is reflected in their cuisine. So, make the most of your trip by indulging in the local and international dishes available all across Udaipur. Here are a few recommendations.
Sukhadia Circle Street Food, Khamma Gani, Charcol by Carlsson, Syah, Upre by 1559 AD, Café Ambrai, Café Boho, Savage Garden, Rainbow, Grasswoods Café, Millets of Mewar, Namaste Café, Jheel Ginger Café, Natraj, Raas Leela, Neel Kamal, Jheel Rooftop
Final Thoughts
It is possible to fit in the major highlights in two days if you plan and research well. If you have more days to spare, I would recommend taking day trips to Kumbhalgarh Fort and the Ranakpur Jain Temple to get better acquainted with local history and culture.

Subscribe to Our Newsletter