How to choose a perfect resort in the Maldives?
How to choose a perfect resort in Maldives?​
If you want to have the perfect holiday, you must make sure that every detail of your trip is meticulously planned. Accommodation plays an important role in making your trip memorable. More so, when you are traveling to the Maldives. The archipelago features a system of "one island, one resort". The majority of the resorts occupy the entire island. Sometimes, 2-3 hotels co-exist on one island, but that is quite rare. Since, you will be spending your entire time on the island, choosing a hotel in the Maldives is THE most important thing. You will be completely dependent on the entertainment options, beaches, water sports, marine life, views, dining selections, and other amenities provided by the preferred island/resort.
There are over 160 resorts in the Maldives, and picking one can be overwhelming, stressful, and time-consuming. How do you decide which is the right fit for you? Let us assist you in finding the ideal accommodation for your Maldives vacation.
Price/Category
We are usually limited by budget, so this is always one of the most significant aspects when choosing a hotel. Contrary to popular belief, the Maldives has lodgings to fit all budgets. You can stay in very affordable but basic guesthouses/3-star hotels on local islands, or you can opt for 4-star/5-star/ultra-luxurious hotels on one of the resort islands. The backpacker-style guest rooms & budget hotels are located on the inhabited islands and are ideal for experiencing the local culture. For as little as $100 per night, you can find a decent place to stay. Maafushi, Vaadhoo, Villingili, Guraido, Ukulhas, Thulusdoo, Addu City, and Toddo are a few of the most popular local islands in the Maldives.
A four-star hotel on a resort island will cost between $200 to $400 per night for a standard room. As you move up to 5-star or exclusive resorts, rates skyrocket. You can end up paying $15000 per night for a private overwater villa with a slide. So, decide on your budget before you start looking for accommodation in the Maldives. Here, I would strongly advise you to stretch your money as far as possible, as extravagance and luxury are essential for enjoying a Maldivian vacation. That's the reason why the majority of hotels in the Maldives are 5* or higher. Keep an eye out for specials and discounts to help you save money when booking hotels.
Transfers: Seaplane or Speedboat
Transfers must be considered when selecting a Maldivian resort because they affect the overall budget of your vacation. Always check if transportation cost is included in the accommodation rate. The Maldives occupies an area of approximately 90 square kilometers, but the majority of hotels are within easy reach of Male, the capital city. Velena International Airport serves as the gateway to the Maldives. Most large resorts have their airport lounge, where they handle all logistics and schedule everything around your flights. Choose a resort that will handle your transfers – either for free or at a cost.
The islands of North Male Atoll and South Male Atoll are close to Male and can be reached easily and economically. Most hotel packages include speed boat transfers. Do your research because a few of these resorts may not be as secluded as you would like. Ozen Reserve Bolifushi, Sheraton Maldives Full Moon Resort, Huvafen Fushi, Taj Exotica Resort & Spa, Anantara Veli Maldives Resort, Waldorf Astoria Maldives Ithaafushi, Meeru Island Resort & Spa, Four Seasons Maldives, and Cocoa Island by Como are a few popular, high-end resorts that are easily accessible by speedboat.
The resorts on other atolls require a transfer by seaplane or domestic flight with speedboat transfer. Seaplanes are operated by Trans Maldivian Airways and can only be reserved through the resort. The return trip might cost anything from $350 to $600 and is rarely included in the room cost. If the resort is far from Male, it can significantly increase costs. Flying in a seaplane is a one-of-a-kind experience that allows you to enjoy amazing vistas from the skies. However, the planes are small and noisy, and baggage weight is normally limited to 20 kg. If you arrive late in Male, you will have to spend the night there because seaplanes only fly during the day.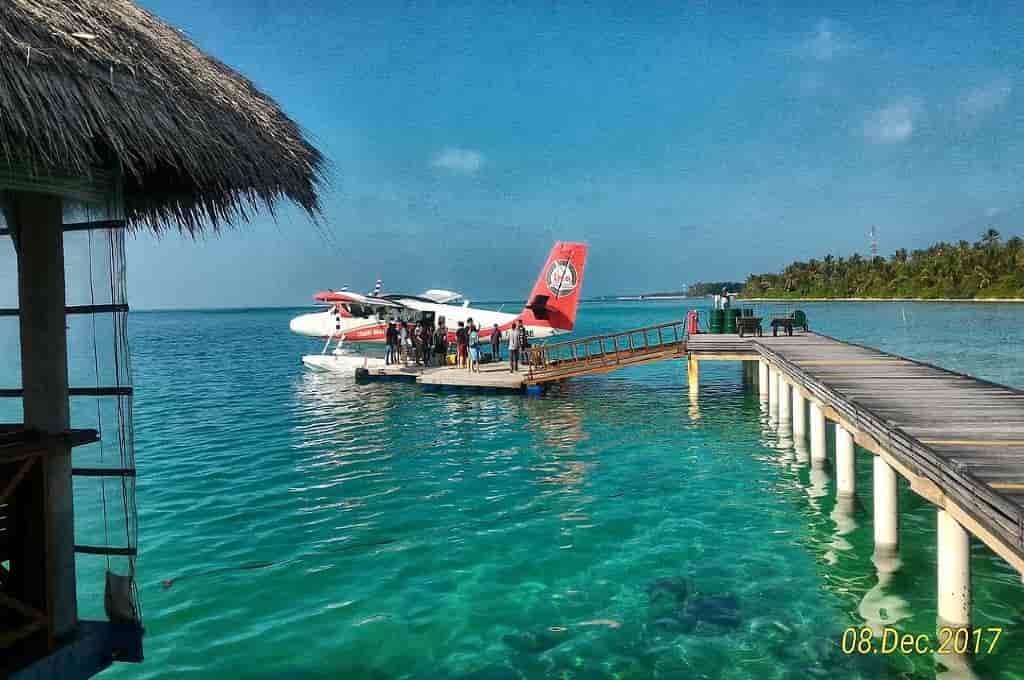 Room Options
The two most prevalent room types in the Maldives are Over-Water Villas and Beach Villas. Try to pick a resort that offers both options so that you can switch rooms and make the most of your vacation – enjoy beach access as well as unobstructed ocean views. Overwater villas are more expensive than beach villas and are usually in high demand. The additional expense is justified, and you should stay in an overwater villa for at least one night, as there are only a few places in the world where you can do so. The overwater villas are built on stilts that extend out over the water and include a private deck and, in some cases, a little plunge pool. During your stay, you will be surrounded by ocean on all sides and will be able to effortlessly slide into the shallow blue seas from your villa itself.
Keep a few points in mind before booking an overwater villa. These villas are the furthest away from the hotel's main areas and may not be as easily accessible. Water villas are not recommended if you are traveling with children or elderly folks. Just a few hotels will let you stay in overwater villas with children. Before reserving an overwater villa, be sure it has direct access to the ocean and a good location in the sea. Check out the resort's aerial view to see how the villas are spread out and how close they are to the land.
 House Reef (reefs closest to the island)
This is the most overlooked factor by travelers when selecting a Maldives resort. Not all Maldives islands are the same; each has its own shape, location, and attributes. Few islands in the Maldives are man-made, reclaimed, or have been damaged by coral bleaching. If you are in the Maldives, particularly for scuba diving, avoid these islands as they have a lower likelihood of spotting marine life. The best coral reefs for diving are found around Hanif Aru Bay, Baa Atoll, and Ari Atoll. The house reefs on these islands are so abundant with spectacular marine life that you can see them even in knee-deep water. Here you can swim to the house reef and snorkel among the coral without needing to take a boat excursion. Traveling by boat to explore the undersea world is both expensive and inconvenient. 
If snorkeling isn't your thing, pick an island with a longer shoreline so you may lounge on the beaches. Choose an island with a larger lagoon if you enjoy the beach but also want to go diving. Some resorts in the Maldives that are known for their house reefs include Oblu by Atmosphere at Helengeli, Baros, Mirihi Island Resort, Angsana Ihuru, Amilla Fushi, Ozen by Atmosphere, Waldorf Astoria, W Maldives, Bandos, Sandies Bathala, Lily Beach Resort, Vilamendhoo Island Resort, Reethi Faru Resort, Soneva Fushi, and Vakkaru. 
Resort Type
Each resort offers different experiences depending on its targeted customer segments. You should consider the type of holiday you want before booking a stay in the Maldives. The Maldives used to cater mainly to couples, but that has changed in recent years. The resorts are now striving to attract families, groups, and thrill-seekers. There are adult-only resorts as well as islands that welcome children of all ages. A family vacation, a friend's trip, a romantic getaway, a gourmet experience, or a beach holiday – you should check the hotel website to assess if it suits your needs. If you're an adventure junkie, look for a resort that offers a variety of top-notch adventure activities, such as surfing, jet skiing, kayaking, sailing, dolphin/whale watching, and so on.
Meal Plan
When booking your Maldives vacation, remember to include a meal plan. Breakfast, half-board (breakfast & dinner), full-board (breakfast, lunch, & dinner without beverages), and all-inclusive (all meals, drinks, and a few extras like spa & excursions) are the typical alternatives. The ideal option is an all-inclusive resort because food and beverages are exorbitantly priced in luxury resorts and you don't want to mar your experience by skipping meals or avoiding drinks. However, not all resorts are all-inclusive, so your choices are limited with this option.
Please double-check what is and isn't included in your all-inclusive package. Meals, beverages (both alcoholic and non-alcoholic), excursions, mini-bar, spa treatments, resort transfers, and specialty restaurants are just a few of the things to look into. If you don't drink much or do a lot of activities and just want to relax, half-board or full-board makes more sense. Lux* North Male Atoll, Ozen Reserve Bolifushi, VARU by Atmosphere, Atmosphere Kanifushi, Constance Halaveli, Lily Beach Resort, Obu Select Sangeli, Veligandu Island Resort, Hurawalhi Island Resort, Pullman Maldives, and Mercure Maldives Kooddoo are few suggestions for an all-inclusive resort.
Facilities in the Resort
As you'll be confined on your island, the resort's amenities and restaurants will be the only ones to which you will have easy access during your stay. So, your resort must have all of the infrastructure that you may prefer and need during your stay. Fitness center, spa packages, multiple dining options, golf courts, kids club, pubs, live performances, dance floor, indoor sports, and excursions are just a few of the facilities that will keep you entertained when you are not in the mood to swim in the water or sunbathe on the beach. Some hotels provide unusual activities such as dining on a desert island, a private yacht trip, underwater spa therapy, and a cinema beneath the stars, among others. Check to see if they spark your interest.
Size of the Island
You'll be vacationing on the island for at least 3-to 4 days. Therefore, the size of the island matters, as some are barely 300 meters long. If it is very small, there will be few places to walk/bike, and you will quickly become bored in your paradise. A larger island also offers more privacy as rooms would not be placed too close to each other. If the resort has plenty of rooms, it guarantees superior amenities and lively vibes that are ideal for families and larger groups. In recent years, hotels have been developed on manmade islands with no vegetation, palms, or woods. Drone photographs of the hotel can be used to check this. It is preferable to stay away from such islands.
A holiday in the Maldives doesn't come cheap and you want to make the most of your time there. So, don't be afraid to invest some time and effort in finding the right resort for yourself. Don't choose a hotel just based on its photos. If you follow these guidelines, do your homework, visit hotel websites, read reviews, and ask questions, you will undoubtedly select the perfect resort for your vacation.
I mentioned the names of a few resorts earlier. I'd like to state unequivocally that I have not stayed in them and am in no way associated with them. Ozen Reserve Bolifushi is the only resort I've stayed at.
Subscribe to Our Newsletter