Best Things to Buy in Dubai
Best Things to Buy in Dubai
As UAE relaxes travel restrictions, there has been a steady increase in the influx of tourists to Dubai from all parts of the world. The man-made wonder has always been a sought-after holiday destination because of its architectural wonders, luxury hotels, incredible food options, and enviable infrastructure. One other major reason for Dubai's popularity has been the endless shopping opportunities that can be found in the bustling city. Dubai is a shopper's paradise and visitors can't leave the region without buying something from its vibrant bazaars. It is a globally renowned economic hub and you can find outlets for all your favorite brands here.
There are more than 65 shopping malls in Dubai. The sprawling malls are overflowing with handbags, clothing, watches, jewelry, electronics, household goods, accessories, perfumes, and cosmetics of every conceivable brand. If you are looking for the latest in high-street fashion, Dubai has all the options. The tremendous range of international and local products is bound to leave you confused and overwhelmed about what to buy and where to buy it. To make your Dubai shopping experience convenient and memorable, check out this list of products that you can buy from Dubai and learn where to buy them at the best prices.
1). PERFUMES /ATTAR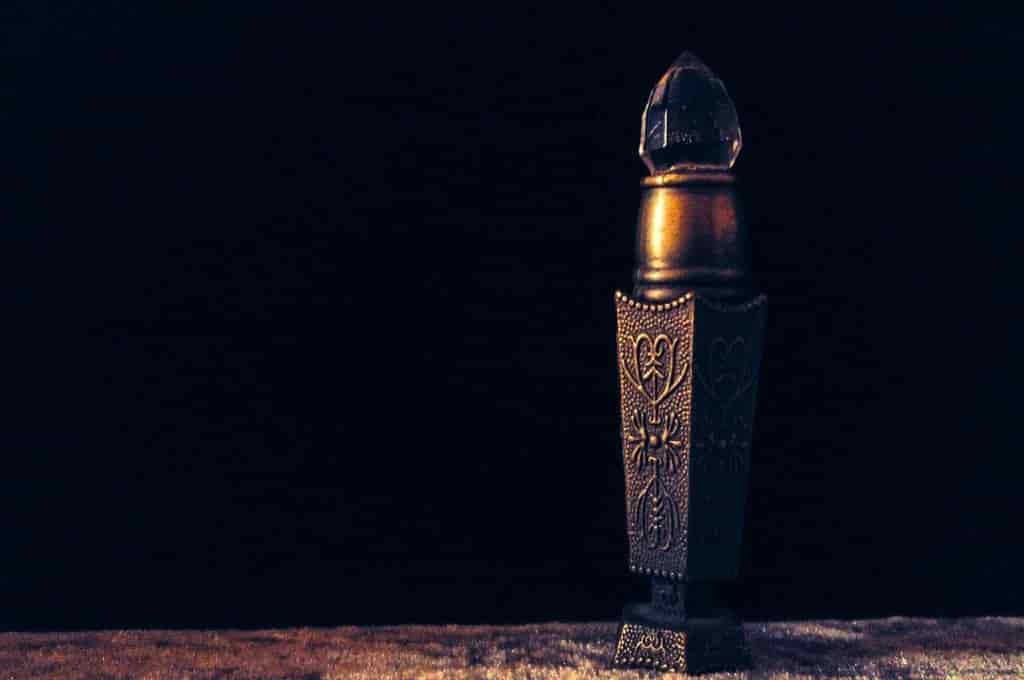 Due to the predominantly Arab culture, perfumes are very popular in the UAE, making them excellent souvenirs to take back home. You are likely to find perfumes everywhere in Dubai – branded perfumes as well as Arabian Attars. The local fragrances are quite saturated, long-lasting, and intense. Prepared from organic sources like rose, kewra, and mehndi, perfumes in Dubai are available for both males and females and you can buy them in bottles of different sizes and shapes. Traditional Emirati perfumes are alcohol-free. You also have the option to try different combinations and make your own perfume. Oudh and Bakhoor (agarwood chips), made from the wood of the Agar tree, are also very popular. Oudh is an expensive fragrant oil and has a very distinct and soothing aroma. You can shop for these fragrances in Perfume Souk in Deira, Spice Souk, and other perfume shops in the malls. Local brand Ajmal Perfume is definitely worth buying. The cost starts from 300 AED.
2). CHOCOLATES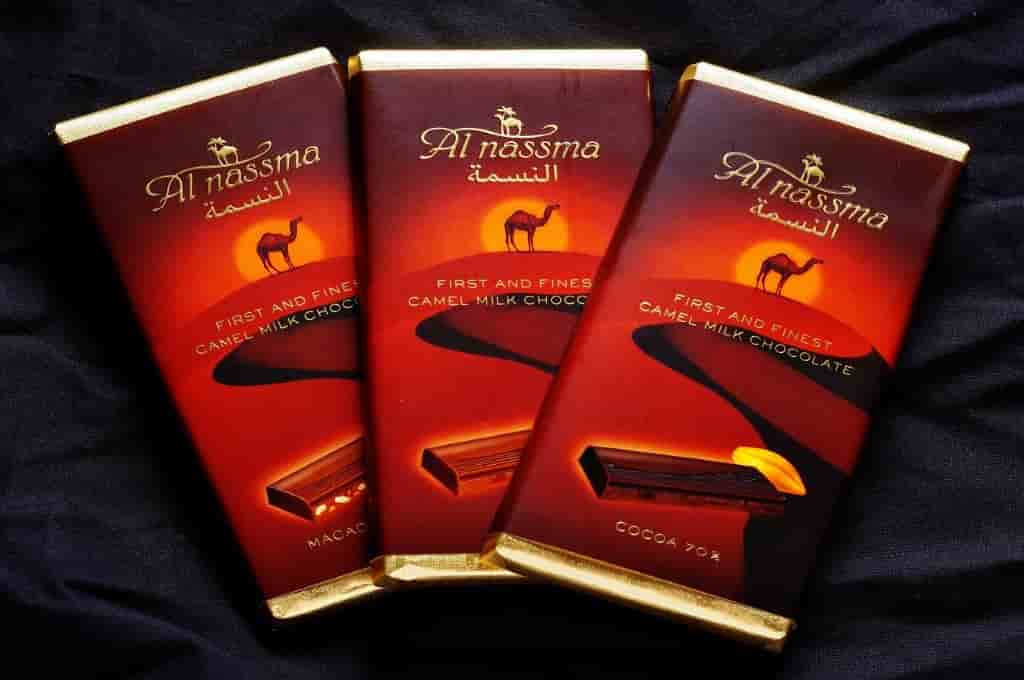 The range of chocolates available in Dubai is phenomenal. Almost every popular brand of chocolates from all over the globe is available here. The must-buys are the local chocolates made with the finest camel milk. They turn out to be a sweet and healthy delicacy with a high content of nutrients. The camel milk chocolates are manufactured exclusively by a company called Al Nassma.  The milk chocolate bars come in five varieties: whole milk, macadamia, cocoa, dates, and spiced (Arabia). The most popular package among tourists is Camel Caravan. The chocolates are shaped like camels and are packed in a wooden box. The weight of this set is 100 grams. They can be bought at Al Nassma kiosks all over Dubai.
3). DRY FRUITS & DATES
Dates are considered a very healthy snack as it has rich sources of nutrients like magnesium, potassium, fiber, calcium, copper, etc. More than a hundred varieties of dates are grown in UAE and they can accommodate every taste and budget. The outstanding quality of the dates produced here tempts the locals as well as the tourists. Bateel stores and Dates Souk (Deira Food Market) are the best places to buy packed and gourmet dates. Dubai has been known to have an amazing variety of dried fruits and nuts at very good rates. Dry fruits are not produced in Dubai but are bought from nearby Middle Eastern and Eurasian countries. Unfortunately, those regions are not very tourist-friendly, so Dubai is a good place to source them. The quality and variety of dried fruits and nuts are bound to leave you impressed. You can find them at Meena Bazaar or any of the hypermarkets in Dubai.
 4). GOLD & JEWELLERY
You cannot visit the "city of gold" and not splurge on gold ornaments. Dubai is more renowned for gold than for oil. Dubai Gold Souk is undoubtedly the best option for buying gold in Dubai because of the amazing collection of sparkling products on display. It is the second biggest gold market in the world. The popular souk is home to over 300 merchants that provide 10 tons of gold anytime. Due to extremely strict law enforcement, gold products in Dubai are mostly genuine. However, sometimes street vendors in Dubai sell impure gold. Because of the low tax policy, gold prices in Dubai are comparatively lower than in the rest of the world, making it the ultimate souvenir from Dubai. You can even find gold ATMs in Dubai. Meena Bazaar, Gold & Diamond Park, and Dubai Mall Gold Souk are other places where you shop for precious metals. Don't forget to bargain for the best rates. In order to get daily updated gold rates, you can check out this website.
 5). PASHMINA SHAWLS & PAKISTANI SUITS
If you are looking for something traditional and exquisite, shop for Pakistani outfits in Dubai. They are stunning, refined, and very similar to Indian costumes  (because of their similar culture). Pakistani suits are very popular in India for their rich quality and gorgeous designs. However, due to import bans and other restrictions, a limited selection of Pakistani outfits are available for sale in India. If you visit Meena Bazaar in Bur Dubai, you can find the latest designs of Pakistan suits. Prices are also much cheaper compared to India. Please note there is absolutely NO ban if you buy them in Dubai and take them to India with you for personal use. You can also shop for authentic Pashmina shawls in Dubai. Pashmina shawls are made with the hair of South Asian goats and blended with silk. The shawls are expensive but worth buying. If you are looking for affordable options, buy faux pashmina in vibrant colors and designs. Be cautious, as the market is flooded with fake products. Buy from reputable places like Pashmina House, Textile Souk & Karama Market
 6). ELECTRONIC ITEMS
Electronic goods have to be included in this list of must-buy things from Dubai, even more so if you are from India. The cost of many electronics and gadgets in Dubai is significantly lower than you can find in Indian cities, especially during shopping festivals and events. This is because Dubai has low import duties and reasonable taxes. Phones, tablets, laptops, television, gaming consoles, & cameras are a few of the items that people buy from Dubai. Al-Fahidi Street in Bur Dubai, Sharaf DG store, Jumbo Electronics, and other electronic stores are brimming with the latest products and offer the best deals. You can also buy used electronic items in Dubai at amazing rates. Dubai is an expatriate city, and most ex-pats sell their well-maintained electronic items at cheap prices to local electronic shops. If you want to buy second-hand products at a reasonable cost, then you should visit Nasser Square, Deira. Here you can purchase numerous electronic goods at really good prices.
7). SPICES & CONDIMENTS
For centuries, spices have been a vital ingredient of cooking in every cuisine of the world. Dubai is a multicultural city and the cultural diversity can be seen when you visit the Spice Souk. You can find countless spices and condiments from all around the globe. The local spices have a strong and unconventional aroma. This Spice Souk in Dubai has been there since the middle of the 19th century. The market has a huge variety of authentic & aromatic spices that can entice even real gourmets and connoisseurs. These freshly ground spices can elevate the flavors and taste of your food in a jiffy.
8). CARPETS & RUGS 
Rugs and carpets can be trusted to elevate the beauty of your interiors, so why not add them to your shopping list? In Dubai, you can buy carpets from Oman, Pakistani & Iran. However, nothing can beat the beauty and richness of Persian carpets (mostly made in Iran). The hand-knotted rugs are expensive and bulky, but they are a stunning addition to your home decor. The main area for buying carpets in Dubai is Baniyas Square. Here you can find several small shops that will show you gorgeous carpets based on your preferences and affordability. Persian Carpet House, National Iranian Carpets, Souk al Bahar, Dubai Mall, and Midriff City Center are other places where you can buy expensive rugs. The best time to buy a carpet in Dubai is mid-December when the renowned exhibition "Oasis of Carpets and Art" is organized at the Dubai World Centre.
 9). OTHER KNICK KNACKS
If you are looking for some quirky and unusual souvenirs to take back home, you have lots of options to choose from.
Hookah Pipes: Dubai Souks, Smoker's Centre Outlets, Hypermarkets
Arabian Coffee Pots: Malls
Arabic Lanterns & Lamps: Karama Souk, Dragon Mart, Homes R Us
Incense Holders: Spice Souk, Malls
Arabian Daggers: Yemen Pavilion at the Global Village
Traditional Arab Shoes: Al-Karama, Cloth Souk, Old Souk
Jewel Chest: Gold Souk, Malls
Gemstones (precious & semi-precious): Gold Souk, Gold & Diamond Park, Pearlicious
Vat Refund:
UAE imposed a 5% Vat in late 2018. If you are planning to buy something to take back home, don't forget to claim back your VAT at the Airport. Some outlets also offer VAT refunds at their stores. As per laws, Tourists are qualified to receive 85% of the total VAT amount paid. The rest of the 15% is incurred as an administration fee. Please be aware, that Vat will be refunded against exported goods only. Refunds aren't applicable on anything that has been consumed – fully or partly – in the UAE.
About Author:
Saqib Ali is a 27-year-old travel blogger based in Dubai. He works full-time as a freelance Internet Marketing specialist but finds time to squeeze in his passion for travel blogging-especially as an authority on all things Dubai. Read more from Saqib at https://dubaitraveladventure.com/
Subscribe to our newsletter