15 Most Popular Sweets of India
15 Most Popular Sweets of India​
Indians have a weakness for desserts and are known for their sweet tooth. Every Indian meal must end with sweets, or the meal is considered incomplete. "Mithai' (desserts) is an integral part of every occasion, celebration, and ritual in India – weddings, childbirth, birthdays, housewarmings, offerings, and the countless festivals celebrated in all parts of the country. Every state in India has a few signature sweets that reflect its religion, culture, and heritage. Some unique flavors, tastes, ingredients, and cooking methods set it apart from the desserts of other regions. However, a few delectable Indian sweets have transgressed the boundaries of states and countries and are prepared, eaten, and loved all over the world.
Before we list them, let's look at a few interesting facts about Indian sweets
In places like

Rajasthan

, you are supposed to start your meal by eating sweets, besides finishing it with another serving.
Baking is hardly used in the preparation of traditional sweets in

India

. Frying and a generous amount of ghee are used while cooking the majority of Indian desserts.
Barring a few like Sandesh and Gajar ka Halwa, most of them would be frowned upon by health-conscious people. They are richer, heavier, and sweeter than most desserts in the West.
Indian desserts mostly use flour, ghee, milk products, nuts, jaggery, coconut, and sugar/sugar syrup.
Many of these sweets have been cooked for centuries and have some interesting anecdotes attached to them.
In

India

, sweets are not very expensive and you can buy most sweets for less than 10 dollars/per kg.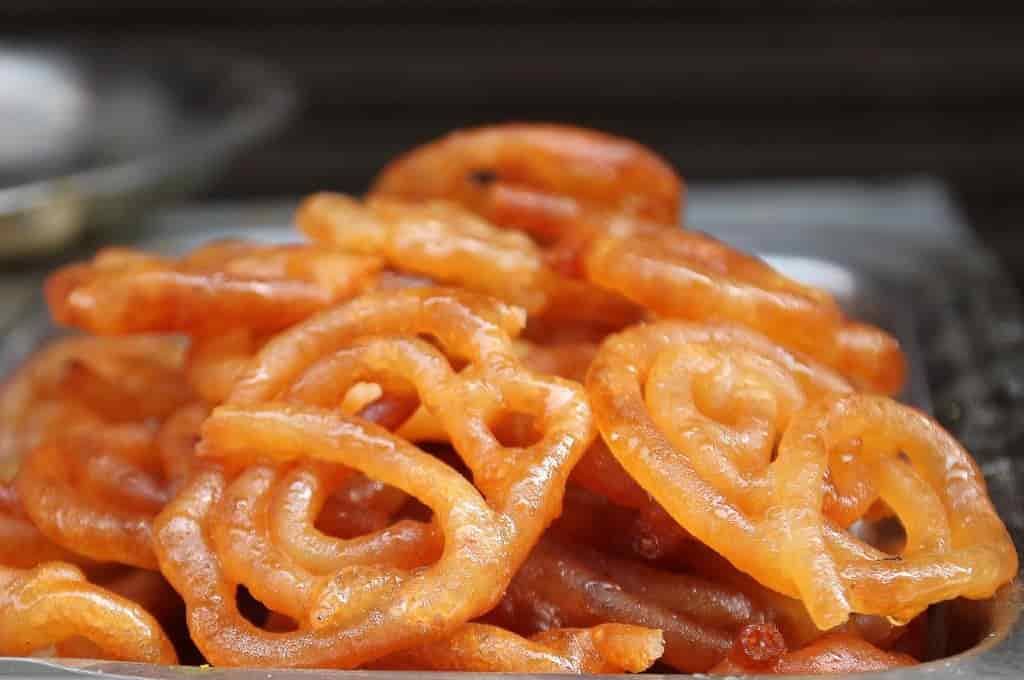 1).  Jalebi
It may not be the healthiest of snacks, but you will love the fried, crisp, colorful, and juicy Jalebis. Thick fermented batter made of refined flour is squeezed in hot ghee in the shape of pretzels. After they become crisp and golden, they are dipped in saffron-laced sugar syrup. It is often accompanied by Rabri for a lethal combination. The succulent Jalebis are eaten at all times and are also served during breakfast. They can be seen sizzling in big frying pans at sweet shops across the country, but nothing can beat the Jalebis of Rajasthan. Jalebis are also called Jilapi, Jilebi, Jilipi, Zulbia, etc.
2).  Gulab Jamun
Another all-time favorite, Gulab Jamun, is made with Khoya (milk solids). The small Khoya dumplings are deep-fried golden and dunked in saffron & cardamom-induced sugar syrup. The warm, spongy, and soft Gulab Jamuns are irresistible. It is part of every Indian wedding and celebration. Ledikeni, Katangi, Lal Mohan, Kala Jamun, and Pantua are some of the other names of this scrumptious dessert. It is also widely consumed in Nepal, Pakistan, Bangladesh, Myanmar, Maldives, and Sri Lanka. Gulab jamun mix is also available in packets and you can try making it at home.
3).  Halwa
The humble Halwa is cooked in every Indian household and is also used as an offering in temples and gurudwaras. Whenever there is a sweet craving, Halwa is the easiest and quickest option to make. Halwa is highly customizable and made with different ingredients. We can make Gajar ka Halwa (carrot), Atte ka Halwa (flour), Sooji ka Halwa (semolina), Badam ka Halwa (almonds), Daal ka Halwa (pulses), Lauki ka halwa (bottle gourd), pumpkin halwa, and so on. The main ingredient is cooked with ghee, sugar/jaggery, and milk/water. One of the most popular Halwa is Gajar ka Halwa. Grated carrots are simmered in a pot of milk or khoya. You have to keep stirring till the milk dries up. After that sugar, nuts, and ghee are added. This dish is best eaten in winter as that is the season for red and juicy carrots. Gajar ka Halwa is one of the most sought-after sweets in North India, especially during cold winter evenings. It is served during Diwali as well as Eid-al-Fitr
4).  Rasgulla
Originating in West Bengal/Odisha, Rasgulla is popular all over India. Making a soft, light, and spongy Rasgulla is an art and you might often come across hard & stretchy versions. So, be sure of eating it at the right place to enjoy the delightful texture and flavors. Rasgulla is made from chenna (Indian cottage cheese).  Small, white chenna balls are cooked in a light sweet syrup until they become big, soft, and juicy. It is then left to cool off in the syrup. Rasgullas taste the best when they are served chilled. Due to its low sugar content and absence of ghee, it is considered to be one of the "healthy" sweets of India. Over the years, many variations of the Bengal delicacy have surfaced. In winter, Rasgullas made with chenna and palm jaggery can be seen in shops in Bengal.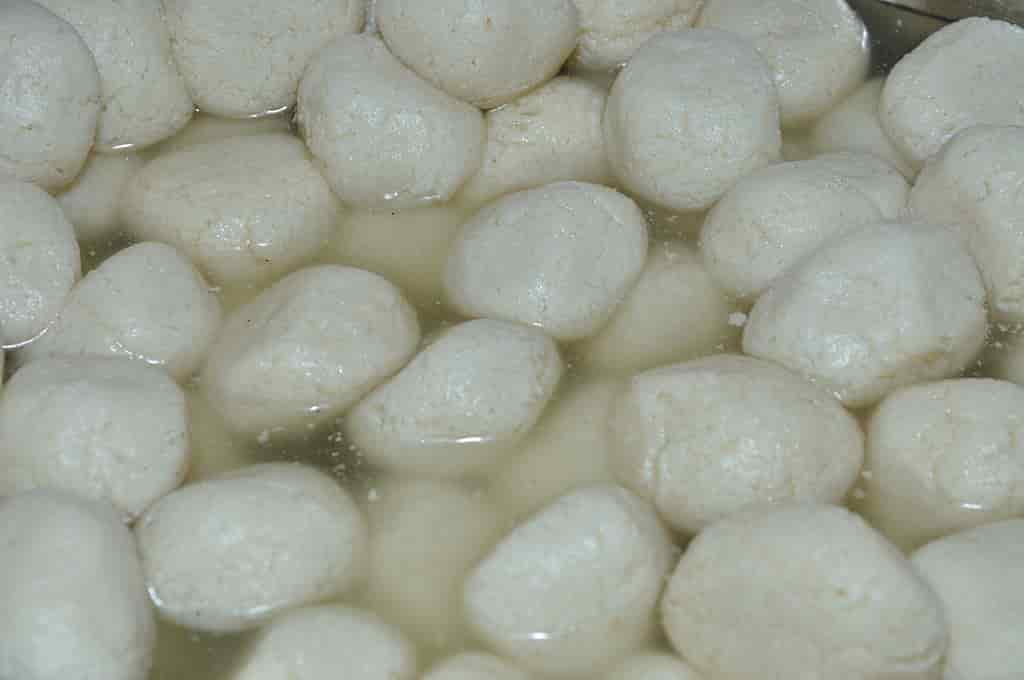 5).  Sandesh
Another of Bengal's sweets that manages to find a place in this list is Sandesh. Sandesh is also made with chenna and is one of the easiest desserts to make. Knead Chenna until it becomes soft and creamy. Add sugar, saffron, and cardamom, refrigerate it for an hour, and Sandesh is ready to eat. A variety of flavors and fruits are added to the Sandesh to make it more exotic, like Mango, chocolate, jaggery, pistachio, pineapple, etc. This is one Indian sweet that you can eat without any guilt pangs, even if you are counting your calories.
6).  Kheer/Phirni/Payasam
Milk is one of the most used ingredients in Indian sweets. Kheer and Phirni are creamy rice puddings that are made in every Indian household. In Kheer, rice is simmered in milk till it thickens. Then we add sugar and garnish it with saffron, cardamom, nuts, and rose petals. It can be served hot and cold. Phirni uses ground rice instead of whole rice and is always served chilled. It is traditionally served in earthen cups called "sakora" which lends an earthy fragrance to Phirni. It is associated with Muslim festivals like Ramadan and Eid. The South Indian version of Kheer is Payasam. No festival or wedding in South India can be complete without Payasam.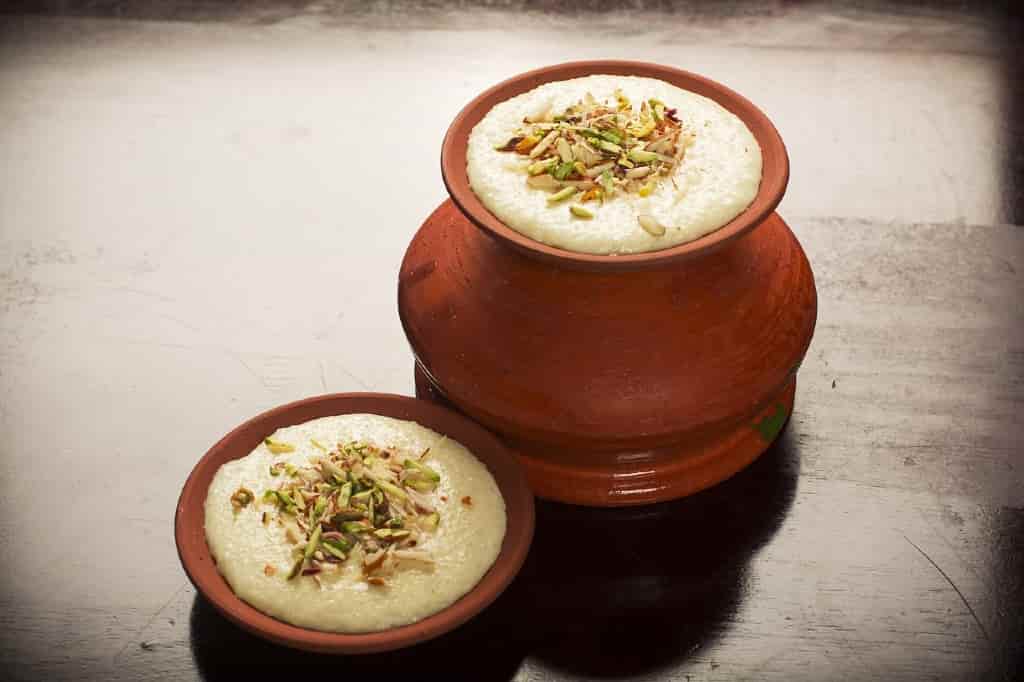 7).  Modak
This Maharashtrian dessert is prepared during the festival of Ganesh Chaturthi. It is considered to be the favorite of Lord Ganesh. Rice/wheat flour dumplings are stuffed with jaggery, coconut, nutmeg, & saffron and steamed to perfection. They are shaped using a special mold to give them the look of a fluted dumpling. Modak is not very popular in other regions of India. But if you visit Maharashtra, you must try Modak and Pooran Poli to absorb the local flavors.
8).  Kulfi/Rabri
The Indian version of ice cream is called Kulfi. Kulfi is denser and creamier than ice cream as no whipping is involved. The milk is boiled on a low flame to reduce its volume and thicken it. After adding sugar, it is left to cool down. The thickened milk is then filled into Kulfi molds and put into the freezer. If you are looking for an authentic taste, look for Kulfis that have been placed inside an earthen pot filled with ice & salt mixture for fast freezing. The traditional kulfi is flavored with pistachios, saffron, and cardamoms, but now we have lots of flavored Kulfis like mango, rose, custard apple, Jamun, strawberry, paan (betel leaf), etc. Nothing can beat the pleasure of savoring a Kulfi in Indian hot summers. If the thickened milk is not frozen and eaten in a semi-solid form, it's called Rabri. Even if it is eaten by itself, Rabri is rich and delish. It is also an ideal accompaniment for Jalebi, Ghevar, Malpua, and a few other sweets.
9). Ghevar
The state of Rajasthan is known for its desserts. If you are visiting this region, you would be spoiled for choice – Milk Cake, Misri Mawa, Phinni, Churma, Malpua, Jalebi, and lots more to savor. The finger-licking sweet that has made it to our list is Ghevar. A batter made of refined flour, ghee, ice, and milk is poured in batches into the hot ghee to fry. The result is a disc-shaped Ghevar. It is then sweetened with sugar syrup and garnished with saffron, pistachios, almonds, and Rabri. The sweet is eaten and distributed primarily during the Teej festival in Rajasthan, but it can be enjoyed in every season.
10).  Laddu
Indians have a fascination for Laddus. They are round sweet balls that are shaped using hands. We make Laddus of everything – besan (gram flour), wheat flour, sattu, coconut, Rawa (semolina), Gond, til (sesame seeds), etc. These ingredients are roasted along with generous amounts of ghee, nuts, and sugar to form the mixture for making the Laddus. The texture, taste, color, and flavors vary depending on the contents of the Laddus. The most popular ones are the Besan ka Laddu and Boondi kai Laddu. No religious function in India can be complete without the versatile Laddus.
11). Kaju Katli
Kids love to eat this sweet made out of cashew nuts, water, and sugar. The cashew nuts are grounded to a fine powder. It is then cooked with sugar and water, stirring the Kaju mixture continuously so that no lumps are formed. It is similar to fudge, shaped like a diamond, and decorated with edible silver foil (barq).  A simple dessert that is light to eat, has a long shelf-life, and is easy to gift on special occasions. Katli is also made using almonds and Badam Katli finds more takers among the older generation. Katli is one of the most expensive desserts in India due to the liberal use of dry fruits like cashew nuts and almonds.
12).  Ras Malai
Another Bengali dish that tops the popularity charts. Ras Malai uses Rasgullas as the main ingredient. Rasgullas are removed from the sugar syrup after being cooked. They are then flattened and soaked in thick sweetened milk and peppered with saffron, pistachios, and cardamoms. Ras Malai has a very short shelf life and should be consumed within a few hours. The creamy and juicy dessert is always eaten cold. Ras Malai is also popular in Pakistan and Bangladesh. 
13).  Mysore Pak
A South Indian dessert that has managed to catch the fancy of the North Indians, Mysore Pak is made from roasted gram flour, sugar, and dollops of ghee. The rectangular-shaped sweet is said to have been invented in the royal Mysore Palace, hence the name Mysore Pak. The fudge dessert is very rich & buttery and would just melt in your mouth. It is one of the most iconic sweets of Karnataka and is served during all festivities and auspicious occasions. The dessert has a very long shelf life and you can always take it back with you.
14).  Gujia
Gujia is another deep-fried dish that is mostly made in northern India. However, different states in India have their versions of Gujia, but the basic method is almost the same. Shredded coconut, khoya (milk solids), roasted nuts, and a hint of semolina are stuffed in crisp, flaky pastry made with refined flour. Gujias are then dipped in sugar syrup. In another version, sugar is added to the filling, and you could skip making the sugar syrup. The crescent-shaped dumplings look like Mexican empanadas. The hard-to-resist sweet is an integral part of Holi and Chhath celebrations in India.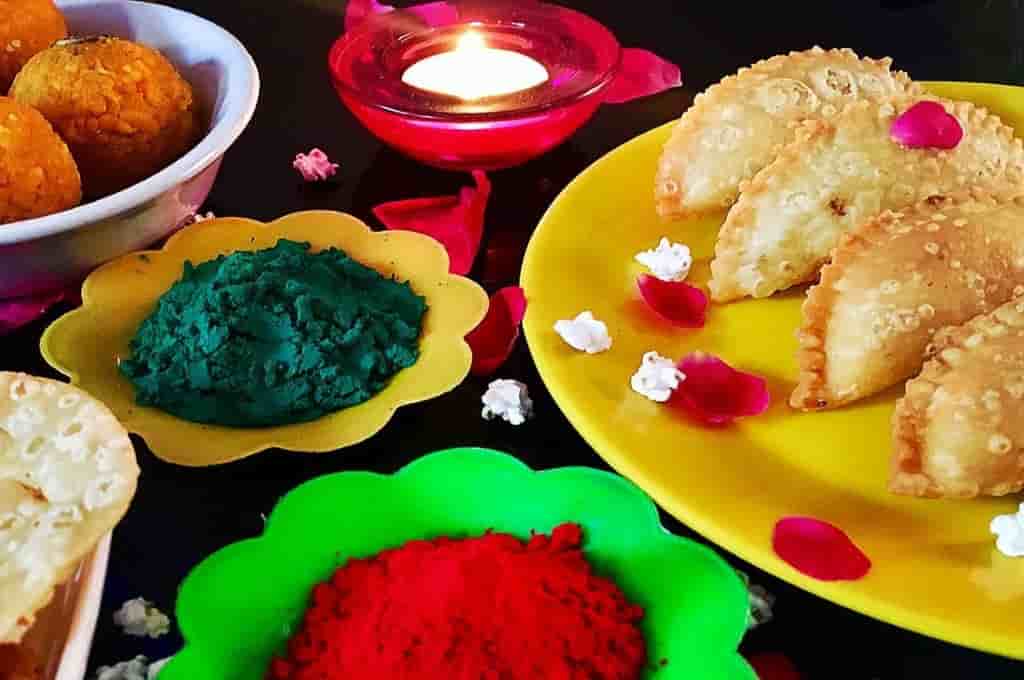 15).  Peda
As mentioned before, most Indians sweet use milk products. Peda is another Indian sweet that uses Khoya, saffron, and cardamom. Khoya is shaped in small bite-sized circles and decorated with pistachios. You can find countless variations of Peda where the color, texture, shape, and ingredients vary to some extent. The Pedas originated in the holy city of Mathura (Uttar Pradesh) in the 1850s. Along with Ladoos, peda is the popular sweet that is offered to deities.
Given the enormous variety of sweets available in India, the list could go on forever. Several of them are prepared in various states with slight variations and given a new name. I'm aware it's not a good idea to consume so much sugar. But when you're on vacation, you can take some liberties. So stop counting calories and indulge in the most popular Indian sweets.
Subscribe to Our Newsletter