Things to Consider When Choosing a Hotel
10 Things to consider when choosing a Hotel
The flights are booked and it's time to choose the hotel for the upcoming trip. The selected hotel is going to be your temporary home and should be comfortable, welcoming, and convenient. A smelly, dilapidated poorly located hotel can be frustrating and can ruin your vacation. There is a wide selection of hotels and Airbnb available for any given location. So, what things should one consider before zeroing in on a particular hotel?
Due to the recent internet explosion, it is easy to check all the required information about hotels – the location, room size, amenities, and appearance. Choosing a hotel may be time-consuming and overwhelming but it is less stressful than flight bookings as there are numerous options on sites like Agoda.Com. However, one should not take it lightly and keep a few factors in mind while looking for hotels. Yeah, I know some of the points listed below are quite evident, but I have still listed them down in case you miss the obvious in your excitement of finding a great deal.
Hotel Location – One of the most apparent and vital things that need to be checked is the exact location of the hotel. The best way to find it is through Google Maps and user reviews. If you are looking for a beach resort, you would want to make sure that the hotel is exactly on the beach and not a mile away. Figure out the areas where you are going to spend most of your time and book in that area. It would be great if you were within walking distance of the areas you plan to visit. If you can manage to find a hotel that has scintillating views in your budget, your vacation will be set. Keep in mind that you may need public transport, grocery stores, and dining options and they should be close at hand. 
Hotel Room – The room of the hotel is the place where you are going to spend your time, so it should be prioritized.  Check all the specifications of the room – images, size, view, bed options, bathroom, air conditioning, and heating. Don't forget other amenities like a tea/coffee maker, safe, fridge, and iron board.  Pictures displayed by the websites can be deceptive, so check the reviews regarding the cleanliness, size, noise, views, etc.
Hotel Amenities – The services and facilities provided by the Hotel should not be ignored. A hotel with a low basic rate but negligible facilities may cost you more than a hotel that has loads of add-ons. Check whether the hotel has the amenities which you may need during your stay. Room Service, Housekeeping, 24-hour reception, and concierge are a few of the basic services that a good hotel should provide. Other amenities that one should check, depending on your requirements are –
Free Room WIFI      Gym/Spa/Swimming Pool     Business Center    Lift    Free parking   
Dining Options    Airport Shuttle    Pet-friendly/Wheelchair accessible    Luggage Storage 
Hotel Rating – While searching for hotels, the first thing we check is the star ratings of the hotel. However, ratings are not always accurate. I have come across five-star hotels that look like three-star and vice versa. Go through the ranking provided by the third-party websites before you freeze your hotel. These grades are based on the guest's review. Read a few reviews to determine what are the major issues which are being faced by the customers and then take a call. Try to go with an 8+ rating whenever possible.
Free Breakfast – It would be helpful if your room rate has free breakfast thrown in. The continental breakfast has something for everyone and you don't have to worry about food early in the morning. Plus, it saves lots of valuable currency. Check with the hotel regarding the type of breakfast they are serving and then decide whether it is worth considering.
Fine print – You have found an excellent hotel with a great deal and you are ready with your credit card. But wait, did you check the cancellation policy, no-show policy, taxes, resort fees, tipping policy, and other gritty details? Check if the hotel will debit your credit card immediately or just save the details for future reference. Are they charging the full amount or only a deposit? Better to sort it out now than repent later.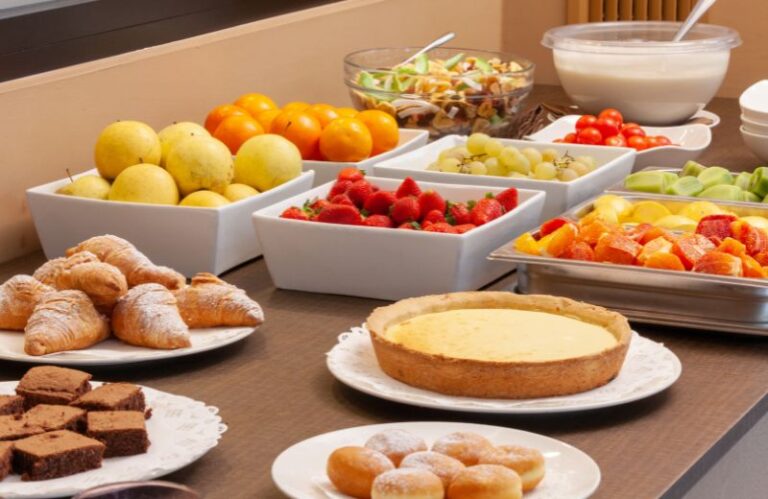 Hotel Reputation – Hotels that are part of popular groups are safer options than standalone hotels. We can generally expect a certain standard from reputed chains as they have their standing at sake. It is advantageous to join loyalty programs for good hotel brands. Such Programs prove beneficial as you may get lots of freebies eventually like early check-in, late check-out, free breakfast, and room upgrades.
Looking for some unique hotels to stay in?
Check-in/Check-out Time – This is one factor that is significant but overlooked many times. If you arrive in the city earlier than the scheduled checking the time or leave the city very late, you would be without a room. Inquire from the hotel if they will allow early check-in or late checkout. Many times, the hotels are understanding and accommodating. At least, they should be willing to hold your luggage at no extra cost.
Hotel Accessibility and Safety – The hotel should be easily accessible from the airport and train station. If the hotel provides a free airport shuttle, it would be a big plus point. Public transport should be nearby so that traveling becomes easy and affordable.  The costs of Uber and taxis add up to your budget substantially. The hotel should be in a secure area and one should feel safe approaching it at odd hours. If you are a solo female or traveling with kids, one has to take extra precautions.
Pricing – It is given that the hotel must fit your budget. The price of the hotel depends on the location and amenities it offers. Once you have decided on a hotel, it is best to cross-check the rates at three/or four of your trusted portals and check all the ongoing deals on hotels. Don't book at booking portals that are not trustworthy. Go with reliable portals like Booking. Com and Expedia.Com. A couple of times I have landed at a hotel with no booking in my name even though I had booked at a 'renowned' third-party website. I was tempted by the great deal they were offering and had a terrible experience thereafter. Booking directly with small and unknown hotels may prove to be tricky and stressful, as the hotel may not respond in case of cancellations or date changes.
Don't hesitate to call the hotel for clarification while booking. Room near the elevator, vegetarian breakfast, higher floor, quiet room, early check-ins, and other specifics can be requested and clarified before booking. Don't believe in any travel myths. After the long checklist, you must be mentally exhausted. But planning a holiday is not an easy job and I am sure when you reach the hotel you will be happy to see the results of your efforts.
PS – You can use most of these strategies while booking any type of accommodation – Airbnb, vacation rentals, all-inclusive resorts, and apartments. 
Disclosure: This post contains affiliate links. If you use these links to buy something we may earn a small commission, at no extra cost to you. Thanks for your understanding.
Subscribe to Our Newsletter