Italy Itinerary for 10 Days - The Classic Route
Italy Itinerary for 10 Days
If you haven't been to Italy yet, you should travel as soon as possible. From ancient Roman ruins, architectural marvels, timeless music, and iconic artworks to stunning landscapes, gorgeous coastlines, sprawling vineyards, and delectable cuisine, the country has it all. You will have a fantastic time in this incredible country. Avoid cramming too much into your itinerary because Italy is best enjoyed at a slower and leisurely pace.
Although 10 days is inadequate to see the best of Italy, it is sufficient to be introduced to this beautiful country. You won't be able to see all of the highlights in a few days, but you will undoubtedly return. So relax and enjoy your time here.
For first-time visitors, it makes sense to follow the classic itinerary and visit the 'must-sees'. However, if you are re-visiting, you should visit the other areas of Italy like the Dolomites, Milan, Bologna, Pompeii, Lake Como, and Naples. Alternatively,  you could take leisure time to explore the Tuscany region or the South of Italy. Remember, whichever way you go, you cannot go wrong in Italy.
Classic Italy Route
If this is your first time in Italy, you must visit Rome, Florence, and Venice, the three most famous cities in the country. We've included a few intriguing stops in between to make the most of your trip. These iconic cities also have good train connections, allowing you to travel around the country without renting a car. You can easily change the schedule by skipping or adding a place, depending on your preferences. You can, for example, skip the day tour to Tuscany or Cinque Terre if you wish to spend more time in Florence. If you have a few extra days, add a couple more day trips to your agenda, or simply slow down to appreciate your surroundings. Because the schedule begins in Rome and concludes in Venice, you will need to book an open-jaw ticket, which is usually simple to arrange.
10-day Suggested Itinerary for Italy
Day 1 & 2: Rome
Day 3: Take a day trip to the Amalfi Coast from Rome
Day 4 & 5: Florence
Day 6: Take a day trip to Tuscany from Florence
Day 7: Take a day trip to Cinque Terre from Florence
Day 8 & 9: Venice
Day 10: Bid Adieu to Italy
Italy Itinerary for 10 Days
Italy Itinerary Day 1 & 2: Rome
Your journey begins in Rome, which is well-connected to the rest of the globe via two airports: Fiumicino and Ciampino. There's a lot to see and do in the capital city, and you have less than two days, so don't waste any time. The city is rich in art, culture, and history, and as you walk through the historic city, you are sure to stumble upon some ancient structure or statue on any random corner. Most of the major sites are within 1.5 square kilometers, so you can see them all in a short time. A visit to Vatican City, on the other hand, can be daunting and takes nearly a whole day. Because you'll be walking a lot, make sure you wear comfortable shoes. The food is excellent, and you should spend evenings in Trastevere checking the restaurants and bars that flow out into the streets when it becomes busy.
Must-Visit in Rome
Trevi Fountain: The baroque-style fountain spills out about 2,824,800 cubic feet of water daily. It is the place where wishes are supposed to come true, so throw a stone over your shoulder and make a wish.
Colosseum: The largest amphitheater was built in 70 AD during the Roman Empire. It could accommodate 50,000 people who came to watch gladiator fights, exotic animal hunts, and live prisoner executions in those days.
Roman Forum: The Forum is now in ruins but was the hub of political, religious, and social activities in ancient Rome
Piazza Navona: The 15th-century public square is brimming with cafes, eateries, and shops.
Spanish Steps: The famous landmark has 135 steps with Trinita dei Monti church at the top.
The Pantheon: One of the best-preserved structures from ancient Rome, the Pantheon is a Roman temple that was built between AD 118 and 125 by Emperor Hadrian
Vatican City: It is the smallest country in the world and home to the spiritual leaders of the Roman Catholic Church. St. Peter's Basilica, Apostolic Palace, Vatican Museums, and Sistine Chapel are must-sees during your visit to Vatican City. It's closed on Sundays, except for the last Sunday of the month.
Italy Itinerary Day 3: Take a day trip to Amalfi Coast from Rome
Boarding the first train to Naples from Rome is the ideal way to visit the Amalfi Coast (the fastest is 1hr10mts). Take a private car, taxi, or tour from Naples. Avoid self-driving as parking in the Amalfi region can be a nightmare. Get Your Guide has some very good day tours to explore the region. The Amalfi Coast is without a doubt one of the most breathtaking stretches of coastline on the planet, with many picturesque towns dotting the winding, narrow lanes. The spectacular beauty of the craggy cliffs, gorgeous gorges, vivid turquoise sea, bobbling yachts, and pebbly beaches will take your breath away. For out-of-this-world experiences, stop at Positano, Amalfi, and Ravello (or just Positano). Delicious food, amazing shopping, and relaxed vibes will elevate your visit to the next level. Make sure to take the final train back to Rome and stay the night.
Italy Itinerary Day 4 & 5: Florence
Catch a train to Florence early in the morning (1.5 hours) so you may spend the majority of the day there. Florence, the home of the Renaissance, is a laidback city recognized for its iconic artwork and architecture. There are over 70 museums in Florence, but we will concentrate on the best of them. The charming town is compact and walkable, so you should be able to see the highlights in two days.
Must-Visit in Florence:
Ponte Vecchio: The historic bridge spans the Arno River and is a lovely location to watch the sunset while browsing the numerous jewelry shops.
Duomo: Florence's 13th-century Catholic cathedral, which soars over Florence, is the city's focal point. It has the world's largest brick dome, which is artistically decorated to depict a scene of paradise and hell. The view from the summit is phenomenal, but you'll have to walk over 450 narrow, steep stairs to get there.
Palazzo Pitti: The former Renaissance residence houses several museums displaying classic paintings, sculptures, and other artworks.
Boboli Gardens: The 16th-century Renaissance park is located just behind the Pitti Palace on a steep hill. Its vintage location offers excellent photographic opportunities. Italian sculptures, elegant fountains, blossoming flowers, and centuries-old oak trees can all be found at this open-air museum.
Galleria dell' Accademia: This is a must if you want to see the legendary 17-foot sculpture – Michelangelo's David statue.
Uffizi Gallery: An architectural wonder that houses thousands of masterpieces made by renowned artists like da Vinci, Caravaggio, Botticelli, and Michelangelo.
Piazza Della Signoria: The city's town hall that is placed right beside the Uffizi Gallery
Italy Itinerary Day 6: Take a day trip to Tuscany from Florence
To visit Tuscany, rent a car or book a taxi/tour. Olive orchards, picturesque villages, cypress trees, rolling vineyards, hot springs, and farmhouses dot the Tuscany countryside. It is recommended that you take a full-day tour so that you may make the most of your limited time without having to worry about logistics. Wine tours in Tuscany run a whole day and include stops in several towns throughout the region. You can choose from a myriad of locations, including Siena, San Gimignano, and one of the wineries.
Siena is only a half-hour drive from Florence and is home to some of Europe's most exquisite churches. Additional attractions include the main square, medieval back streets, museums, and tiny cafes. San Gimignano is a UNESCO World Heritage Site and a hill village. After visiting the beautiful alleyways, breathtaking landscapes, and stunning architecture, you must stop here for gelato at the famed Gelateria Dondoli. The Chianti wine region is one of the world's most popular wine regions. With a gourmet lunch, indulge in some wine-tasting activities.
Italy Itinerary Day 7: Take a day trip to Cinque Terre from Florence
We're going on a day excursion to Cinque Terre today. Trains run frequently between Florence SMN Train Station and Le Spezia (2hrs). When you arrive in Le Spezia, use the 5 Terre Express to get between the Cinque Terre's five towns: Monterosso, Corniglia, Vernazza, Manarola, and Riomaggiore. The villages are perched on cascading hilltops that drop into the Mediterranean Sea. With their colorfully painted houses, little bistros, and lush vineyards, all of the fishing villages are equally captivating. Over 120 km of hiking route is accessible and you have the option to trek the hillsides around the 5 towns. If you don't want to hike, you can take the local train, which operates every 15 minutes. You can also spend the day relaxing on the magnificent Monterosso Beach, swimming in the crystal-clear waters of the Italian Rivera, or simply taking in the breathtaking views. Return to Florence by train and spend the night there.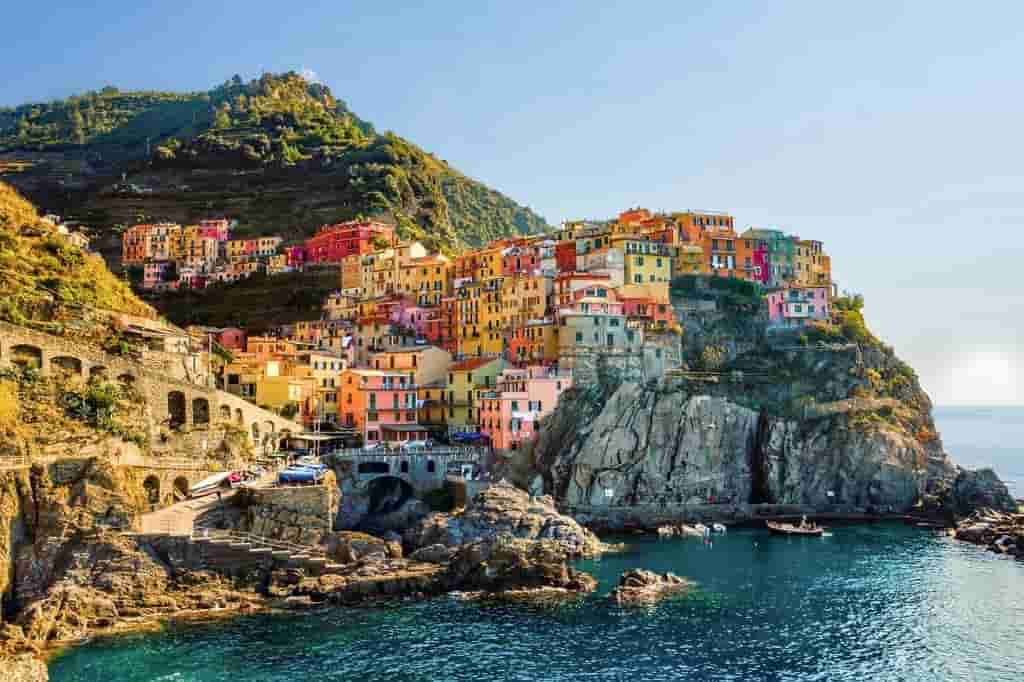 Italy Itinerary Day 8 & 9: Venice
The train is the best and quickest way to get from Florence to Venice. The route is served by several high-speed direct trains that will take you to Venice in around 2 hours. From Santa Lucia Train Station, take a water taxi or a water bus to Venice city center. It's best to stay near the ACTV (water bus) stops because dragging your luggage through the cobblestone streets is challenging.
Venice is unlike any other place on the planet. It is hailed as one of the most romantic cities in the world, and you will discover why when you visit. Rather than trying to tick things off your to-do list, take a walk down the cobblestone streets and soak in the beauty of the secluded corners, Venetian houses, quaint underbridges, and small canals. However, no trip to Venice is complete without a gondola ride through the "Floating City's" labyrinth of waterways and canals. Use the 9th day to explore the other gems of the Venetian Lagoon. Take a tour of Murano (known for hand-blown Murano glass) and/or Burano (famous for its handcrafted lace & rows of vibrant, colored houses). Venice is truly magical, and it's the ideal place to complete your trip. Stay in Venice for two nights.
Must-Visit in Venice:
Piazza San Marco: The iconic square dates back to the 12th century. The Basilica of Saint Mark is located in the bustling square. Feed the birds, admire the vistas, and sip gelato or coffee while watching the crowds.
Saint Mark's Basilica: The Basilica is Venice's most important landmark and a magnificent example of Italo-Byzantine architecture. The interiors of Saint Mark's Basilica, sometimes called the 'church of gold,' are made of shining golden mosaics and five majestic domes. It's a sight to behold.
San Marco Bell Tower: Climb the bell tower to get one of the best views in Venice
Rialto Bridge: The 16th-century stone footbridge is a perfect place to take some pictures for your

Instagram

posts.
Doge's Palace: The ornate Gothic-Renaissance palace was the former residence of the rulers of Venice called the Doges. The sculptures, paintings, and lacework exhibited in the museum & showroom are impressive.
Bridge of Sighs: It is fabled that the prisoners who crossed the bridge on their way to the prison cells sighed on catching their last glimpses of Venice through the tiny windows.
Teatro La Fenice: Italy's most famous opera house that hosts ballet, opera, and music concerts throughout the year.
Galleria dell' Accademia: The impressive museum has a large collection of Venetian paintings from the 14th-18th century.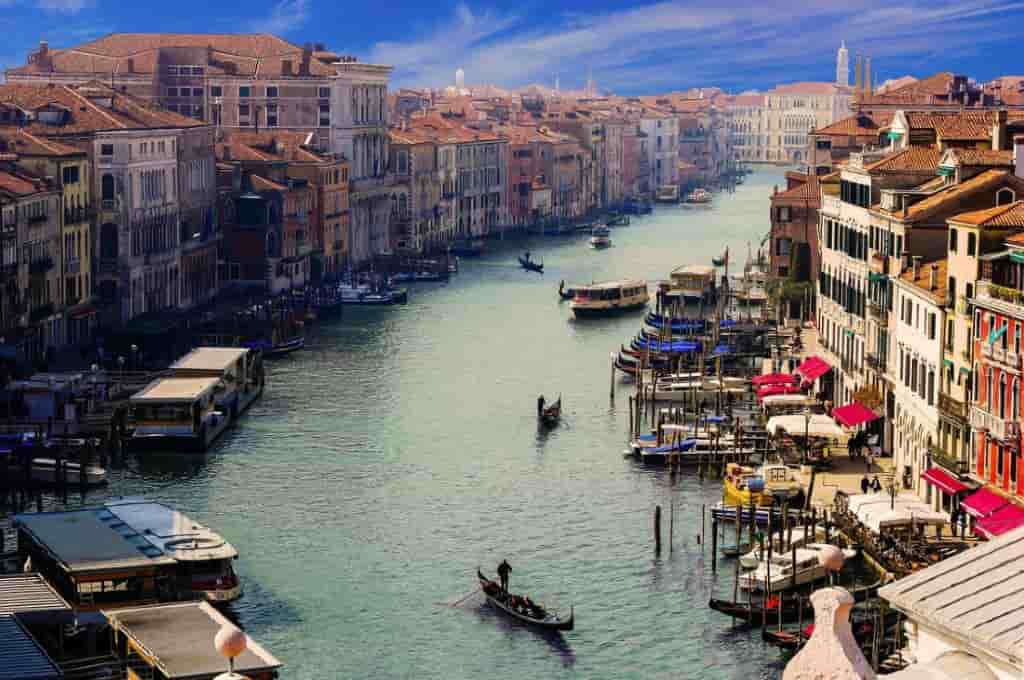 Italy Itinerary Day 10: Bid Adieu to Italy
It's time to return. Depending upon your flight timings, spend some time checking the places you might have missed and then catch a flight back home from Venice Marco Polo Airport. If you don't find it convenient to leave from Venice, you can take a train to Milan (about 3 hours) or Rome (approximately 4 hours) on the 10th day and fly from there to your next destination.
Best Time to Visit Italy
To be honest, there is no bad time to visit Italy. From skiing in the Dolomite mountains in winter to sunbathing on the pebbly beaches of the Amalfi coast in the summers, there is something exciting to do all year round. This 10-day Italy itinerary can be done during any season except the winter. The shoulder seasons of April-May and September-October are perfect. The weather is warm and sunny, with mild temperatures, fewer tourists, and everything is reasonably priced. Summer is Italy's busiest season. But, it can be hot, crowded, and expensive.
Getting Around in Italy
There are 77 international and domestic airports in Italy that connect distant cities and villages However, you don't need to take internal flights unless you are flying long distances. In Italy, high-speed trains are the most efficient mode of transportation. The railroad network in Italy is extensive, and the trains are comfortable, affordable, convenient, and efficient.
Traveling by car gives you flexibility in terms of timing and making additional spots along the way. Self-driving in Italy, on the other hand, isn't easy. If you are unfamiliar with the roads, particularly in Rome, driving is challenging. The driving style of Italians is quite different, and traffic restrictions are frequently disregarded. There's a good probability you'll get a ticket somewhere. Tolls are expensive, and parking in many Italian cities is a headache. If you can afford it, hiring a private taxi is an excellent alternative. Bus travel takes much longer than train travel, but it is often less expensive and will take you to more remote locations. It's sometimes a good idea to arrange a day tour to save time and effort and simply enjoy the trip without worrying about the details.
In Italy, public transportation within cities is excellent and affordable, even in smaller towns. Taxis are easily available. Mostly, you don't need a car to move within the city as you can get around by walking, using public transportation, or taking a cab.
Things to know before you travel to Italy
Euro is the official currency of Italy.
The language is Italian, but most people speak English in touristy areas. It is advisable to learn a few basic Italian words before your trip and use them while you are there. People always appreciate it.
Italians eat dinner late. Dinner is not served until 8 pm. Most restaurants close during the afternoon/early evening.
Credit/Debit cards are accepted almost everywhere. Just keep some small changes handy for small purchases.
Train tickets can be purchased at the station's train offices/ticket machines. They can also be found online. You can check all the details here.
You have to buy bus tickets before getting on the bus. They are available at newspaper/tobacco shops that may close down in the evenings – keep that in mind. 
Don't forget to validate your tickets as soon as you enter the bus/tram. Just having a ticket in hand is not enough. You may get fined if you are caught.
The majority of museums are closed on Mondays.
Book tickets to popular tourist sights like Vatican City & Colosseum online to save time as you might have to face long queues to buy tickets, especially in peak season.
Pickpocketing is an issue in Italy, especially in crowded places and train stations. They are notorious for preying on tourists. Leave your valuables in the room locker,

carry minimum cash

, and take extra care of your belongings.
Electricity is of the 220v standard and you have to use the 2-pins European style plug.
It is safe to drink tap water in Italy. You will find drinking fountains in town squares of big cities, so carry your own reusable bottle.
Many attractions in Italy are religious places and you need to cover your knees and shoulders before you enter them. Always carry a scarf or wrap so that you are not caught unawares.
You have to try the local cuisine. Pizzas, pasta, risotto, Tiramisu, sandwiches, Gelatos, salads, Italian coffee – everything is authentic, flavorful, and yum.
If you are looking for some

souvenirs

, Venetian glass from Murano, hand-woven lace from Burano, vibrant ceramics from Amalfi Coast, Vatican masks from Venice, chocolates from Florence, and wine from Tuscany are good options. Italian spices, seasonings, and food products are undoubtedly the best souvenirs from Italy.
A cappuccino and café latte is consumed with breakfast. After 11 am, Italians don't drink milky coffee. You will still be able to find a cappuccino, but you will instantly be labeled a tourist.
In a few places like Venice, you have to pay a surcharge to sit down in a café to drink coffee or anything else. You can stand at the bar and consume without paying anything extra.
Tipping is not expected anywhere, especially if there is a service charge.
Most of the time you have to pay a small charge to use the washrooms in public places in Italy
You need an International Driver's License to drive in Italy if you are coming from a non-Eu country.
Uber is available only in Rome and Milan, but you can only find Uber's premium options. That means the cost of using Uber in Rome and Milan is very high. itTaxi is a free App that allows you to book taxis in most Italian cities. 
Venice is sinking, so visit this enchanting city

before it's too late

.
Disclosure: This post contains affiliate links. If you use these links to buy something we may earn a small commission. Thanks.
Subscribe to Our Newsletter