Plitvice or Krka: Which National Park should you visit?
Plitvice Lakes Or Krka NP
Croatia is stunning wherever you go. The popular emerging destination is known for its UNESCO World Heritage sites, picture-perfect islands, historic cities, and the never-ending Adriatic coastline. And can we forget the ruggedly beautiful inland national parks of Croatia? No trip to Croatia can be complete without visiting these natural wonderlands and you have to add at least one of the National Parks to your itinerary. Plitvice Lakes and Krka are two of the most well-known and gorgeous national parks of Croatia. Ideally, you should be visiting both as they are equally spectacular in different ways. Unfortunately, most of us are restricted by time and budget and have to plan accordingly. So, if you have limited time and have to choose between the two national parks – Plitvice Lakes and Krka, keep reading. Hopefully, it will help you decide where to go.
Overview of Croatia's National Parks
Croatia is blessed with national parks where you can enjoy breathtaking landscapes, amazing adventure opportunities, and peaceful tranquility. Kornati Islands NP, Mljet NP, Kamenjak NP, Northern Velebit NP, Krka NP, and Plitvice Lakes NP are the ones that are worth visiting. Amongst these, Plitvice Lakes and Krka National Parks should definitely be on your bucket list. Both parks are known for their cascading waterfalls and emerald lakes amidst picturesque lush backdrops. The similarity ends here as the parks have quite different experiences to offer. Let us first take an overview of both national parks.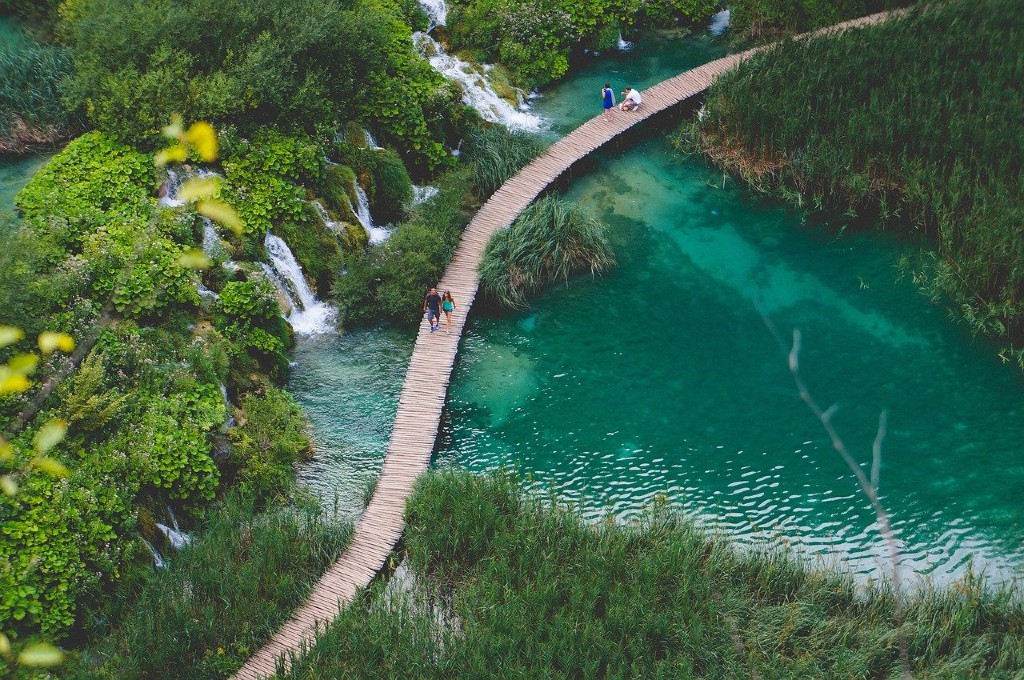 Plitvice Lakes National Park
Nestled between the majestic Gornja, Mala Kapela, and Medvedak mountains, Plitvice lakes opened its doors in 1949 as a national park and was added to the UNESCO Heritage List in 1979. Covering an area of 295 sq. km, Plitvice Lakes is just magical with its sixteen terraced crystalline lakes tumbling into each other and creating countless waterfalls and canyons in the process. The mineral-rich vibrant lakes are surrounded by pretty meadows, open pastures, craggy mountains, and lush woodlands. The nearby forest is home to fir, pine, beech, and spruce trees, as well as bears, wild boars, rabbits, and deer.
The park is split into two parts – Upper Lakes and Lower Lakes. Wooden walkways and footbridges snake over the lower and upper lakes, providing charming trails for visitors to explore and admire the incredible views of the emerald pools and the trickling waterfalls. It is said that at any given time, the lakes never look the same as they did the day before. The color of the crystal clear water changes from emerald green to turquoise to faded grey, depending on the mineral content, weather, and angle of light. Admission costs vary according to the season. Check the latest prices here.
Krka National Park
Krka spans over an area of 143 sq. km. and was established as a national park in 1985. A small Visovac Island, 7 magnificent waterfalls, fascinating gorges, and the jade-green Krka River are located within the park's boundaries. Krka is mostly known for the staggering Skradinski Buk Falls, which are a collection of 17 waterfalls. Water from Krka and Cikola Rivers falls into 17 travertine steps and forms deep pools before cascading down to create the incredible Skradinski Buk. The majestic falls are also considered to be one of the most beautiful calcium carbonate waterfalls in Europe.
Other major attractions of Krka are the Roski Slap Falls, the medieval fortresses, and the Serbian Eastern Orthodox Monastery located on the tiny Visovac island. Krka is a natural habitat of nearly 800 species of plant life and 200 species of birds. Many different reptiles and amphibians can be spotted around the waters of the Krka River. Krka has a wooden footpath winding through the park in a well-defined loop providing a perfect opportunity to admire the falls from close quarters. However, the best way to enjoy the charming waterfalls is by swimming under the falls or taking a boat ride in Krka lake. Admission prices are cheaper than Plitvice, maybe because of the smaller size. You can check the current costs here.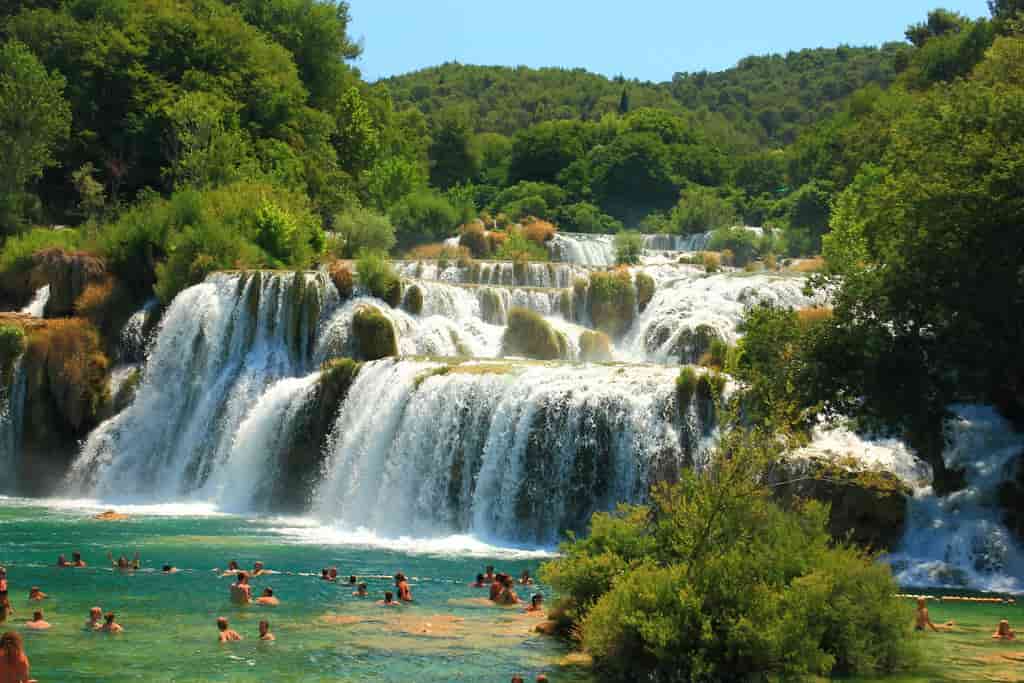 Plitvice Lakes or Krka – Which should you visit?

Plitvice vs Krka: Which is easier to reach?
If you are in Split and short of time, Krka National Park makes more sense as it is just 90 km from Split (60-90 minutes drive). This means you can take a half-day / full-day organized tour from Split as well as Zadar (77 km away). You can also hire a car or take a bus to reach Krka. There are 5 entrances to the park, but most people use the Lozovac entrance or take a boat ride from the Skradin entrance. There is a bus service from Split to the Skradin entrance of the park. Check the bus timings and availability here. You also have the option to use the entrance at Visovac, Slapove Krka, and Burnum.
Plitvice Lakes is more feasible if you are located in Zagreb or any other city in the north of Croatia. It is 130 km from Zagreb and 120 km from Zadar. You can plan a day trip, or stop en route to the coast. Making a day trip to Plitvice from Split is not recommended. It is a bit remotely located and quite big, and you will only be able to get a glimpse of all it has to offer. So, you should keep two days for Plitvice and stay near the park, either before or after, so that you are not in any rush to explore the natural wonder. Bus stops are located at Gate 1 & 2, so catching a public bus is quite convenient. Renting a car is the best option as it gives you maximum time and flexibility.
| DISTANCE | TO KRKA NATIONAL PARK | TO PLITVICE LAKES |
| --- | --- | --- |
| Zagreb | 327 km | 130 km |
| Dubrovnik | 276 km | 432 km |
| Split | 87 km | 240 km |
| Zadar | 77 km | 120 km |
Plitvice vs Krka: Which is more accessible?
Krka National Park has circular walking trails that range from 1.9kms to 3.4kms and you need just a couple of hours to walk the longest loop. The circular boardwalk takes you to some of the most majestic waterfalls in the park. The trails are quite manageable and suitable for people of all ages and capabilities. There are signboards guiding you all the way. If you don't want to attempt anything strenuous, Krka is for you.
Plitvice Lakes is much bigger with trails ranging from 3kms to 18kms. It can take you anything from 3 hours to 8 hours to explore the massive park, so choose according to your energy levels. The trails are well-marked and doable, you just have to stick to a specific path and watch your step. If you are into hiking and adventure, Plitvice is definitely more exciting. However, none of the parks is suitable for toddlers or people with mobility issues as it is not possible to push a wheelchair/trolley on the trails.

Plitvice vs Krka: Which is more crowded?
Krka is not as crowded as Plitvice Lakes. But since it is much smaller, it feels quite cramped with even fewer people. In fact, in 2017, the National Park announced that a maximum of 10,000 visitors at a time would be allowed into the Skradinski Buk section. Keeping in mind the size of the park, you can plan your visit for late afternoon. The morning rush would be over and you should still have sufficient time to explore the park and take a dip in the emerald pools.
Plitvice is much more popular and busier than Krka. The park is visited by more than a million visitors a year. July and August are really crowded and it is even difficult to see the falls with people pushing you from behind. You have to walk behind rows of people during rush time. The best option would be to start early morning or late afternoon so that you can escape the tour buses, day-trippers, and the long queues for the boat. For that, you should spend at least one night in the vicinity so that you can enter the park before hordes of people start arriving from nearby places.
The spring and summer rush of Plitvice can be really draining. So, if you are looking for a more relaxed and less crowded park, opt for Krka National Park.
Plitvice vs Krka: Which has more activities?
The biggest attraction of Krka was that you could actually swim at Krka National Park. However, as of 2021, you are not allowed to swim at the base of Skradinski Buk Falls and enjoy the impressive display of waterfalls from there. Climate changes and the need to preserve resources & the richness of biodiversity are the reasons for this ban. Swimming is still allowed in a few locations like Stinice, Remetic – Pisak, and downstream of Roski Waterfall, but the most popular lake is now off-limits for swimmers.
If you are looking for something beyond scenic views, Krka has some options. You can visit the religious monuments, the second-oldest hydroelectric powerplant, water mills, and a few medieval fortresses. You can enjoy a boat ride from the town of Skradin across River Krka. Krka is known for its diverse wildlife, so be on the lookout for different species of birds and reptiles
Plitvice Lakes is a UNESCO World Heritage Site, so swimming and bathing are strictly prohibited. Besides hiking, you can take a boat ride across Lake Kozjak or enjoy a train ride that would drop you at different points in the park. Exploring the countless trails and routes along lakes and waterfalls can be exhausting. If you still have time and energy left, you can explore the trails that loop above and beyond the lakes and take you to the surrounding caves, woodlands, and villages. This is your chance to escape the crowds and spot a bear or wolf.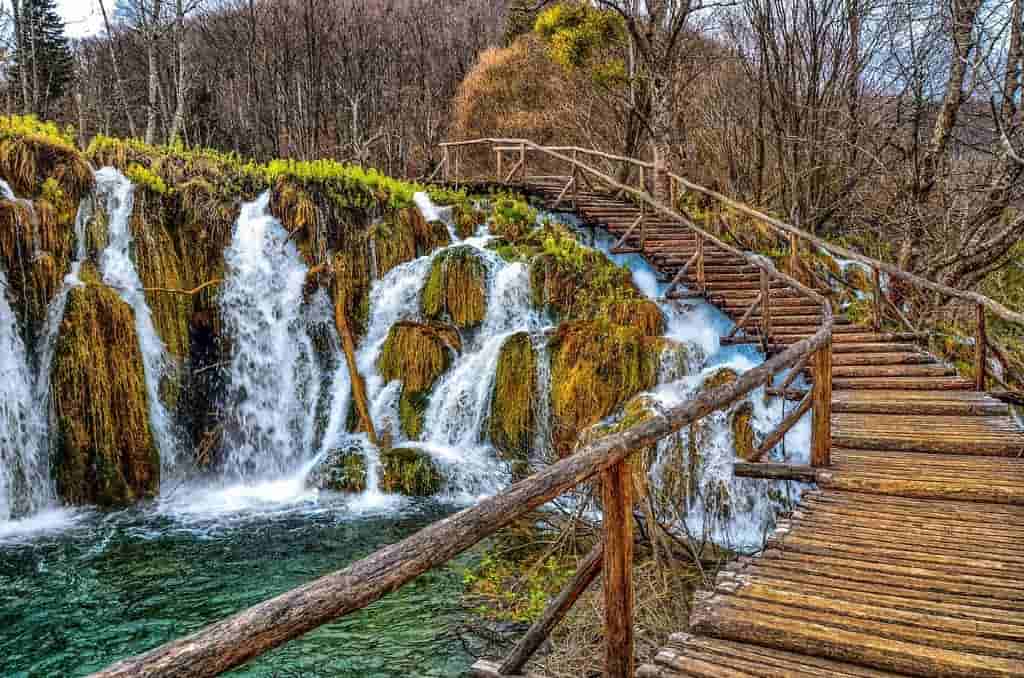 Plitvice vs Krka: Which is more beautiful?
We all want to visit places that are gorgeous and unique, so this is the most important criterion. Krka is undoubtedly beautiful. The sweeping series of naturally colored lakes are really wild and picturesque. Skradinski Buk Falls, with waterfalls at one end and cascades at the other, looks phenomenal. Narrow waterfalls gushing out of craggy cliffs, travertine cliffs, tranquil trails, and turquoise clear water are really impressive and are bound to leave you spellbound by their natural beauty. If you are looking to escape the well-worn tourist trail and explore something off-beat and enchanting, Krka National Park should definitely be on your radar.
Plitvice Lakes is magnificent and mesmerizing and you are unlikely to see anything more spectacular on your Croatia Visit. The vibrant colored lakes, cascading waterfalls, quaint wooden pathways, the lush landscapes – the striking park is a photographer's delight. There are endless opportunities to take some memorable pictures and you won't be able to put your camera down. Every twist and turn will leave you awestruck. The lakes in Plitvice Lakes are much more colorful and the waterfalls are definitely more staggering. If your decision is based on aesthetics, Plitvice is a clear winner. It is one of the most beautiful places on the planet.
I hope this has helped you in deciding which of the national parks is best for you. But be rest assured, whatever you choose to visit, you won't be disappointed.
Subscribe to our newsletter