How to Spend One Day in Stockholm?
Stockholm, Sweden's capital, is a beautiful city. The "Venice of the North" is located on the fringes of a massive archipelago of 20,000 islands. Stockholm itself is spread across 14 tiny islands. The gorgeous islands are linked by deep blue waterways, charming bridges, and green spaces. The city is a fascinating mash-up of European charm and modernism. The incredible architecture, one-of-a-kind museums, laid-back vibes, colorful buildings, and the exquisitely preserved Old Town are additional draws.
Stockholm has enough sights and activities to keep you busy for 3-4 days. However, if you are only here for a day and want to see the main attractions, you do not need to worry. Stockholm in a day is doable. The city's public transportation system is well-spread out & efficient, and if you plan ahead, you can get a taste of what Stockholm has to offer. So, let's try to see the highlights of Stockholm in a single day.
What to See in Stockholm in One Day?
Everyone has different preferences and travels at their own pace. The distance you can cover is also determined by the time you begin and the mode of transportation you use. I've compiled a list of Stockholm's top attractions. Make plans based on what you prefer to do.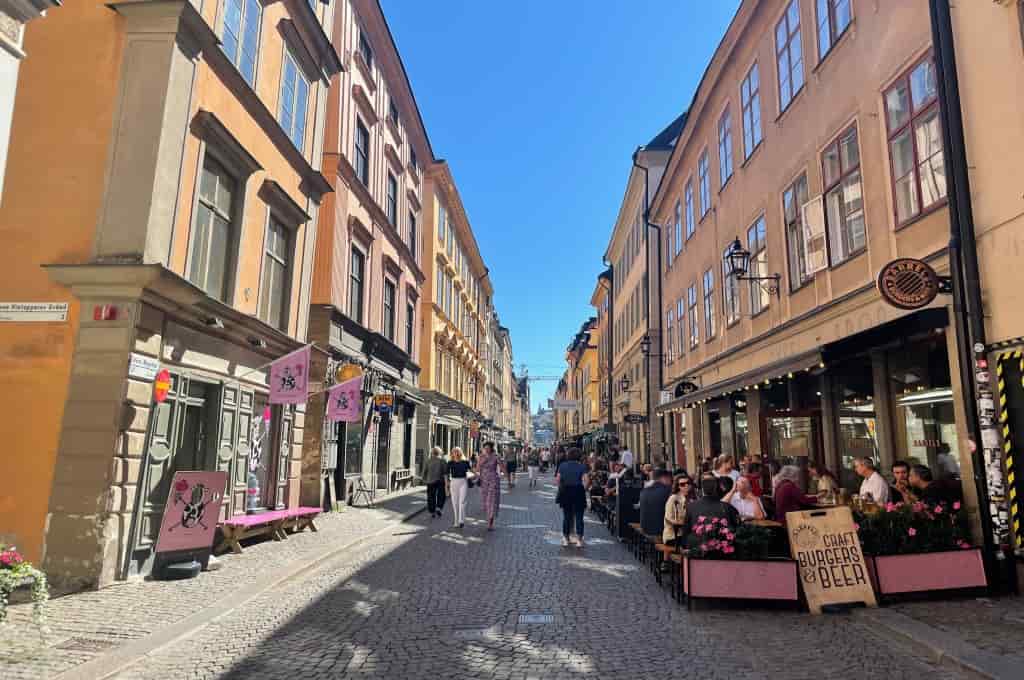 1) Gamla Stan (Old Town)
This is a must-do and my favorite activity in Stockholm. You can start or end your day in the charming Old Town. The picturesque Gamla Stan dates from the 13th century. The cobblestone streets and narrow alleyways are lined with souvenir shops, trendy boutiques, colorful houses, quaint cafes, and lively restaurants. The entire area is worth exploring, but streets such as Marten Totzigs Grand (Sweden's narrowest street), Osterlanggatan, Vasterlanggatan, and Prastgatan should not be overlooked. As you wind your way through the winding alleys, you will come across Stortorget, one of Stockholm's oldest squares. Gamla Stan is also home to a few other attractions on the list, such as the Royal Palace and Storkyrkan Church, which you can visit while you're there.
2)  Stockholm Palace
The majestic Baroque-style palace serves as the Swedish royal family's official residence, though they prefer Drottningholm Palace. The colossal Royal Palace has 600 rooms and is one of Europe's largest palaces. Because your time in Stockholm is limited, it is best to admire the Royal Palace from the outside and skip the interiors. This should only take you about 10-15 minutes. Try to catch a glimpse of the changing of the guard, which takes place in the outer courtyard every day at 12:15 am (Sundays and holidays: 1:15 pm).
3)   Storkyrkan Church
Storkyrkan (Stockholm Cathedral), built in 1279, is the oldest church in the Old Town. It has a clock tower with a teal roof. You can take a quick look inside the Gothic interiors of the church. The intricate carving, lierne vaulting, St. George's statue, Sun Dog Painting, and royal pews are all impressive. Over the years, the Stockholm church has hosted numerous royal weddings, funerals, and coronations.
4)   Stockholm City Hall
The red-bricked City Hall, located on the island of Kungsholmen, is the most distinctive landmark of Stockholm's urban landscape. It is a lovely 20-minute walk to City Hall from the Gamla Stan. The City Hall appears to be a hybrid of a medieval fortress and a Renaissance palace. A true masterpiece of Swedish National Romanticism. If you go to City Hall, make sure to check out the rich interiors because the exterior is rather unimpressive. You will be awed by the glass-domed Blue Hall, Golden Hall, French tapestries, and Byzantine-style wall mosaics. The City Hall can only be visited with a guided tour, which departs every 30 minutes and lasts approximately 45 minutes. Open daily from 9:00-15:30 (last entry 15:45)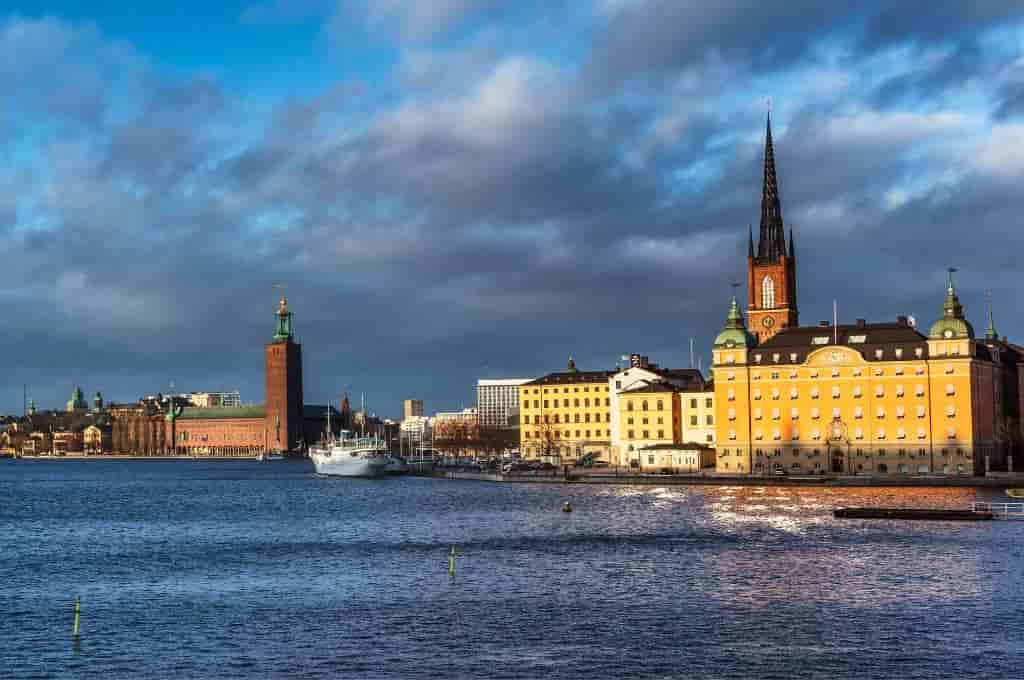 5)   Vasa Museum
Stockholm is known for its unique museums, and you should plan to visit at least a couple of them. The majority of the popular ones, such as ABBA, VASA, Skansen, and the Viking Museum, are located on Djurgarden island. The Vasa Museum is one you should not miss. The museum houses a perfectly restored 64-gun warship that sank only 1300 meters from Djurgarden's southernmost point on her maiden voyage. The fatal design flaws caused this beautiful ship to sink. Vasa was rediscovered and salvaged from the sea floor in 1956.
The fully intact ship is now on display at the VASA museum, which opened in 1989. The sight of the massive ship standing in all its glory will leave you speechless. The ship was decked out with 500 scriptures and 200 ornaments, most of which are displayed in the adjacent exhibition halls and presentations. The VASA museum provides invaluable insight into life on board in the 17th century. Open daily from 8:30-18.00 (June-Aug) and 10.00-17:00 (Sept-May)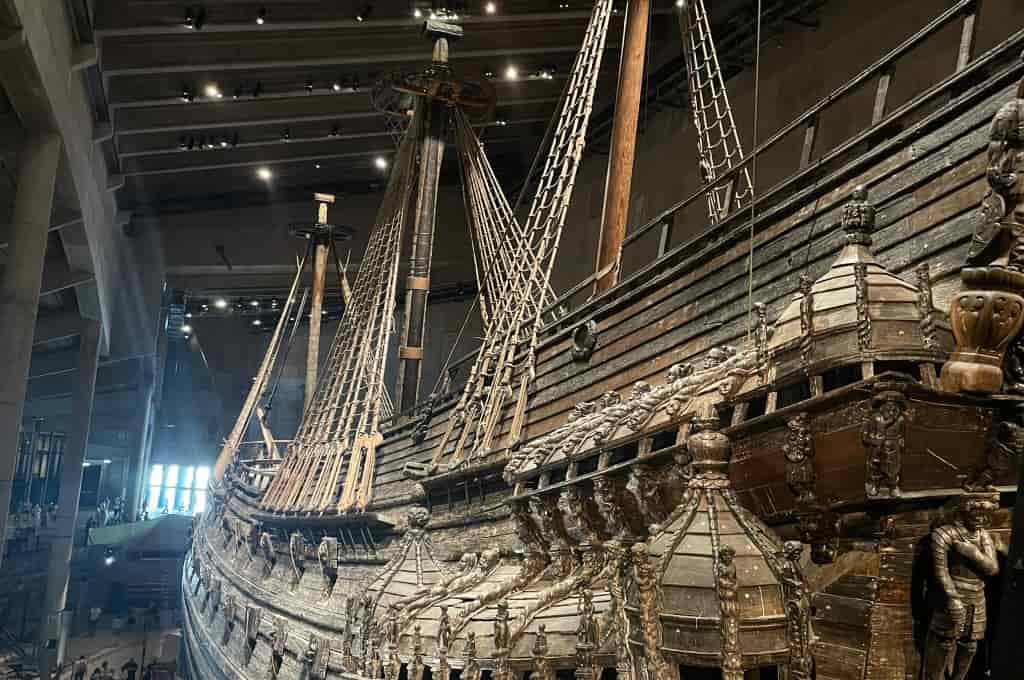 6)   ABBA Museum
This should be on your itinerary if you are an ABBA fan. Stockholm is where ABBA was "formed," and you can visit the ABBA museum for an informative and fun experience.  Learn about ABBA's history, try on costumes, interact with exhibits, and sing on stage. Open daily from 10 a.m. to 18 p.m.
7)   Fotografiska Museum
The art center displays contemporary photographs by world-renowned photographers. The Fotografiska Museum is one of the world's largest and most significant photography museums, with multiple exhibitions on display at any given time. The museum is housed in an old industrial building on the island of Sodermalm, which adds to its charm. The panoramic views from the café on the top floor are an extra bonus. You can fit it in on a day trip to Stockholm because it is open until late. Open daily from 10 a.m. to 21 p.m.
8)  Stockholm Metro Art
If you're going to use public transportation in Stockholm, take advantage of the opportunity to explore the art installations and graffiti hidden beneath the city's streets. The Stockholm Metro is adorned with artwork ranging from pseudo underground grottoes to gigantic bronze mosaics, flowers, and murals. There are 90 such exquisite art displays, each one unique. But, given your time constraints, go to the well-known ones at T-Centralen, Radhuset, Stadion, and Kungstradgarden.
What else can you do in Stockholm in just one day?
Everyone wants a break from sightseeing, and I'm sure you want to spice up your itinerary with a few interesting elements. What could be better than delectable food? Stockholm is famous for its meatballs. Swedish meatballs can be found all over the city and are generally great. In Stockholm, you must experience the traditional Fika hour. Fika is a Swedish word that means "coffee and sweets break." It is a way of life for the Swedes, who enjoy sitting with good company and enjoying coffee with a small bite to eat. Isn't it the perfect way to unwind and indulge yourself between a day of frantic sightseeing? Many scrumptious treats are available, but you must try the cinnamon bun, the region's specialty.
Dinner can be had at the ICEBAR. The ice walls and ice cups are sourced from Jukkasjarvi in Northern Sweden. The temperature inside the bar is 7 degrees Celsius, and the steep entry fee covers the rental of the required heavy coat and gloves. If you still have energy, you can enjoy Stockholm's nightlife. Head to the Stureplan or Sodermalm districts to dance the night away or unwind at one of the many clubs and bars.
Where should you stay in Stockholm?
Gamla Stan (Old Town), Ostermalm, Sodermalm (hip neighborhood), and Norrmalm are the best places to stay in Stockholm (downtown). These areas are very close to all of Stockholm's main attractions and are ideal for sightseeing. You can simply walk to the major highlights. Shopping and dining options are also nearby. You cannot afford to waste time commuting when you are in the city only for a day.
How to Get Around During Your One-Day Stay in Stockholm?
From the Airport – Arlanda Express is the quickest and easiest way to get to the city center from the airport. The train leaves every 15 minutes and takes 20 minutes to travel between the airport and the city center. Another option is to board the less expensive Flygbussarna or Swebus. They run several times per day and last approximately 40 minutes, but they do not stop at all the terminals. A taxi ride also requires roughly 40 minutes. Tickets can be purchased from machines at the airport and train station.
Stockholm Public Transport – "SL" refers to Stockholm's network of trams, buses, and metro (Tunnel Bana). You can buy a single-ride ticket (SEK 37, valid for 75 minutes) or a 24-hour pass (SEK155). Tickets must be bought prior to boarding and are available at rail stations, metro stations, SL centers, and via the SL app. Travel is free for those under the age of 20. The water buses are a fun way to travel from one major tourist attraction to another. You can take the ferry from Slussen (Gamla Stan) to Djurgarden and Skeppsholmen. For that, you can use your SL card or buy a single ticket at the quay. All prices are tentative and subject to change. For up-to-date information on Stockholm public transportation, visit the SL website.
Hop-on, Hop-off Bus – This is a reliable way to get to various popular landmarks. However, keep in mind that it only travels in one direction, so plan accordingly. Aside from the standard Hop-on, Hop-off bus, Red Sightseeing also operates a Hop-on, Hop-off bus. Don't be alarmed if you can't enter with your ticket. Get an online discount by booking the tickets here 
Segway or Bicycle – Getting around on a bicycle or a Segway is another exciting way to explore the city during the summer. Stockholm has excellent bike and Segway infrastructure, and routes are clearly marked throughout the city. People will be whizzing past you on their bike/Segway wherever you go. Renting a bike or Segway is an option.
Walk –Many attractions are clustered together, and you can walk down to them without taking a taxi/public transportation. Try to walk reasonable distances and take in the sights of Stockholm on foot.
Taxis – Taxis are overpriced. Uber operates in Stockholm.
Is it worthwhile to purchase the Stockholm pass (Go City)?
A 24-hour Stockholm pass (Go-City), which includes all bus and boat rides, along with a canal cruise, costs around 500 SEK. It also provides free admission to the majority of the tourist spots, such as the Royal Palace, Vasa Museum, Drottningholm Palace, Nobel Museum, Fotografiska, archipelago tour, Grona Lund (amusement park), and many more. The ABBA Museum and City Hall are excluded from its coverage. So, if you plan on doing a lot of sightseeing in one day, the Stockholm pass is a good investment. Otherwise, you can buy the tickets separately and save money.
Do you have more than one day?
If you have some extra time in Stockholm, here are a few other things you can do:
Visit more museums.
Have fun at Grona Lund Amusement Park.
Go on an archipelago boat tour.
Look into Riddarholmen Church.
Check the Royal Armory
Discover Stockholm's contemporary side in upscale neighborhoods such as Sodermalm, Ostermalm, and Svartensgatan.
Shop in the Katarina-Sofia district.
Enjoy the scenic boat ride at sunset.
Subscribe to Our Newsletter