Most Unique Hotels in the World
The 10 Most Unique Hotels in the World​
PC - Kakslauttanen Arctic Resort, Lapland, Finland
If you are an adventurous traveler, you are always looking for unusual experiences. Hotels can be very repetitive, soulless, and unimaginative. They generally have the same amenities, layouts, breakfasts, etc. Some are better than others, but most of the time hotels are basically the base from which you explore the region.
But wait – there are some hotels which are bucket-list worthy. These unique hotels are awesome destinations on their own. If you stay at these iconic resorts, you don't need to step out of the premises to have an amazing experience. I have compiled a list of hotels where you must stay once in your lifetime. You decide what is your preference – decadent luxury, stunning locations, jaw-dropping architecture, or surreal experiences. These unusual resorts will burn a big hole in your pocket, but they are definitely worth it. You will have a one-of-a-kind experience that you will treasure all your life.
1. Hotel Kakslauttanen, Finland
Most of travelers already have this 'million-star hotel' on their wish list. Hotel Kakslauttanen is located in Saariselka in Finland, 150 miles north of the Arctic Circle. The rooms are shaped as Igloos and made of glass. From the warmth of your cabin, you can have an unobstructed view of the stars and even the Northern Lights (if you are lucky). The city of Saariselka is one of the best places to watch the northern lights. The spectacular natural light show is visible from late August to early April. If you have had your fill of stargazing, you can explore the Arctic wilderness through a husky and reindeer safari, drive through the snow on a snowmobile, go cross-country skiing or visit Santa's house nearby.
The glass Igloos come in different sizes and shapes – small igloos, large igloos, Kelo igloos, and luxury Kelo igloos. Though they are very expensive, don't expect super luxury. The small igloos only have a small toilet and have to use communal shower facilities. The larger ones can accommodate a family of four with private bathroom and shower facilities. Besides the Glass igloos, you have the option to stay at Chalets and Snow Igloos. The resort has 6 onsite restaurants, a gym, and airport transfers (on charge).
Price per night – From $450 per room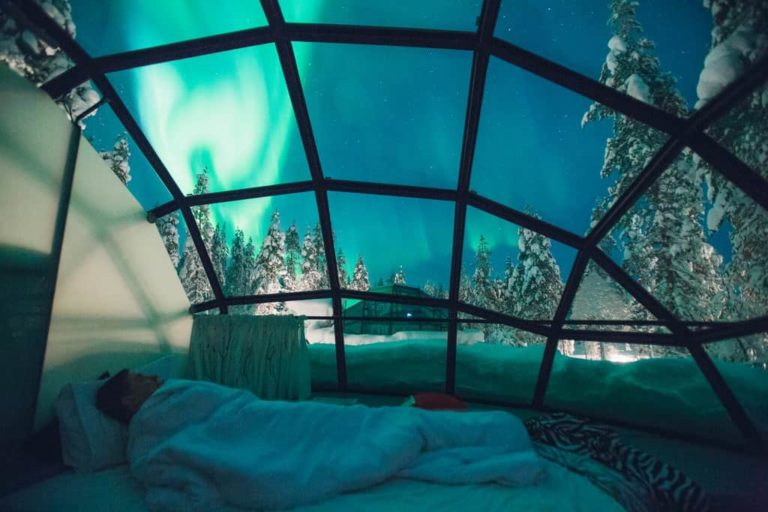 2. Giraffe Manor, Nairobi, Kenya
An exclusive boutique hotel situated on the outskirts of Nairobi, Giraffe Manor is another unique hotel to be added to your bucket list. The elegant resort developed in the 1930s with its manicured gardens, timeless interiors, and stately facade is a coveted property in its own right. What makes it unique is the herd of endangered Rothschild giraffes which roam about freely on the resort premises. The resident giraffes visit the dining areas and poke their long necks through the windows looking for treats from the visitors. Every room is stocked with food for the long-necked giants.
The 12 acres iconic property is one of the most Instagrammed properties in the world. The Manor has 12 luxury suites and is closed in April-May for one month every year. The resort is expensive no doubt, but you are going to have one of the most unique and amazing experiences of your life. Kids are going to love it.
Prices per night – From $1000 per room all-inclusive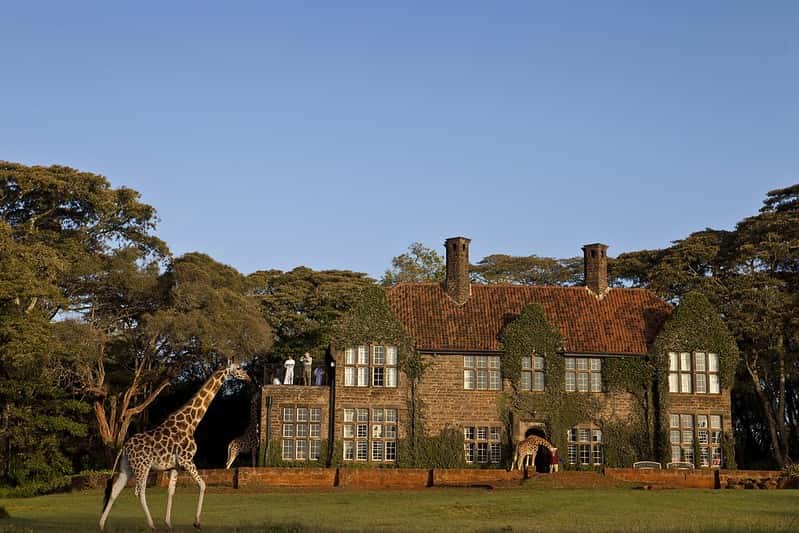 3. Ashford Castle, Ireland
Perfect opportunity to fulfill all your fantasies of living in a castle. The sprawling 13th-century Ashford castle has been built over the centuries and was opened as a luxury resort in 1939. The 350-acre castle had massive renovations in recent years restoring it to its original splendor and finesse. It has 83 luxury rooms/suites, multiple dining options, a 32-seat movie theatre, elegant public lounges, a full-service spa, and a library. You will not only witness antique splendor but also enjoy excellent service and warm Irish hospitality. The Afternoon tea will definitely take you to a bygone era.
Ashford Castle has a wide range of on-site activities to keep you entertained for days – falconry, hiking, zip-lining, riding, golf, and much more. There is a gallery to showcase the celebrities who have stayed in the castle. Perfect getaway for romantic breaks and family holidays.
Cost per night – From $350 per room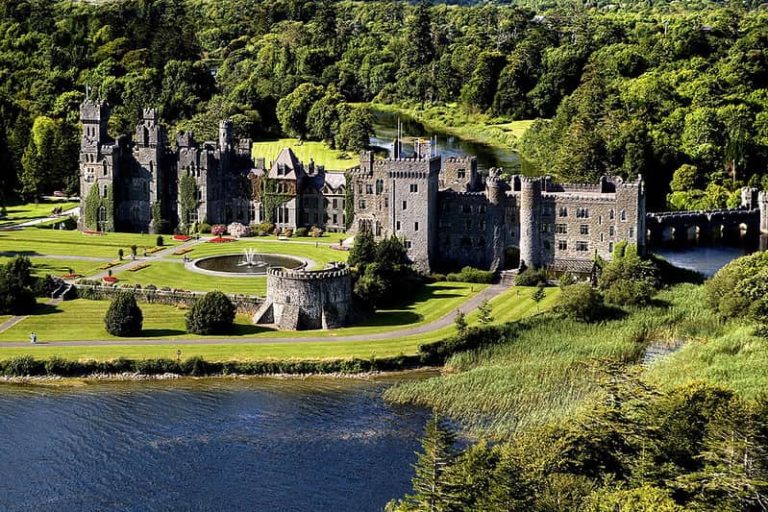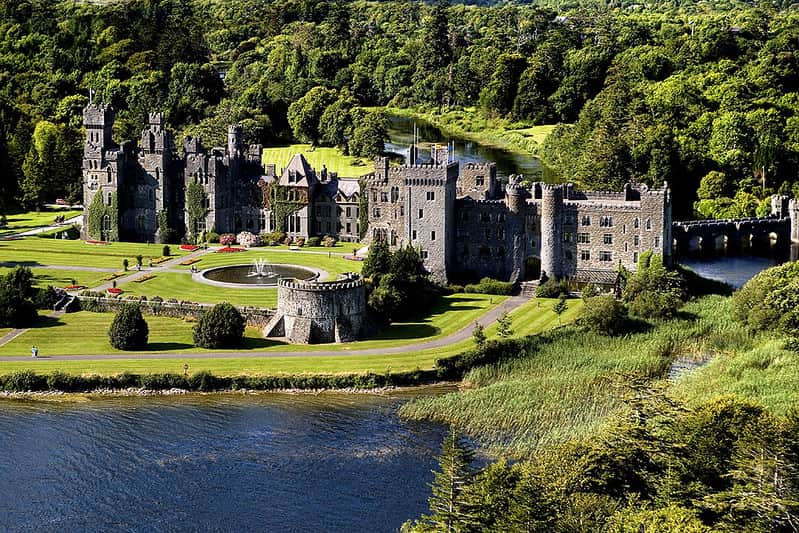 4. The Manta Resort, Pemba Island, Tanzania
The Manta Resort is a remote paradise located on the tropical island of Pamba in Tanzania. The five-star resort is for those who are looking for solitude and remoteness. What makes the resort unique is the Underwater Sea Room from where you can admire the exotic marine life gliding past your window. The floating luxury suite anchored on an ocean floor has three levels – a landing deck having a lounge and a bathroom, a top deck offering amazing star gazing views, and then the submerged bedroom sitting four meters beneath the crystal clear waters. The breathtaking thriving coral reef around the tiny private island makes it a perfect getaway for snorkeling and diving enthusiasts.
The unique experience of sleeping under the waves cannot come cheap. So be ready to shell out a hefty sum for a stay at the Underwater Room at The Manta Resort.
Price per night – From $950 per person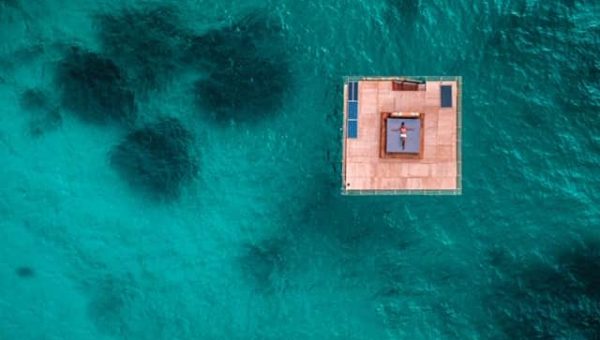 5. Skylodge Adventure Suites, Peru
If you are an adventure freak, Skylodge Adventure Suites has to be on your bucket list. The luxury capsules clinging to the steep cliffside are located 1200 ft up on the mountains in the stunning Sacred Valley of Cusco. You will have to climb 400 meters up a Peruvian mountain via Ferrata or hike through zip lines to reach the 24-ft-long suspended capsule. The vertically cliff-hanging suites are completely transparent providing you with a breathtaking view of the mystical Sacred Valley. There are curtains if you need some privacy from the passing birds
The hand-crafted suit is made of aerospace aluminum and is weather resistant. The Nature Vive Skylodge has three capsule pods – each having four beds, an ensuite bathroom, and a dining area. Besides the impressive view, you are treated to a yummy breakfast and gourmet dinner which is carried by the guides on their backs.
Price per night – From $430 per person all-inclusive
If you have dreamt of living like an Eskimo, this is your chance. Icehotel located in Jukkasjarvi, Sweden is the first ice and snow hotel in the world. Built-in 1989, the hotel takes a new shape every winter and is rebuilt using snow and ice from the neighboring Torne River. The rooms have a bed sculpted out of ice which is covered with fur blankets and a thermal sleeping bag. The 'Cold rooms' are decorated with hand-carved ice sculptures and ice decor which are carved by new artists every year. 'Warm rooms' are also available.
Situated 200 km north of the Arctic Circle, the Icehotel only runs from December to April. It is a unique experience where guests are brought to the property in snowmobiles or dogsled. The hotel has an Ice gallery, ice chapel, ice bar, heated restaurants, and wilderness camps.
Price per night (Cold Rooms) – From $400 per room
7. Viceroy Los Cabos, Mexico
The stunning architectural wonder designed by Miguel Angel Aragones will mesmerize you with its modern, minimalist design. Located on the Sea of Cortez in Baja California, Viceroy Los Cabos is a dramatic and futuristic marvel with reflecting pools, looming white buildings, polished glass, and an abundance of natural light. The waterfront landmark has 192 guest rooms connected by elevated walkways that run across the gleaming water. The stylish rooms are decorated in shades of white, cream, and aqua and have floor-to-ceiling windows so that you can enjoy spectacular views of the sea.
The Sushi restaurant 'Nido' shaped like an inverted bird's nest is the perfect centerpiece for the stylish resort. There are four dining options, a roof-top bar, a must-visit spa, multiple pools, and a movie theatre. November is a good time to visit Mexico.
Price per night – From $500 per room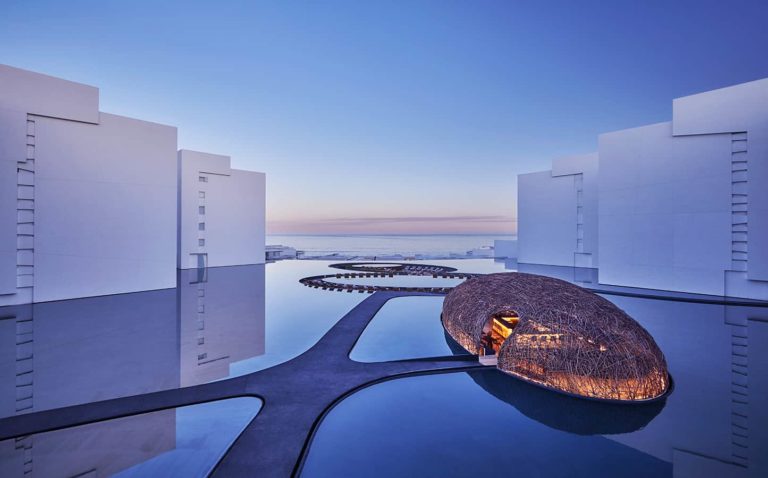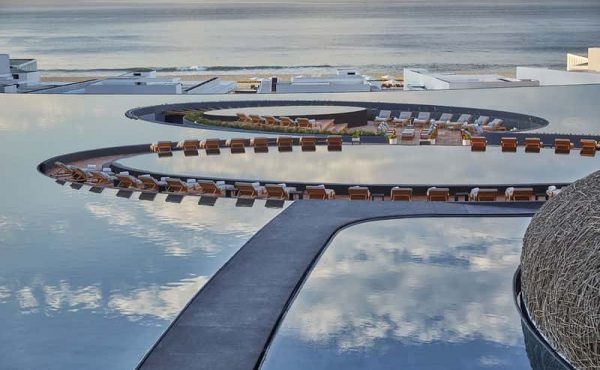 Who wants to miss a chance to live amongst the tall pine trees and enjoy the breathtaking views of mystical forests and the gushing Lule river? Treehotel in Harads, Sweden is the perfect place to fulfill this childhood dream. The tree rooms are suspended 4-10 meters above the ground and can be reached by bridge, electric stairs, or ramp. The hotel blends seamlessly into the surroundings, giving you an opportunity to experience nature in a most memorable way.
Treehotel has seven tree rooms, each having a uniquely designed exterior – The Bird's nest, The UFO, The Mirrorcube, and The 7th room are the popular ones. The suspended tree-top accommodations are equipped with underfloor heating, electricity, air conditioning, refrigerators, incinerating toilets, and other facilities. Meals are served in Treehotel Guesthouse restaurant. Snowmobile safari, Northern Light hunt, white water rapids, ice skating, and ski trail are some of the activities you can enjoy while staying at this unique hotel.
Price per night – From $320 per room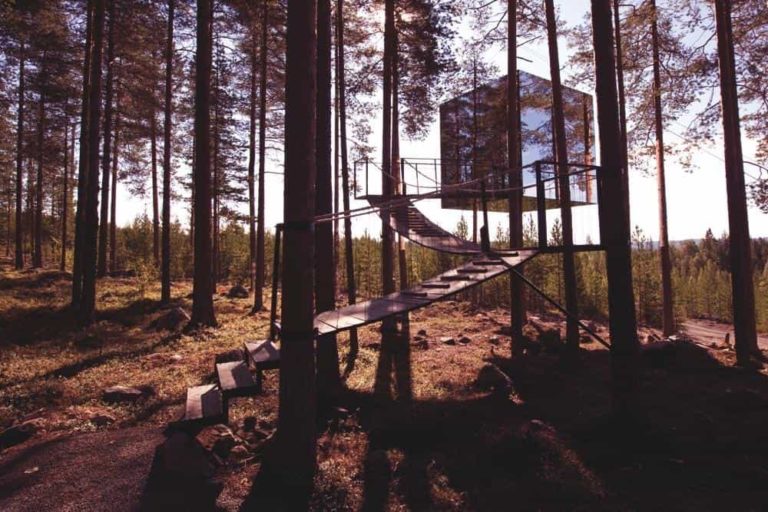 In the middle of serene Lake Pichola in Udaipur, floats the ravishing Lake Palace hotel. Formerly known as Jag Niwas, the white marble palace was built in 1746 for Prince Jagat Singh II. It was converted into a luxury hotel in the 1960s and the rest, as they say, is history. Majestic exterior, open-air courtyards, manicured gardens, pillared terraces, lotus ponds, and dancing peacocks give a very romantic feel to this iconic architectural marvel.  The fact that you can reach the property only by boat, adds to the charm of the palace. The grandeur and the traditional hospitality will provide you with a glimpse of how the Indian royalty lived.
Lake Palace has 66 rooms and 17 suites which have retained their original splendor and offer breathtaking views of Lake Pichola, charming Udaipur city, and the surrounding Aravali Hills. The hotel has specialty restaurants, elegant bars, and a fully-equipped spa. The popular hotel has been the site for the shooting of the James Bond film, Octopussy. Many eminent personalities like Queen Elizabeth, and Jacqueline Kennedy have stayed at this legendary hotel in India.
Price per night – From $320 per room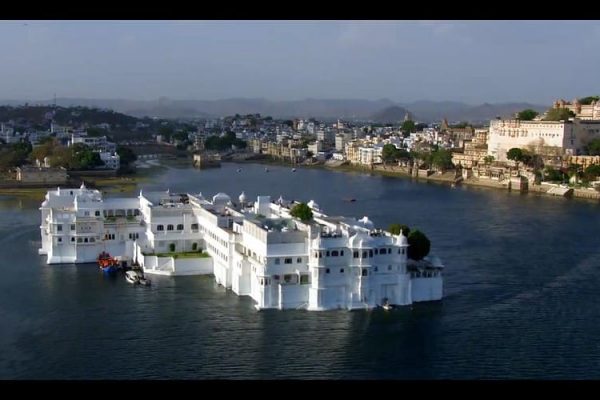 10. Palacio de Sal, Bolivia
Located on the edge of Salar de Uyuni in Bolivia, the Palacio de Sal hotel is the first hotel that is made up entirely of salt. The hotel, built in 1998 under the vision of Juan Quesada Valda, must be on your bucket list because of its recuperative benefits. The walls, ceiling, sculptures, floor, and the majority of the furniture are made of salt. The hotel with its chalk-white huts is in perfect harmony with its dramatic surroundings.
The 16 salt rooms are elegant and traditional with a contemporary touch. The sodium-themed hotel has a golf course, saltwater baths, spa, salt-water beds, restaurants, and a bar. There is a strict rule – no licking the salt walls. The hotel is perfectly situated to explore Salar de Uyuni – the largest salt flat in the world. 
Price per night – From $150 per night
So which one of these unique hotels interests you? Comment below!!
Subscribe to our newsletter