Norway Itinerary: 7 Days / 8 Days
Norway Itinerary: 7 Days / 8 Days
If you start naming the most beautiful countries in the world, Norway will definitely find a place on the list. Each turn reveals spectacular landscapes – majestic fjords, towering mountains, gushing waterfalls, charming villages, and shimmering water bodies. Norway has four seasons; winter, spring, summer, and fall. Every season has something unique to offer, whether it's sailing through the picturesque fjords in summer or chasing the Northern Lights high above the Arctic Circle in winter.
Summers in Norway are marked by mild temperatures and days that seem to last forever. If you enjoy hiking, camping, and seeing the fjords in all their glory, summer is the time to visit Norway. The itineraries listed below are intended for summer and parts of spring and autumn, as many roads and hikes are closed during the winter. Public transportation is still available in some areas, but travel times between stops will be longer, and you will be unable to make the most of your trip. From May to September, the weather is ideal for hiking, swimming, camping, and exploring the fjords. July and August are the busiest months, and it gets extremely crowded.
Regrettably, planning a trip to Norway is not easy. Traveling between the major attractions requires long travel hours and multiple modes of transportation. The country is vast, and seeing everything in a week is impossible. There is no 'best itinerary' through this vast region, as the best itinerary depends on the weather, time, and preferences. The itineraries are excellent introductory trips that will give you a taste of what the country has to offer.
 7-DAY NORWAY ITINERARY 
Day 1– Oslo
Oslo, the capital city, is an obvious choice to start our itinerary because it is well-connected to the rest of the world. The airport express train (Flytoget) is the fastest way to get from the airport to the city center, taking only 20 minutes. It is ideal to stay in the city center so that you can make the most of your limited time in Oslo. A full-day travel pass entitles you to unlimited tram, bus, and metro rail travel within the city for the day. You can buy it at a 7-Eleven Store, train station, or router.co Depending on the time at hand, you can pick from Oslo's top attractions.
Recommended Places to Visit in Oslo:
Vigeland Park: This open-air sculpture park features over 200 sculptures by renowned Norwegian sculptor Gustav Vigeland.
Akershus Fortress: A medieval castle housing museums and restaurants.
Opera House: An architectural masterpiece perfect for some amazing views and memorable clicks
Kael Johans Gate: A bustling city center filled with street cafes, bars, and nightclubs.
Aker Brygge: The upscale harbor front, built on a former shipyard, has a row of high-end restaurants with outdoor tables.
The Viking Ship Museum is currently closed for renovations.
Day 2 – Oslo > Myrdal > Flam
We'll be following Norway in a Nutshell itinerary here. Their package is simply a collection of train, bus, and boat tickets that take you through the Sognefjord in Western Norway. It coordinates and customizes various modes of transportation to get you from Oslo to Bergen. If you want this easier and more convenient option, book part of your itinerary through Norway in Nutshell. However, you can save money and gain flexibility by booking your own tickets.
Start by booking a train (vy.no) from Oslo to Flam via Myrdal (6:30/8:30 am). The famous Bergen Line departs from Oslo in the morning and takes you to Myrdal. Traveling on this line is a real pleasure as it will take you through some of the highest train elevations in the world. The last hour of the 4.5-hour journey is particularly beautiful. You will then change trains and continue your excursion on Flam Railway Train (Flamsbana). The train will stop at the Kjosfossen waterfalls for 5 minutes so you can take pictures. It winds through the wild Flam Valley, past towering mountains, cascading waterfalls, deep ravines, and numerous tunnels. It is regarded to be one of Norway's most picturesque train rides. To be honest, I thought it was a tad overhyped.
Once you reach Flam, check into your hotel. The Electric Minibus (el.tour.no) ride from Flam city center to Stegastein viewpoint is highly recommended. The drive will take about 30 minutes one way and will provide incredible views of the Aurlandsfjord. Spend the rest of the day in Flam doing stuff like kayaking and RIB boat tours. Or simply stroll through the busy town and end the day with a sunset at Flam Beach.
Day 3 – Flam > Gudvangen > Voss > Bergen
In the morning/afternoon embark on a cruise from Flam to Gudvangen (norwaybest.com) passing through the spectacular Nærøyfjord for a magical experience. Nærøyfjord is the narrowest arm of Sognefjord and is nestled between sheer cliffs, charming waterfalls, and hanging canyons. We will depart for Bergen once we touch base in Gudvangen. Travel by bus to Voss (norwaybest.com), then train to Bergen (vy.no). Check in at your hotel in Bergen and have a nice relaxing dinner.
Looks complicated? If you want an easy way out, book a trip with Norway in a Nutshell, and they will reserve all the tickets from Oslo to Bergen for you. However, it would be significantly more expensive. During the tour booking process, you can request luggage transportation so you don't have to drag it around all day.
Day 4 – Bergen
Bergen, Norway's second-largest city, is a popular tourist destination. The enchanting town has plenty to keep you busy for the day. Ride the Bergen Funicular from the city center to Mount Floyen for panoramic views of the city and surrounding areas. You can also hike one of the many trails that lead to Mount Floyen. If you want to enjoy more 360-degree views over the city, take the cable car to Mount Ulriken, the highest of the 7 mountains surrounding Bergen. A visit to Bryggen is not to be missed. It is a historic district with a row of brightly colored wooden buildings lining Vagen Harbour. Bryggen is a UNESCO World Heritage Site and one of Norway's most photographed landmarks. The streets, nooks, and corners of the old town have an irresistible charm and are worth exploring.
Day 5 – Alesund
Take the morning flight (1 hour) to Alesund. The airport shuttle will leave you at the city center. The quaint coastal town appears to be straight out of a fairy tale. Alesund is known for its Art Nouveau architecture, which was adopted to rebuild the town after a fire in 1904. Stroll along the harbor and admire the architecture of the matchbox town. If you arrive on a clear day, hike up to Aksla Viewpoint (418 steps) for a bird's-eye view of the town. There is also a road that you can drive up to.
If you're looking for some excitement, wildlife sea safaris, and kayaking trips will not disappoint. You can drive the famous Atlantic Road if you have a car. It takes three hours each way, including the ferry ride from Vestness to Molde and back. The city is also well-known for its signature, home-cooked desserts. So, go ahead and pick up your favorite cake or pastry from a local bakery.
Day 6 – Geiranger
We'll be taking a morning cruise from Alesund to Geiranger today. The ride takes three hours one way and passes through three magnificent fjords, including the UNESCO World Heritage Geirangerfjord. The ford is surrounded by some of the steepest mountains, which emerge straight from the azure waters. An incredible sight. The cruise also travels by some scenic vistas along the way, such as The Suitor and The Seven Sisters waterfalls. The boat trip concludes in Geiranger, a small, crowded village located at the end of the Geirangerfjord. Your time in Geiranger is limited, but you can still enjoy a few activities such as
Embark on a kayaking tour/RIB boat tour of the tranquil fjord.
Rent one of the tiny electrical cars and explore Geiranger.
Hire an E-Bike and pedal to one of the popular viewpoints, such as Flydalsjuvet and Eagle Bend
Climb 327 steps to experience the mighty Waterfall Walk, which brings you close to the wild, roaring river.
It's time to return to Alesund. You have two choices. You can rejoin the cruise that brought you from Alesund. It returns three hours later. If you want to see different landscapes, you can travel by land in two parts. The first bus ride labeled "The Garden Route," will take us from Geiranger to Andalsnes. The route includes Trollstigen (with hairpin turns) and Eagle Road (a zig-zag road). From Andalsnes, board another bus to Alesund. This trip can be booked here. You can save money by booking your own bus tickets through this website. However, the route becomes inaccessible after mid-August. If you travel in late summer, your only option is to return to Alesund by cruise. Stay overnight in Alesund.
Day 7 – Oslo
Fly to Olso. If you still have some time before your return flight, you can do some last-minute shopping. It's time to leave Norway for your next destination.
8-DAY NORWAY ITINERARY
If you enjoy hiking, a stopover in Stavanger makes sense. In that case, our trip will be over in 8 days.
Day 1 – Oslo
Arrive in Oslo and spend the day exploring the capital city
Day 2 –Stavanger
Fly into Stavanger (50 minutes), a city on Norway's southwestern tip. Take the Flybussen coach to the port or the city center. The tiny town is compact and can be easily explored on foot. The picturesque streets, white wooden houses, and beautiful harbor are a photographer's dream. If you have more time to kill, you can visit the Stavanger Cathedral and the Norwegian Petroleum Museum. Have an early night as we have a busy day ahead of us.
Day 3 – Lysefjord Cruise and Pulpit Rock
Pulpit Rock, located near Stavanger, is a towering cliff plateau suspended directly over Lysefjorden. The phenomenal fjord was formed by powerful glaciers during the ice age. We're in Stavanger primarily to hike Pulpit Rock. Begin your journey at the ferry terminal, which is a short walk from the center of Stavanger. From here, you can take the Lysefjorden cruise. Cruising the magnificent Lysefjorden is the ideal warm-up for the Pulpit Rock hike. The trip will take about 40 minutes. The cruise concludes in Forsand, from where you take a bus to Preikestolen Mountain Lodge (30 minutes). The bus will drop you off right at the car park where you will begin your hike.
You must make your own way up to Pulpit Rock. Guided tours are possible, but they are quite expensive. It is a 4km one-way hike with a 350m elevation gain that can take 4-5 hours to complete. It's not an easy hike, especially if you're not in great shape. The Norwegians are extremely fit, so don't be fooled by their effortless hiking. The boulders are large and slippery, making them difficult to climb or descend. The weather is unpredictable – it can be hot & sunny or start raining – and there is no shelter. So, be prepared before you start your hike. Bring snacks, water, a raincoat, sunscreen, and anything else you may require.
You will be rewarded with spectacular views of the Lysefjorden once you reach the top. The fjords and the surrounding mountains look breathtakingly beautiful from above. It must be seen to be believed. Click a few pictures, enjoy a small picnic, and then start your descent. Return to Stavanger by bus (45 minutes), passing through the world's longest underwater tunnel. The entire trip – cruise, bus to Preikestolen, and the return bus to Stavanger – can be booked here.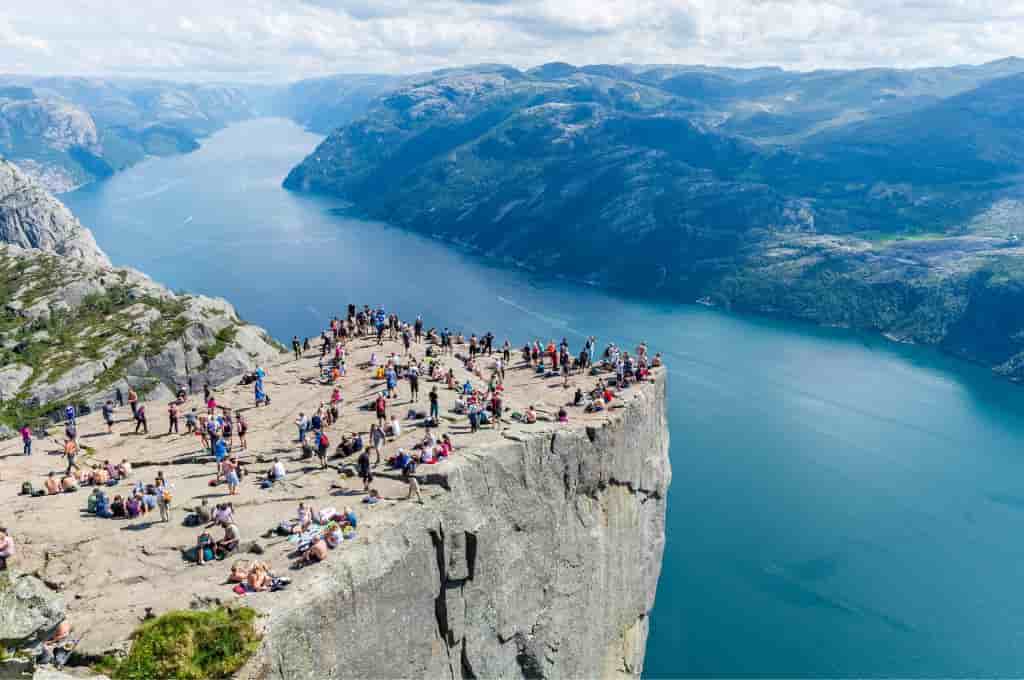 Day 4 – Bergen
Take the 5-hour express bus (nor-way.no) or the 35-minute morning flight to Bergen.  You can use the airport bus or the light rail (Bybanen) to get to the city center from the airport. The rest of the day is yours to spend at leisure and discover Bergen.
Day 5 – Bergen > Myrdal > Flam > Gudvangen > Voss > Bergen
This route is similar to the Oslo version. We will leave Bergen at around 8:30 a.m.(vy.no), change trains at Myrdal, continue on Flam Railways to Flam, take the fjord cruise to Gudvangen, and then return to Bergen via Voss. The journey will take the entire day, and you will reach Bergen around 9 p.m. This trip can also be booked through Norway in a Nutshell. Stay in Bergen for the night
PS: This time we won't be spending the night in Flam. However, if you find the trip to be too exhausting and don't mind switching hotels recurrently, you can stay overnight in Flam and travel back to Bergen the next day. If you choose to stay, you will finish the itinerary in 9 days.
Day 6, 7, and 8 – Alesund, Geiranger and Oslo
We will fly to Alesund and then follow the same itinerary as described in the 7-day itinerary above.
If you have three more days to spare, you can take a round trip to the Lofoten Islands from Bergen or Oslo.
Things to know before you travel:
I believe 7-10 days is sufficient time to explore Norway if you don't enjoy hiking. Everything is stunningly gorgeous, but the landscapes are quite similar. Meandering around makes no sense when you consider the cost of spending each day in Norway. This is my personal opinion.
Please double-check the exact train/bus schedule before planning your trip. They are provisional and subject to change each year.
The local currency is the Norwegian Kroner (NOK), but you don't need any

cash

in Norway. Credit and debit cards are accepted everywhere.
Norway is widely regarded as one of the safest countries in the world, with extremely low crime rates.
Unless you are exceptionally lucky, it is impossible to see the Northern Lights in the summer. The aurora is active all year; there are simply not enough hours of complete darkness for it to be visible during the summer months. Because the nights are the longest from November to

February

, this is the best time to see the Northern Lights. A visit between September and March should provide a good opportunity to see them.
You can see the Midnight Sun in Norway. The Midnight Sun isn't a different kind of sun. It's the same sun, but it never sets. As a result, there are 24 hours of daylight. Svalbard has the longest period of Midnight Sun in Norway. Between 20 April and 22 August, the sun does not set.
Norway is notoriously expensive. Everything will burn a huge hole in your wallet, including lodging, dining, groceries, excursions, and public transportation.
Norwegian is Norway's official language. The majority of Norwegians speak English. The locals always start in their native language, but they are quick to assist with any questions you may have.
Free Wi-Fi is available everywhere – buses, trains, ferries, restaurants, attractions, and so on.
Carry a raincoat and jacket even in the summer. The weather changes frequently and the temperature drops when you reach a higher altitude.
Norwegians dress very casually, even in big cities. Keep that in mind while

packing

your bags.
Flybussen Airport Shuttles are the most convenient and cost-effective way to travel to and from all major Norwegian cities. Tickets are available on the bus, but they are always cheaper online.
When taking the tram from Myrdal to Flam, sit on the left side of the tram for better views.
Norway-in-a-Nutshell is a package, and you are not a NIN traveler if you book your own tickets. You will therefore need to make your own way in the event of unforeseen circumstances.
In Norway, buses, trains, and ferries are generally aligned. As a result, if your train is delayed, the subsequent bus/ferry will wait for it to arrive before departing. Surprisingly, trains in Norway are frequently late
Roads in Norway are largely in good condition, so driving should not be a problem. You will drive on the right side of the road.
In Norway, gasoline is pricey. If you intend to drive, keep this in mind when budgeting your trip.
Many towns are not connected by road. As a result, vehicles enter car ferries that travel between fjords and islands.
Finding

vegetarian

or

vegan

options is not difficult in Norway. However,

vegetarians

will only find 2-3 choices on the menu.
In Norway, tap water is perfectly safe, and you don't need to buy bottled water. During the Pulpit Rock hike, I filled my water bottle from a stream, as suggested by the staff. I was just fine.
You are eligible for a VAT refund if you are visiting from outside the EU. So, remember to get your VAT refund forms from every

shop

where you buy something.
The post is not sponsored by anyone. The links have been provided to help readers plan their trip to Norway.
Subscribe to Our Newsletter