Best places to travel in December on a Budget
Best places to travel in December on a Budget
Are you one of those who want to use the winter break to get away from the traditional celebrations and go on a vacation? December is one of the best months to travel to many parts of the world. Explore some exotic beach destinations, hit the ski slopes of a fairytale Alpine ski resort, or enjoy the spring in the warm Southern Hemisphere – there are so many different options to make the most of your holiday season.  Unfortunately, December is not the most affordable month to travel. Travelers planning a year-end holiday must deal with a heavy rush, exorbitant airfares, and obnoxious hotel rates.
December is abuzz with festivals, vacations, sales, and celebrations in all parts of the world. If you plan your vacation in the last week of December, the only way to get affordable options is to book months in advance. However, if you skip the peak holiday week from Christmas to New Year, costs are quite manageable. Airlines and hotels are on the lookout to woo customers before the holiday rush and you can find plenty of bargains around.
We have curated a list of stunning places where you can travel in December without breaking the bank. One of the major costs of an international vacation is flight tickets. Keeping that in mind, we have listed destinations from all parts of the world. You can choose a location closer to your home and cut down on airfare costs.

THAILAND IN DECEMBER
Thailand is a budget destination all year round and December is no exception. Turquoise clear waters, sultry beaches, gorgeous islands, buzzing nightlife, artistic temples, and relaxing messages make Thailand a coveted destination for travelers worldwide. December is one of the best months to visit Thailand as days are pleasant with lots of sunshine and there is little or no rain. You can take your pick from the gorgeous Thai islands like Phuket, Krabi, Phi Phi Island, Koh Samui, etc., or just enjoy the vibrant Bangkok.
Christmas and New Year are celebrated with full gusto and everything is brightly lit and festive. Musical events, galas, and celebrations are organized in all parts of the country. There is no dearth of budget hostels and hotels in Thailand. If you consider the affordable flight options, lip-smacking street food, inexpensive massages, and dirt-cheap shopping – you should have no problem having a whale of a time in Thailand, and that too within your budget.
Recommended Places to Visit in December: Bangkok, Krabi, Phi Phi Island, Chiang Mai, Phuket

INDIA IN DECEMBER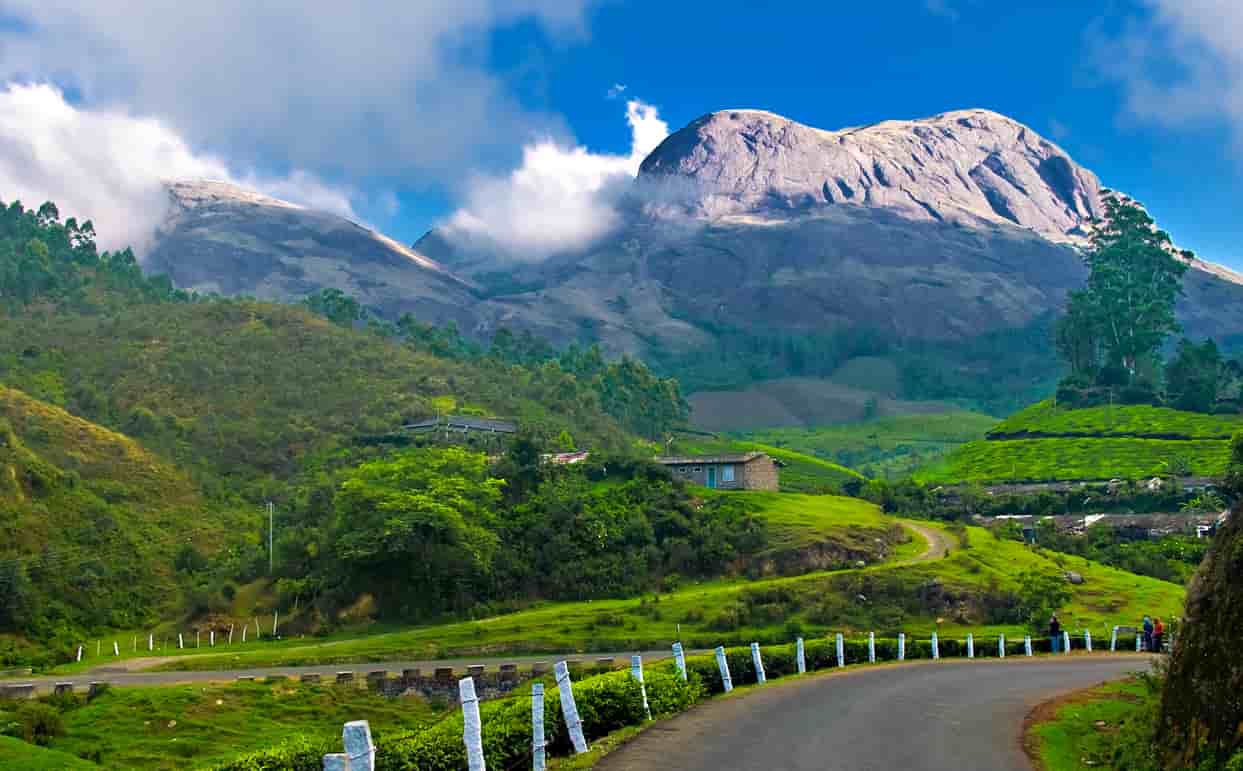 From the snow-covered mountains of North India & the historical regions of Rajasthan/Agra to the scenic beaches of Goa & lush landscapes of Kerala – December is one of the best times to visit India. If the north is freezing with sub-zero temperatures, south India is witnessing the best time of the year with warm sunshine and non-existent rains. The temperature and climates keep changing as you move across the huge, well-spread-out country, so plan accordingly.
India is always affordable as there are multiple options for budget accommodations, reasonable restaurants, and an efficient public transport system. Rates in Goa will be hitting the roof during Christmas and New Year, but the rest of the country will see marginal spikes as most cities have low-key Christmas and New Year celebrations.  December-end is a holiday season in India, so make your reservations in advance if you want to find reservations and stay within your budget.
Recommended Places to Visit in December: Goa, Kerala, Rajasthan, Agra, Delhi, Gujarat, Karnataka, Andamans

DUBAI IN DECEMBER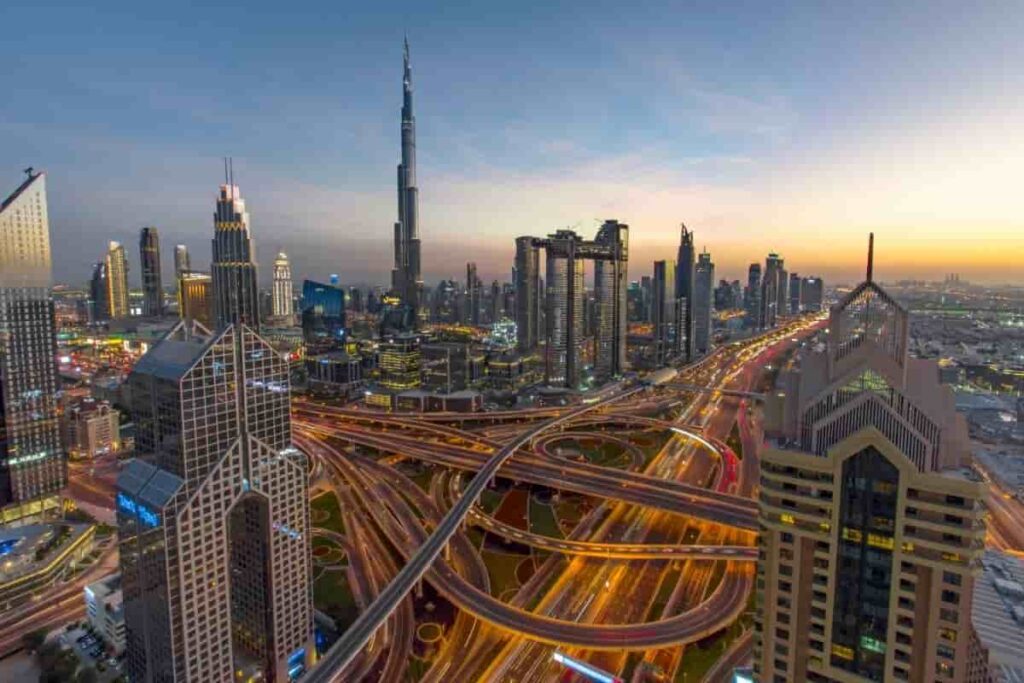 The architectural marvels, ultra-cool vibes, unlimited shopping options, extravagant lifestyles, and fun attractions make Dubai popular amongst people of all age groups and nationalities. December is the best time to visit Dubai – streets are bustling with festivities, the entire city is illuminated, malls are buzzing with offers and temperatures are much cooler (16°-26°C). Staying in Dubai during the New Year can be expensive, but you can witness the brilliant and grand display of fireworks at the iconic Burj Khalifa.
Dubai is the hub for Emirates, one of the biggest airlines in the world. So, you can easily find good airfare deals if you keep checking. There are abundant eateries and hotels/serviced apartments in Dubai that cater to all budgets. If you are a shopaholic, the shopping offers and discounts should compensate for the extras you end up spending when you choose to holiday in Dubai during the peak season.

PHILLIPPINES IN DECEMBER
If you are looking to avoid the crowded Southeastern countries, you can plan a vacation to the Philippines – an archipelago consisting of more than 7000 tropical islands. The picturesque islands, with white-powdery beaches, lush rainforests, stunning waterfalls, and smoldering volcanoes, are largely unexplored and untouched. The trendy nightlife, welcoming locals, and abundant adventure activities add to the charm of the amazing country.
In December, all parts of the Philippines are fully accessible.  Days are sunny with minimal rainfall, humidity is manageable and temperatures range from 22° to 32°C. Christmas is celebrated with lots of fanfare and preparations start as early as September. The Philippines can be explored on just about any budget as there are lots of cheap options for lodging, food, and transport.
Recommended Places to Visit in December: Boracay, El Nido, Chocolate Park, Siargao Island Coron, Cebu, and Palawan.

NEW ZEALAND IN DECEMBER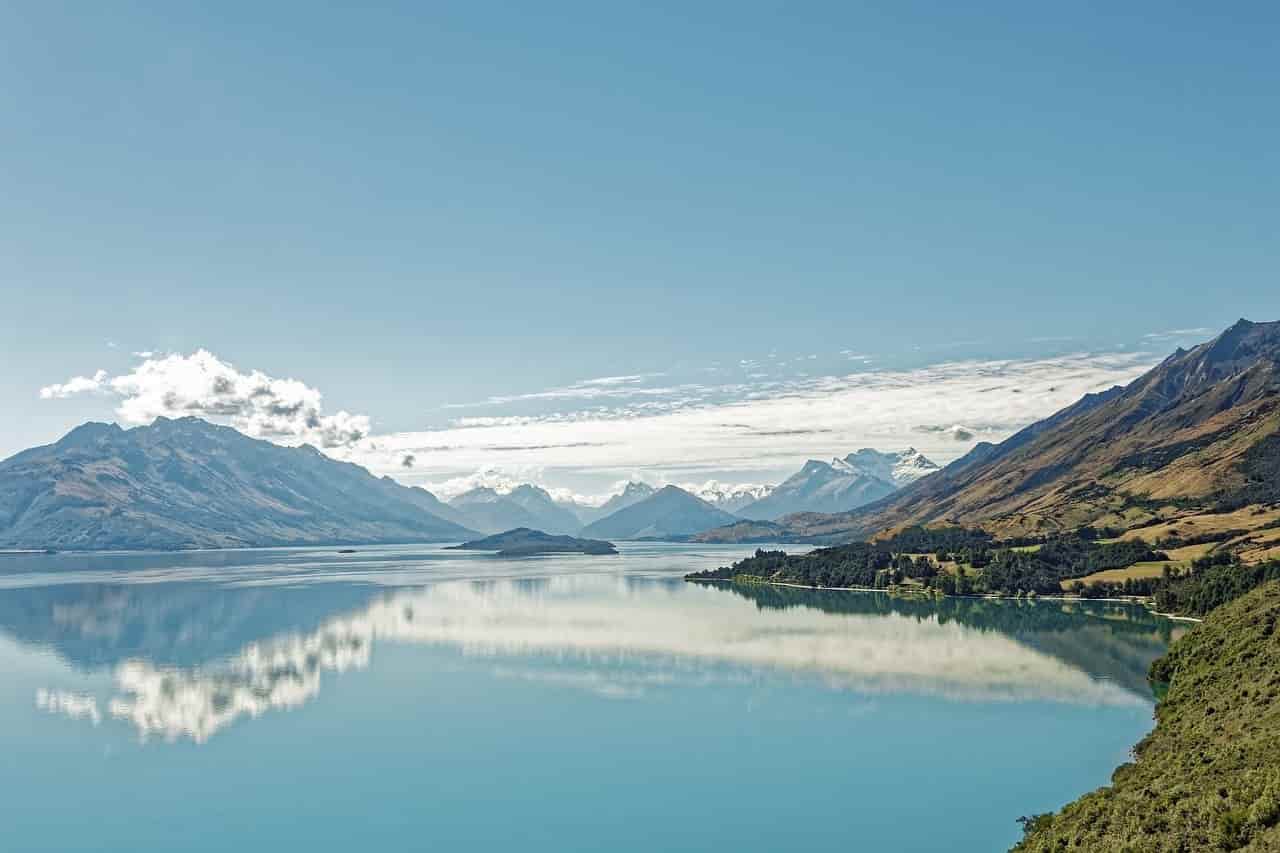 As New Zealand is located in the Southern Hemisphere, it is the start of summer in this breathtaking paradise with temperatures ranging between 20°-30°C. The country is filled with serene lakes, snow-covered mountains, enticing volcanoes, & scenic glaciers. The countryside looks enchanting with flowers blooming everywhere and every turn reveals more stunning views. The days are long and warm. You have the option to relax on the white-sand beaches, swim in the Pacific Sea, experience endless adventure sports, or just soak in the spectacular panoramic views.
December gets merrier and festive around Christmas. Schools close before Christmas for the summer holidays and the tourist spots are buzzing with domestic and international travelers. Perfect time to soak in the festive spirit in the sunny warm weather away from the harsh winters of the Northern Hemisphere. It is best to book well in advance if you want to travel during the last week of December. The other ways to regulate your budget are to rent a car, stay on the outskirts, and keep your adrenalin rush under control. Adventure sports are really expensive and can mess up your estimated expenses.
Recommended Places to Visit in December: Queenstown, Rotorua, Auckland, Bay of Islands, Wellington

PRAGUE IN DECEMBER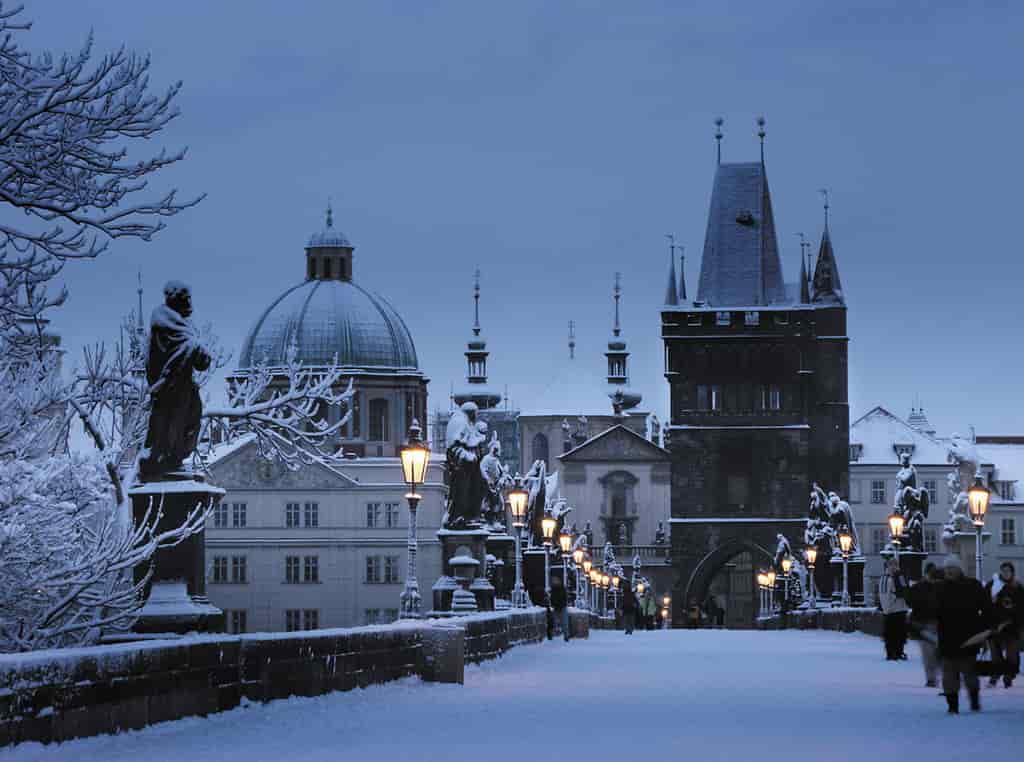 If you are looking to travel in December and can stand the freezing temperatures (-3° to 4°), Prague is a very good option. The city is known for its Baroque architecture, old-world charm, cobbled streets, deep-rooted history, and quaint bridges. In December, Prague becomes a Winter Wonderland with sprinkled snow, outdoor Christmas markets, illuminated streets, festive euphoria, and delicious food. The city is cold but the rainy season is over and Prague is incredibly beautiful, romantic, and magical.
Prague is known as a budget-friendly European destination and during December the city gets affordable. Flights tickets are rock-bottom, accommodations are reasonably priced and there are fewer people around. Perfect winter destination to enjoy the festive season and that too within your budget. If you visit around the 20th of December, you will see the entire city illuminated with Christmas lights, bright colors, lively music, and endless celebrations. Use the opportunity to visit the rest of Eastern Europe. 
SPAIN IN DECEMBER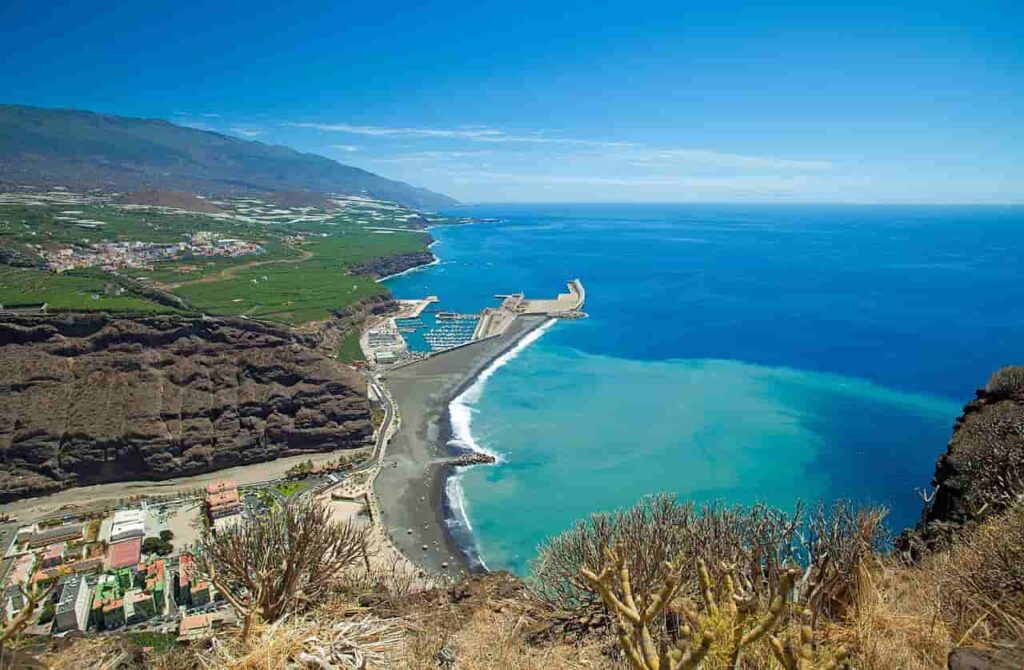 Spain, like the rest of Europe, will be cold in the winter with temperatures ranging from 6°-15C. Spain's climate is considered the warmest among the European countries due to its proximity to the Mediterranean Sea. Spain is a big country and the climate changes depending on the region you visit. If you are looking for sunshine, the Canary Islands and Costa del Sol are good options and if you want to explore Spanish culture and history, you should be visiting Barcelona, Madrid, Seville, and Granada.
During Christmas and New Year, the entire Spain is lit up, celebrations are in full swing and the country looks magical. If you need more, there is amazing food, lively locals, and stunning landscapes. December is considered a low season in Spain so you have fewer tourists, cheap accommodations, and bargain fares. At the moment, visitors need to access the Spain Health Control Form before arriving in the country. This measure will help reduce the spread of viruses by asking visitors to fill out a health questionnaire online.
Recommended Places to Visit in December: Seville, Barcelona, Granada, Canary Islands, Madrid

EGYPT IN DECEMBER
One country that manages to find a place on everyone's bucket list is Egypt. The pyramids of Giza, the enigmatic Mummies, The Valley of Kings, and the Tomb of Tutankhamun have fascinated travelers for decades. In recent years, tourists have discovered the idyllic beaches and swanky resorts of the Red Sea.
December is one of the best times to visit Egypt. The temperatures are pleasant throughout the day with occasional showers. You might need a light jacket if you plan an early-morning or late-night outing. Due to cooler climates and the approaching holiday season, the attractions and Bazaars are crowded, the nightlife is buzzing and you can feel the festivities in the air. The hotel rates and airfares would spiral during the festive week. But the rest of December is quite affordable, especially for people coming from the Western part of the world.
Recommended Places to Visit in December: Giza, Alexandria, Luxor, Aswan, Sharm el-sheik, Hurghada, Abu Simbel 

MEXICO IN DECEMBER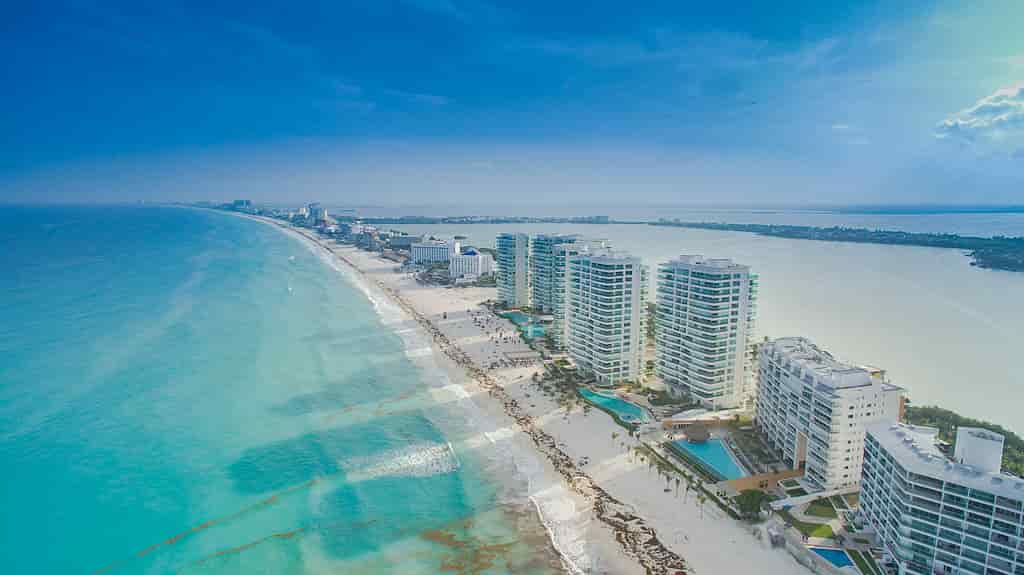 The rainy season is over, days are sunny, the sea is warm, and temperatures are pleasant – December is an ideal time to visit most parts of Mexico with temperatures around 24°-28°C. The beautiful, warm, diverse, fun-packed, and energetic Mexico is always a most sought-after destination and December has many positives. It is one of the best seasons for experiencing traditional Mexican festivals, watching the excellent wildlife, relaxing on the pristine beaches, and enjoying myriad water activities.
The later part of December would see big celebrations, holiday crowds, and steep prices. It would be prudent to travel at the beginning of the month if you are looking for bargains and discounted rates. If the end of December is the only time you can spare, you should avoid Cancun, Playa del Carmen, and other popular resort towns. Head to towns like Mexico City, Cozumel, Tulum, and Oaxaca that provide unique cultural experiences and are easy on the pocket.
Recommended Places to Visit in December: Rivera Maya, Cozumel, Tulum, Mexico City, Puerto Vallarta, Cabo San Lucas

CARIBBEAN ISLANDS IN DECEMBER
The Caribbean is one destination that has plenty of sunshine throughout the year and visitors in December are in for perfect weather (19°-30°C). Days are dry and sunny, evenings are cool, and the threat of hurricanes is over. You can lounge on the pristine beaches, explore the dense rainforests, try your luck in the casinos, spot the vibrant coral reefs, enjoy the famed nightlife, or indulge in some holiday shopping.
It is not easy deciding where to holiday amongst the 7000 enchanting islands of the Caribbean Sea. Jamaica, Belize, Dominican Republic, The Bahamas, and Puerto Rico are some of the islands that are most sought after in December. Multiple flights, affordable lodging, live music, cultural events, scrumptious food, and non-stop celebrations – everything needed for a scintillating, enjoyable, and affordable vacation. The region starts filling up before Christmas and room/flight rates escalate, so target the first three weeks of December if you have a limited budget.
MOROCCO IN DECEMBER
Visiting Morocco in December can be a rewarding experience, especially if you enjoy cooler weather and want to explore the country without the sweltering heat of summer. Coastal cities like Casablanca and Rabat typically have milder temperatures, but inland towns like Marrakech and Fez would be slightly colder. The Atlas Mountains and the Sahara Desert can get quite cold and snowfall is possible in higher elevations. Morocco is a developing country, so you can find affordable prices all year. Since it is the off-season, December has some of the year's best deals.
Morocco is known for its maze-like colorful alleys, age-old customs, lively markets, exotic scents, intriguing past, and the Moroccan Desert. You can click all you want as vivid surprises and ancient history await you around every corner. Popular tourist destinations include the Medina of Marrakech, the coastal town of Essaouira, the ancient cities of Fez and Chefchaouen, and the breathtaking landscapes of the Sahara Desert and the Atlas Mountains. 
The Sahara Desert can experience significant temperature drops in December, so if you're planning to go, be prepared for cooler evenings and mornings. However, this also means that activities like camel trekking and stargazing will be more comfortable. Morocco is predominantly Muslim, and locals celebrate the Islamic New Year (Hijri New Year) and the Prophet Muhammad's birthday in December.  
Recommended Places to Visit in December: Marrakech, Fez, Chefchaouen, Casablanca
CAMBODIA IN DECEMBER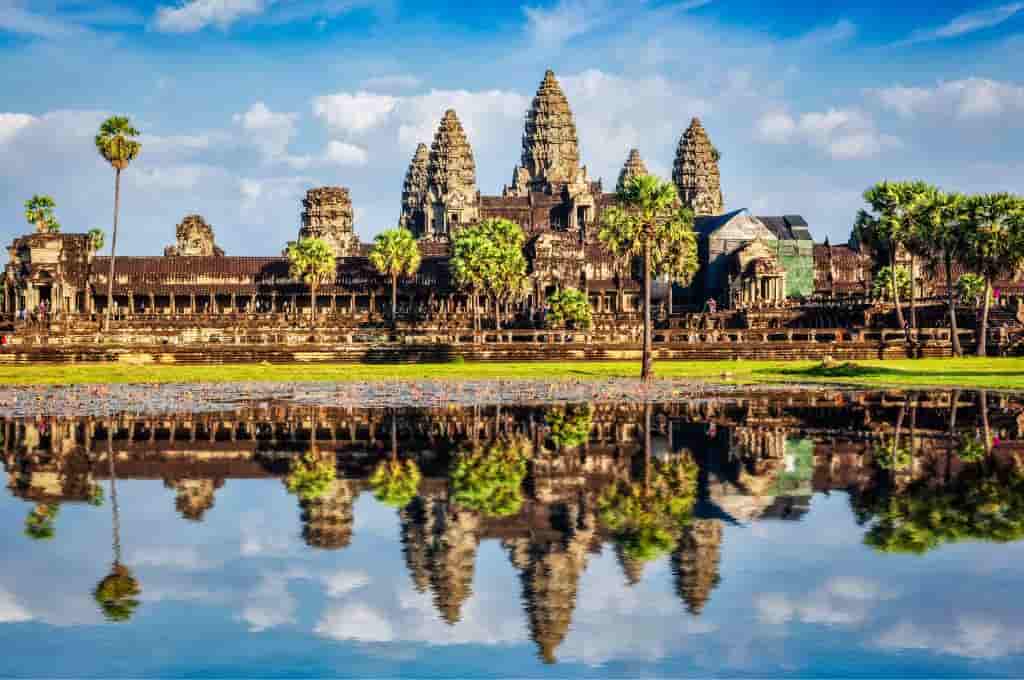 Cambodia, one of Southeast Asia's more affordable destinations, is ideal for long-haul winter sunseekers on a budget. Cambodia enters its dry season in December, considered one of the best times to visit the region due to the favorable weather conditions. The country is known for its ancient Hindu and Buddhist temples, beaches, lush countryside, incredible art, bargain-filled bazaars, and succulent street food. Most tourists visit the amazing country to explore the jungle-entwined temples of Angkor Wat – the spectacular ruins of the mighty Khmer Empire.
Cambodia also offers a variety of other attractions, such as Phnom Penh's enticing riverfronts and imposing palaces, Battambang's colonial towns, the never-ending rice fields of Mondulkiri, and the tranquil dense forests. While Cambodia's coastline may not be as well-known as that of other Southeast Asian destinations, it is still a good time to visit beach towns like Sihanoukville and nearby islands. Clear skies and pleasant temperatures make it a great time for beach activities. December is also the month of the Water Festival, also known locally as "Bon Om Touk." This festival commemorates the end of the rainy season and the reversal of the Tonle Sap River's flow.
Recommended Places to Visit in December: Siem Reap, Phnom Penh, Sihanoukville, Kampot, Battambang, Kep
Have you been to any other country in December that you feel should be added to the list? You can use the comment section to give some options.
Subscribe to Our Newsletter