20 Biggest Travel Mistakes to Avoid
20 Travel Mistakes to Avoid
Whether you are a first-time traveler or a seasoned one, a few hiccups are unavoidable when venturing into the unknown. Some of these travel mistakes are easy to fix, while others can be expensive, time-consuming, stressful, and may completely derail your trip. It is not always possible to control, avoid, or strategize for unexpected setbacks. The rest we can manage with careful planning. Let's look at the most probable problems as being aware of these issues is half the battle won. If you are vigilant and follow these handy tips, you will be able to avoid the biggest travel mistakes that can ruin your vacation.
 1).  Overpacking
Lugging heavy luggage can really put a damper on your trip. It could result in additional costs, slowed progress, needless hassles, and a messy bag/hotel room. Given the recent surge in lost luggage, traveling with a carry-on bag is the best option. If that isn't enough, please choose a bag that is of a reasonable size and as light as possible. Pack only what you need, not what you think you'll need. It's tempting to bring outfits for every occasion, but this is a bad idea. Pack clothes that can be mixed and matched so you don't have to give up your sense of style. You can always wash some clothes while on the go. Shoes and toiletries should be kept to a bare minimum.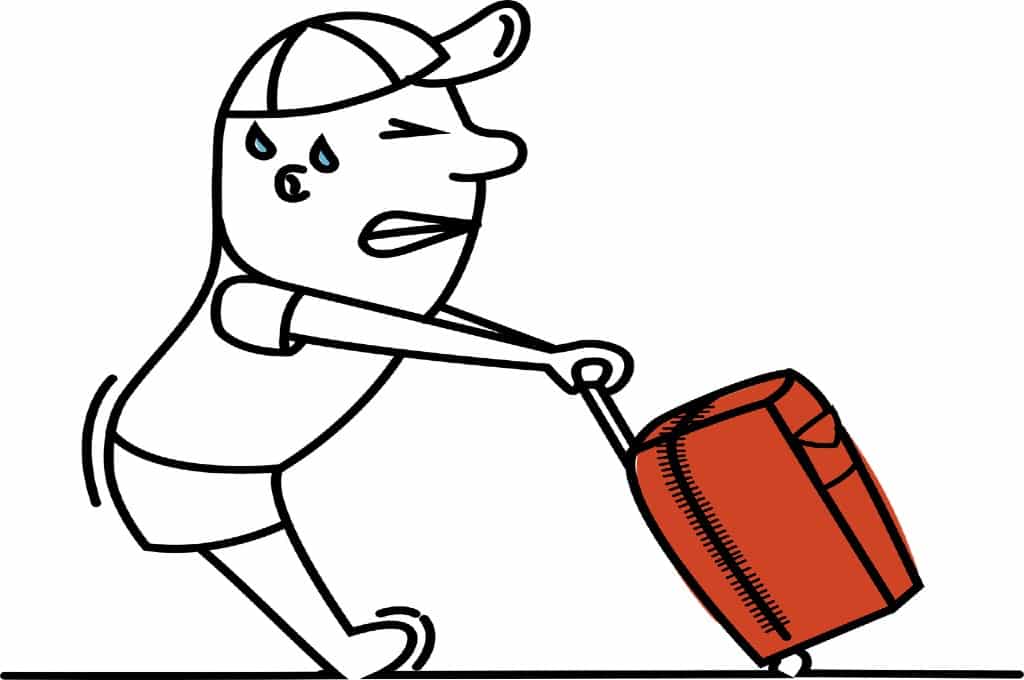 2).  Booking Tight Connections
It may be tempting to book flights close together in order to arrive at your destination early, but this strategy can backfire if there is insufficient time between flights. Travel is notoriously unpredictable, and rushing through an unfamiliar airport is not easy. Allow at least a two-hour layover to go through security, grab some food, and change terminals if required. This also provides you with a cushion in case your flight is slightly delayed. Opt for longer layovers if you have to pick up your luggage and check in again.
3).  Having an Over-ambitious Itinerary
Don't try to cram too much into your itinerary. In reality, it may not be as appealing as it would seem on paper. It will drain you physically, mentally, and financially. It is not necessary to visit every attraction or see the entire region in a single visit. Continuous travel, extensive sightseeing, and frequent hotel changes can exhaust even the most hardened of travelers. The goal is not simply to cross items off your list. You must make time to appreciate the unique beauty of your surroundings and immerse yourself in the local culture. Consider flexibility to account for potential delays caused by weather, traffic, or missed connections.
4).  Not Doing Research
It is unbelievably foolish not to conduct any research prior to arriving at your destination. The internet is flooded with all of the information you may need. Check blogs, watch videos, read books, search social media platforms, ask friends/family/neighbors, and so on. Read reviews of the lodging options, restaurants, tour operators, landmarks, modes of transportation, and essentially everything else you plan to use. The more you know, the easier it will be to enjoy your vacation in a cost-effective, safe, fulfilling, and enjoyable manner.
5).  Not Checking the Weather
You don't want to overpack, but that doesn't mean you shouldn't be prepared for the weather. Make sure that the clothing you bring is appropriate. Otherwise, you risk being too wet, too hot, or too cold during your vacation. Always check the weather forecast when planning a trip and adjust your itinerary accordingly. Start checking weather updates daily a week before your trip. This way you can pack suitable clothing, footwear, and other necessities.
6).  Not Verifying the passport/Visa/COVID Requirements
This mistake can be disastrous, as your vacation may be over before it has even begun. Nothing could be more upsetting than being refused entry into the country by an immigration officer. Most countries require your passport to be valid for at least another six months before departing for international travel, so please keep your passport up to date because you never know when an opportunity to travel will arise.
 Make sure you meet the most recent visa requirements for the countries you intend to visit. Scrutinize your visa carefully to ensure that everything matches your plans – entry date, maximum stay, number of entries, and so on. These days, it's also essential to inspect the COVID protocol of the transit and destination countries. Every country has its own set of rules and regulations, which can change with little or no notice.
7).  Not Informing Bank About Your Trip
Many banks have fraud-prevention systems in place. As a result, if you suddenly use your credit/debit card in a new country, your card may be flagged for "unusual activity" and placed on hold as a precautionary measure. You may also be unable to access your bank account. Therefore, it is best to inform your bank and credit card company of your plans before departing the country. While you're at it, find out if they charge a foreign transaction fee so you're not caught off guard.
8).  Overlooking Travel Insurance
Buying a credible travel insurance policy is a must. Spending a few dollars will offer you some protection from unforeseen dangers. You could end up losing thousands of dollars if you do not have adequate coverage to cover emergencies or unplanned costs. Don't rely on your existing travel policy because it may not protect against travel-related issues. A good travel insurance policy will cover not only medical emergency expenses, but also lost luggage, trip delay/cancellation, accidents, thefts, and stolen passports, among other things. Read your travel insurance policy's fine print to fully understand the exclusions and inclusions.
9).  Not Checking your Phone Plan
If your cell phone doesn't work where you're going, that can be very frustrating. Check your phone plan ahead of time to avoid this. If you want to keep the same phone number when you travel, you may need to purchase an international plan that meets your needs. It is also vital to understand international roaming fees so that you do not receive astronomical phone bills. Purchasing a local SIM card upon arrival is usually a safer and less expensive option. It allows local calls and the use of Uber/local apps. If you don't want to pay for a mobile plan, turn off your data, put your phone in flight mode, and only use data when you have access to free WIFI.
 10).  Skipping Vaccinations
The majority of people skip this step. Few countries around the world have mandatory immunization requirements. It is best to follow them because it protects you from rare diseases that may exist in the destination country. Many African countries, including Uganda, Angola, Liberia, and Ghana require proof of yellow fever vaccination.
11).  Carrying Valuables During the Trip
You are asking for trouble if you carry a lot of valuables, such as cash, jewelry, a camera, a laptop, or other expensive gadgets. They draw the attention of thieves and pickpockets. Furthermore, when you are constantly traveling and changing locations, it is easy to lose things. It is best to take as few valuables as possible on your trip. 
If you must carry a few prized possessions, do so with caution. When you go sightseeing in crowded areas, leave them in the locker in your hotel room. Make certain that the items you walk around are stowed away from sight and hidden in different spots. Never flash your valuables and never leave them unattended. Make digital and hard copies of your important documents (passport, credit card, driver's license, visas, and IDs). If you can leave the copies at home with family and friends, that's even better.
12).  Exchanging Currencies at the Airport
The amount of money you exchange should be just enough to keep you going until you reach your destination. Once you get there, use the ATM to get cash or visit a bank or a foreign exchange kiosk to exchange your money. Exchanging currencies at the airport is the surest way to lose money on currency exchange transactions. The exchange rate at airports is the worst. Make sure you are aware of the exchange rate to avoid getting a bad deal.
13).  Not Accounting for Time Changes
Keep in mind the time difference between your current location and the airport from which you intend to depart. Find out how many time zones you'll be crossing and how long it will take to get there. Time zones can sometimes change within a country also. If you are traveling long distances, the time difference could cost you an entire day or night. A detailed review of your flight schedule will indicate your arrival date. Check this to avoid missing a connection or booking a hotel for a night in transit. Remember that you may experience jet lag and plan accordingly.
14).  Not Knowing About the Local Culture
You may be missing out on a lot if you are unfamiliar with the local culture and traditions. Moreover, if you don't understand social norms and etiquette, you may offend the locals. So, it makes sense to learn about the religious, cultural, historical, political, and economic beliefs of the country you are visiting. This way, you won't make any goof-ups or end up in any legal trouble while you're there. For example, cows are considered sacred in India, and many states have laws prohibiting cow slaughter. Try to understand and absorb the culture of the place you are visiting. A few local traditions or situations may go against your belief system. However, keep an open mind, be respectful, and blend in as much as you can.
 15).  Not Learning the Local Phrases
Learning a few basic phrases in the local language always pays off. Words like "please" and "thank you" can help you connect with the locals. Apps such as Google Translate and DuoLingo help with learning basic words & phrases as well as translations.
16).  Reaching the Airport at the Eleventh Hour
Every day, a large number of passengers miss flights because they underestimate the time required at the airport. Always reach the airport two hours before your flight to allow for check-in, security, and immigration. Arrive three hours ahead of time if traveling during the peak/holiday season, as lines may be longer.
 17).  Putting Medicines & Valuables in Checked Baggage
When traveling, there is always the risk of infection, allergies, illness, or injury. So, in addition to your prescribed medications, keep a few common medicines on hand to treat minor ailments. It is hard to procure the required medications in a foreign country. And never, ever pack your medications or valuables in checked baggage. You might need your medications at the airport or during the flight, and you won't be able to get them until your bags show up. If your luggage is misplaced or lost, you can end up losing all of your valuables. So, if you have something very important or valuable, make sure it's in your carry-on.
18).  Eating Near Tourist Destinations
Cafes and restaurants near popular tourist attractions are generally more expensive than eateries in other areas. After exploring the site, it's best to walk at least a couple of blocks away to find restaurants & street vendors frequented by locals. Not only would the food be authentic, but it would also be tastier, cheaper, and better. 
10).  Not Checking Operating Hours and Holidays
This gaffe can jeopardize your well-laid plans. Many places, such as museums, amusement parks, markets, and attractions, are closed on specific days or during special events. It can be extremely disheartening to arrive at a site only to discover that it is closed for the day. Check the hours of operation and holiday schedules of the places on your itinerary.
20).  Allowing Errors to Ruin Your Trip
Most of these travel blunders can be avoided with a little advance planning. However, if you are unfortunate enough to make a mistake, it is best to move on. Things aren't always under our control, and shit happens to all of us. Don't let a missed flight, a filthy room, a misplaced suitcase, or inclement weather ruin your vacation. Why spoil your mood when you must have spent a significant amount of money, effort, and time planning the trip? Laugh at your errors, learn from them, and keep having fun.
What has been your biggest travel mistake? Use the comment section below to let me know.
Subscribe to our newsletter