Best Markets for Wedding Shopping in Delhi
Wedding Shopping in Delhi
Wedding shopping might be a lot of fun and excitement, but it can also be stressful and exhausting. From finding the perfect lehenga and matching jewelry to searching for unique wedding gifts and invitees, everything can be daunting. But things become much simpler if you know where to look. 
Why choose Delhi for wedding shopping?
Until recently, Kolkata, Jaipur, and Banaras were the most popular wedding shopping hot spots in India. However, in the last 5-6 years, there has been a significant shift, and Delhi has become the go-to shopping destination for every bride-to-be.  This transition can be attributed to a variety of factors. Sarees and lehengas used to be the only options for wedding attire, but today's younger generation prefers to experiment with trendy shararas, suits, stitched sarees, gowns, and other fusion clothing. Traditional artisans in Banaras, Kolkata, and Rajasthan are unable to keep up with changing styles and fads. Big and upcoming designers are capitalizing on new trends, and the majority of them are based in Delhi or Mumbai. 
Another important factor in Delhi's growing appeal to wedding shoppers is the way the shops are clustered together. Rajouri Garden, Shahpur Jat, Mehrauli, Karol Bagh, South-Ex, and many other markets have umpteen shops to meet your needs. You can choose the hub based on your budget and preferences. This simplifies your life because you won't waste time in traffic going from store to store (as in Mumbai and Kolkata), and it will be easier to compare and decide if all of your options are in nearby shops. Given Delhi's central location, the city's growing popularity as an Indian wedding shopping destination should come as no surprise.
From high-end labels exhibited in expansive stores to independent local brands tucked away in cluttered alleyways to small boutiques shrouded in remote far-off corners, Delhi has a dizzying array of shopping options. If you're a Delhi bride/groom or intend to shop for your wedding in Delhi, we have you covered.  In order to address all of your wedding trousseau needs, we have compiled a list of Delhi's most-loved shopping hubs.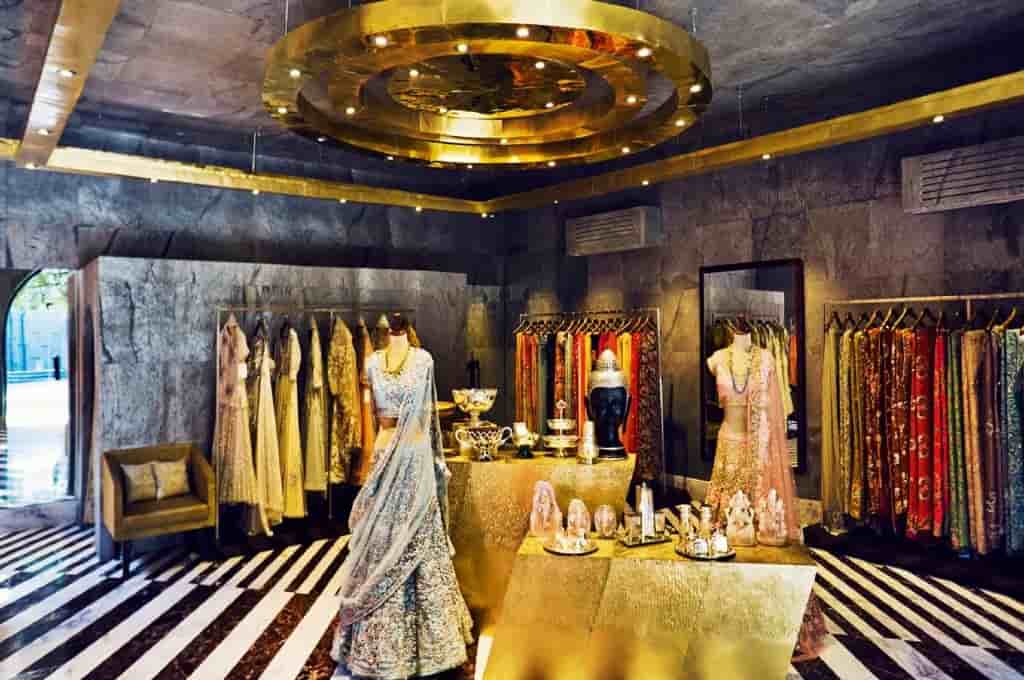 1). Chandni Chowk
When it comes to wedding shopping in Delhi, Chandni Chowk is the first name that comes to mind. The iconic market has been popular among bride-to-be/groom-to-be for decades and continues to be a one-stop platform for all your ethnic attire. The sheer variety on display will astound you. Don't assume that the crowded byways will only offer low-cost options. It caters to all types of shoppers, including the budget-conscious, the extravagant, and the designer-obsessed. The shopkeepers stay up to date on the latest styles and offer ensembles heavily embellished with intricate and hand-crafted sequins, Zardozi, and threadwork. 
The market is also well-known for selling excellent recreations of almost all designers, including Sabyasachi, Manish Malhotra, Anamika Khanna, and Anita Dongre. Shops like Asiana Couture and Om Prakash Jawaharlal sell bridal wear with prices running in lakhs. Check out Marwar Couture if you want something more exclusive and exquisite. Prior to visiting Asiana and Marwar Couture, you must schedule an appointment. If you are a Bollywood fan, you must visit Anarkali Bazar. It is well-known for its Bollywood-inspired pieces, which are replicas of wedding outfits worn by celebrities at one-tenth the price. It's impossible to find parking in Chandni Chowk, so take the Delhi Metro to find the perfect outfits for your special day.
Popular Shops in Chandni Chowk: Asiana Couture, Marwar Couture, Payal Keyal, Om Prakash Jawaharlal, Ram Kishan Sarees, Shrangar, Sunehree, Aditya & Mohit (Dalmia), Pakeeza Plaza, Kala Shree Regalia, Sudhir Bhai, and Kamal Bhai Saree Sangam
Closed On: Sunday
2).  Shahpur Jat
Shahpur Jat, a South Delhi urban village, is a haven for bespoke trousseau shoppers, particularly those who aren't looking for over-the-top bling and loud colors. The boutiques are primarily run by up-and-coming designers, whose tasteful creations and cutting-edge styles will appeal to your aesthetic sense. The disintegrated, winding alleys are packed with small and large boutiques selling stunning sarees, suits, shararas, lehengas, cocktail dresses, custom jewelry, juttis, sherwanis, tuxedos, kurta pajamas, and so much more. Here you can find outfits for every budget and every occasion — and for all your friends and family. There are seemingly endless shops, and it is very easy to get lost in the maze of narrow streets, run-down structures, and identical-looking stores.
Enter from Asian Games Village Road because it is closer to Fashion Street and Dada Jungi House Lane, where the majority of the best-known shops are located. The boutiques also sell accessories, so keep an eye out for those. Needle Dust & Shilpsutra sells classy juttis to complement your traditional ensembles. Lehengas by Aum, Liz Paul, Bhumika Grover, and Gazal Gupta, sarees by Bageecha, as well as ethnic outfits by Monika & Niddhii, and Devnaagri, are in high demand. Shahpur Jat has some of the best boutiques for men's wear, with a diverse selection of ethnic, Indo-western, and western outfits.
Popular Shops in Shahpur Jat for Women: Devnaagri,  Monika & Niddhii, Revika Aggarwal, Gazal Gupta, MadSam TinZin, Liz Paul, Jade by Ashima, Kalista, Aum by Ashima & Asit, Priyanka Jain, Shyam Narayan Prasad, Bageecha, Needle Dust, Shilpsutra, Wrap Studio (Stoles).
Popular Shops in Shahpur Jat for Men: Philocaly, Megaan, Unit by Rajat Suri, Qbik, Dressage, Anam, Kushal's
Closed On: Sundays
3).  Mehrauli
Mehrauli, behind Qutub Minar, has to be your dream shopping destination if you like top-notch luxury brands. Seven Style Mile, Ambawatta One, Qutab Garden, One Style Mile, and Qutub Boulevard are all located along a single lane in the Mehrauli area, making for an excellent shopping experience. Nowhere else in India can you find so many A-list labels in such close proximity. From Sabyasachi, Anamika Khanna, and Tarun Tahilani to Manish Malhotra, Gaurav Gupta, and Rahul Mishra, the elegant courtyards are brimming with who's who in the fashion world. 
Don't give up if all of these outrageously priced labels are out of your price range. There are a handful of relatively smaller brands displaying stunning clothing that will win you over. Sulakshana Monga, Abhishek Sharma, Gazal Gupta, Amit Agarwal, Torani, and Osaa by Adarsh will make you feel like a princess on your wedding day. If you feel overwhelmed by all the choices, visit multi-designer stores like Carma, Aza, Ogaan, and Pernia's Pop-Up to gain some perspective. Vibrant colors, fine fabrics, exclusive cuts, intricate craftsmanship, and impeccable service are all around us in this luxurious commercial hub.
Popular Shops in Mehrauli: Manish Malhotra, Anita Dongre, Sabyasachi, Shantanu & Nikkhil, Anamika Khanna, Varun Bahl, Tarun Tahilani, Gaurav Gupta, Not So Serious, Riddhi Mehra, Amit Agarwal, Rahul Mishra, Torani, Osaa by Adarsh, Abhishek Sharma, Gazal Gupta, Rimple & Harpreet, Soltee by Sulakshana Monga, Masaba, Carma, Pernia's Pop-Up Studio, Ogaan, Aza, Rabani & Rakha, Pankaj & Niddhi, Dolly J, Niddhi Tholia, Jayant Reddy
Open All Days
4).  DLF Emporio
If you are looking for exclusive labels, a visit to Mehrauli makes more sense as it has outlets for most designers on the premises. However, DLF Emporio in Vasant Kunj offers a one-of-a-kind shopping experience with an emphasis on exclusivity, space, and aesthetics. The opulent mall has an enviable list of prominent names in the fashion industry. The mall also houses prestigious designers like Jade, Shivan & Narresh, and Shyamal & Bhumika, who are absent from the Mehrauli hub. 
Multi-designer stores such as Ogaan, Ensemble, and Pernia's Pop-Up are ideal for browsing clothing from multiple designers under one roof. The newly opened Pernia's Pop-Up second store includes a section dedicated to the ever-popular Seema Gujral and Anushree Reddy. Quirky or experimental, traditional or chic – there are enough options to find a perfect fit for every bride. Names like Raghavendra Rathore, Shantanu & Nikhil, and Kunal Rawal are enough to grab the attention of future grooms. After making your high-end purchases, if you still have money left over, treat yourself to designer bags from the shops next door, such as Louis Vuitton, Gucci, Fendi, and Dior.
Popular Shops in DLF Emporio: Rohit Bal, Anita Dongre, Shantanu & Nikhil, Falguni & Shane Peacock, Asal by Abu & Sandeep, Ekaya, Jade by Monika & Karishma, Kunal Rawal, Riddhi Mehra, Shivan & Narresh, Shyamal & Bhumika, Gaurav Gupta, Raghavendra Rathore, Sunita Shekhawat, Hazoorilal, Ogaan, Ensemble, Pernia'a
Open All Days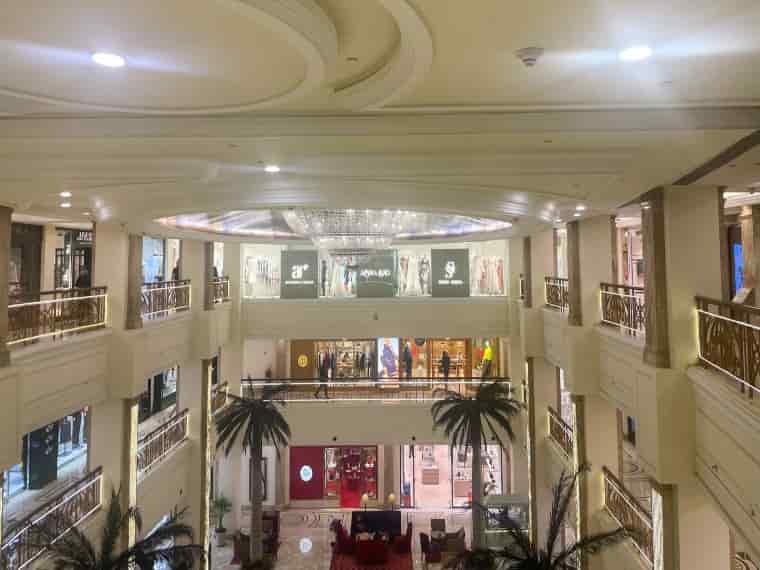 5).  Dhan Mill
This is the most recent entrant into the wedding shopping niche. Dhan Mill is located on the outskirts of Delhi in Chattarpur. A former granary and warehouse, Dhan Mill has evolved into a chic food, fashion, and lifestyle destination. The cool and relaxing vibes make for an ideal shopping experience for clients who want to indulge while saving time. The charming hub boasts fashion houses like Nakul Sen, Mahima Mahajan, and Astha Narang. Abhinav Sharma has shifted from Dhan Mill to the nearby Regency One.
Lovers of traditional sarees & fabrics should check out Delhi Vintage. If you're up for some experimentation, Qbik, Love Birds, & Tasuvre offer intriguing contemporary clothing. Sureena Chowdhri never disappoints if you are looking for traditional Indian ensembles. Ogaan has just recently opened a sprawling new store in the compound. It has names like Punit Balana, Debyani, and Payal Singhal that Delhi shoppers have been missing. The Dhanmil compound is quite small and compact, with only a few shops to browse through. 
Popular Shops in Dhan Mill: Ogaan, Nakul Sen, Astha Narang, Agashe, Gazal Gupta, Sureena Chowdhri, Qbik, Mahima Mahajan, Divyam Mehta, Delhi Vintage Co., Love Birds, Kieri, Tasuvre, Ose-Jyoti Gupta
Few Stores are closed on Monday, the rest are open all days
6).  South-Extension
In spite of the emergence of numerous new shopping hubs throughout Delhi, South Extension still retains much of its charm. The residential neighborhood is divided into two sections: South-Ex1 and South-Ex2, which are linked by a footbridge. Everything you need for your wedding day is right here; all you have to do is look. The glitzy showrooms on both sides sell ethnic wear, western wear, footwear, watches, electronics, and jewelry. The popular market is crammed with jewelry stores selling exquisite gold and diamond pieces.
A few of the leading names in fashion compete for space in the shopping complex. Frontier Raas and Aza are always in demand, but newbies like Kalki and Basant ki Kapde are giving these established names a run for their money. PDFC Boulevard should be on your wish list if you love Pakistani outfits. Don't miss Anantam, which is located in the basement of South-Ex2. It has some amazing stuff from small and emerging designers. South-Ex has some of the best shoe stores in Delhi. Mochi, Venus Steps, Vansons, Metro, & Kala Niketan will take care of your footwear needs. 
Popular Shops in South-Ex: Frontier Raas, Anantam, Aza, Kalki, Basanti Kai Kapde, Ushnakmal Mool Chand, Heritage Emporium, Raisons, Nalli Sarees, Gunghat by Shaveta & Anuj, Ritu Kumar,  Taneria, Khanna Jewelers, Tanishq, Mehrasons, Hazoorilal Legacy, PC Jeweler, Kalyan Jewelers, Ahujasons (Pashmina shawls)
Popular Shops in South-Ex for Men: Study by Janak, Manyavar, Amaare, Diwan Saheb, Pall Mall, Aasif Bespoke, Dhruv Seghal, Launganis, Tasva
Closed On: Monday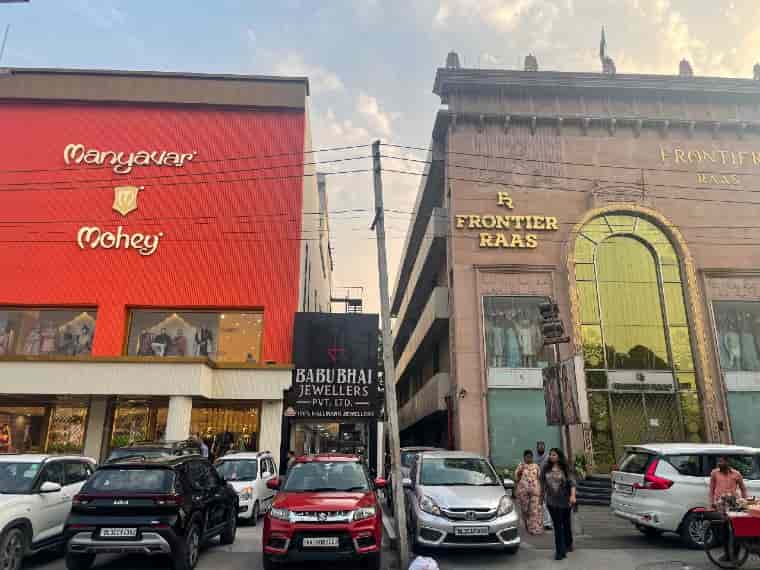 7).  Defence Colony
The Defence Colony is one of Delhi's most affluent localities. Some of the best-known Indian wear designers have opened stores in multi-story houses in the area. The boutiques are scattered throughout the D block of the Defense Colony. Because footfall in these shops may be lower than in Mehrauli or DLF Emporio, most designers have opened branches elsewhere as well. The Ekaya flagship store, on the other hand, is a must-visit. The sprawling multi-story shop will impress you with its elegant collection of Banarasi sarees, lehengas, and fabrics.
Popular Shops in Defence Colony: Asha & Gautam, Aza, Ekaya, Rohit Bal, Shantanu & Nikhil, Gaurang, Masaba, Abraham & Thakore, Riddhima Bhasin, Rohit & Rahul, Vaani Vats, Aza, Diva'ni India, Birdhichand Ghanshyamdas Jewelers, Sunita Shekhawat.
Few Stores are closed on Sunday, the rest are open all days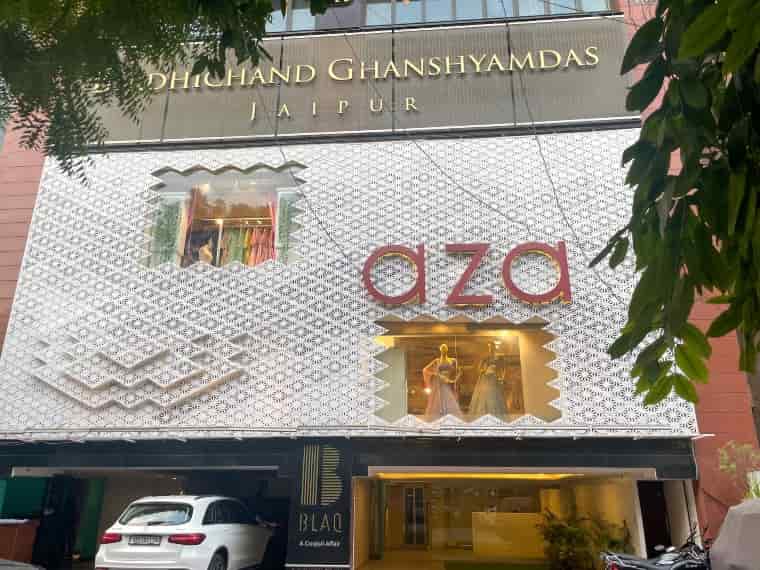 8).  Rajouri Garden
Rajouri Garden in West Delhi is the place to go for affordable ethnic clothing. While the selection of wedding lehengas may be limited, you can still purchase both Indian and western apparel for your wedding trousseau. The market is especially known for its footwear shops and has an impressive selection of bags, shoes, and accessories to go with your wedding finery. The shops are scattered throughout the market, so you'll need an entire day if you plan on doing a lot of shopping. Try to visit the market during the week as weekends are extremely busy.
Popular Shops in Rajouri Garden: Roop Vatika, Bombay Selection, Meena Bazar, Shades And You, Frontier Bazaar, Shakuntlam Xclusif, Shabad Originals, Sherwani Wale, Study by Janak, Sahiba, Guru Tegh Bahadur Silk Store, Novelty, Jashn by Aditya
Popular Shops for Footwear: Klove, Kin's, Stelatoes
Closed On: Wednesday
9).  Pitampura
Pitampura, a North Delhi district, has emerged as a prominent shopping destination for weddings in recent years. It is popular not only among those who reside in nearby areas but also with those who live on the opposite side of town. Pitampura has a diverse selection of stores to suit all budgets. From upscale boutiques like Lalit Dalmia & Odhni to budget retailers like Mauve Story and Bombay Selections, the market seems to have everything covered. Kohat Enclave in Pitampura is lined with boutiques selling wedding outfits and ethnic wear. Lalit Dalmia is the most sought-after designer store in Pitampura, with lehengas and bridal outfits in every hue imaginable. There are several jewelry stores in the market that can help you choose some lovely pieces to glam up your wedding attire.
Popular Shops in Pitampura: Lalit Dalmia, WNW – Bridal Wear, Apsara Sarees, Karigiri Studio, Inaya Couture, Mauve Story, Samiksha Creations, Odhni Sarees, Akarshan
Closed On: Monday
10).  Karol Bagh
Before the malls became the focal point for shopping, Delhiites went to Karol Bagh for all of their needs. One of Delhi's oldest markets, Karol Bagh, continues to woo shoppers and foodies. The centrally located shopping center is well-known for its extensive collection of footwear, accessories, sarees, lehengas, and other traditional clothing. Grooms-to-be can also find the best men's wear in the bustling lanes. The market used to be renowned for its affordable options, but today it also has stores selling bridal outfits with prices in the six figures. However, there are still plenty of choices if you have limited funds.
A few of Delhi's footwear hops, such as Venus Steps and Vansons, have their origins in Karol Bagh. Grab the chance to visit the flagship stores of these in-demand names. Plan ahead of time because the market becomes extremely chaotic and crowded in the evenings and on weekends.
Popular Shops in Karol Bagh: Vasu Creation, Frontier Raas, Kala Saree, Meena Bazaar, Anarkali, Frontier Bazarr, Chhabra 555, Neeru's, Sahil Fashion Bazar
Closed On: Monday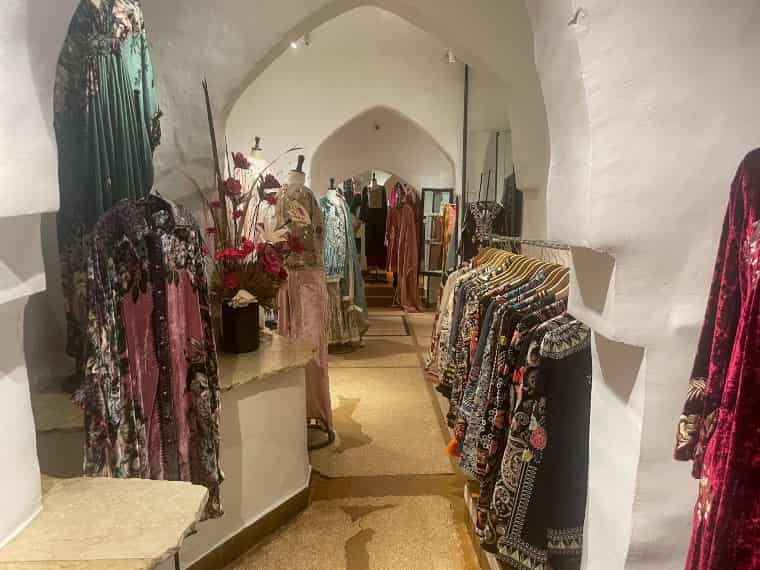 Special Mentions:
The best locations in Delhi to shop for your wedding are covered in the list above. However, there are a couple of stand-alone shops that should be mentioned.
Ogaan: Hauz Khas Village was once a sought-after location for wedding-related shopping. However, the majority of the shops have relocated. Nonetheless, you should visit Ogaan's flagship store in HKV. The extravagant multi-designer store features an exquisite collection of top Indian designers. The selection, service, and presentation are all outstanding. Aside from the locations mentioned above, Ogaan also has a store on Malcha Marg.
Warehouse by Mudita: If you want to buy an outfit for the wedding season without visiting dozens of stores, go to Warehouse. It is located in Okhla Industrial Area II and sells outfits crafted by Rohit Bal, Payal Singhal, Aseem Kapoor, Vikram Phadnis, Jayanti Reddy, Gauri & Nainika, and many others. The store is known for frequently offering huge discounts. So, keep an eye out, and you might be able to get your hands on your dream dress at throwaway prices.
Subscribe to Our Newsletter