12 Best Markets in Delhi for Shopping
Best Markets in Delhi for Shopping
Delhi is not just about history, monuments, food, and the metro. It promises fantastic shopping experiences and is a favorite destination for all shopaholics worldwide. With upscale malls, lively bazaars, street-style shops, arty enclaves, wholesale marketplaces, and stand-alone boutiques, you'll never run out of alternatives when shopping in Delhi. The city has also become a hub for wedding shopping and you can find budding & famous designers in every nook and corner of the sprawling city. From quirky trinkets, authentic handicrafts, and stylish clothes to elegant ethnic wear, expensive jewels, and designer stuff; Delhi caters to consumers of all budgets, tastes, and preferences. 
The malls in Delhi are luxurious and world-class, and shopping there is always a delight. But why go to the malls when you're in Delhi? Their offerings and ambiance are the same all over the world. Delhi is known for its iconic markets. The smell, sounds, and vibes of these shopping hubs are unique and addictive. They exhibit distinct styles, lively vibes, and old-world charm, and are a treasure trove just waiting to be discovered. If you visit Delhi, you will almost certainly become lost in the maze of numerous shopping alternatives. Are you looking for a good place to go shopping? Check out this list of Delhi's top markets.
1). Lajpat Nagar – For Middle-Class Shoppers
This market, also known as the Central Market, is a one-stop shop for all your needs. It is equally popular amongst Delhiites as well as tourists. Lajpat Nagar is the place to go if you want to shop to your heart's content without breaking the bank. The branded showrooms stand side by side with the street vendors and you can take your pick. Outside of the big stores, though, don't buy anything without negotiating. This is THE place to shop if you are looking for matching accessories – laces, buttons, jewelry, bangles, embroidered borders, footwear, stoles, Bindis, bags, and everything in between. If you have the time, have your hands adorned with gorgeous henna designs by one of the many Mehendiwalas that sit on the roadside pavements. As the day progresses, the narrow bylanes become increasingly congested and chaotic. As a result, the best time to go is in the morning. Sundays should be avoided. If you love momos, Dolma Aunty Momos is in the vicinity. 
Nearest Metro Station: Lajpat Nagar Station
Timings: 11 am-9 pm, Closed on Mondays
What to Buy: Trinkets, household items, textiles, furnishings, affordable clothing, dry fruits, footwear, electronics, bags, accessories, ethnic wear
2). Janpath – For Street Shopping
A huge hit with foreigners, out-of-towners, and youngsters, the Janpath market is ideal for pocket-friendly street shopping. It occupies a strategic location in the heart of the capital city. The market is always brimming with life and the energy is infectious. Janpath is set up on 1.5 km of a straight road with rows of small shops. Vendors have also occupied the roadside pavements. It is easy to cover the whole market in a short span of time as the goods sold by most vendors are quite similar. Janpath offers all kinds of clothes – trendy western wear and boho clothing, winter garments (during the season) as well as gorgeous traditional outfits.  Janpath is also sometimes called Tibetan Market as the section of the market has been taken over by the Tibetans selling their handicrafts and clothing. Use all your bargaining skill if you want some good deals. Carry cash as most shops won't accept credit or debit cards. Take a break from your shopping and enjoy steaming Tibetan Thupka and momos.
Nearest Metro Station: Rajiv Chowk Station
Timings: 10:30 am-9 pm, Sunday 11 am-8 pm
What to Buy: Leather jackets, junk jewelry, juttis, Tibetan artifacts, brassware, paintings, carpets, handicrafts, handbags, western and traditional outfits
3).  Sarojini Nagar – For Indian Street Fashion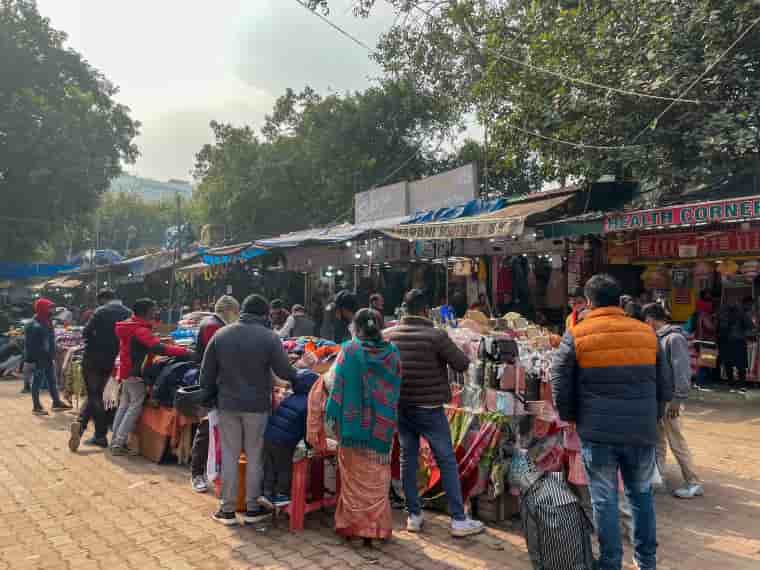 The chaotic, overwhelming, and thriving Sarojini Nagar is Delhi's most loved flea market. It is a mecca for bargain hunters, fashionistas, college students, and tourists – you can find the most stylish clothes at throwaway prices. Import surplus, sample lots, designer knock-offs, and affordable clothing make this place a must-visit. You will not come across such a range of quality & trendy clothing at such dirt-cheap rates anywhere else in the country.
The market is massive and there is lots of random and cheap stuff lying around. Head to the Export Gallis, Leather Export Shops, and Archway with Graffiti for some real treasures. You will have to sift through endless rows of clothing if you want to unearth the best options. Be prepared to haggle hard if you want fantastic rates. If the vendors don't agree to your prices, just walkway as they are sure to call you back. New stock arrives mostly on Tuesday, so it's the best day to get your hands on some amazing stuff. Plan a weekday visit, as it would be impossible to buy anything on weekends. A sweet market (Babu Market) and vegetable market can also be found within the congested market. You are bound to spend hours in Sarojini Nagar, so carry water, empty bags, and lots of cash.
Nearest Metro Station: INA Station
Timings: 10:30 am-9 pm, Closed on Mondays
What to Buy: Fashion clothing, denim, accessories, footwear, bags, tableware, kitchenware, electronics
4).  Delhi Haat/Dilli Haat – For Indian Handicrafts
A sprawling traditional market similar to a weekly village market, Delhi Haat should definitely find a place in the itinerary of international visitors. Delhi Haat is an open-air craft bazaar that specializes in traditional handicrafts. It has been built with small thatched-roof cottages and has a rustic ambiance. Artisans and craftsmen from all over India come here to exhibit their wares. Pashmina shawls from Kashmir, Chikankari embroidered tunics from Lucknow, kathakali masks from Kerala, Madhu Bani paintings from Bihar, Kantha bedsheets from Gujarat, Bandini sarees from Rajasthan, and Juttis from Punjab – all these and much more can all be found under one roof. Besides the authentic shopping experience, you can enjoy folk dances, cultural activities, delicious food, and much more. Food stalls of each region can be seen selling local delicacies. The sheer display of colors, patterns, and handicrafts is a photographer's delight.
Nearest Metro Station: INA Station
Timings: 10 am-10 pm, Open all days
What to Buy: Paintings, artificial jewelry, furniture, textiles, beads, gems, pottery, and all sorts of Indian handicrafts, handlooms, and artifacts
5).  Chandini Chowk – For Wholesale and Affordable Shopping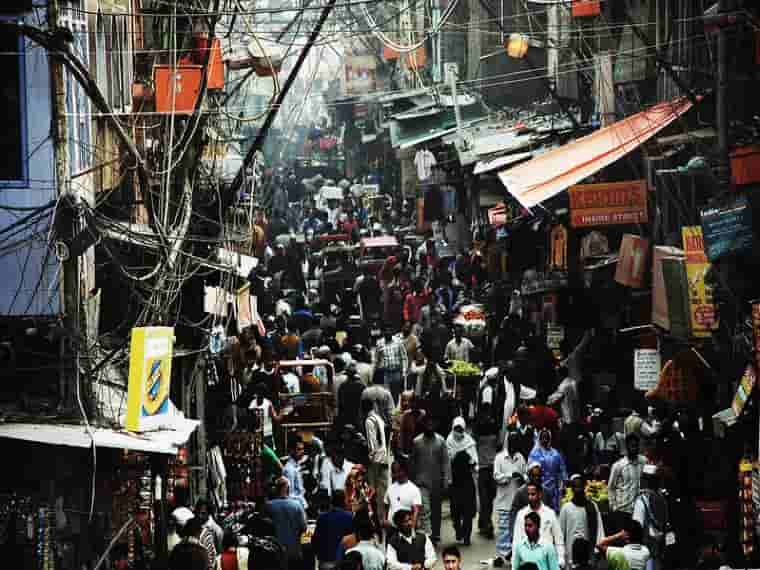 The legendary Chandni Chowk is one of the oldest, busiest, and most affordable markets in India. The well-spread market is divided into several small markets (katras) that specialize in specific products like Chawri Bazaar (wedding cards), Kinari Bazaar (fabrics & borders), Bhagirath Palace (electricals), Dariba Kajan (silver items), Katra Neel (wedding finery), Khari Baoli (spices & dry fruit), Nai Sarak (books & stationery), and so on. It makes shopping easier for customers as they can approach the bazaars according to their specific requirements. The market is sought-after by bride-to-be from all over India because of the exquisite collection of bridal lehengas (original and designer copies).
Chandni Chowk is definitely not for the faint-hearted as the narrow and winding alleys are crammed with hawkers, shops, touts, rickshaws, and customers. It's not easy finding anything amongst the boisterous crowd and endless stream of shops. But you have to visit Chandni Chowk once even if shopping doesn't interest you. The market will give you vivid glimpses of the glorious Mughal era and will take you on a gastronomical adventure. A visit to Chandni Chowk would be incomplete without binging on the mouth-watering street food like Dahi Bhalla, Jalebi, parathas, kebabs, and lots more. Do you still need a reason to visit Chandni Chowk?
Nearest Metro Station: Chandni Chowk or Old Delhi Railway Station
Timings: 11 am-8 pm, Closed on Sundays
What to Buy: Spices, Dry Fruits, Utensils, Books, stationery, embroidered bags, Wedding Cards, bridal lehengas, ethnic dresses, fabrics, silver items, electricals, precious jewelry, and anything else you can think of
6).  Karol Bagh – For Weddings and Festive Shopping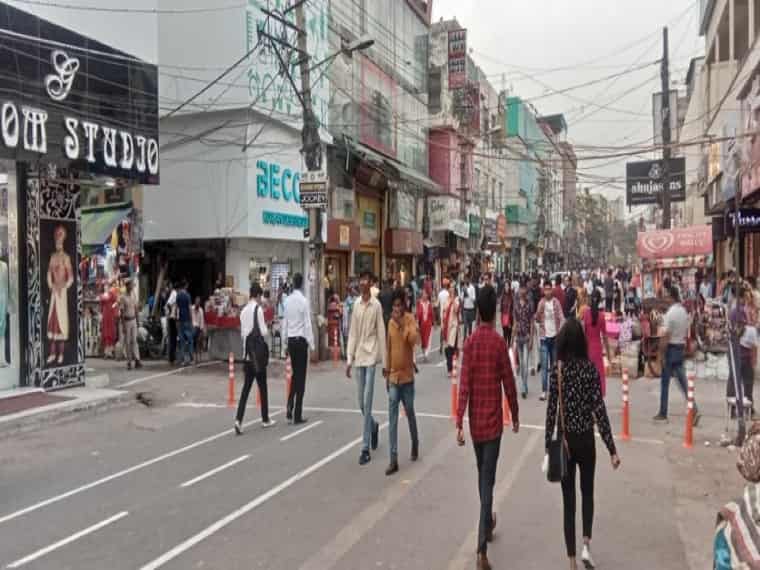 Karol Bagh is primarily known for trendy Western wear, traditional attire, footwear, accessories, and cosmetics. The market is particularly popular amongst Indian brides because of the extensive collection of sarees, lehengas, suits, and other ethnic outfits. Grooms need not despair as you can also find the best men wear in the crowded lanes. The market extends in all directions and you can shop in nearby spots like Ghaffar Market for imported stuff & repair shops, Ajmal Khan Road for readymade apparel & festive wear, and Arya Samaj Road for second-hand books, and Bank Street for gold jewelry. The rates are not as affordable as Chandni Chowk, but things are cheaper than other upscale markets like South-Ex and GK. Karol Bagh is also known for countless eateries offering myriad food options.
Nearest Metro Station: Karol Bagh Station
Timings: 10:30 am-8 pm, Closed on Mondays
What to Buy: Baby gear, sarees, shoes, bridal wear, electronics, costume jewelry, gadgets, cosmetics, leather goods, luggage, home furnishings, Dry Fruits
7).  Paharganj – For Budget Shopping and Unique Souvenirs
Paharganj is definitely one of the oldest and most crowded markets in Delhi. Most of the shops here are wholesalers, who export to foreign countries. This makes it an ideal place to hunt for unique and quality goods at dirt-cheap prices. Here you can find almost everything under the sun and it is a one-stop shop for all your needs. Sharpen your bargaining skill if you don't want to spend more. Hawkers and vendors exhibit an incredible collection of delicate accessories and junk jewelry that includes necklaces, earrings, pendants, rings, and bracelets. Paharganj is a must-visit for foreigners looking for unique souvenirs, Indian music CDs, and handcrafted handicrafts to take back home. It also displays a wide selection of imported products. You cannot leave without tasting the scrumptious Chole Bhature of Sita Ram Diwan Chand.
Nearest Metro Station: Paharganj Metro Station & Jhandewalan Metro Station.
Timings: 10:30 am-9 pm, Closed on Mondays
What to Buy: jewelry, books, handbags, handicrafts, music, clothes, wooden statues, incense, hookah pipes
8).  Khan Market – For the Expats and Elites
One of the most stylish markets of Delhi, the Khan market is more for foreigners, ex-pats, and affluent Delhiites. It is listed among the topmost expensive retail high streets in the world. However, there are few options for budget shopping in the back lanes of the U-shaped market. In fact, Khan Market has an interesting blend of high-end boutiques, retail showrooms, top-notch lifestyle stores, and street shops. Good Earth, Amrapali, Anokhi, Oma, Ensemble, and Kama Ayurveda are a few of the most known shops in Khan Market. The market also specializes in custom-tailoring boutiques that can sew your outfit in less than a week. Even if you are not in the mood to shop, visit the classy market to enjoy the luxe vibes, browse through the intriguing bookshops, and hang out in some of Delhi's trendiest cafes & bakeries like Big Chill, L'Opera, Café Turtle, and Full Circle. You cannot miss visiting Khan Chacha's stall for the lip-smacking rolls.
Nearest Metro Station: Khan Market Station
Timings: 10:30 am-11 pm, Closed on Sundays
What to Buy: Crockery, designer clothes, exotic fruits, gourmet groceries, second-hand books, art pieces, precious/semi-precious jewelry, Ayurvedic products, lifestyle goods
9).  Connaught Place – As it is the Heart of Delhi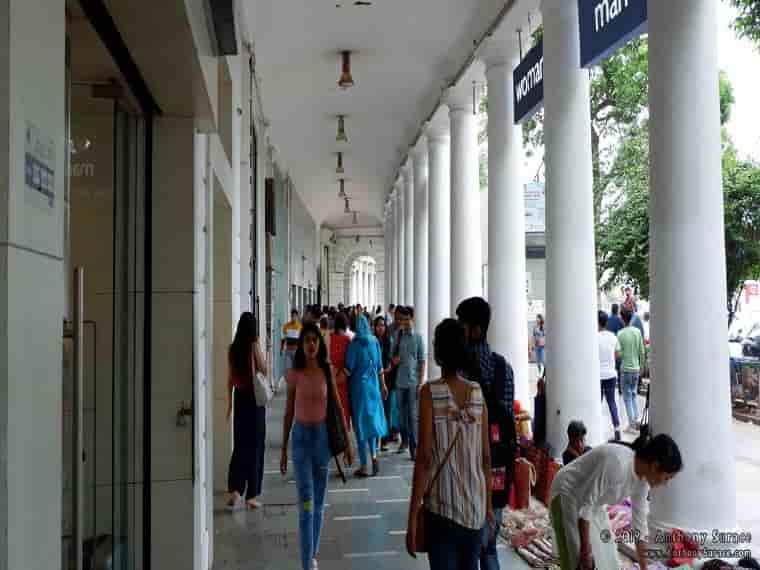 Another iconic landmark in Delhi, Connaught Place is the heart of Delhi. CP has been designed in a concentric circular format and will impress you with its striking white facade, tall columns, and heritage buildings. The popular market is located in the center of Delhi and has been divided into two parts – Inner Circle and Outer Circle. Outlets of all top-notch brands and fashion houses can be found in the massive and well-organized market. Street vendors also manage to find a place amidst the bustling pavements. CP is home to many cafes, hotels, restaurants, nightclubs, offices, and multiplexes. A perfect place to spend a fun day with family and friends.
Palika Bazar is also situated right in the middle of Connaught Place and is fully air-conditioned. The underground shopping plaza is immensely popular amongst the locals and people visiting Delhi from other regions of India. It sells electronic gadgets, accessories, readymade garments, shoes, perfumes, etc. at very affordable prices. Fake products and bargaining are the norms – so buy at your discretion.
Nearest Metro Station: Rajiv Chowk Station.
CP Timings: 11 am-9 pm, Palika Bazar: 10 am- 7pm, Closed on Sundays
What to Buy: Branded clothes, electronics, jewelry, books, sarees, sports items, fabrics, Indian handicrafts
10).  M Block Market, GK Part 1 – For Experiencing South Delhi Vibes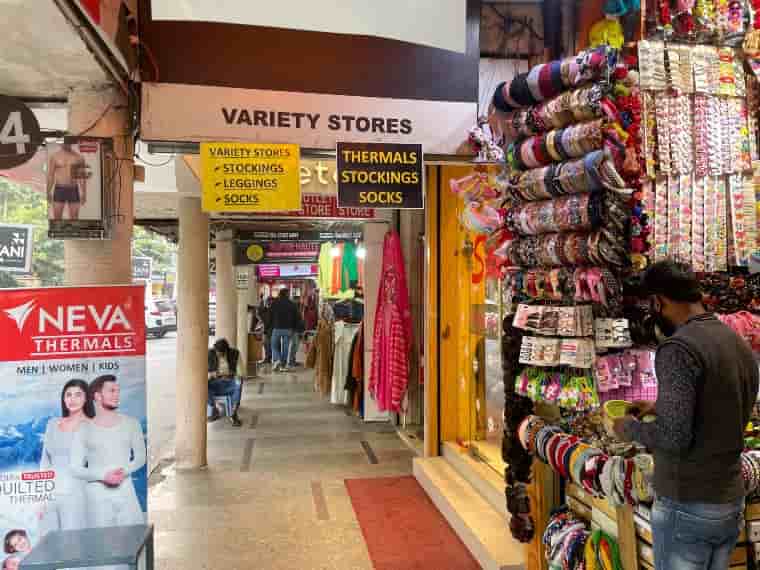 As we move on to the swanky markets of South Delhi, M Block Market in Greater Kailash-1 has to find a place on our list. The small market is lined with rows of shops selling Indian high-street brands, exquisite jewelry, traditional accessories, and other knick-knacks. As is the trend; cafes, eateries, & street vendors find a place in all Delhi markets. The shopping hotspot has a universal appeal. While the posh showrooms attract the rich Delhiites, the street vendors are a hit amongst the college crowd. The street market has an enviable range of apparel, shoes, and trinkets. The offerings are expensive compared to other street markets in Delhi, but the quality is also generally better. You have to visit the market to check out the snooty South Delhi crowd and experience shopping in true Dilli style. GK1 also has a small market located in N Block. The market offers premium clothing in cotton & linens and boasts names like Fab India, Kilol, and Anokhi.
Nearest Metro Station: Kailash Colony Station.
Timings: 11 am-9 pm, Closed on Tuesdays
What to Buy: Casual and traditional outfits, footwear, cosmetics, jewelry, crockery
11).  South-Ex – For Everything Delhi
The residential neighborhood of South Extension is known more for its upscale market. Situated on either side of the Ring Road, the South-Extension market is divided into two parts: South-Ex1 and South-Ex2. The glitzy showrooms selling everything from accessories, dresses & footwear to jewelry, watches & lehengas can be found on both sides of the well-known shopping hub. It is also a preferred spot for wedding shoppers – both males and females. The market has something definitely Delhi about it. Before the malls became the focal point for weekend entertainment, South-Ex was the favorite hotspot for families to enjoy their weekends. South-Ex is sprinkled with cafes, resto-bars, and eateries, but what attracts the people most is the lip-smacking chaats. The Bengal Sweet Centre is always full and the Bhel Puri vendor has been a crowd-puller for years.
Nearest Metro Station: South-Extension Metro Station.
Timings: 11 am-9 pm, Closed on Mondays
What to Buy: Sarees, footwear, Indian wear, fabrics, jewelry, international brands, electronics, luxury watches
12).  Shahpur Jat – For Upcoming Indian Designers
Shahpur Jat is an urban village in South Delhi, which is quickly emerging as a shopping destination for Indian wear. The narrow alleys are crammed with small and big boutiques selling gorgeous, intricately embroidered suits, shararas, lehengas, anarkalis, sarees, custom jewelry, sherwanis, tuxedos, Kurta Pajamas, and whatnot. There are countless shops and you are spoilt for choice. It is really easy to get lost in the maze of streets, run-down buildings, and identical-looking shops. Dada Jungi House Lane has some of the best shops in the market. The boutiques are mostly run by upcoming designers, though the skyrocketing prices make it hard to believe that. The market has taken over the mantle from Hauz Khas Village and is now the preferred destination for brides-to-be. It also has some exclusive home décor and stationery stores.
Nearest Metro Station: Hauz Khas Station.
Timings: 11 am-7 pm, Closed on Sundays
What to Buy: Ethnic wear from men and women, footwear, accessories, stationery, décor items, and paintings.
Other Popular Markets
Besides the above-mentioned markets, there are a few other shopping places that can be checked if you have the time and energy. Happy shopping!!
Kamla Nagar – College-goers' favorite. Trendy and affordable western wear & accessories
Mehrauli, Near Qutub Minar – Scores of famous Indian Designers like Sabyasachi, Anamika Khanna, Rahul Mishra, Tarun Tahilani, etc.
Rajouri Garden – Affordable and quality Indian wear for weddings and festivals.
Shankar Market – For all sorts of Fabrics: from plain cotton to silk brocades
Baba Kharak Singh Marg – Handicraft heaven as the emporiums of all the states can be found here.
Ladoo Sarai – Art galleries
Sunder Nagar Market – Antique style home accents, tribal artifacts, heirloom jewelry, carpets, and tea shops.
Subscribe to Our Newsletter