How to find cheap flights?
How to find cheap flights?
One of the major expenses of international travel is flight tickets. Sometimes it accounts for more than half of your trip cost. Not surprisingly, airfares have become one of the most important parts of travel planning – for both leisure and official trips. Flight tickets can eat into your travel budget and force you to compromise on other aspects of traveling like hotels, sightseeing, and shopping. No matter how excited we may be about the upcoming trip, we should never rush through booking flights.
There was a time when we would rely on travel agents to give us the best airfare. But now most of us have taken this headache on ourselves. We spend hours trying to find that perfect formula that can get us the best prices – mixing and matching the airports, dates, layover times, the number of stops, and of course the 'magic' booking time. But is there a formula for finding cheap flights? There is no tried and tested method that can guarantee you cheap flight tickets. However, there are a few tricks that may help you to get a good bargain.
Tip 1:   Airfare Alerts –  Most search engines like Skyscanner, Kayak, and Orbitz provide fare alerts. Set up an alert for your desired location and you will receive an email when the prices drop. Thereafter, you may have to decide fast but fare alerts can save you a significant amount of money. Sign up for airline newsletters and follow the social handles of online travel portals to receive updates about deals and discounts. Airfare Watchdog, Secret Flying, and The Flight Deal are good for finding travel deals.
Tip 2:   Be Flexible with Travel Days –  If you are not time-bound, you can save a lot of money by being flexible with your time and dates. Almost all search engines have an option where you can use the fare calendar and check the fares for a week or month. You can check one-way fares separately for both departure and arrival and find the days which are the cheapest to travel both ways. This way you get the cheapest round-trip airfare. Fares are generally expensive on weekends and cheapest on Tuesdays, Wednesdays, and occasionally Fridays.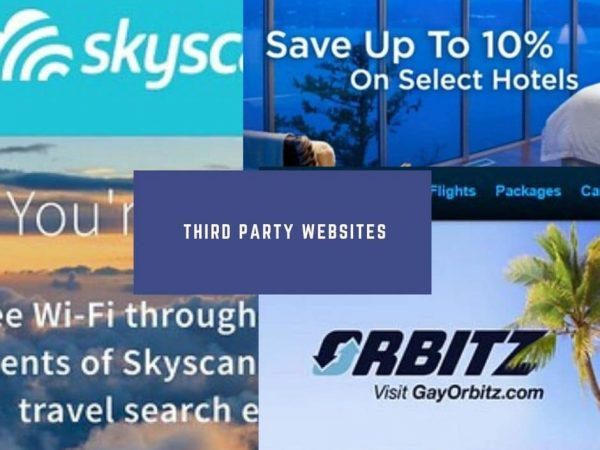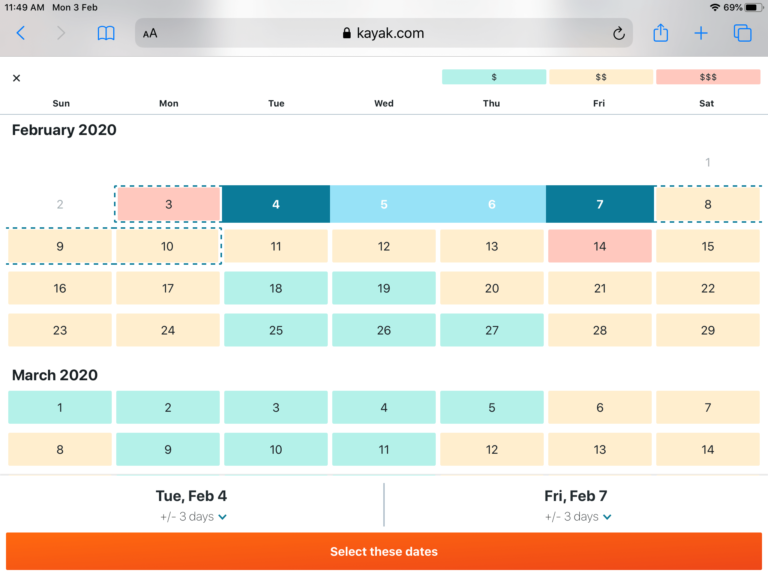 Tip 3:   Compare Search Engines – Check different airline search engines to get the best offers. Don't rely on one of them as none is perfect. Skyscanner, Kayak, Google Flights, Orbitz, and Momondo are all good, but they should be not followed blindly. Kayak is really good but it sometimes removes budget airlines from the results. Momondo includes all major, budget, and local airlines. Skyscanner gives great one-way fares and is becoming very popular. Kiwi is good with multi-carrier flights but if you want long layovers, check Airwander. So it makes sense to check a few depending on your requirements. And don't forget to check the airlines' websites as many times they offer deals if booked directly from their websites.       
Tip 4:   Book one person at a time – The Airline reservation system requires all the tickets booked in one transaction to be of the same price. So if only one 'cheapest' priced ticket is available, the system would automatically go to the next higher fare and book all the tickets at a higher price. So always check for the price of a single ticket before making bookings for all the people in your group. Sometimes, you may have to buy tickets one at a time to get the best fares. It will be cumbersome, but well worth the effort.
Tip 5:   Plan Your Itinerary –  Traditionally, round-trip tickets were the best options. Not anymore. You may find two one-way tickets cheaper than round-trip tickets. Lots of times, it is cheaper to fly into a city and fly out of another city. Multi-city tickets or open-jaw tickets can be worthwhile as they often save lots of time and money. You fly from Point A to Point B and then fly back from Point C to Point A. Have saved lots by using this method and so can you.
Tip 6:   Be Open to Layovers – Direct flights are mostly more expensive than indirect ones. Opting for a layover can lead to significant savings and if you are not pressed for time, go for layovers. Start with Non-stop flights, but if they are not in your budget, expand your search to include indirect ones. If you are extra flexible, you can opt for an extended layover so that you can leave the airport and explore the city. It would be a bit risky to opt for a layover not provided by the Portals / Airlines, as you would be left to your own resources if you miss your connection.
Tip 7:   Join Frequent Flyer Programs – If you are loyal to a single airline, you get lots of benefits – special fares, preferential seats, and of course redemption points. One of the best ways to get good deals is to join the airline's Reward Programs. In the long run, the benefits of such an account can be massive, leading to free tickets, upgrades, and liberal cancellation policies. Using an Airlines Rewards Credit card can multiply your reward points very quickly
Tip 8:   Don't Ignore Budget Airlines – Travelling on Budget Airlines will save you lots of money. You will have to however compromise on lots of amenities like food and a personal TV. Keep in mind that you have to pay for your checked luggage, preferred sitting, and even print the boarding pass. Add all the costs and then decide if Budget Airlines is cheaper or if you are paying nearly the same as you would for a larger carrier. Some of the reliable Budget Airlines are Norwegian, Jet Blue, EuroWings, Jetstar, Indigo, Air Asia, WOW Air, XL Airways, Easy Jet, Air Transat, and a few more. They mostly offer non-refundable fares and that should always be kept in mind.
Tip 9:   Consider Another Airport – Sometimes it pays not to fly in and out of the most popular airport. Airports have different overheads and so their airport charges vary. Check the nearby options simply by ticking 'add nearby airports' while searching. Flying at Heathrow would always be more expensive than Gatwick. Dubai would be more expensive than Sharjah. Weigh all the costs before deciding on the airport, as sometimes the difference in transportation cost may be so substantial, that any savings made in fare would be nullified.
Tip 10:  Right Timing – To be honest, there is no right time to book your tickets. Booking months in advance doesn't guarantee the best fares and we may find a rock-bottom fare when we buy at the last minute. Buying a ticket too early can lead to rescheduling and cancellations. According to various surveys, one should buy international tickets between 6-7 weeks before one plans to travel. Grab a good deal, regardless of time, if you are sure of traveling.
Tip 11:  Use miles for Emergencies – Save miles for those times when you have to make a last-minute booking and the fares are touching the roof. The redemption points can prove to be a blessing then.
Tip 12:  Travel in Shoulder Season – The time between the peak season and the off-peak season is called the Shoulder period. This is a good time to travel as you get good deals, not only for flights but also for hotels. Try to plan your vacation when people are less likely to visit that particular destination. December is the most expensive time for international flights. Everyone wants to travel during Christmas, New Year, school vacations, and other local festivals. If you want to travel at those times when everyone wants to holiday, don't expect to get cheap flights. November is a good time to travel to many destinations.
Hidden City Ticketing, faking your IP address, using incognito mode, and getting a fare prediction are other tricks that people bank on, though these methods are open to debate. There are so many myths going around. While looking for cheap tickets, always check the inclusions, exclusions, visa requirements, baggage restrictions, cancellation, and rescheduling policies.
You must have realized that getting a bargain fare is not an easy task and require lots of effort, time, patience, and smart thinking.  Whenever you get a good deal, book your tickets. Don't wait for prices to fall further. The price may not be your target price but it is still a bargain. No point in spending hours looking for that elusive deal. So use the tips above and start booking.
Subscribe to Our Newsletter