Best Places to Visit in September
Best Places to Visit in September
If the maddening rush and sky-rocketing prices of the summer months are not what you are looking for, September is one of the best months to plan your vacation. The holiday crowd has gone, it is way less crowded, temperatures are much cooler, and travel costs are manageable – what more do you need to plan a holiday? September is a month of transition in most countries – from winter to spring in the Southern Hemisphere and summer to autumn in the Northern Hemisphere.  The turning of seasons gives you a perfect opportunity to witness lots of regional celebrations and stunning landscapes. If you are planning a vacation in September, check the list below and decide on the location.

1.  CROATIA, Europe
If Croatia is not on your bucket list, it is time to update it. The beautiful country is an emerging destination in the world and getting immensely popular. If you want to avoid the crowds and the escalated hotel rates, plan a trip in September. The warm weather continues, humidity is low, and sunshine is still plentiful. The seawater might have cooled off, but you can still engage in some island hopping to explore the never-ending shoreline, secluded coves, pretty ports, and Roman ruins.
Walk the city walls in Dubrovnik for amazing panoramic views of the nearby islands, visit the stunning Plitvice Lakes with their terraced lakes & waterfalls, lounge on the pristine white beaches, and learn all about Renaissance architecture & Croatian culture. A few of the festivals that you can check out in September are Zagreb World Theatre Festival, Varazdin Baroque Evenings, and Outlook Festival (Pula).
Places to visit in September:   Dubrovnik, Plitvice Lakes, Split, Hvar, Krka National Park, Brac island
Average Temperatures in September:   High-26°C   Low-10°C   Sea-23°C

2.  GREECE, EUROPE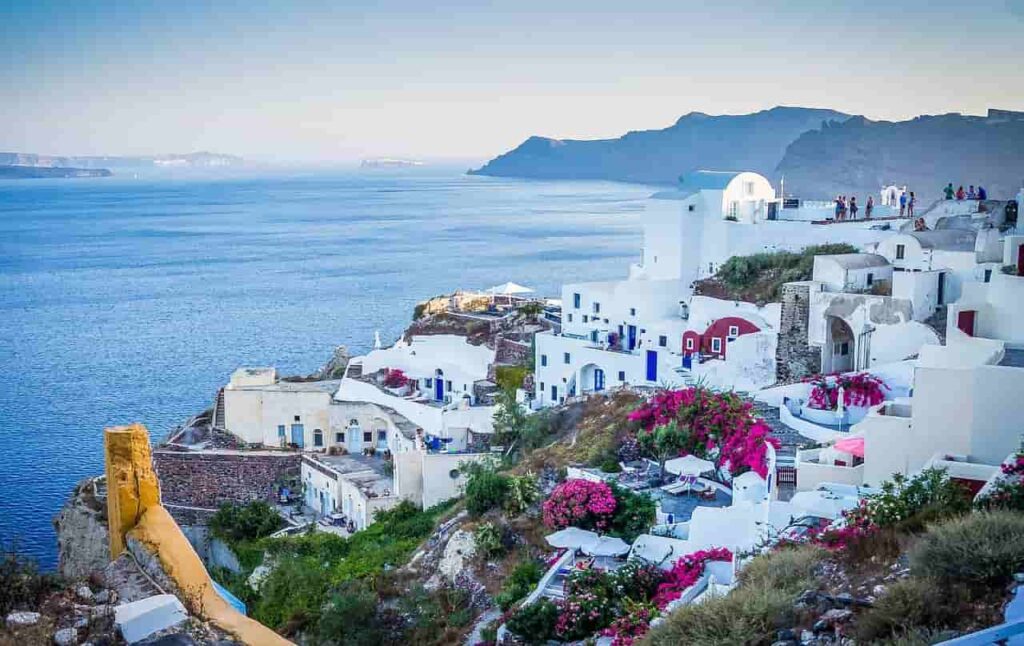 You don't need reasons to visit Greece, and September is one of the best months to experience this amazing country. The summer heat has subsided, the sea is still warm, there is little chance of rain, and the crowds have departed – a perfect time to visit one of the world's oldest civilizations with landmarks dating back to the 5th Century BC. Athens can be hot in summer but September is relatively cooler and you can visit the iconic monuments like the Parthenon, Odeon of Herodes Atticus, & Temple of Olympian Zeus without having to bear the scorching heat.
The country has lots of attractions to keep you occupied. Explore the gorgeous Greek islands like Santorini and Mykonos, sunbathe on secluded beaches, take a dip in the crystal blue Mediterranean Sea, visit a few mountain towns like Zagori and Meteora, and admire the flamboyant landscape and spectacular sunsets. The food, wine, music, and festivals add up to make your holiday truly memorable. Athens International Film Festival, Genesis is Panagias, Anilos Wine Festival, and Armata Festival is scheduled for September.

Places to visit in September:   Athens, Crete, Santorini, Mykonos, Corfu, Kavos, Chania
Average Temperatures in September:   High-27°C   Low-16°C   Sea-25°C

3.  SPAIN, EUROPE
One of the most popular countries to travel to, Spain is a year-round destination. But the shoulder season of September has a lot of pros. Most of the country is still warm, beaches are empty, and travel cost is much lower. You can enjoy the world heritage sites, museums, regional festivals, and numerous water sports without standing in queues or jostling for space. The charming city of Barcelona with its sun-kissed beaches, iconic architecture, lovely parks & cultural significance should definitely be on your itinerary.
If you are in the mood to party, you can head to Ibiza. The pricey town is unaffordable in the summer months, but in September, crowds have gone and resorts and clubs are wooing customers by offering steep discounts. The beaches are still accessible, the waters are still swimmable and the weather continues to be warm, so make the most of it. A trip to Granada to explore Alhambra and Sacromonte is a must. If you are looking to enjoy some local festivities, Catalan Day and Fest de la Merce in Barcelona, Santa Tecla Festival in Catalonia, and Euskal Jalak in San Sebastian are good options.

Places to visit in September:   Andalusia, Valencia, Seville, Marbella, Barcelona, Granada, Ibiza, Madrid
Average Temperatures in September:   High-26°C   Low-14°C   Sea-25°C

4. TURKEY, EUROPE
Located on the border of Asia and Europe, Turkey offers a tantalizing amalgamation of Western and Eastern cultures. The country is swarmed by tourists from June to August due to the holiday season and hotel rates & airfares touch the roof. September provides you with an opportunity to enjoy Turkey at affordable rates, minus the crowds. It is the onset of autumn in Turkey and everything looks vibrant and enchanting. The attractions are open till October and the weather is pleasantly comfortable, making it easy to explore the famous attractions in Turkey. Visit the Blue Mosque, Topkapi Palace, and Hagia Sophia Museum in Istanbul, take a cruise across the Bosphorus strait, experience Hammam baths, watch the enchanting belly dancers, and enjoy the delectable cuisine.
No visit to Istanbul can be complete without shopping at the Grand Bazaar and Spice Bazaar for aromatic spices, jewelry, leather products, souvenirs, dried fruits, and lots more. Venture out of historical Istanbul to admire one of the most spectacular natural landscapes in the world in Pamukkale or enjoy a plethora of water sports on Kleopatra Beach in Alanya. Better still, visit Cappadocia to explore the fascinating culture, hot air balloon-dotted skies, and mind-blowing views.

Places to visit in September:   Istanbul, Cappadocia, Pamukkale, Alanya, Antalya
Average Temperatures in September:   High-29°C   Low-16°C   Sea-27°C

5. ARGENTINA, SOUTH AMERICA
In Argentina, September marks the advent of spring, and it's a great time to visit most parts of the country. The peak tourist season of January and February is around the corner, but it makes sense to visit Argentina in September. The slightly cooler temperatures are just right to explore the myriad attractions of this beautiful country. Buenos Aires has so much to offer travelers – countless parks, theatres & museums, elegant tree-lined avenues, amazing structures, mouth-watering cuisine, and quaint cafes.
If you have time, enjoy the wineries of Mendoza and the spectacular landscapes & ancient ruins of the Calchaqui Valley. Those interested in marine life should head to Valdes Peninsula to spot seals, penguins, and whales. And not to forget the magical Iguazu Falls that are bound to leave you awestruck. If you love festivals, there are Vinos y Bodegas in Buenos Aires and National Day of the Immigrant in Obera to enjoy. All this comes with affordable rates and sparse crowds, making it worthwhile to holiday in Argentina in September.

Places to visit in September:  Buenos Aires, Valdes Peninsula, Mendoza, Calchaqui Valley, Iguazu Valley, Lake District
Average Temperatures in September:   High-30°C   Low-10°C  

6. SOUTH AFRICA, AFRICA
If you are free to travel, September is one of the best months to travel to South Africa. September marks the end of the dry season and the beginning of spring. Due to drier and cooler conditions, animals are active and gather around watering holes providing an easy opportunity to spot the Big Five in Kruger National Park. Many animals give birth to their young adding to the excitement levels. 
Off the southern coast, whale watching is at its peak in Hermanus. During September, southern right whales migrate from Antarctica to give birth in warmer waters. To celebrate this phenomenon, the Hermanus Whale Festival takes place where you can enjoy the spectacle of little whales, dolphins, and sea lions frolicking in the water. It can be crowded in Hermanus during the festival, so make your booking in advance. The West coast of South Africa is also a sight to behold as colorful wildflowers take over the dry and dusty landscape. Cape Town is still cool and can be visited to get panoramic views from the top of the famed Table Mountain.

Places to visit in September:   Cape Town, Hermanus, KwaZulu-Natal, Western Cape, Kruger National Park
Average Temperatures in September:   High-27°C   Low-12°C

7. HAWAII, USA
Traveling to Hawaii can be prohibitively expensive in the summer months, so why not visit this paradise in September? Crowds have gone, costs have dropped, the ocean is still warm, temperatures are cooler and festivities are in full swing – reasons enough to book your tickets to Hawaii in September. The rainy season is around the corner, but September is quite dry with a low risk of hurricanes. The shining sun and small waves make the condition ideal for water activities. 
The gorgeous islands have something for everyone. You can relax on Waikiki Beach, hike in the majestic mountains, explore the live volcanoes, check out the myriad water sports, enjoy the Hawaiian culture, or make the most out of your plush resort. September has more than its share of festivities and parades. Aloha Festival, Mokihana Festival, and Hawaii Island Festival are the more popular ones.

Places to visit in September:   Honolulu, Pearl Harbor, Maui, Oahu, Kauai, Big Island
Average Temperatures in September:   High-29°C   Low-24°C   Sea 27°C

8. CHINA, ASIA
China can be really hot and humid in summer, and September brings some relief as the temperatures start dropping. The tourist places are relatively empty as the school rush is over and everything is cheaper. China is awash with fall colors and looks alluring. Northern regions are cool and dry, though southern regions remain quite humid. China is a huge country and, whatever the season. there is no dearth of places to visit. The Great Wall of China is a major attraction, but you can also explore Shanghai, Hong Kong, Macau, Xi'an, and the rest of Beijing. Cruising the Yangtze River, admiring the fall foliage in the Yellow Mountains, and meeting the giant pandas in Chengdu are the other options. The deep-rooted culture, inviting cuisine, cheap shopping options, and pulsating energy are added attractions for travelers. For festival lovers, there is the Mid-Autumn Festival and the Qufu International Confucius Culture Festival.

Places to visit in September:   Bejjing, Shanghai, Hongkong, Chengdu, Xi'an, Guilin
Average Temperatures in September:   High-26°C   Low-16°C  

9. INDONESIA, ASIA
The crowds disperse as the schools open up, but the weather is still warm and sunny with no signs of rain. September is definitely one of the popular times to visit Indonesia. Bali continues to be the most-visited island in Indonesia and with good reason. The sun-kissed beaches, vibrant coral reefs, forested volcanic mountains, charming waterfalls, iconic temples, scenic rice terraces, and fascinating culture are enough to draw travelers from all over the world. 
The weather in September is perfect to stretch on the pristine beaches, enjoy a few water sports, get a taste of high-end living in Seminyak, visit the temple Uluwatu, watch a flamboyant sunrise from Mount Batur or shop for local handicrafts in Ubud. If you want to see more of Indonesia, visit Nusa Tenggara for its heavenly beaches and Java for its spectacular volcanoes& striking temple complexes.
Places to visit in September:   Bali, Java, Sumatra, Nusa Tenggara, Kalimantan, Sulawesi
Average Temperatures in September:   High-29°C   Low-2°4C   Sea 29°C
10.  INDIA, ASIA
India manages to find a place in all my lists and why not? The country has an amazing diversity of landscapes, seasons, culture, history, ethnicities, and cuisine. Since it's so massive and well-spread out, travelers can always find places to visit, irrespective of the ongoing season. Monsoons start receding in most parts of India in September and it starts getting cooler and less humid. It is officially a low season everywhere, so you can avail of substantial discounts on hotels and flights. September is not a bad time to visit the Golden Triangle and you can admire the historic attractions in peace. Try to start your sightseeing early in the morning, to avoid the heat and the crowds. 
Kerala is still quite wet, but the languid backwaters and sprawling tea gardens are all the more enchanting due to the heavy rainfall. The freezing winters haven't yet started in the hilly areas of north India and everything looks peaceful, lush, picturesque, and inviting. Kashmir is virtually dry with lots of sunshine and pleasant temperatures, so it is a fantastic time to visit this stunning region. Arunachal Pradesh, Sikkim, Uttarakhand, and Himachal Pradesh are many places that can be visited during September. The energy and festivities of Ganesh Chaturthi in Mumbai and Onam in Kerala are seen to be believed.

Places to visit in September:   Delhi, Agra, Rajasthan, Kerala, Sikkim, Uttarakhand, Daman & Diu, Kashmir, Sikkim, Arunachal Pradesh
Average Temperatures in September:   High-35°C   Low-12°C 
Subscribe to Our Newsletter