India Itinerary - 2 Weeks & 3 Weeks
India Itinerary - 2 & 3 Weeks​
India is far too vast, diverse, and complex to be explored in a single trip. You would need months to fully appreciate the fascinating fusion of topographies, colors, flavors, and cultures. Unfortunately, we are all constrained by time and money and can only splurge so much on our travels. Planning an India itinerary with limited time is always challenging. In a span of a few weeks, you would only be able to scratch the surface of what India has to offer.
I've tried to put together a fantastic 2-week and 3-week itinerary that will allow you to experience the essence of India. Many people prefer to stay in one region, but if you are visiting India for the first time and want to see the major highlights, this itinerary is for you. If you fall in love with this vibrant country, you can keep coming back to discover more.
A trip to India can be crazy, frustrating, and overwhelming. However, if you set your fears and prejudices aside and follow these travel tips, you will have an incredible adventure in this spectacular country.
2-Week Itinerary for India
Day 1-2 of India Itinerary: Delhi
Given its excellent connections to the rest of the world, Delhi is the perfect place to begin your Indian trip. Historic sites like the Red Fort, Qutub Minar, and Humayun's Tomb are scattered throughout the capital city. The bustling metropolis is also known for its modern wonders such as Parliament House, Rashtrapati Bhavan, Lutyens Delhi, Lotus Temple, and India Gate. Try to explore the abundant green spaces, visit the iconic Delhi markets, and savor the delectable food. Take a rickshaw ride through the narrow, winding lanes of Chandni Chowk to experience the rustic, old-world charm of Delhi's oldest market. The Delhi Metro is very comfortable and well-connected and will take you to most parts of the sprawling city. Uber, Ola, taxis, and private cars are all affordable and readily available.
Best Places to Visit: Red Fort, Jama Masjid, Qutub Minar, Humayun's Tomb, Akshardham, Parliament House, Raj Ghat, Lotus Temple, Rashtrapati Bhavan, India Gate, Lodhi Gardens, Chandni Chowk.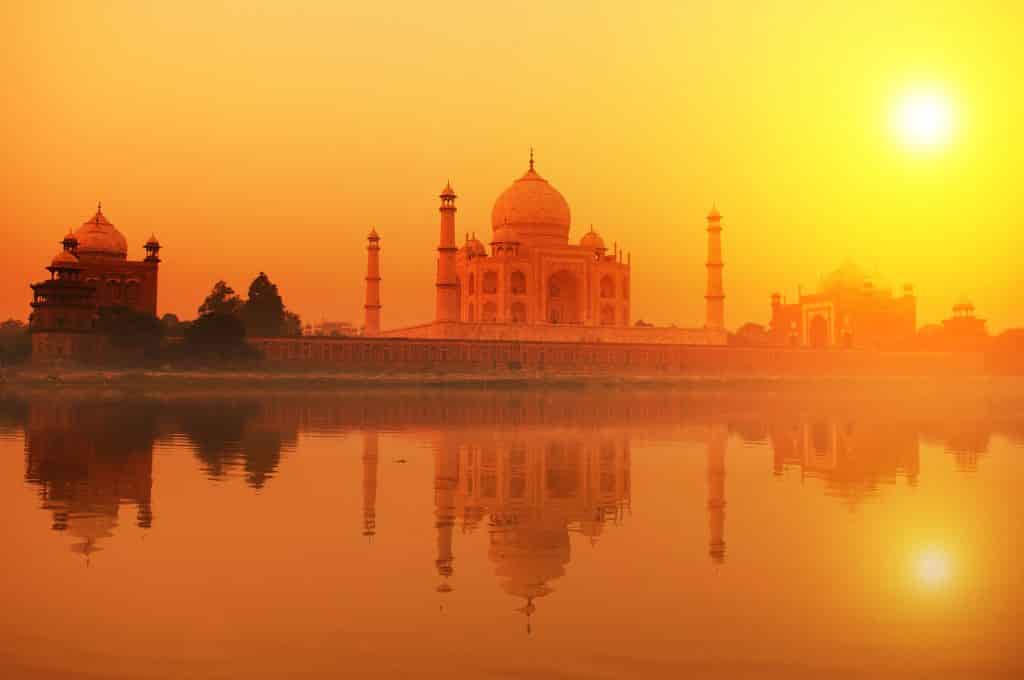 Day 3 of India Itinerary: Agra
We'll depart from Delhi today and travel early in the morning to Agra. You can commute from Agra by bus, train, or car. The Shatabadi Express departs Delhi around 6 a.m. and arrives in Agra in 2 hours. You cannot visit India and not see the Taj Mahal. The magnificent mausoleum is a sight to behold and will live up to your expectations. Nothing beats the allure of admiring the incredible masterpiece during sunset from Mehtab Bagh. Spend the remainder of the day visiting other Mughal wonders such as the Agra Fort, the Baby Taj (Itimad-ud-Daulah), and the Tomb of Akbar. Taj Mahal is closed on Fridays, so make sure that your days are aligned right to see the wonder.
Delhi-Agra by Road: 240km; 3-4hrs
Delhi-Agra by Train: 2-3hrs
Day 4-5 of India Itinerary: Jaipur
The famed Golden Triangle will be completed at our next stop, Jaipur. We have a lot to do there, so plan to depart from Agra early. If you're traveling by car or taxi, stop at the Fatehpuri Sikri on your way to Jaipur. The intricate carvings on red-stone palaces and the white-marble shrine of Salim Chisti are truly impressive. Rajasthan's capital city is one of India's most visited tourist destinations and for good reason. The majestic fortresses, the gorgeous City Palace, and the blush-hued streets of the 'Pink City' will quickly win you over. There's more if you're a tough nut to crack. The mouthwatering local cuisine, endless shopping, and warm hospitality are hard to resist. The chaotic bazaars of the old city are a great place to buy local handicrafts, gemstones, colorful juttis, lovely bangles, beautiful textiles, and much more.
Best Places to Visit: Amber Fort, City Palace, Jantar Mantar, Jaigarh Fort, Hawa Mahal, Nahargarh Fort, Jal Mahal
Agra-Jaipur by Road: 240km; 4-5hrs
Agra-Jaipur by Train: 4-5hrs
Day 6-7 of India Itinerary: Jodhpur
On the sixth morning, depart for Jodhpur. You can travel by car, bus, or train. Those commuting by road should stop in Pushkar for 2-3 hours. The only Brahma temple in the world is located in Pushkar, along with countless other ancient temples and holy Ghats. Jodhpur's main attractions are the majestic Umaid Bhawan Palace and the clifftop Mehrangarh Fort. Book the Blue City Heritage Walk, which will take you deep into the historical old city. Jodhpur is also called the "Blue City," because a section of the town is painted in a hundred different shades of blue. The local cuisine is to die for, and you should not leave Jodhpur without indulging in Mirchi Bada, Mawa Kachori, Jalebi, and Makhaniya Lassi.
Best Places to Visit: Mehrangarh Fort, Umaid Bhavan Palace, Jaswant Thada, Toorji ka Jhalra Stepwell
Jaipur-Jodhpur by Road: 335km; 5-6hrs
Jaipur-Jodhpur by Train: 5hrs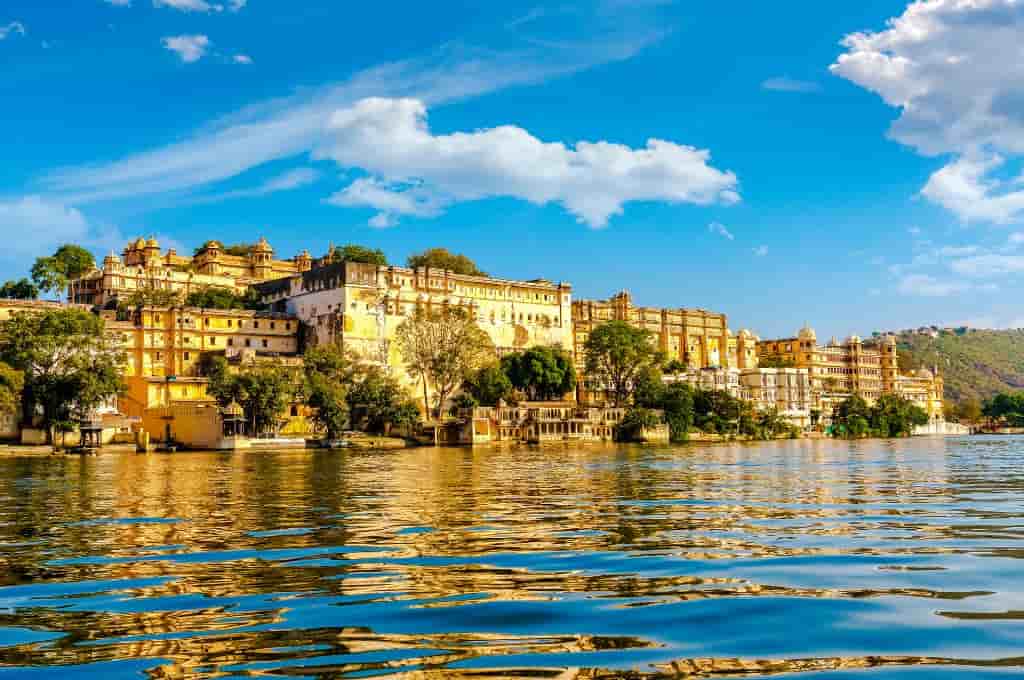 Day 8-9 of India Itinerary: Udaipur
Udaipur is about a 5-hour drive from Jodhpur. Those traveling by car/taxi can stop mid-way at the remarkable Ranakpur Temple. Over 1400 pillars support the Jain temple, each intricately carved and unique. Udaipur, nestled between the majestic Aravalli, is surrounded by many picturesque artificial lakes, including Rajsamand Lake, Jaisamnad Lake, and Fateh Sagar Lake. This is also the reason the romantic city is nicknamed "Venice of the East" and "The City of Lakes." The must-see attractions are the opulent City Palace and the ravishing Lake Palace, which floats in the middle of Lake Pichola. The art galleries, craft shops, and quaint cafes lining the narrow lanes set it apart from other Rajasthani towns. Dine on a haveli rooftop or take a boat ride at sunset for spectacular views of the fairytale palaces and the glistening Pichola.
Best Places to Visit: Lake Palace, City Palace, Jag Mandir, Saheliyon Ki Bari, Jag Niwas
Jodhpur-Udaipur by Road: 250km; 5hrs
Jodhpur-Udaipur by Train: No direct train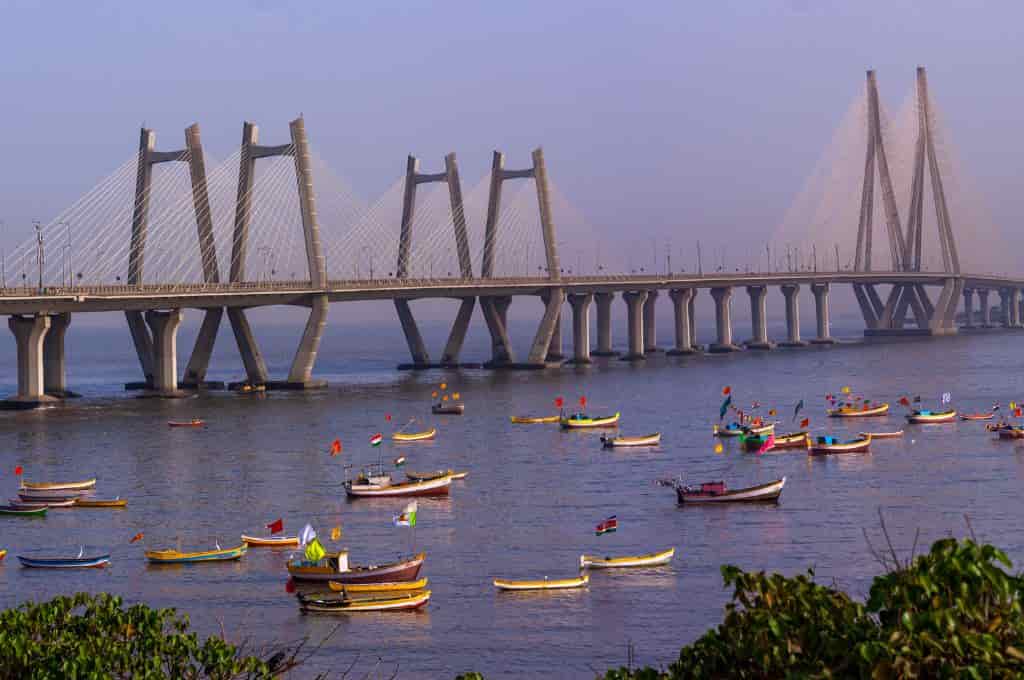 Day 10-11 of India Itinerary: Mumbai
We'll now travel south to Mumbai, India's commercial capital. There are multiple flights leaving from Udaipur to Mumbai. Book early because prices can skyrocket during the high season. Mumbai is a city of contrasts, where luxurious skyscrapers coexist with Asia's largest slums. The cosmopolitan city has its share of tourist spots like Elephanta Cave temples, Gateway of India, and Marine Drive. However, Mumbai is not the place to cross things off your to-do list. All you have to do is wander around and soak in the atmosphere of this vibrant, jam-packed city. Admire the old colonial buildings, visit art galleries and boutiques, walk along Marine Drive, drive down the sea-link, explore the hipster suburbs, gorge on lip-smacking street food, and dine in gourmet restaurants.
Best Places to Visit: Elephanta Cave Temples, Dharavi (largest slum), Taj Mahal Palace Hotel, Victoria Terminus, Marine Drive, Gateway of India, Haji Ali Mosque
Udaipur-Mumbai by Plane: 1.5hrs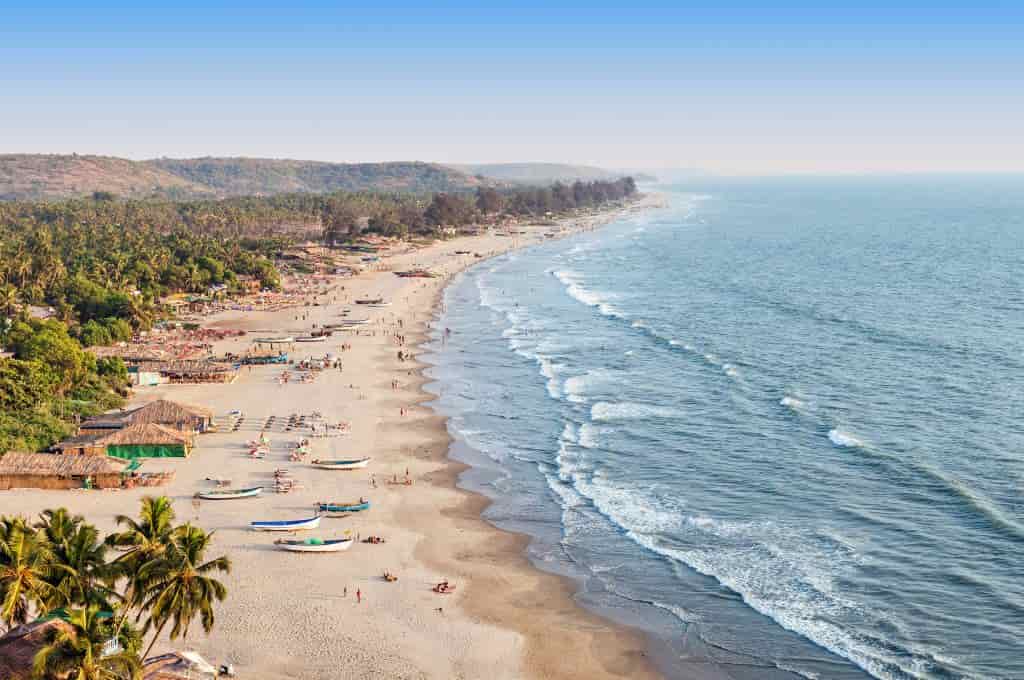 Day  of India Itinerary: 12-13: Goa
Fly to Goa, our final destination. It's time for self-indulgence and relaxation after days of sightseeing. The beach town of India is popular with both domestic and international visitors. People simply love the city and keep returning. You'll enjoy the lively beaches, lush countryside, fresh seafood, warm waters, and laid-back vibes. Relax with a drink in the hotel pool, grab food at the rustic beach shacks, participate in water activities, learn yoga, and party late into the night. Depending on the time in hand, visit attractions such as Doodhsagar Falls, 17th-century churches, tropical spice plantations, wildlife sanctuaries, Portuguese Forts, flea markets, and beaches in both North and South Goa. The city is teeming with hotels, hostels, and Airbnb for every budget. You'll never run out of places to stay.
Best Places to Visit: Calangute Beach, Candolim Beach, Palolem Beach Baga Beach, Cavelossim Beach, Agonda Beach, Vagator Beach, Anjuna Beach, Panjim, Fort Aguada, Chapora Fort, Vasco De Gama, Doodhsagar Falls
Mumbai-Goa by Plane: 1.5hrs
Day 14 of India Itinerary: Mumbai / Delhi
We have completed our two-week trip to India. Depending on your tickets, fly back to Mumbai or Delhi for your return flight home.
Goa-Mumbai by Plane: 1.5hrs
Goa-Delhi by Plane: 2.5hrs
3-Week Itinerary for India
Day 1-2 of India Itinerary: Delhi
Arrive in Delhi and spend a couple of days getting to know the capital city.
Day 3-4 of India Itinerary: Varanasi
We have included a stop in Varanasi as part of this three-week stay. Varanasi is one of the world's oldest inhabited cities and India's spiritual capital. The colorful city is drenched in festive fervor and spiritual vibes. This is the perfect place to experience and understand the depth of Hindu culture and religion. Here you will see the celebration of both life and death. Visit the most revered temples, shrines, and Ghats, which rise in several tiers from the water's edge. Get up early to take a sunrise boat ride on the Ganges and observe the morning ceremonies as the city awakens.
The highlight is the flamboyant Ganga Aarti, which happens every day after sunset and involves priests and devotees singing hymns while holding lit lamps in their hands. The holy city is also an excellent location for a Yoga class. Wander through the chaotic lanes to sample the mouthwatering chaat, lassi, paan, and other local delicacies. It is best if you return to Delhi for the fourth night so that you can leave for Agra early in the morning.
Best Places to Visit: Banaras Hindu University, Sarnath, Bharat Kala Bhawan, Shri Kashi Vishwanath Temple, Durga Temple
Delhi-Varanasi-Delhi by Plane: 1hr25mts One Way
Delhi-Varanasi by Overnight Train: 12hrs
Day 5-16: Agra->Jaipur->Udaipur->Jodhpur->Mumbai->Goa->Mumbai
Follow the same plan as outlined in the two-week itinerary above. We will fly back to Mumbai from Goa and then to Kochi for the Kerala experience. Because of its unspoiled vistas and lush vegetation, Kerala is popularly known as "God's Own Country".
Day 17-18 of India Itinerary: Munnar
Kochi, Kerala's historic harbor town, is an excellent place to start your Kerala itinerary. Once we land in Kochi, we will immediately depart for Munnar. It is best to hire a car/taxi for the remainder of the itinerary. The drive takes about 4 hours, but the scenic views will keep you energized. India has many tea plantations, but Munnar is unquestionably one of the most picturesque. You will always be surrounded by emerald-green tea plantations, pretty waterfalls, serene valleys, and blankets of mist. Because Munnar is higher in the mountains, the weather is great for long hikes, leisurely walks, and relaxing evenings. Take advantage of the opportunity to experience a traditional Ayurvedic massage and watch the energetic Kalarippayattu – Kerala Martial Arts.
Best Places to Visit: Eravikulam National Park, Echo Point, Mattupety Dam, Top Station, and tea plantations.
Mumbai-Kochi by Plane: 2.5hrs
Kochi-Munnar by Road: 130kms; 4hrs
Day 19-20 of India Itinerary: Kumarakom / Alleppey
The enchanting backwaters of Kumarakom or Alleppey are Kerala's main draw. You can pick either of the two for your next stop. Kumarakom is a group of small islets while Alleppey is a town-based destination. Alleppey offers more choices and has better infrastructure if you want to stay on a houseboat. Spend a couple of nights on a houseboat cruising the maze of winding canals and waterways and taking in the panoramic views surrounding you. One can also pedal a canoe to reach the smaller canals at certain points.
Kumarakom, set against the backdrop of Vembanad Lake, is less crowded than Alleppey and is home to some of Kerala's most luxurious hotels.  Many resorts offer a package that includes a night on a houseboat. Experience breathtaking vistas of coconut groves, green paddy fields, bird sanctuaries, and mangrove-colored lagoons during your stay in Kumarakom. Alleppey and Kumarakom stand in stark contrast to other congested cities in India. You can soak in the tranquility, indulge in a spa treatment, go on a sunset cruise, or simply do nothing. A trip to the backwaters is the ultimate way to round off your whirlwind Indian odyssey.
Munnar-Kumarakom by Road:  165kms; 4-5hrs
Munnar-Alleppey by Road: 155kms; 4-5hrs
Day 21 of India Itinerary: Kovalam-> Mumbai / Delhi
From Alleppey or Kumarakom, take the road to Kovalam. If you have time, you can visit the beaches of Kovalam, which are popular due to their low tidal waves and shallow waters. It is the final day of our three-week trip to India. So, catch a flight to Mumbai/Delhi for your return trip home.
Kumarakom-Kovalam by Road: 175kms; 4-5hrs
Alleppey-Kovalam by Road: 160kms; 4-5hrs
Kovalam-Delhi by Plane: 3hrs
Kovalam-Mumbai by Plane: 2.5hrs
What is the best time for this itinerary?
India is a vast country with diverse climates. The best time to travel will depend on the areas you intend to visit. The above-mentioned itinerary is best scheduled between October and March. The scorching summer months are long gone, and we are at the tail-end of the monsoon season. In December and January, temperatures in Delhi and Rajasthan may drop significantly, but nothing that cannot be tolerated with appropriate clothing. Goa, Mumbai, and Kerala are just perfect during these winter months. If you're visiting between April and June, skip this itinerary and instead head to the hilly regions of Northern India. The monsoon season lasts from June to September and affects the majority of the country. It is best to avoid visiting India during that period.
How to travel within India?
In India, intercity and interstate transportation are very efficient, and you can travel by bus, train, plane, or taxi. However, since we only have a limited amount of time, it is best to make the most of it by taking flights and taxis. For the best rates, book your flights well in advance. Taxis are very comfortable and reasonably priced if reserved through the proper channels. You won't have to worry about getting around the city when you rent a car for your intercity travels. Don't try to drive in India because traffic is chaotic and unorganized. Many sectors have high-speed trains (Delhi-Agra), which can also be used to commute between cities. If you plan to travel by train, always choose air-conditioned coaches (even in the winter), as they are much cleaner and roomier.
Subscribe to Our Newsletter