Essential Travel Tips for Leh Ladakh Trip
Travel Tips for Leh Ladakh Trip
Visiting Leh-Ladakh is a dream of every Indian. The surreal landscapes, rugged topography, barren panoramas, intriguing soundlessness, & stunning high-altitude lakes have a unique charm that cannot be described in words. Unfortunately, it is not a destination where you can just pack your bags and leave. Due to the extreme climatic conditions and low oxygen levels, tourists have to exercise a few precautions while touring Leh-Ladakh. The harsh terrain, scary remoteness, dangerous roads, patchy network, & lack of infrastructure makes Leh-Ladakh a tough place for a holiday. A vacation in Leh-Ladakh needs proper planning and serious thought about every aspect of the trip.
After the success of the movie "3 Idiots", there has been a surge in tourism in Ladakh. Thousands of people visit it every year including families, solos, and honeymooners. After coming back from a challenging trip to Leh-Ladakh, I decided to list down a few essential tips for visiting Ladakh. It becomes vital that everyone takes precautions while visiting Leh-Ladakh so that they can enjoy a safe, hassle-free, and enjoyable trip.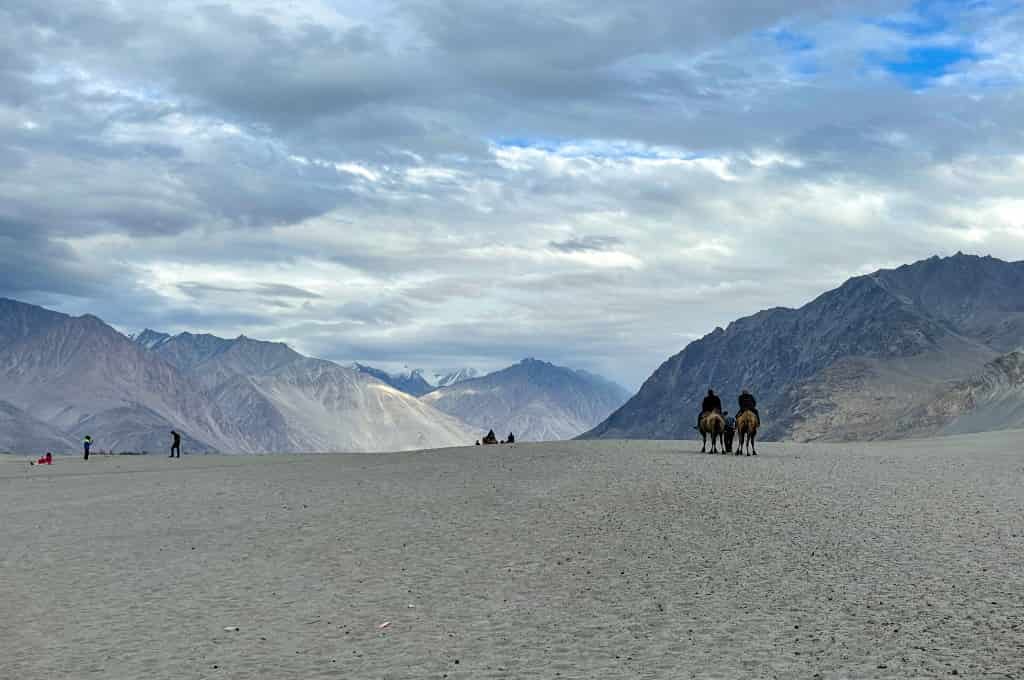 Get Acclimatized
Acclimation is the major problem that everyone faces in Leh-Ladakh. Ladakh is a high-altitude mountain region with an altitude ranging from 10,000 ft to 23,000 ft above mean sea level. This can result in Acute Mountain Sickness. AMS can cause nausea, vomiting, headache, breathlessness, lethargy, rapid heart rate, and lack of appetite. Even fit people can be severely affected by AMS. Your body needs to get acclimatized to low atmospheric pressure and low oxygen availability. If you have high blood pressure, asthma, or heart problems, consult your doctor before planning a trip to Ladakh. In severe cases, you may need oxygen or hospitalization.
Start taking a Diamox tablet 2-3 days before you came to Leh, especially if you are flying in. In case you are driving, this shouldn't be a problem as the gradual rate of ascent will give you time to acclimatize to higher altitudes. it can take your body up to 48 hours to get used to low oxygen availability. So, relax in your room, drink plenty of fluids, eat light meals, and avoid alcohol/smoking. If you are suffering from extreme symptoms, don't hesitate to ask for oxygen supplies or a doctor. You should ideally reserve the first 2 days in Leh for getting your body used to the changed conditions. After that, you can depart for Nubra valley/Pangong Lake. Don't over-exert yourself, especially on the high-altitude passes. If you notice any symptoms, take a rest and descend immediately to low-altitude regions.
Carry your First-Aid kit
While traveling in Ladakh, especially outside Leh, instant medical help is not readily available. In certain remote hilly areas, it can be hard to find medical supplies. So, it is better to be well-equipped with your First-Aid box. The First-Aid box must include medicines for vomiting, headache, motion sickness, fever, & stomach ache besides other medicines that you need on a daily basis. Please bring enough stock to last the entire trip and don't rely on getting them replenished in Leh. It is advisable to carry a thermometer, sanitizer, & oximeter. You can also rent an oxygen cylinder locally that you can carry on long and challenging road trips. In case of medical emergencies on road, try to visit the nearest Army General Hospital or Army camp for help.
Keep some Extra Time
While planning an itinerary in Leh-Ladakh, do not limit yourself to strict timelines. Ladakh has a tough terrain and roads are in bad shape due to heavy snowfall during winter. Landslides, snowstorms, roadblocks, repair work, and traffic snarls can prolong your journey by hours, jeopardizing all your carefully laid plans. In such a scenario, the only option is to wait for the roads to be cleared and reopened. If you are not able to recover from AMS quickly, it can also delay your onward journey. So, always keep a buffer of 2 days over & above your actual itinerary.
Pack Essentials
Whatever the season in Ladakh, always carry adequate warm clothes with you as the temperatures drop sharply after the sunsets. Layering is also always a good idea. If you are visiting Leh-Ladakh in winter, pack heavy winter clothing, boots, and windproof jackets. Pack suntan lotion, sunglasses, hats, toilet paper, car chargers, power banks, and other essentials.  Keep a reserve of edibles like chocolates, snacks, dry fruits, biscuits, energy bars, packaged food, and non-alcoholic drinks with you when you are on road. Remote areas have limited food options and these items will come in very handy. You might not see a shop or café for hours, so you have to keep yourself prepared for hunger pangs.

Be cautious on road trips
In Leh-Ladakh, the only option is on-road transportation. You can self-drive or take a taxi. However, the roads are in a really bad state in some stretches. Additionally, they are often impacted by landslides, traffic snarls & roadblocks. Before you leave for your destination, check that the route is open. Fill your vehicle with petrol/diesel as you might not find any petrol pumps in far-off areas. Start early in the morning as the average speed is very less in Ladakh and it is best to reach your destination before dark. Carry an offline map in case Google Maps doesn't work due to poor internet. 
Drive a car or motorbike only if you are well-equipped and at ease on the raw mountain roads. There are several stretches that face a real threat from stones falling from the hill down the road. Do not stop or slow down in the shooting stone area. Bikers must never travel without helmets. Be prepared with spare parts like puncture kits, tire tubes, cables, etc. as vehicle breakdowns are quite common in Leh-Ladakh.
Lack of mobile connectivity
Leh-Ladakh is a sensitive area due to its proximity to the Chinese and Pakistani borders. It is also situated at a higher altitude and very remote. As a result, you will find no network in most of the inner areas. Only post-paid networks are allowed here, so your mobile may be useless if it has a pre-paid plan. Keep your family and friends informed of your plans so that they don't worry if they are not able to contact you for hours. If you get stuck somewhere, remember that help is not just a phone call away. Keep that in mind and plan accordingly.
Permit Requirements in Ladakh
An inner Line permit is a travel document issued by Indian authorities so that you can travel to restricted areas. The government has recently scrapped the Inner Line Permit for Indian citizens. Foreign tourists still need a Protected Pass Permit to visit the protected areas. PAPs can only be obtained through a registered travel agent. The permit is only issued for a group of four or more overseas tourists.
Few Bonus Tips
Do not travel with very young children, especially those who are unable to speak when they are ill. It is simpler if the children are over the age of five. Infants under the age of three months should not travel to Leh since their lungs are not yet mature enough to endure altitude sickness.
If you traveling with a child, be very vigilant about the kid's physical condition and give her/him time to get acclimatized slowly. Protect them from very high altitudes and bitter cold.
There are a few ATMs in Leh, but nothing beyond that. These ATMs are also nonoperational many times. So, come prepared with sufficient

cash

as small eateries, shops, & hotels will not take cards
Check the weather before leaving home. If the weather is not favorable, a trip to Ladakh can be dangerous.
May-

September

is the best time to visit Ladakh.
Buses are available for inter-city transport. However, due to unpredictable weather conditions, their services are irregular.
Try to travel in a group while visiting Leh, especially if you are visiting remote areas. Few routes like Nubra Valley to Pangong are really far away and isolated. You won't see a shop or a car/person for miles and there is no network coverage. Any help might be hard to find and things can become worrisome in case of a mishap
Leh-Ladakh is a plastic-free zone, so please do not carry any plastic bags with you. Do not litter.
Avoid staying in Pangong Tso if you are prone to AMS. The lake is one of the high-altitude lakes in

India

and the lack of oxygen makes survival difficult, especially in winter. Insufficient medical aid, non-existent infrastructure, and isolation of the region make a stay at Pangong Tso a risky proposition.
Carry your original government identity card with you at all times – Aadhar card/passport copy/Driver's License. Also, keep multiple photocopies of your IDs as you might need to submit them at various checkpoints.
There are many areas like airports and monasteries where photography is strictly prohibited. Follow the rules.
Power cuts are quite common in the region so carry a torch and power bank with you at all times.
Check if your hotel has oxygen supplies within the premises. It can be difficult to arrange for a cylinder when you are lying sick in your hotel bed if the hotel staff is not helpful. Do your research before booking accommodations.
If you are prone to motion sickness, take the necessary medications before starting your long road journeys.
It is difficult to find public toilets as they are few and far between. The only option is to use washrooms attached to small eateries. Their hygiene and cleanliness leave a lot to be desired, so carry your sanitizer, toilet roll, etc.
The aim of listing these tips is definitely not to scare anyone. Leh-Ladakh is a rustic, unspoiled, & striking destination that should definitely find a place on your bucket list. But it cannot be denied that if you want to visit Leh-Ladakh, you should be cautious and take all the required safety measures.
Subscribe to Our Newsletter