Best Places to Visit in Europe in Winter
Best Places to Visit in Europe in Winter
Summer is typically associated with Europe vacations, but if you are willing to brave cooler temperatures, winter is a magical time to visit many European destinations. With so many different countries and cities on one continent, Europe provides a cultural and visual feast for would-be winter travelers. Christmas markets, mulled wine, world-class ski resorts, ice festivals, thermal pools, winter sports, northern lights, and snow-dusted chateaus – there are many pros to visiting Europe during the winter. And if you're looking for a place to get away from the cold, you won't be disappointed. There are lots of locations in southern Europe where you can soak up the mild winter sun.
During the winter, number of visitors are significantly lower, and in some places, there are hardly any tourists. This means you won't have to deal with packed beaches, elbow-jostling crowds, and long lines. Winter is an excellent time for budget travelers to explore Europe as they can take advantage of fantastic travel deals. From sunny Mediterranean cities to cozy ski resorts, Europe has something for everyone. Take a look at our top picks for the best European cities to visit in the winter.
1.  Prague, Czech Republic
Prague is incredibly busy during the summer, but only a fraction of the tourists visit during the winter. However, the winter months are an excellent time for traveling to Prague because it transforms into a postcard-perfect winter fairyland. What better way to immerse yourself in the holiday spirit than by visiting the Christmas markets in Old Town Square, admiring the stunning snow-capped spires, basking in the inviting glow of old-fashioned street lamps, and sipping a mug of mulled wine? 
Ice skating can be enjoyed right in the historical city center at Ovocny Trh or at one of the city's many sky-rinks. If you can plan a trip around the 20th of December, you will see the entire city lit up with Christmas lights, vibrant hues, catchy music, and non-stop festivities. In February, Prague celebrates the Carnival Festival, which is a great time to visit if you want to see a parade of giant puppets and whimsical costumes. If you're in the area long enough, a day trip to Cesky Krumlov should be on the agenda.
Places to Visit in Prague: Clock Tower, Vltava River, Prague Castle, Charles Bridge, Wenceslas Square, Old Town Square, Dancing House
Min & Max Temperature in December: -2°C to 2°C
2).  Lisbon, Portugal
A sunny 15-16 degrees Celsius in the middle of winter is what you can expect in Lisbon. If you don't want to spend the entire trip bundled up in your winter jacket, you should consider visiting the Portuguese capital. On some days, you can easily walk around the picturesque streets in your summer clothes. Most areas are accessible in the winter, even though there are fewer people around. While wintertime may be slightly rainier, there will still be plenty of clear days with bright blue skies and warm sunshine. 
You will be able to appreciate views from St. George's Castle, ride the iconic Lisbon Tram 28, shop in the pedestrian shopping areas along Rua Augusta Arc, and enjoy the nightlife in Lisbon. There are plenty of cafes, bars, and eateries along the winding streets of Alfama, the oldest area of the city. Wonderland Lisboa, a holiday market and fair, is one of the most exciting events in December. Take a day trip to Sintra, where you will find a true fairytale palace (Pena Palace). Another great choice for a day trip is Cascais or Estoril.
Places to Visit in Lisbon: Pena Palace and Park, Old Town, St. George's Castle, Tagus River promenade, Rua Augusta Arc, National Museum of Ancient Art, Azulejos Museum, São Jorge Castle, Belém Tower, Carmo Convent
Min & Max Temperature in December: 9°C – 15°C
3).  Budapest, Hungary
Budapest is one of the cheapest yet prettiest places to visit in Europe in the cooler months. And, because there aren't as many people around, you can take your time exploring the beautiful city. Budapest is known as the 'City of Baths' and is famed for its therapeutic thermal baths. The freezing temperatures are the perfect excuse for a soak in thermal saunas. The Szechenyl Thermal Baths and the Gellert Baths are the largest and most visited.
Budapest, of course, has more than its fair share of iconic landmarks and panoramic views to tick off the list. The city's numerous bridges, tall churches, magnificent Parliament building, and Danube River bridges are frequently dusted with snow, enhancing the city's charm and festive spirit. Embrace the cold with fun activities like ice skating in front of Vajdahunyad Castle. Visit the acclaimed State Opera House and catch a ballet or opera. The heartwarming Hungarian cuisine and lip-smacking street food are another reason to fly out to Budapest in any season. Budapest is loved for its quirky ruin bars. A little bit of cold should not detract from your bar-hopping experience
Places to Visit in Budapest: Buda Castle, Fisherman's Bastion., Vajdahunyad Castle, State Opera House, St. Stephen's Basilica, Hungarian Parliament, Jewish Quarter, Gellért Hill
Min & Max Temperature in December: –1°C to 3°C
4).  London, United Kingdom
London is always phenomenal and is undoubtedly one of the best places to spend winter in Europe. During December, London becomes a Christmas capital, boasting its own Santa Claus, Christmas grottos, and festive window displays on Oxford and Regent Streets. Hyde Park is transformed into a Winter Wonderland, complete with ice and snow sculptures, an ice-skating rink, ice bars, chalet-style huts, a circus, rides, live music, and Santa Land.
With museums, pubs, shows, art galleries, and other entertainment options, the amenities and attractions are all designed to make indoor living enjoyable. On clear winter mornings, you can take a walk along the Thames to catch glimpses of the famous London landmarks. Christmas markets in London are among the best and most loved in Europe. Take advantage of the January sales and go on a shopping spree. From big-name brands to high-street shops to unique gifts, there is no better place to shop than London.
Christmas at Kew Gardens is an after-dark event that takes visitors through illuminated trails, live performances, and spectacular displays. If you choose to ring in the new year in London, you will witness breathtaking fireworks displays.
Places to Visit in London: London Eye, Madame Tussauds, Kew Gardens, Piccadilly Circus And Trafalgar Square, Hyde Park, Buckingham Palace, Big Ben, St Paul's Cathedral, Tower of London
Min & Max Temperature in December: 3°C to 8°C
5).  Copenhagen, Denmark
During the winter, Copenhagen is one of Europe's most charming cities. The Danes adore their hygge (Danish concept of coziness) and spend their afternoons and evenings drinking chocolate and admiring their idyllic surroundings. Cozy cafes, Christmas markets, architectural marvels, numerous museums, twinkling lights, beautiful parklands, and scenic views – Copenhagen has everything you need for a perfect winter vacation. Although winter temperatures can be freezing and the sun sets early, the magic comes alive at dusk when the holiday decor is at its best.
No trip to Copenhagen is complete without a visit to Tivoli Gardens, the inspiration for Walt Disney World. If your visit coincides with Saint Lucia Day, you will see several illuminated kayaks floating through the canals. Wondercool, which takes place in February, features concerts, art shows, and culinary events.
Places to Visit in Copenhagen: Tivoli Amusement park, Rosenborg Castle, Christianborg Palace, Lousiana Museum of Modern Art, Kongens Have, Copenhagen Opera House, Kastellet, Nyhavn, Kronprinsensgade Street, Little mermaid
Min & Max Temperature in December: 0°C to 5°C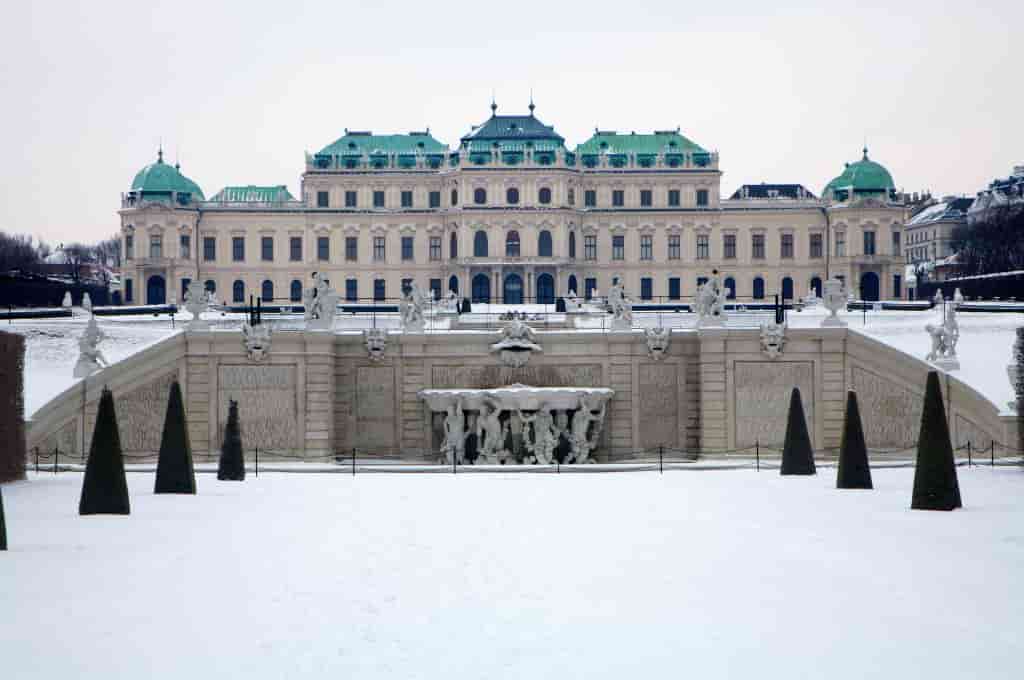 6).  Vienna, Austria
Elegant and opulent, Vienna is a top-notch destination all year round. The Austrian capital attracts millions of visitors each winter who come to marvel at the flurry of snow, the finest restaurants, grand Baroque architecture, multiple museums, and classical concerts at Vienna's State Opera House. In December, the City Hall Square is transformed into a winter wonderland with packed Christmas markets, exciting workshops, and fantastic light shows. The front of Schonbrunn Palace is another bustling hub, hosting musical concerts, handicraft shops, and festive fervor. 
Belvedere Palace is one of Vienna's most Instagrammable landmarks and is well worth a visit in any season. In January, the Christmas markets are replaced by Vienna Ice Dream, an impressive ice-skating rink in front of City Hall. Because of Vienna's location, you're never more than an hour's drive from some of the world's best skiing resorts, including St. Corona and Semmering.
Places to Visit in Vienna: Schonbrunn Palace, Belvedere Palace, State Opera House, St. Stephen' Cathdral, Rathaus, Karlsplatz, Wien Museum, Sigmund Freud Museum, Hofburg Palace, Naschmarkt, Wiener Riesenrad
Min & Max Temperature in December: -3°C to 5°C
7).  Lake Bled, Slovenia
A fairytale destination in any season, Lake Bled is truly magical in winter when the snow lies thick on the surrounding mountains. The tranquility of the alpine resort town is best experienced when the town is nearly deserted. The accommodations are significantly less expensive during the winter months, making it an even more appealing option for a winter getaway. Take a pletna boat to Bled Island, which sits in the middle of the elegant Alpine Lake. 
The medieval Bled Castle is perched atop a high cliff and offers amazing panoramas of the lake and the Julian Alps. The town comes alive with decorations, lights, and Christmas markets in December, making it one of the best months to visit. If the cold starts to bite, treat yourself to one of Bled's many thermal pools, saunas, and spa treatments. Relish the decadent hot chocolate, mulled wine, Slovenia Potica, and Bled Cream Cake. The surrounding Triglav National Park is ideal for winter activities like snowshoeing, skiing, skating, snowboarding, and cross-country skiing. If you are in Lake Bled for a few days, plan a day trip to Ljubljana and Lake Bohinj.
Places to Visit in Lake Bled: Bled Island, Bled Castle, Vintgar Gorge, Triglav National Park, Provost's House
Min & Max Temperature in December: -7°C to 3°C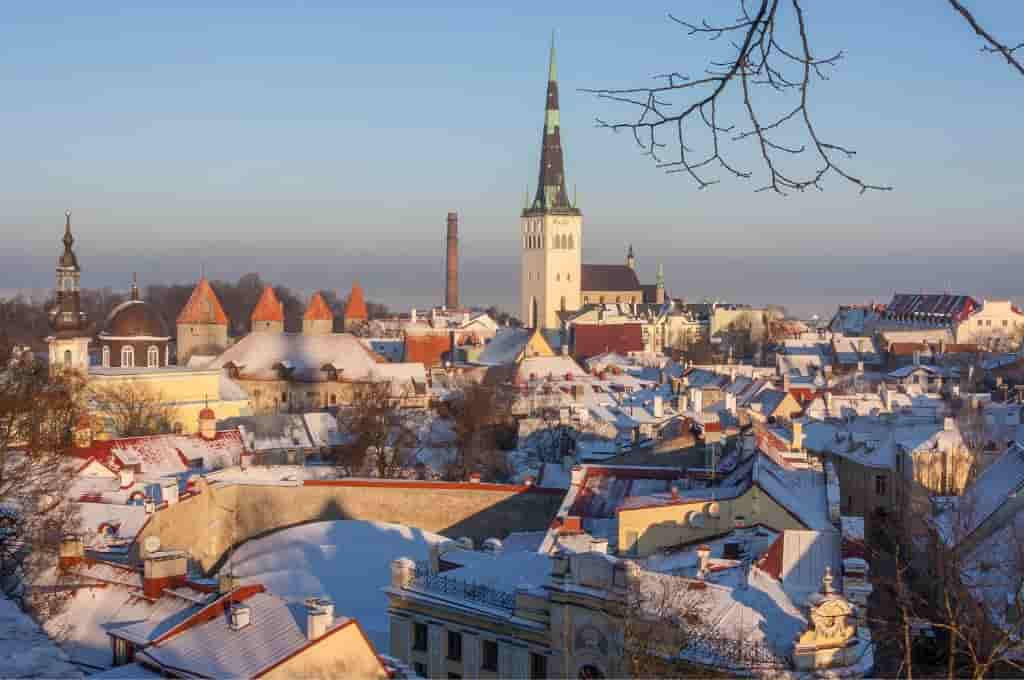 8).  Tallinn, Estonia
Sitting snugly on the fringes of the Baltic Sea, Tallinn is another European destination for the winter months. The beauty of the cobblestoned backstreets, warm cafes, chic galleries, turreted castles, medieval churches, and decades-old houses is only enhanced by the thick layer of snow that blankets the city. Since you'll have the Old Town to yourself, take a leisurely stroll through the ancient walls that encircle it and admire the architecture and views from Toompea Hill. 
The Town Hall Square serves as the focal point for the famous Christmas celebrations, which are steeped in traditions dating back hundreds of years. Tallinn and Riga were the world's first cities to set up Christmas trees. There are over 40 museums in the city, covering everything from local history to modern art, photography, and film. Those looking for winter activities should venture outside of Tallinn to enjoy bog skating, winter kitesurfing, and dog sledding. The massive frozen Jagala Waterfall is located not far from Tallinn.
Places to Visit in Tallinn: Estonian History Museum, Telliskivi Creative City, KGB Museum, Jagala Waterfall, Town Hall, Toompea Hill & Castle, Kadriorg Palace and Park, Noblessner seafront quarter, Rotermann Quarter
Min & Max Temperature in December: -5°C to 1°C
9).  Reykjavik, Iceland
Wintertime in Reykjavik is typically cold and challenging, but it also provides unique experiences and stunning natural beauty. The limited amount of daylight – approximately 4-5 hours – is one of the most noticeable aspects of winter in the capital city. This can be a significant adjustment for visitors, but it also means more opportunities to see the beautiful Northern Lights (Aurora Borealis). The jaw-dropping natural light display is best seen during long dark nights and a clear sky.
Reykjavik has a thriving cultural scene, full of festivals, concerts, and events that will undoubtedly make your trip memorable. Make sure to venture outside the city and explore the famed Golden Circle. The tour will not only increase your chances of seeing the Northern Lights, but it will also take you through diverse landscapes, including snow-capped mountains, wild seas, lava fields, geysers, waterfalls, and natural hot springs. Despite the cold, you can enjoy many outdoor activities such as ice skating, skiing, snowboarding, snowmobiling, and even whale watching.
Visit the famous Blue Lagoon and soak in the warm, mineral-rich water while admiring the frozen, moon-like surroundings.  The annual free Winter Light Festival is one of Europe's best winter celebrations, featuring a variety of winter sports and imaginative light displays.
Places to Visit in Reykjavik: Golden Circle, Gullfoss Waterfall, Blue Lagoon, Thingvellir National Park, Sky Lagoon, Skogafoss, Gljufrabui, Hallgrímskirkja Church, Downtown Reykjavik, Aurora Reykjavik, Old Harbour district, Videy Island, Bruarfoss waterfall
Min & Max Temperature in December: -2°C to 4°C
The car-free village of Zermatt is a renowned ski resort town located at the foot of the iconic Matterhorn mountain, one of the most famous peaks in the Swiss Alps. Zermatt has the highest and largest high-altitude ski area in the world, sitting at an elevation of 1608m and offering some of the most incredible vistas in the world.  It is a skier and snowboarder's paradise, catering to all skill levels, from beginners to experts. The slopes are well-kept, and there are plenty of ski schools and rental shops. 
During the winter, Zermatt receives an abundance of snowfall, blanketing the region with a thick layer of snow. The surrounding mountain peaks, such as Gornergrat, Sunnegga, and Klein Matterhorn, are easily accessible via cable cars, trains, and funiculars. Skiing and snowboarding are available all year long at Zermatt's Glacier Paradise – the highest cable car station in all of Europe. The Glacier Paradise provides staggering panoramic views of the encircling summits and is an absolute must-visit. After a day in the snow, you can unwind at one of Zermatt's luxurious spas and wellness centers.
Places to Visit in Zermatt: Matterhorn, Gornergrat, Sunnegga, Kleines Matterhorn, Stockalper Palace, Gorner Glacier, Theodul Glacier, Glacier Paradise, Rhône Valley
Min & Max Temperature in December: -2°C to -10°C
11).  Paris, France
Paris is lovely in the summer, autumn, spring, and winter, and that makes it a great European city to visit in the winter. Hotels are significantly cheaper, lines are much shorter, and a sense of tranquility takes over the city's crowded markets and famous attractions. From late November to early January, Paris becomes a winter wonderland, with striking Christmas decorations adorning its streets and landmarks. The Champs-Élysées, Notre Dame Cathedral, and the Eiffel Tower are especially beautiful during this time of year, lit up with millions of lights and Christmas decorations.
Several temporary ice-skating rinks pop up throughout the city, providing a fun and festive activity for both locals and visitors. Sitting in a warm café, sipping hot chocolate or mulled wine, and watching the world go by is a quintessential Parisian experience. Paris has a plethora of world-class museums and galleries that are ideal to visit during the winter months when the weather may not be as inviting for outdoor activities.
If you enjoy shopping, winter is a great time to visit Paris as it coincides with the annual sales season, known as "Les Soldes." If you're willing to brave the cold, the winter months are a fantastic time for day trips to nearby attractions like the Palace of Versailles or the beautiful town of Giverny. A trip to Disneyland with the family is always on the to-do list during the last months of the year when it is buzzing with elaborate shows, colorful lights, and charming decor.
Places to Visit in Paris: Champs-Élysées, Notre Dame Cathedral, Eiffel Tower, Seine River, Palace of Versailles, Montmartre, Notre Dame Cathedral, Louvre Museum, Moulin Rouge
Min & Max Temperature in December: 2°C to 8°C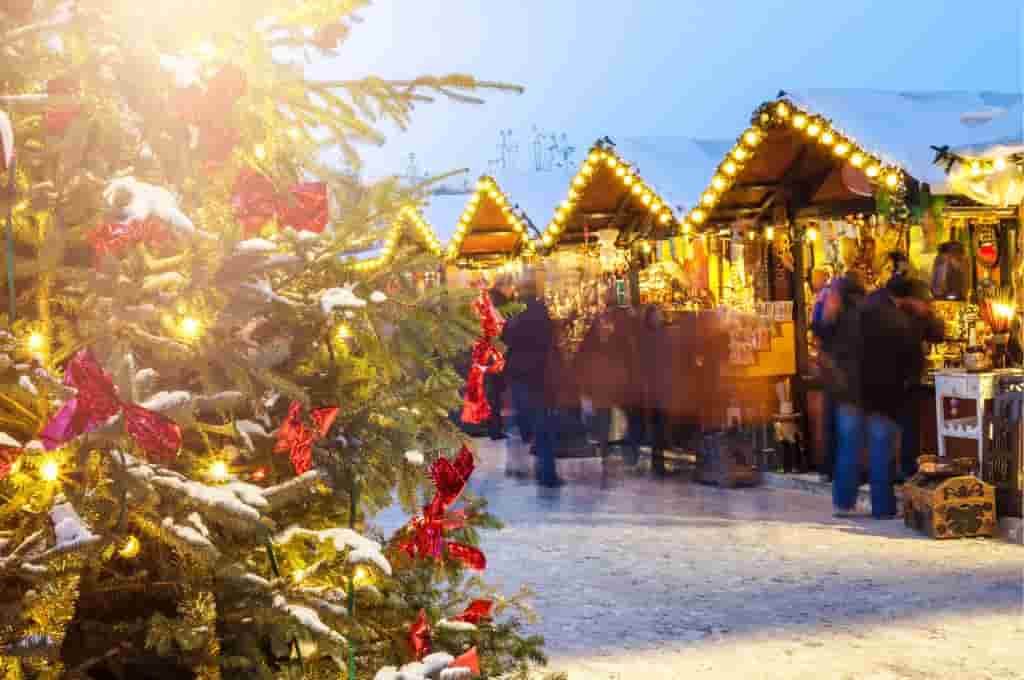 Berlin is known for having Europe's largest and most diverse Christmas markets. These markets pop up all over the city and sell a variety of crafts, gifts, and delectable seasonal treats. The markets at Gendarmenmarkt, Alexanderplatz, and Charlottenburg Palace are the most popular. The city has an entire UNESCO site called Museum Island, which houses five world-class museums. During the months of December and January, Berlin becomes a hotspot for winter activities such as ice hockey, ice skating, toboggan runs, rollerblading, and curling. 
People flock to Berlin not only for the Berlin Wall Memorial but also for its unrivaled party scene. The city holds one of Europe's largest New Year's Eve celebrations at the Brandenburg Gate. Throughout the winter months, Berlin sees a surge in performing arts, with a jam-packed calendar of winter festivals, films, art shows, and cultural events showcasing the city's creative and diverse spirit.
Places to Visit in Berlin: Museum Island, Palace of Charlottenburg, Gendarmenmarkt, Alexanderplatz, Berlin Cathedral, Mauerpark, Alexanderplatz, Brandenburg Gate, Treptower Park
Min & Max Temperature in December: -1°C to 4°C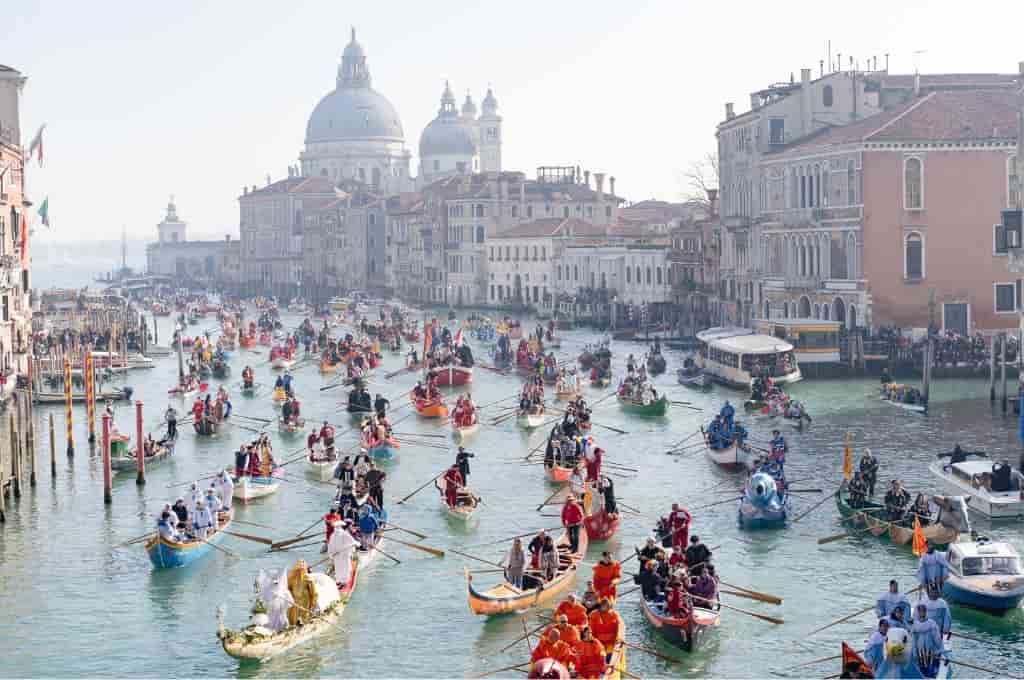 13).  Venice, Italy
One of the biggest advantages of visiting Venice in winter is the lack of crowds. The canals are mist-shrouded and peaceful, there are no lines for gondola rides, museums are empty, and there is a calming stillness throughout the city. Winter travel and accommodation costs are generally lower, making it a more cost-effective time to visit. Despite being less crowded, Venice in winter has a festive atmosphere, especially during the holiday season. Throughout the city, you can see beautiful Christmas decorations, lights, and traditional markets. 
Several events are held in Venice during the winter months, the most notable of which is the Venice Carnival. The fortnight-long epic celebrations are usually held in February. It is a vibrant event where you can dress up in elaborate costumes, march in colorful parades, listen to vibrant music, gorge on seasonal treats, and enjoy free events. While it can get chilly in Venice during the winter, temperatures are generally mild in comparison to more northern regions. With appropriate clothing, you can do everything you can do in the summer: stroll the streets, eat pizza, visit the islands (Murano & Burano), pop into churches/museums, and shop until you drop.
Places to Visit in Venice: St. Mark's Basilica, St. Mark's Square, Grand Canal, Campanile, Santa Maria della Salute,  Murano, Burano, Doge's Palace, Bridge of Sighs, Rialto Bridge, 
Min & Max Temperature in December: 1°C to 8°C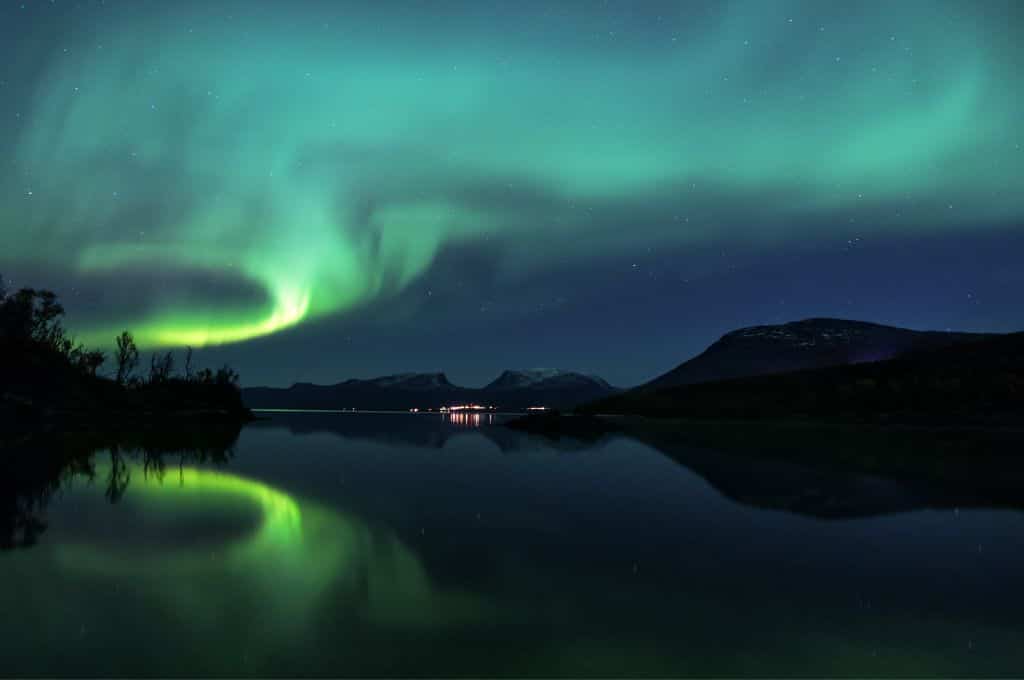 14).  Abisko, Sweden
Abisko is a popular winter destination about 200 kilometers north of the Arctic Circle. The tiny village in Swedish Lapland is probably the best place in the world to see the magical Northern Lights (Aurora Borealis) due to its proximity to the poles and favorable weather conditions. The ideal period to see the Northern Lights in Abisko is from late September to mid-April. Abisko experiences polar nights from early December to early January during which the sun does not rise above the horizon. The region's long nights and low light pollution improve the visibility of the phenomenon in the night sky. 
The frozen lakes, snow-covered forests, and snow-capped mountains provide the perfect backdrop for adventure sports like dog sledding, snowmobiling, cross-country skiing, ice climbing, ice fishing, and snowshoeing. The world's first ice hotel, appropriately named Ice Hotel, is also located in Jukkasjarvi near Abisko. The region experiences extremely cold temperatures during the winter season. To stay warm in the extreme cold, it's critical to pack appropriate winter clothing, such as thermal layers, insulated jackets, hats, gloves, and warm boots.
Places to Visit in Abisko: Abisko National Park, Aurora Sky Station, Mount Noulja, Lake Tornetrask, Naturum Abisko Museum, Gransforsvars Museum
Min & Max Temperature in December: -5°C to -14°C
15).  Seville, Spain
Seville has become one of the most popular winter destinations, with an average temperature of 1-12 degrees Celsius. During the winter, the charming town experiences cooler temperatures compared to the intense heat that characterizes the summer months. The nights may be cold, but you can eat lunch outside basking in the Spanish sunshine and enjoy a drink at an outdoor café in the evening. The overall vibe is still lively, with locals and tourists enjoying the city's renowned tapas offerings at city bars. 
Winter in Seville is generally less crowded, making it an ideal time to take a leisurely tour of the Royal Alcazar, marvel at the massive interior of the Seville Cathedral, visit the impressive Plaza de Espana, or wander the alleys of Barrio Santa Cruz. It is worth noting, however, that some outdoor attractions and parks may have reduced hours or limited access during this time. Early in January, Seville witnesses a huge street parade that travels through the city's streets while the Three Wise Men hand out gifts to the spectators. The extensive nativity scenes depicting the entirety of Bethlehem are a major draw in Seville
Places to Visit in Seville: Royal Alcazar, Plaza de Espana, Barrio Santa Cruz, Seville Cathedral, Museum of Flamenco Dance, Bullfighting Museum, Ayuntamiento, Biblioteca Colombina, Palacio Lebrija
Min & Max Temperature in December: 7°C to 16°C
16).  Valetta, Malta
Malta is one of three inhabited islands in the Maltese archipelago. The island is loved for its aqua waters, pristine beaches, lavish baroque palaces, and beautiful gardens so it's easy to see why crowds are a year-round fixture. Malta is one of Europe's warmest winter destinations, with temperatures hovering around 13 degrees Celsius in January. This means we can leave our bulky coast behind and enjoy a pleasant escape from the harsher winter weather.
Valletta, the capital, is steeped in history, with a rich tapestry of architectural marvels dating back centuries. Exploring Valetta's historical streets and visiting UNESCO World Heritage-listed sites like St. John's Co-Cathedral and the Grandmaster's Palace can be especially enjoyable in the balmy weather.  During the winter months, Valletta retains a lively and festive atmosphere, hosting a variety of cultural events, music festivals, and art exhibitions including Christmas Carnival, New Year's celebrations, and the 15-day extravaganza – Baroque festival.
Even though swimming might be challenging in the winter, you can still take pleasure in leisurely strolls along the waterfront, stunning sunsets, and exploring the coastal cliffs and gardens. Between visiting Blue Grotto, the Mdina, Gozo, Comino, and Valletta, there is always plenty to do in Malta.
Places to Visit in Malta: Blue Grotto, the Mdina, Island of Gozo, Island of Comino, Valetta, St. John's Co-Cathedral, Grandmaster's Palace, Popeye Village, Golden Bay, Parish Church, Mnajdra Temples, Tarxien Temples, St. Agatha's Tower
Min & Max Temperature in December: 10°C to 18°C
17).  Barcelona, Spain
With its enviable location along the Mediterranean Sea, Barcelona never gets too wet or cold, making it a perfect European destination for those seeking warmer weather. Visiting Barcelona in the final months of the year allows you to explore iconic attractions such as Sagrada Familia, Park Güell, and Casa Batlló without being overwhelmed by throngs of tourists. Barcelona is a coastal city, and its beaches and seafront promenades retain their allure even in the dead of winter. While swimming may not be on the agenda, a walk along the beach can still be enjoyable. 
Barcelona's cultural scene remains vibrant, and visitors can take part in a variety of events, festivals, and concerts held during this period, such as Christmas markets, Fira de Santa Llcia, the Three Kings Parade, and New Year's Eve celebrations. If it does become chilly or rainy, Barcelona has a wide selection of exceptional museums, art galleries, and historic sites to explore. It is also one of the best times to go on a tapas crawl to some of the city's best tapas restaurants.
If you enjoy winter sports, the Pyrenees mountains are not far from Barcelona and offer skiing and snowboarding opportunities. Because it is the low season, you can often find better deals on accommodations, flights, and attractions, making it a more affordable time to visit Barcelona.
Places to Visit in Barcelona: Sagrada Familia, Park Güell, Casa Batlló, Casa Mila, Palau de la Musica Catalana, Barri Gotic, Casa Batllo, Montjuic Castle, Picasso Museum, Park Guell, Parc de la Ciutadella
Min & Max Temperature in December: 8°C to 15°C
18).  Hallstatt, Austria
If you're looking for a traditional Christmas place, look no further than Hallstatt – Austria's poster town. Nestled in the Salzkammergut region, Hallstatt sits on the shores of Hallstatt Lake and is dwarfed by snowcapped Dachstein Mountains. Every year, Hallstatt receives 30 days of snow, and the winter temperatures are frigid. The frosted pine trees, gingerbread houses, vibrant landscapes, and towering Alps of the picturesque town look even more striking when dusted with snow. 
Hallstatt is an excellent starting point for adventure winter sports and road trips. It is home to three ski resorts where you can enjoy unparalleled views of the stunning Alps. Visit the Hallstatt Skywalk for some Instagram-worthy shots, though getting there requires a hike, which isn't always possible in the coldest months. The town hosts Christmas markets complete with mulled wine, traditional music, and vendors selling handicrafts. If you need a break from the cold, visit Salzwelten Hallstatt, the world's first salt mine.
Places to Visit in Hallstatt: Hallstätter See, Old Town, Salzwelten Hallstatt, Hallstatt Skywalk, Dachstein Mountains, Dachstein Caves, Admont Abbey, Hoher Krippenstein, St. Wolfgang, Bad Aussee, Altausseer See
Min & Max Temperature in December: -3°C to 5°C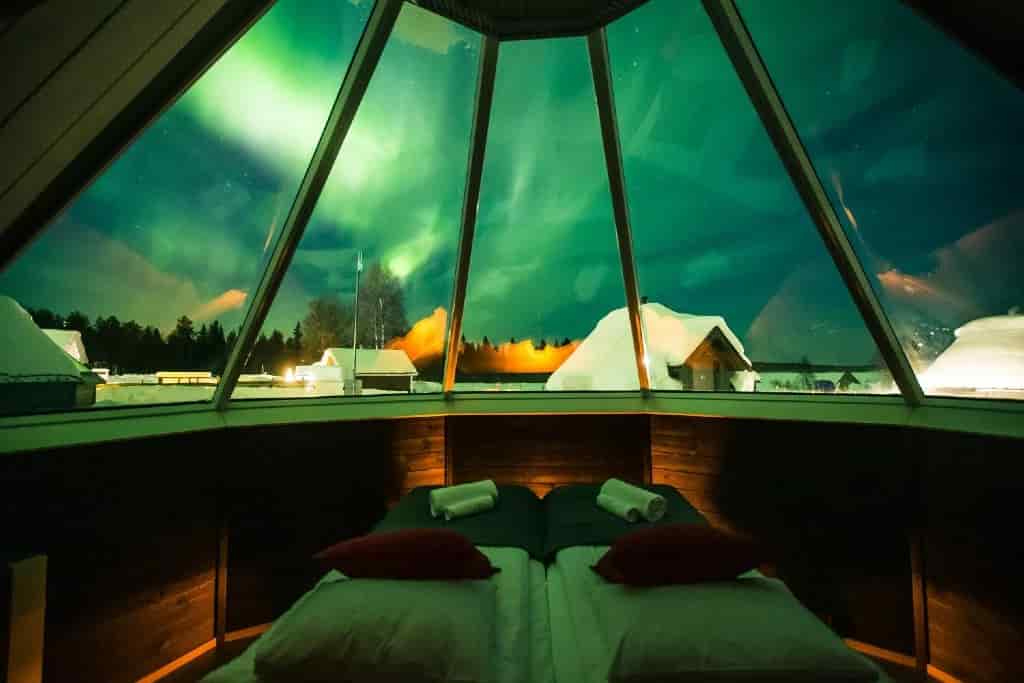 19).  Rovaniemi, Finland
Rovaniemi is a fantastic base for exploring Lapland's phenomenal natural landscapes. Given that the town is located above the Arctic Circle (you can even cross it), you can expect plenty of snow and frequent Northern Light sightings. Every year, over 200 Aurora Borealis displays can be witnessed in Rovaniemi. The temperatures are freezing, but it's impossible to resist the idyllic winter beauty of Lapland.
It's challenging to find a more Christmas-y destination than Rovaniemi. Named the official hometown of Santa Claus, the city exudes festive vibes. Winter is fully embraced here, with a plethora of tourist activities and unique lodging options. From reindeer sleigh rides to snowmobile safaris, ice-fishing, snowshoeing, ice-cart racing, husky-long trail adventures, and an entire Santa Claus Village, there is never a dull moment in this fairytale winter destination. Even if you are not traveling with children, you should not miss the opportunity to visit Santa Claus Village. Stay in a glass igloo and watch the dancing lights from your bed for an experience of a lifetime. Tour operators will provide you with proper boots and snowsuits, but bring suitable woolens underneath to keep you warm.
Places to Visit in Rovaniemi: Santa Claus Village, Arktikum, Angry Birds Park, Lordi's Square, Ounasvaaran Hiihtokeskus Oy, Rovaniemi Church, Auttiköngäs, 
Min & Max Temperature in December: -7°C to -15°C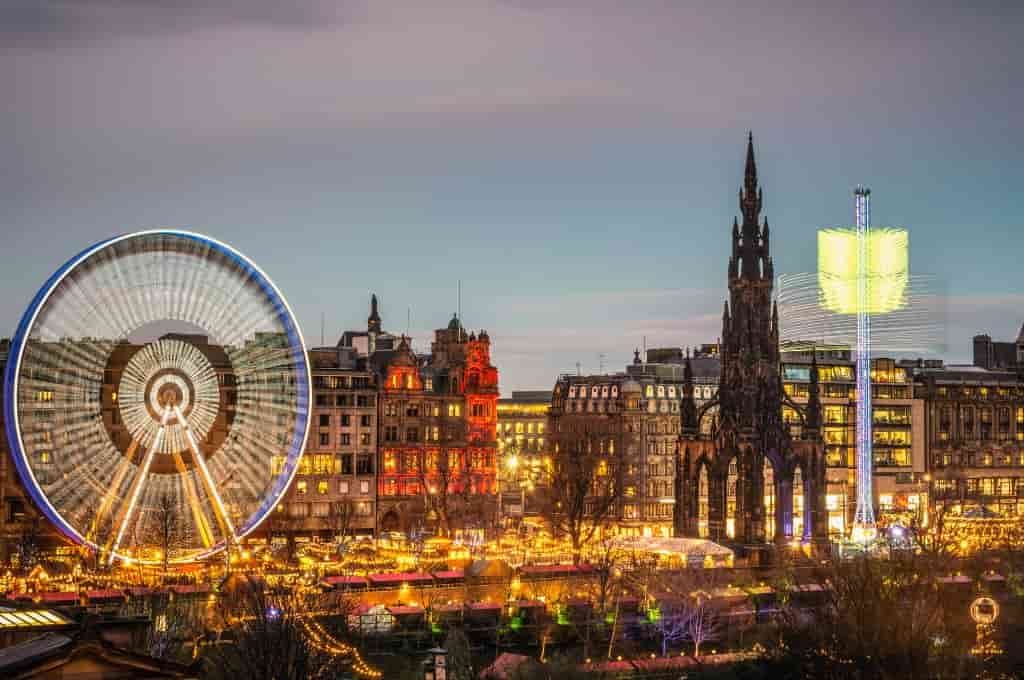 20).  Edinburgh, Scotland
Edinburgh, the Scottish capital, is a charming city where medieval and neoclassical history and architecture coexist in perfect harmony. Surrounded by green countryside and rolling hills, Edinburgh is full of gothic buildings, majestic palaces, quirky corners, and hidden squares that look even more magical when covered with snow. The Princes Street Gardens Christmas market opens in November, giving you ample time to select gifts and local foods from the pop-up wooden stalls. The Royal Botanic Garden looks stunning when covered in snow and illuminated with innovative Christmas lights. 
A huge number of pubs and cafes bustle with locals and tourists enjoying Scottish hospitality. Calton Hill, Pentland Hills, Holyrood Palace, Royal Mile, and Arthur's Seat are just a few of the must-see attractions in Edinburgh. If you're in the city on New Year's Eve, don't miss the spectacular fireworks display at Edinburgh Castle to kick off the Hogmanay celebrations. Firelit torches, candle-lit concerts, fireworks, and traditional Scottish music are all part of the three-day street party.
Places to Visit in Edinburgh: Calton Hill, Pentland Hills, Holyrood Palace, Royal Mile, Arthur's Seat, Princes Street Gardens, Royal Botanic Garden, National Museum of Scotland, Camera Obscura, Scott Monument, Queen's Gallery
Min & Max Temperature in December: 1°C to 8°C
Subscribe to Our Newsletter