Indian Matrimonial Sites - The Untold Story
Indian Matrimonial Sites - The Untold Story
India has always been admired for its deeply rooted culture and traditions. In recent years, we have witnessed a significant shift in the Indian mindset and value system. The introduction of social media into our lives has had an impact on all of us on many levels. The Indian youth have been the most influenced, and they have embraced both the positive and negative aspects of Western culture.
One significant change has been in the way marriages are fixed. Arranged marriages have always been an intrinsic part of Indian culture. There were some instances of love marriages, but they were few and far between. Love alliances were often frowned upon. They were generally opposed by family and society. Only a few couples made it to the altar, while the rest succumbed to the mental and financial blackmail of those around them.
There has been a turnaround in the last decade. Love marriages are now fairly prevalent in all regions of India, even in conservative villages. Villagers may not have access to electricity 24 hours a day, but their phones have unlimited mobile data. As a result, they are now a part of 'Digital India,' with a modern outlook on life.
Things have taken an unexpected turn in the cities. Parents are finding it difficult to find a "suitable partner" for their children due to shrinking families, social media obsession, professional commitments, and limited social interactions. As a result, it makes it easier for them if their 'of age' offspring falls in love with someone acceptable. Parents want their marriageable children to take the initiative as long as they follow family traditions. In India, we marry a person's entire family, therefore the parent's role cannot be fully ignored.
Marriage bureaus,' mohalla aunties,' and classified advertising are all past things.  Today's youth is assertive and wants to have a say in who they marry. Keeping the sensibilities of everyone in mind, a new concept took shape. Many online matrimonial portals entered the fray, encouraging people to find their spouses online. In India, there are over 1500 matrimonial portals. Shaadi.Com, Jeevansaathi.Com, and Bharat Matrimony are the market leaders, with millions of users. Many websites specialize in a specific niche market, such as iitiim.com, mangliks.com, bposhaadi.com, jainmatrimony.com, and so on – the titles are self-explanatory.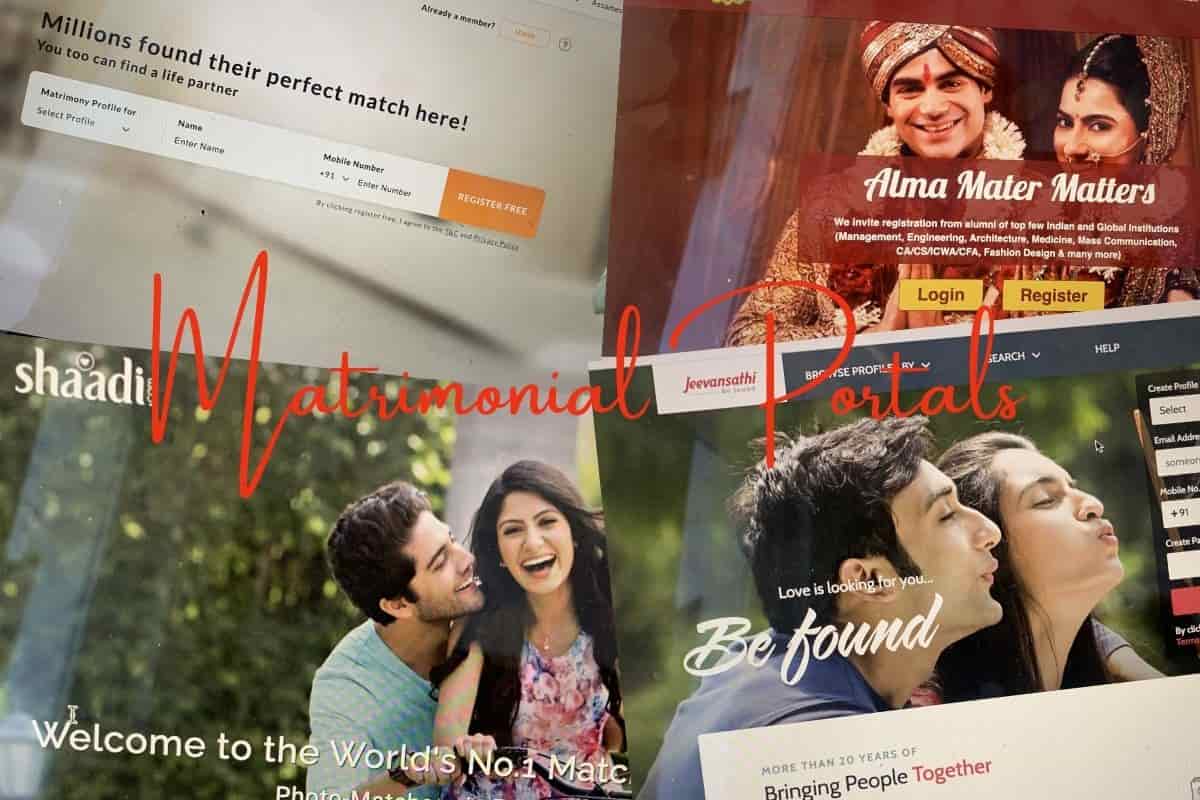 Many people look down on and ridicule online matrimonial platforms and for good reason. The entire process appears bizarre and seems to encourage stereotypes, biases, and regressive thinking. Judging someone based on their salary, profession, religion, appearance, hobbies, and education is clearly skewed. Mutual commitment, respect, trust, and compatibility are the foundations of relationships, not a few superficial facts. But how do you recognize that when you're sitting thousands of miles apart? A basic checklist is required to narrow down a few candidates from among millions. If the criteria used are regressive or shallow, we must blame the users instead of the portals.
Matrimonial websites do have their pros. It is useful for people who wish to get married but prefer the traditional route. Many marriageable people voluntarily register on the portal.  They are looking for stability and long-term relationships, which dating apps can't fully deliver.  Parental pressure is not always to blame. The portals are attempting to bridge the gap between love marriages and arranged marriages  – semi-arranged marriages.
If you are looking for a suitable match for yourself/your children, you have to register on the websites. It's simple to sign up for these portals. Age, education, salary, family, interests, habits, food preferences, birth details, and some photos are required. People are generous enough to mention their wealth, dog's name, countries visited, car models, and other interesting details. You select a few suitable matches and send them 'friend requests'.  Following the initial 'accept,' the next course of action is discussed. Either the family or the prospective pair makes the first contact. Over the course of a few days to a few months, the couples chat, talk, meet, and 'fall in love.' The system is intended to satisfy both parents and children. But is everything really that simple?
When you first become an active member, you are generally swamped with proposals. It seems amazing to be in such high demand, but reality sets in gradually. Prepare yourself for frustrations, disappointments, and bewilderment. To be honest, neither the members nor the portals can be held responsible. The problem is with the system.
If you want to find a suitable match on the portals, you will have to put in a lot of time and effort. It is a long and painful process. The portals will provide you with a multitude of suitable matches based on your preferences. With so many options available, everyone goes a little overboard. People send and accept invitations casually. Even if both sides are on the same wavelength, it is futile. One of them suddenly loses interest and does not reply to messages/calls. Either the match is no longer appealing or they have spotted a more promising prospect. There are hundreds of proposals that fit your requirements, so everyone can afford to change their minds on a whim.
You have just passed one hurdle if both sides agree to proceed. There will be many more. Many people register on the portal but are not serious and waste everyone's time. Then there's astrological compatibility. You'll be surprised at how many proposals are canceled as a result of mismatched Patris. Everything looks perfect, but the stars don't match – end of the story. Next, please.
Unfortunately, there are numerous obstacles to overcome before you are fortunate enough to meet a 'perfect match.' Hiding behind the cloak of anonymity, there is no accountability in this system. At any given time, the boy or girl will converse with two or three persons. After 3-4 weeks, if one of them feels that the other person is not 'perfect' for them, they will stop responding. There will be no warning, no explanation, and no communication. Just stoic silence which leaves you completely baffled. And it happens to everyone, literally everyone, out there. This is why people choose to converse with more than one person at the same time. They do not want to invest so much time in someone who would one day suddenly vanish. Better keep a backup handy.
People judge you at the drop of a hat, reject you without second thoughts, and move on without giving a backward glance. Many can't find life partners on portals for months, if not years, despite having so many options. I won't claim that nobody meets their soulmate there. The portals boast about their "success stories," which are partially accurate. However, it cannot be denied that many people experience only frustration and humiliation on these websites.
The matrimony platforms cannot be held totally responsible for the pitfalls. They are performing their jobs by providing us with a considerable number of options to pick from. Contrary to popular assumption, the vast majority of profiles on reputable websites are genuine. The sites monitor the situation, and we frequently see accounts getting removed from portals if they violate the terms. However, the system requires more transparency and accountability. Before putting any profile on the platforms, the portals must thoroughly verify it. Pictures and data, particularly of female members, can be circulated and misused.
Users, on the other hand, need to rethink what they are doing. We all have the right to make choices. But does it cost anything to exhibit fundamental consideration, maturity, and honesty, even if you may never meet? Everyone on the portal is there for the same reason: to find a good companion for themselves/their children. So, why is it so difficult to understand the complexities and challenges of the entire process and remain gracious and supportive to others?
Subscribe to Our Newsletter