Indian Matrimonial Sites - The Untold Story
Indian Matrimonial Sites - The Untold Story
India has been always been admired for its deep-rooted traditions and culture. In the last few years, we have seen a major metamorphosis in the Indian mindset and value system. The influx of social media in our lives has impacted all of us at different levels. Indian youth has been influenced the most and they have imbibed the Western culture with full gusto – the positives and the negatives.
One area where we have seen a major shift is how marriages are fixed. Arranged marriages have always been an intrinsic part of Indian culture. There were some instances of love marriages, but they were few and far between. Love alliances were generally frowned upon. In most cases, they were opposed by the family and society. Very few couples managed to reach the altar, and the rest just bowed down to the emotional and physical blackmail of everyone around.
Over the last decade, there has been a turnaround. Now, it is quite common to see love marriages in all parts of India, even in the conservative villages. Villagers may not have 24-hour electricity in their homes, but they have uninterrupted mobile data on their phones. So, they are also now a part of the 'Digital India' with a contemporary approach to life.
In cities, things have taken an interesting turn. With shrinking families, social media obsession, professional commitments & limited social interactions, parents find it challenging to find an 'appropriate spouse' for their children. So, it is easier for them if their 'of age' offspring falls in love with someone suitable. Parents want their marriageable children to take the initiative as long as they adhere to their long-standing family traditions. In India, we don't marry a person but his entire family, so the parent's role cannot be overlooked completely. 
The days of traditional marriage bureaus, 'mohalla aunties', and classifies ads are now passé. The youth of today is assertive and wants to have a say in choosing their life partners. Keeping the sensibilities of everyone in mind, a new concept took shape. Lots of online matrimony portals came into the fray, which encouraged people to find their partners online. There are more than 1500 matrimonial portals in India. Shaadi.Com, Jeevansaathi.Com, and Bharat Matrimony are the leaders with clientele running in millions. Many sites cater to a niche segment like iitiim.com, mangliks.com, bposhaadi.com, jainmatrimony.com, etc. – the names are self-explanatory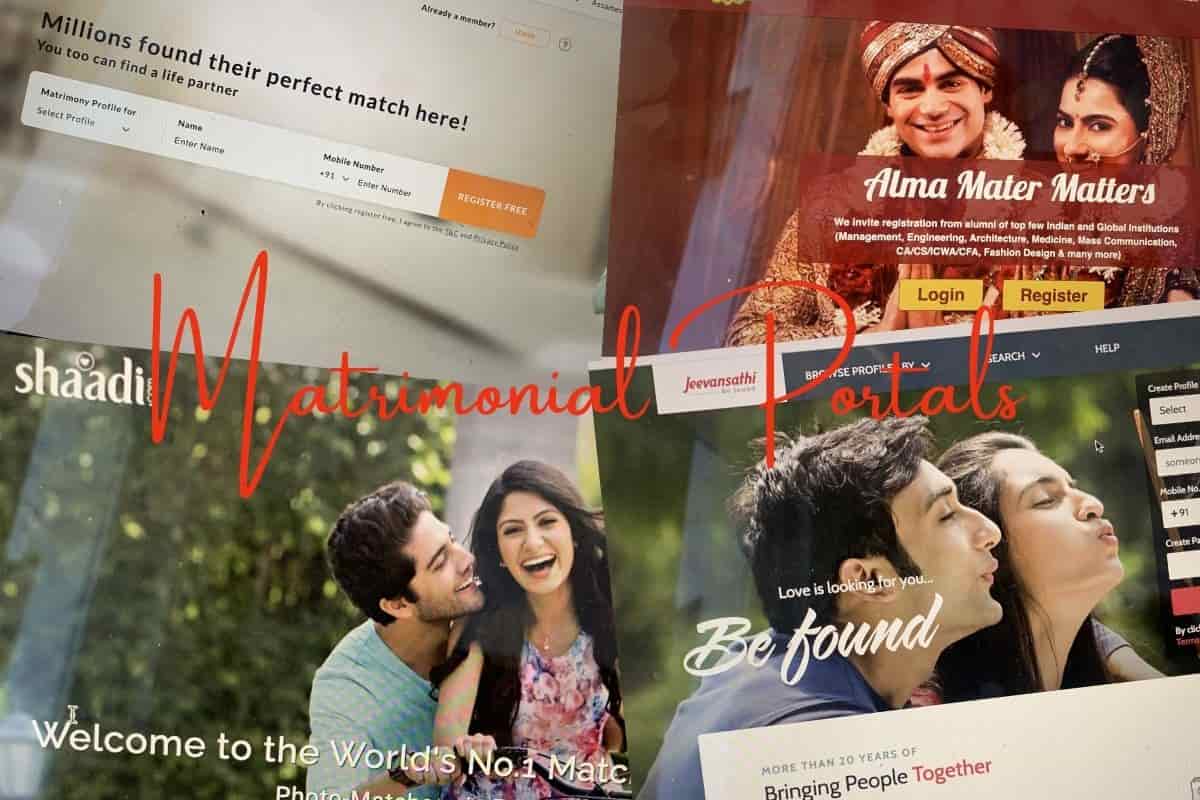 The online matrimony portals are looked down upon and ridiculed by many, and they have some valid reasons. The whole process appears bizarre and seems to be encouraging stereotypes, biases, and regressive thinking. Judging a person based on salary, profession, religion, looks, hobbies, and education is definitely a bit skewed. Relationships are not built on a few superficial facts but mutual commitment, respect, trust, and compatibility. But when you are sitting miles apart, how do you gauge that? To zero down a few amongst millions of prospects, you need a basic checklist. If the chosen criteria are regressive or shallow, we have to blame the users not the portals. 
Matrimony portals do have their pros. It is useful for people who want to get married and prefer the conventional way.  They are looking for stability and long-term relationships that are not provided by the dating apps. Lots of marriageable people register themselves on the portal – of their own will. It is not always because of parental pressure. The portals are trying to be a bridge between love marriage and arranged marriage – semi-arranged marriages
If you are looking for a suitable match for yourself/your children, you have to register on the websites. You select a few suitable matches and send them 'friend requests'. After the initial 'accept', the next course of action is discussed. Either the families connect first or the prospective couple. The couples chat on social apps, meet each other, and 'fall in love' over a few days to a few months. The system is designed to make everyone happy – parents and children. But is everything so simple? 
Registering in these portals is quick and easy. You have to specify age, education, salary, family, preferences, habits, food preferences, birth details, and some pictures. Though people are generous enough to mention their wealth, house-helps, dog's name, countries visited, car model, and other interesting information. Once you are an active member, you are usually bombarded by proposals. It feels great to be in so much demand, but slowly the reality dawns. Get yourself prepared for frustrations, disappointments, and confusion. And to be honest, no one can be blamed – neither the members nor the portals. It is the system that is at fault.
If you want to find a suitable match on the portals, you need to put in considerable time and effort. It is a long and complicated process. The portals will provide you lots of suitable matches based on your preferences. With so many choices available, everyone goes a bit overboard. People send and accept invitations without much thought. Even if both parties are on the same page, it has no meaning. One of them suddenly loses interest and would not respond to messages/calls. Either the match no longer looks good enough or they have found a better prospect. There are hundreds of proposals that fit your criteria, so everyone can afford to change their mind at whim and fancy.
If both the parties agree to go forward, you have just crossed one milestone. There are many more to come. Many people register themselves on the portal, but are not serious enough and just waste everyone's time. Then there is horoscope matching. You will be amazed by the number of people who get canceled because of Patris. Everything looks perfect, but the stars don't match – the end of the story. Next, please.
Unfortunately, there are many hurdles before you may be lucky enough to find a 'perfect match'. Hiding behind the cloak of anonymity, there is no accountability in this system. The boy/girl will talk with 2-3 people at a time. After 3-4 weeks, if one of them feels that the other person is not 'perfect' for them, they will suddenly stop responding. There will be no warning, no explanation, and no communication. Just stoic silence which leaves you completely baffled. And this happens to everyone out there, literally everyone. This is the reason why people decide to talk to more than one person at a time. They do not want to invest so much time in someone who would one day suddenly vanish. Better keep a backup handy.
Despite having so many choices, people can't find their life partners on portals for months, sometimes years. And most of the time find it somewhere else. People judge you at the drop of a hat, reject you without second thoughts, and move on without giving a backward glance. I won't say that no one finds their soulmates there. The portals brag about their 'success stories, which are true to some extent. But it cannot be denied that lots of people get only frustration and humiliation on these portals.
The matrimonial sites cannot be blamed entirely for the pitfalls. They are doing their jobs – giving us enough options to choose from. Contrary to the common belief that there are lots of fake profiles, most of the profiles on the trusted sites are genuine. The sites keep a check and we often see profiles being removed from the portals if they are violating terms. But they need to inject more transparency and accountability into the system.  The portals must verify every profile stringently before putting them on the portals. The pictures and data, especially of the women members, can be circulated and misused.
As for the users, they really have to rethink what they are doing. We all have the right to make choices. But does it cost anything to show basic regard, maturity, and honesty, even if you are never going to meet each other? Everyone on the portal has only one purpose: finding a suitable partner for themselves/their offspring. So, who can be better than them to understand the complications and issues involved in the whole process?
Subscribe to our newsletter