Eastern Europe Itinerary - Two weeks
Eastern Europe Itinerary - Two weeks
With the spotlight focused on countries like Italy, France, Switzerland, UK, and Spain –  travelers often overlook Eastern Europe. If you want to visit Europe, but want a region which is less crowded and budget-friendly, then head to Eastern Europe. Unspoiled landscapes, rugged mountains,  fairytale castles, medieval architecture, rich history, friendly people – Eastern Europe is a treasure trove waiting to be explored.      
When you start planning a vacation to Eastern Europe, you will realize that you have a lot of ground to cover. It is difficult to plan a two-week itinerary if you have options like Poland, Hungary, Czech Republic, Croatia, Slovenia, Slovakia, Montenegro, and Austria. The suggested itinerary only covers the most sought after towns, as two weeks is not sufficient time to explore lesser-known destinations of this picturesque region. It is more for travelers who are visiting this area for the first time. I have left the countries further south like Croatia and Montenegro for another trip. For tips to visit Croatia, click here.
Why Should you visit Eastern Europe?
Eastern Europe is a destination that appeals to all types of travelers – from backpackers to luxury travelers. The gorgeous region has something for everyone.
Breathtaking landscapes
Incredible architecture
Engrossing history
Warm hospitality
Delicious food
Buzzing nightlife
Less crowded
Surprisingly Affordable
When to visit Eastern Europe:
The tourist season is from May to September but the majority of visitors arrive in July and August. The days are longer and the weather is perfect, but the crowds can be overwhelming and prices are on the higher side. Shoulder months of May, June, and September are ideal as there is more elbow space and rates are competitive.
Getting Around in Eastern Europe:
The trains and buses run frequently and you can choose your travel schedule depending upon how much time you want to spend in the city. The best mode of transport in Eastern Europe varies with regions. Some countries have faster and cheaper trains while others have a more efficient bus network. So it is recommended that you gather all information about public transportation. Rome2rio.com is a good site to compare the time and cost required to travel by different options. You can opt for night trains and buses to save room tariff.
Day 1-3: Prague, Czech Republic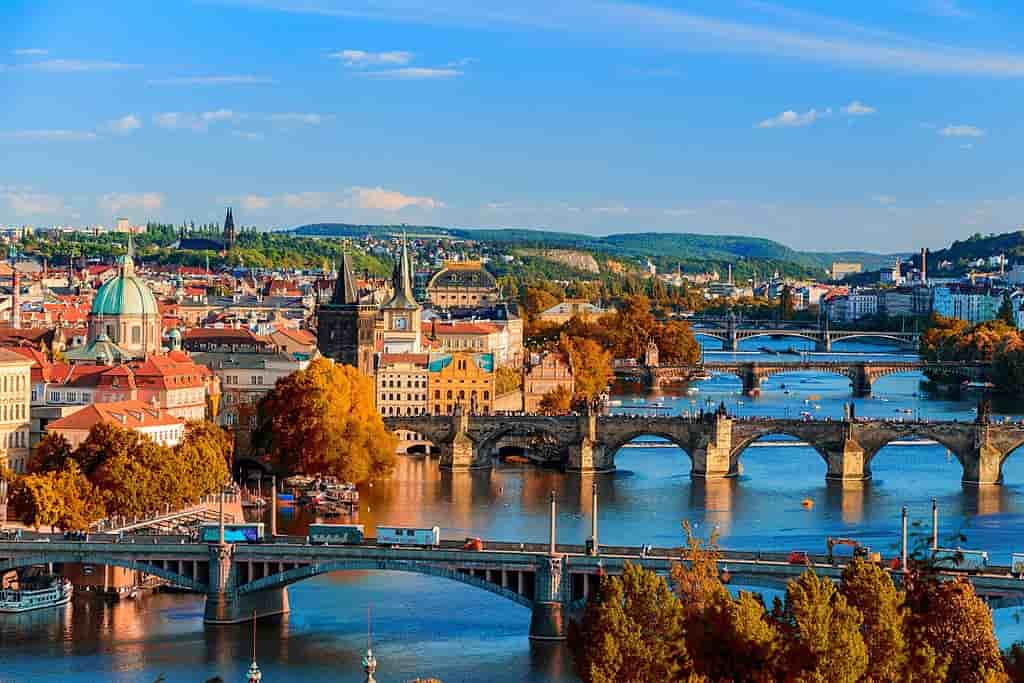 Start your Eastern Europe vacation by landing in the fairytale city of Prague, the capital of the Czech Republic. Lying on the bank of meandering River Vitava, Prague is simply stunning, where ever you go. One cannot help falling in love with this medieval old town with its colorful buildings, scenic riverside, narrow winding streets, and quirky boutiques. Despite being one of the most loved destinations, Prague continues to be quite affordable. It has one of the best public transport systems in Europe with an integrated tram, bus, and Metro network.
What to do in Prague :
Climb all the way to see the 19th century Prague Castle
Cross the Charles Bridge and admire the beautiful statues.
Walk around the Old Town Square
Go cruising on River Vltava
Have a look at the Astronomical Clock and Dancing Building
Check out the quirky museums like Czech Beer Museum, Karel Zaman Museum, Speculum Alchemiae Museum, & Apple Museum
Taste the amazing Czech cuisine and the famed Czech beer
Experience the buzzing nightlife     
The next destination is Krakow. The best option is to take a night train (EuroNight)  from Prague to Krakow starting at 22:15 and reaching Krakow at 6:22 am. Take a flight if you have no budget issues. A private car will take about 6 hours.

Krakow is not the capital of Poland, but it is the most popular city in Poland. The old town comprising of colorful streets, the majestic main square, quaint churches, and grand historic architecture is in the Unesco Heritage list. A tour of the Auschwitz Concentration camp is a must for history lovers. 
What to do in Krakow :
A day trip to Wieliczka Salt Mine is highly recommended and it can be combined with Auschwitz.

Visit the Auschwitz Concentration Camp for an unforgettable and humbling experience

Explore Krakow' main square

Take a tour of the vibrant Jagiellonian University

Admire the

 

St Francis' Basilica and Wawel Castle
You can again take a night train from Krakow to Budapest from 21:56-10:19 am. It saves time and night's accommodation. The other options are to take a day train, flight, or private car. It takes 6.5 hours to travel by road and you can do sightseeing en route.
Day 6-8: Budapest, Hungary

Budapest is definitely one of the most spectacular and romantic cities in the World. The city is split into two parts by River Danube – Buda and Pest. The iconic Chain bridge connects the two historical towns. The grandeur of the city with its Neo-Gothic and Art Nouveau architecture, wide boulevards, and majestic castles and churches is seen to be believed. The vibrant theatre scene, steamy thermal baths, never-ending eating joints, and the thriving nightlife makes you realize why everyone loves this spectacular city. Budapest is a city that is steeped in history but is still a fun city with a relaxed vibe.
What to do in Budapest –
Take a tour of Hungarian Parliament House (if you want to go inside, book tickets in advance)

Take a dip at Gellert Baths – you cannot leave Budapest without experiencing the famed thermal bath

Climb up to the spectacular Buda Castle and Castle Hill

Wander on the Danube Promenade and take the Danube River Cruise

Visit the State Opera House, National Museum, and St. Stephen's Basilica

Shop at Central Market Hall and Esceri Flea Market.

Take a day trip to Lake Balaton

Have a look at the Dohany Street Synagogue, Hero's Square, and Fisherman's Bastion

Party at the famous 'ruin pubs' and quirky cafes
Our next stop is Vienna and the best way to reach Vienna from Budapest is to take an early morning train on the 9th day. It will take about 3 hours. One can also travel by bus/car at approximately the same time.
Day 9-10: Vienna, Austria

Vienna may not be part of Eastern Europe technically, but you cannot skip this gorgeous city after coming this close. Vienna is not as spoilt as the other 'popular' Western European cities and is a must-visit for its stunning modern and traditional architecture. Europe's most walkable city, Vienna has world-class museums, imperial gardens/palaces, State operas, rich cultural vibes, classical music, and old-world charm. When names like Mozart, Beethoven, Haydn, Schubert are associated with Vienna, is it surprising that it is called the City of Music? You will feel new energy walking the cobbled avenues of this artistic capital of Austria.
What to do in Vienna –
Explore the National History Museum and Belvedere Museum

Take a tour of the Schonbrunn Palace and its majestic gardens

Admire the Hofburg Palace and the Vienna Town Hall

Shop at Naschmarkt, Vienna's best-known market

Visit the Stephansdom, Vienna's Gothic Cathedral

Attend a show at the Vienna Opera house

Have fun at Prater – the biggest theme park in Austria
If you have been to Vienna, you can visit Salzburg and Werfen Caves instead. They are definitely worth a visit. Our next destination is Lake Bled which can be reached by train/car/bus. A car is the quickest option as it takes four hours from Vienna. The train and bus will take around 6 hours. Leave early on the 11th day so that you have sufficient time in Lake Bled.
Day 11-12: Lake Bled, Slovenia 

The picturesque town of Bled attracts visitors from all over the World. The enchanting town is flanked by a Cliffside castle and the majestic Julian Alps. Having an alpine lake, church topped little island, secluded coves, a medieval castle, and numerous hiking trails, Bled is one of the most popular resorts attracting everyone from backpackers to honeymooners. Bled is not only famous for its breathtaking beauty. People come here to experience the adrenaline adventure activities and savor the finger-licking Bled Cake.
What to do in Bled –
Take a stroll around Lake Bled

Enjoy a ride in the traditional 'Pletna' boat on the glacial lake.

Visit Bled Island and ring the church bell to get your wish fulfilled

Climb up to Osojnica for the breathtaking view of Lake Bled

Explore Lake Bled Castle

Enjoy adventure sports like canyoning, ballooning, rafting, skydiving, and paragliding

Take a tour of the Vintgar Gorge with its stunning waterfalls and pools.

Gorge on the famous Bled Cream cake – it is a must.
The last destination is Ljubljana. The distance from Lake Bled to Ljubljana is only 52 km and one can reach here easily using any means of transport. Leave Lake Bled on the morning of the 13th day.
Day 13-14: Ljubljana, Slovenia

Ljubljana is definitely the hidden gem of Europe. The charming old town is permanently in peppy mood thanks to its student population. Cars are restricted in the center, leaving the narrow cobbled streets free for pedestrians and cyclists. In summers the whole town is abuzz with festivals, events, street performances, and open-air kiosks. The town has amazing structures like Ljubljana Castle, Old Town, and Triple Bridges. But Ljubljana is not about 'must-see attractions' People visit Ljubljana for the vibrant atmosphere and delightful experiences. 
What to do in Ljubljana :
Explore the Old Town with its medieval buildings and narrow alleys.

Visit the Ljubljana Castle

Taste the yummy street food and the mouthwatering gelato

Shop at the quaint central market

Have a look at the art galleries and museums

Try the local wine

Admire the Triple Bridges
We have reached the end of our two-week vacation exploring the spectacular Eastern European countries and it is time to take a flight back from Ljubljana International Airport. Hope this itinerary will help you to plan an amazing trip to Eastern Europe.
PC – Flickr.com
Subscribe to our newsletter