Best Things to do In Milan
Milan is a major Italian hub that is very different from the typical Italian city. While it preserves its Italian beauty and character, the vibrant metropolis is also a thriving business, tourism, and industrial center. Milan is known as the fashion capital of Italy and home to some of the top fashion houses in the world. Add in the city's gastronomic delights, and you have more than enough reasons to visit Milan. It is a popular and inexpensive city to fly into and out of, and it is well worth your time to explore and see everything Milan has to offer.
Explore the Highlights of Milan
From the magnificent Dumo and the intriguing 'Last Supper' to the incredible variety of museums & art galleries, the city is brimming with things to see and do. Milan was founded more than 2,500 years ago, in 600 BCE. It is, unsurprisingly, immersed in history, art, and culture, as seen by the plethora of treasures and iconic landmarks that can be found in Milan. If you are visiting Milan, here there are some sites that you simply must explore.
The best-known attraction in Milan is the Duomo, the Cathedral of Santa Maria Nascente. The largest church in Italy is a beautiful Gothic-style cathedral with an intricately decorated façade, glass-stained windows, 135 spires, and countless statues. It began in the late 14th century and took nearly six centuries to complete. While there are lots to see inside, don't miss the chance to climb to the top (by lift or steps) to see Milan's ever-changing skyline. The Piazza del Duomo, located in front of the Duomo, is a lovely place to spend some time strolling around and visiting the nearby stores & cafes while turning around repeatedly to admire the magnificent Duomo.
You can't leave without seeing one of the world's most famous paintings, The Last Supper by Leonardo da Vinci. The masterwork, which goes back to the 15th century, is housed in the Convent of Santa Maria Delle Grazie. Taking pictures of the emotionally charged mural is forbidden.
Sforzesco Castle/Castello Sforzesco
Castello Sforzesco is a spectacular standing castle in Milan that was built for defense in the 14th century. It was one of Europe's largest citadels. You can view the beautiful castle by walking into the main court area. The Castle is home to a remarkable number of small museums and libraries that display ancient relics, books, and artworks. Take a stroll around the grounds to soak in the lush greenery and striking architecture.
Many visitors come to Milan for the theatre, and Teatro Alla Scala is regarded as one of the finest in the country, attracting visitors from all over the world. If you love the opera, or ballet, or would like to see a concert – plan ahead so you can catch a show at the grand auditorium and have an unforgettable experience. If you don't want to see a performance, go to the museum and enjoy the beautifully furnished galleries, enchanting ambiance, and extensive collection of opera costumes and musical instruments.
Naviglio is a charming district in Milan that stretches along the canals. A flurry of bars, cafes, galleries, & restaurants has sprouted around the canals. The picturesque neighborhood comes alive at night when locals fill the streets to enjoy aperitivo hour and dinner. As night sets and the lights reflect in the canals, the Navigillo exudes an air of elegance and romance.
For decades, the Royal Palace of Milan, which spans more than 75,000 square feet, served as the city's administration seat. It is now the town's cultural center, hosting a number of temporary exhibitions each year showcasing art, design, fashion, and more.
Check out Milan's Museums & Art Galleries
Milan, like other Italian towns, has a wealth of museums and art galleries where you can learn about local history, art, and culture. The Pinacoteca di Brera, Museo del Novecento, Museo Poldi Pezzoli, Triennale di Milano Fondazione Prada, and Museo Nazionale Scienza e Tecnologia are just a few of the exhibitions that will impress you with their incredible collections of paintings, sculptures, antiquities, artifacts, artwork, and scientific innovations. Pick two or three museums that interest you because it is impossible to visit them all. Keep in mind that many museums are closed on Mondays and are free on the first Sunday of each month.
Visit the Cathedrals
Duomo might be the most prominent church in Milan, but it is definitely not the only one. If you enjoy churches and cathedrals, consider visiting Basilica di Sant'Ambrogia, Chiesa di San Maurizio, and Basilica of San Lorenzo to see some excellent specimens of Romanesque architecture.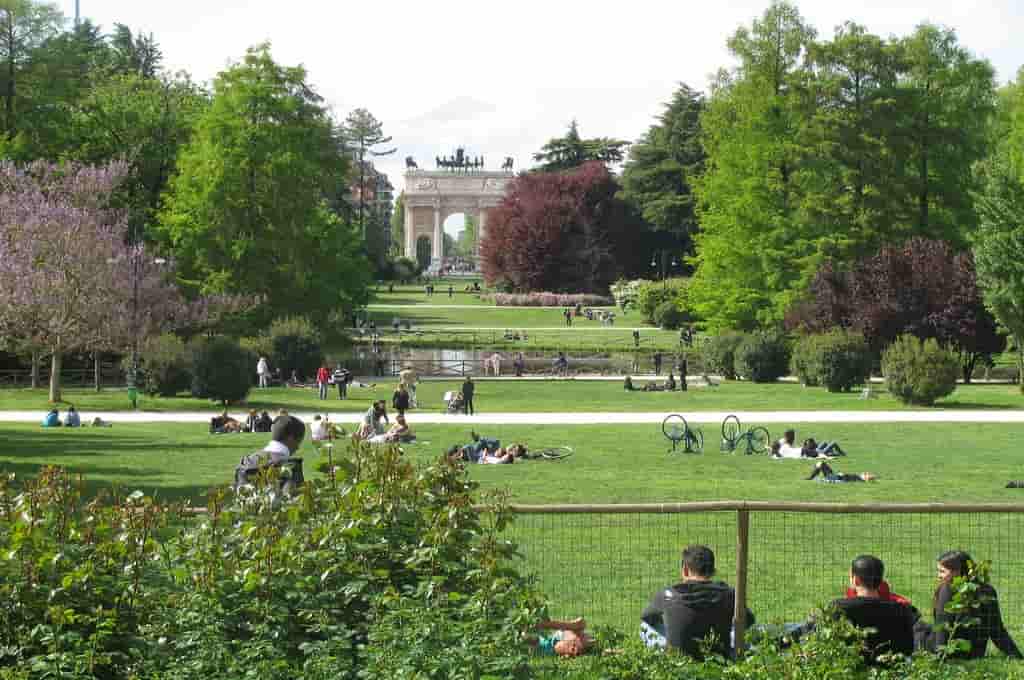 Find the Parks
Spend some time in Milan's tranquil green spaces if you need a break from all the sightseeing/shopping. Parco Sempione is one of Milan's most well-known parks. It is exquisitely landscaped with lush green grass, glistening water bodies, and luxuriant trees. The peace and solitude make it the ideal getaway for relaxation, rejuvenation, and recreation. During the summer, Parco Sempione also serves as a location for outdoor events and festivals.
Enjoy a Day Outside the City
You can't visit Milan and not go to Lake Como. The lake is located in the foothills of the Alps and offers breathtaking views of quaint towns, snow-covered mountains, and lakefront houses. Lake Como is around 30 miles from Milan. You can either take the train or drive. Other alternatives for day visits include the towns of Bologna, Turin, and Bergamo.
Go on a Shopping Spree
With Milan being a fashion capital and a great city to shop in, it seems like an ideal place to spend some time shopping while visiting the city! Although you can always go around the shops and decide what you want to buy, it is a good idea to plan beforehand. This way you can go where you want to go and buy any & all items that are on your list. If you're looking for an upscale and elegant shopping district, Quadrilatero della moda won't disappoint. Via Montenapoleone, Via della Spiga, Via Sant'Andrea, and Via Manzoni make up the Fashion Quadrilateral. Even if shopping here is out of your price bracket, browse the window displays for the latest trends.
The city is famous for its designer boutiques like Prada, Valentino, and Giorgio Armani, as well as luxury watch stores such as Pisa Orologeria Milano, which carries top-tier brands like Tudor for example. There are also popular high-street stores and vintage shops if those are more your style and budget. Corso Buenos Aires, Via Torino, and the area around the Duomo offer some of the best locations for high-street shopping. For a classic experience in Milan, head to Galleria Vittorio Emanuele II. It's a four-story building near the Duomo that's worth visiting for the architecture as well as the shops within.
It's not your typical shopping mall and provides a luxurious and beautiful setting to explore as you shop. Plan to visit Via Brera if you're looking for jewelry and antiques. Check out Via Monte Napoleone for all other big brands, and Cavalli e Nastri for vintage boutiques. The Highline Outlet should be on your radar if you're interested in good deals.
Savor the Traditional Cuisine
While you're in Milan, the incredible food has to be mentioned! Like any classic Italian city, Milan has regional and city-specific cuisine that is absolutely worth trying. Some of the foods to look out for and try are risotto alla Milanese, minestrone, ossobuco, and Costoletta alla Milanese. Don't pass up the chance to enjoy authentic Italian gelato. The choice of flavors is fantastic and you will love it. A classic food tradition in Milan that is a must, is to partake in an aperitivo (happy hours). It is a custom to meet friends before dinner for a couple of drinks, light appetizers, and a chat. During this time, the restaurants in Milan are packed with people. There is nothing quite like walking through Navigli and observing people as they flow out of restaurants, talking, and walking along the canals.
Subscribe to Our Newsletter