The Ultimate South Africa Itinerary: 2 Weeks
South Africa Itinerary: 2 Weeks
If you think that South Africa is just about wildlife safari, you are in for a surprise. The country really has it all – stunning beaches, cosmopolitan cities, phenomenal wildlife, spectacular coastal drives, and UNESCO World Heritage Sites. Delicious local wine, luscious food, and some amazing adventure sports add significantly to the overall experience. This one-of-a-kind African vacation should definitely be on your must-visit list. South Africa is the most tourist-friendly country in Africa and you are in for an action-packed adventure. Two weeks is definitely not enough to discover South Africa, but you can manage to squeeze in the country's highlights in this limited time. This 2-week itinerary is a perfect introduction to South Africa.
South Africa Itinerary for 2 weeks
There are so many ways in which you can spend 2 weeks in South Africa and no itinerary can be perfect. The suggested itinerary starts from Johannesburg and ends in Cape Town and is definitely one of the best ways to see the major attractions of South Africa in the 14 days.
South Itinerary Day 1: – Fly Into Johannesburg 
Land in Johannesburg to begin your South-African vacation. If you arrive late in the city, you can just relax and get over your jet lag. You don't want to be too exhausted to hit the road the next day. If you have time in hand, spend the day checking the museums and historical sites in Johannesburg. Apartheid Museum, Wits Art Museum, the township of Soweto (Nelson Mandela's House), and neighborhood markets are a few of the places you can visit. Public transport is good and taxis have to be pre-booked. Driving is the best and safest way to get around the city. You can also drive to Kruger National Park and enjoy a self-drive safari. Johannesburg is not the safest of cities, so take precautions while venturing out of your hotel.
South Itinerary Day 2-4: – Kruger National Park
A safari in Kruger National Park is undoubtedly the highlight of any South African trip. Kruger National Park is the largest game reserve in Africa and one of the biggest in the world. Due to its easy accessibility and high density of wildlife, the park is immensely popular amongst travelers. 
The distance from Johannesburg to Kruger National Park is 283 miles away and takes around 5-6 hours. You can choose between renting a car or using a private transfer. There is no direct bus to Kruger. If you leave early, you can embark on your first game drive on that day itself. The  National Park provides incredible opportunities to spot the Big Five (elephant, lion, leopard, rhinoceros, and buffalo) in their natural habitat. Besides the Big Five, you can spot zebras, giraffes, cheetahs, hippopotami, hyenas, crocodiles, deer, and countless species of birds.
Spend the next two days enjoying the safaris, taking sunrise bush walks, relaxing in your camp/lodge, visiting the cultural village, and enjoying the local food & dances. The safaris take place in the early morning, late afternoon, and night. Don't miss the chance to go on a night safari as this is the time when the nocturnal animals are moving around looking for their prey. You must aim to go for a minimum of 3-4 safaris during your stay, as each drive will be exciting and different. You might be lucky to see lions mating, a leopard pouncing on a deer, animals fighting amongst themselves, and other rare wildlife experiences.
Where to stay in Kruger National Park?
Kruger Park is divided into two parts. One portion is a state-sponsored national park that is open to everyone. The accommodation in the Kruger National Park is affordable and ranges from campsites and safari lodges to guesthouses and bungalows. You can drive your own car, but your movement is restricted and you cannot drive off-road. There are strict open and closing times and visitors are not allowed to explore after sunset. 
The other part, called 'Greater Kruger Park' lies adjacent to Kruger National Park. The fences that separated the two parks were removed in 1993, allowing for free movement of the animals between the two wilderness areas. The sightings in both parks are equally impressive, the difference is the overall experience. Guests staying in Greater Kruger park can visit the Kruger National park, but reverse movement is not allowed. 
Greater Kruger Park is allocated to a handful of private game reserves, each having its own territories. The game reserves share their domain with each other and the guided tours can take you anywhere within the unfenced protected park. The vehicles are also allowed to go off the road, do night safaris and arrange for bush breakfasts/dinners – giving a much better viewing opportunity. The private reserves offer exclusive, authentic, and less crowded safaris. 
The camps and lodges in the Kruger National Park are more luxurious, intimate, and all-inclusive, and come with more amenities and activities. This is definitely a place where it's worth splurging on an all-inclusive luxury lodge. A few of the popular private game reserves in Greater Kruger Park are Sabi Sand Game Resave, Klaserie Nature Reserve, Timbavati Private Nature Reserve, MalaMala Game Reserve, etc.
South Itinerary Day 5: – Johannesburg Via Blyde River Canyon
Today we will make our way back to Johannesburg through the spectacular Blyde River Canyon. The 26km long Canyon is the third-largest canyon in the world and supports a large diversity of life. The canyon follows the path of the Blyde River offering breathtaking panoramic views at every turn, giving the area its name of "Panorama Route". You can take scenic stops to admire the dramatic landscapes, cascading waterfalls, and epic rock formations. The main highlights are Three Rondavels, The God's Window, Pilgrim's Nest, and The Pinnacle. It is one of the most beautiful natural landmarks of South Africa. Spend the night in Johannesburg.
South Itinerary Day 6: – Port Elizabeth
A short flight of around 2 hours and you will land in Port Elizabeth. An overnight bus takes close to 13 hours to reach Port Elizabeth from Johannesburg. If you hit Port Elizabeth before 2 pm, you can visit Addo Elephant National Park. The park is home to herds of elephants and on a hot day, you can see hundreds of them at waterholes. If you had your fill of wildlife in Kruger, you can check other attractions. Enjoy a brewery tour, walk around the town, relax on the sun-splashed beaches, or have some fun in the Boardwalk Casino Complex.
South Itinerary Day 7-9: – Garden Route
The Garden Route is a 300km stretch of a rocky coastline on the southwest tip of South Africa. It is one of the world's most spectacular drives that winds past sprawling wetlands, sandy beaches, quaint towns, indigenous forests, picturesque lakes, ancient mountain ranges, dramatic lagoons, and sprawling nature reserves. It is best to rent a car to enjoy the stunning vistas along the route. There are plenty of places and pit stops along the Garden Route. Knysna, Oudtshoorn, Tsitsikamma Forest, Struisbaai, George, Plettenberg Bay, Storms River Village, and Jeffery's Bay are the preferred towns. So, it is better that you decide your night halts depending on what you want to see & do. Here are my recommendations for the three stops – one night in each town.
Knysna – One of the most popular stops on Garden Route, Knysna is a charming holiday town with an interesting selection of accommodations and eateries. You can enjoy a boat cruise to the 'Heads', take a walking tour of the Featherbed Nature Reserve, or hike to watch the jaw-dropping views of the picture-perfect beaches and lush forests.
Oudtshoorn – South Africa's ostrich capital, Oudtshoorn, is another favorite stop on the Garden Route. The town is known for its ostrich farms where you can learn all about the biggest birds in the world. Don't miss the Cango Caves. The stunning natural wonder is an elaborate underground labyrinth and is filled with narrow stone passageways, spacious caverns, gigantic stalagmites & stalactites.
Mossel Bay – The charming harbor town is one of the many spectacular spots on the Garden Route. Mossel Bay boasts multiple hiking trails, historical sites, and miles and miles of windswept beaches. Cape St. Blaize Lighthouse, Botlierskop Game Reserve, and Santos Beach are the star attractions. Mossel Bay signals the end of the Garden Route.
South Itinerary Day 10: – Hermanus
Leave early as it takes 3.5 hours (308km) to reach Hermanus from Mossel Valley. Known as the Whale Capital, the idyllic coastal town of Hermanus is the world's best land-based location for watching whales. From July to November, you can spot whales in Hermanus from the shore itself. Gearing Point is a great place to view the southern right whales. You can also book a whale-watching tour to observe whales and dolphins from up close. An alternative to whale watching is visiting the Fernkloof Nature Reserve where you can go on walking trails to enjoy breathtaking views of Walker Bay. If you are up for the challenge, you can try Great shark-cage diving in the Gansbaai, a nearby town. Spend the night at Hermanus.
South Itinerary Day 11-14: – Cape Town
It will take around 1.5 hours to hit Cape Town – the last stop on our itinerary. Crowned by the majestic Table Mountain and fringed by the pristine white beaches of the southern Atlantic Ocean, Cape Town is undoubtedly one of the most beautiful cities in the world. Also called "Mother City", Cape Town is a cosmopolitan town with stunning landscapes, historical sites, delicious cuisines, and lively nightlife. An incredible city where diverse cultures, landscapes, and cuisines come together so naturally and beautifully. Uber is easily available. If you are looking for an affordable way to get around the city, you can use the efficient MyCiti Bus.
From exploring Robben Island, Table Mountain, and Cape Point to checking the nearby wineries, local cafes, and shops, Cape Town has plenty of things to keep you occupied for a few days. We have just three full days to explore the city. I will list down some of the most popular activities in Cape Town and you can take your pick. You can plan them in a way that you can cover 2-3 attractions in a day. On the 14th day take a flight back home from the Cape Town International Airport.
Top Things to do in Cape Town
Take a cable ride to the plateau at the top of The Table Mountain. You can enjoy fantastic panoramic views of Cape Town, Robben Island, Table Bay, and the Atlantic Ocean from the iconic mountain.
Explore Robben Island where Nelson Mandela was imprisoned for 18 years. It is an island in Table Bay and a UNESCO World Heritage Site
Plan a day trip to the Cape of Good Hope – a rocky headland on the Atlantic Coast of Cape Peninsula. The picturesque Chapman's Peak Drive will take you all the way to Cape Point where the Atlantic and Indian Oceans meet. En route, take a stop-over to admire the African penguins at Boulder's Beach.
Visit Western Cape Winelands – one of the world-renowned wine regions that produce excellent, distinctive wines. There are three main regions – Stellenbosch, Paarl, and Franschhoek. Pick one of them, take a tour of the different vineyards in that area, and indulge in some wine tasting.
Head to the colorful neighborhood of Bo Kaap, take some striking pictures, and grab dinner at a Cape Malay restaurant.
Take a boat ride to admire the Cape Fur seals at Hout Bay. On weekends, local vendors and artisans come to the Bay Harbor Market to sell their products.
Relax, eat, and shop at the V&A Waterfront – home to South Africa's oldest harbor. It is a favorite hangout for locals as well as visitors.
Hit the beaches. Camps Bay is lined with palm trees and is one of the most popular beaches in Cape Town. You can relax on the white sand, enjoy a picnic, visit the tidal pools and enjoy the scenic views.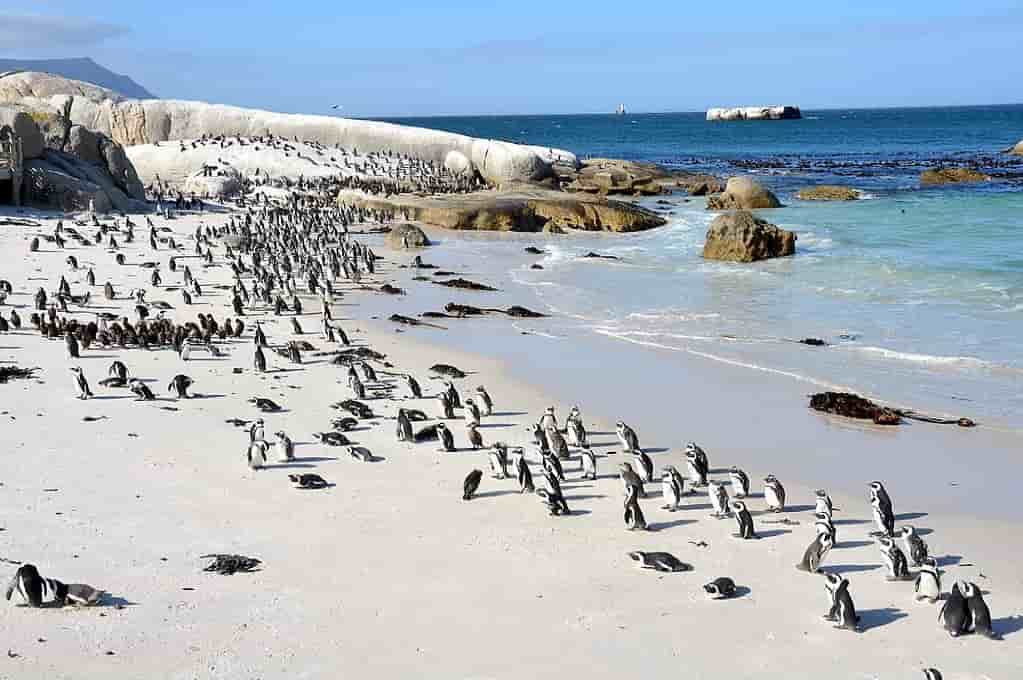 Things to know before visiting South Africa
November to May is the best time to visit South Africa. November–

February

is the summer month in the Southern Hemisphere, but the temperatures are moderate and pleasant. If you want to avoid the crowds plan your trip from March to May. The winter months (July-November) are good for whale-watching. The drier winter months from May-October are the perfect time for game viewing. It gets cold but you don't need thermals and stuff. So, overall South Africa is a year-round destination.
South Africa is quite a safe destination. Just use your common sense, be vigilant and don't walk around at night or flash your valuables.
Renting a car makes life easier in South Africa. Roads are generally in good condition, all signposts are in English, and the traffic is quite organized and manageable. You can drive in South Africa with any license as long as it is printed in English. South Africans drive on the left-hand side of the road.
Carjacking and petty thefts from cars are quite common in South Africa. Never leave valuables in your car and use the services of 'car-watchers' who can be found in the parking spaces. They basically guard your cars informally.
Uber operates in most places in South Africa. It is cheaper than metered taxis, yet quite reliable and convenient.
South Africa has a tipping culture and 10-15% is an acceptable amount in most places.
Zulu is the most common language spoken in South Africa, followed by Xhosa and Afrikaans. Most South Africans are multilingual. English may not be spoken, but it is widely understood in urban areas.
The South African Rand (sign: R; code: ZAR) is the country's official currency. One dollar is around 14 ZAR as of now.
You can safely drink tap water in South Africa.
Carry insect repellent with you. Many areas within South Africa are malaria risk zones, so consult your doctor and carry the necessary medication.
Contrary to popular belief, Cape Point is not the southernmost tip of Africa. Cape Agulhas, located around 200km to the southeast, is the most southerly tip of the African continent.  
Subscribe to Our Newsletter