Vietnam Itinerary for 7 Days
Vietnam Itinerary for 7 Days
After decades of living in the shadow of Thailand, Vietnam is experiencing a surge in tourism. People have woken up to the allure of the country's beautiful beaches, intriguing cultures, charming old towns, and unspoiled landscapes. Vietnam is so diverse that there is something unique in each region for different types of travelers. What makes Vietnam the real winner is the delectable cuisine and affordable prices. To top it all off, there aren't too many tourists, but the infrastructure is still efficient enough to allow for seamless travel throughout the country.
Vietnam is a long and diverse country. Although 7 days is not enough time to thoroughly explore the area, it is sufficient to have a wide range of experiences. If you want to visit Vietnam but aren't sure where to begin, you've come to the right place. I've created a perfect 7-day itinerary that will allow you to visit the country's most popular destinations in a short span of time.
7-Day Vietnam Itinerary
Day 1 of Vietnam Itinerary:  Hanoi
Arrive in Hanoi and check into your hotel. The capital city is crazy and chaotic and the crammed streets are swarmed with vendors and bikers disregarding all traffic laws. Spend the day learning about Vietnam's history and culture by visiting key Hanoi attractions such as the Ho Chi Minh Mausoleum Complex, One Pillar Pagoda, Imperial Citadel of Thang Long, Temple of Literature, Hoan Kiem Lake, Tran Quoc Pagoda, Train Street, and Ngoc Son Temple. The majority of the popular sites are in the Old Quarter, so you should be able to visit the ones that interest you. You can also watch the Thang Long Water Puppet Show, which has been a part of Vietnamese culture since the 11th century.
Vietnam's cuisine is a riot of spices and aromas. A food tour is a great way to discover Hanoi's mouth-watering street food. If you enjoy shopping, you're in for a treat. The city is a heaven for thrift shoppers and you can find silks, artwork, jute products, coffee, watches, leather items and so much more. Everything is affordable if you have good bargaining skills. In the evenings, you can enjoy Hanoi's lively nightlife and popular night markets. The markets are open every Friday, Saturday, and Sunday from 6 p.m. to 11 p.m. in the Old Quarter.
Day 2 of Vietnam Itinerary:  Ninh Binh
Start your day early as we have a day trip to the Ninh-Binh province today. Ninh Binh is 90 km (2hrs one-way) from Hanoi and offers breathtaking views of riverine landscapes, lush rice paddies, sheer cliffs, and limestone karsts. The region is known as "Ha Long Bay on Land" by the locals because it is dotted with hundreds of limestone monoliths with rivers flowing through them. Many enchanting caves have formed inside the limestone mountains and are one of Ninh Binh's main attractions. I have listed a few fun things to do in Ninh Binh below. Return to Hanoi in the evening and spend the remaining hours exploring the city's nightlife and food scene.
Take a paddle boat tour in Tam Coc/Trang An. A boatman will paddle you as you pass towering karsts and glide beneath grottoes.
Climb 500 steps to Mua Cave Viewpoint for sweeping views of the Tam Coc Valley. The incredible sight of the river winding lazily in, out, and around the paddies and ancient karsts makes the steep hike worthwhile
Cycle through the sleepy villages to get a glimpse of local life.
Visit Thai Vi Temple, King Dinh Temple, and Bai Dinh Pagoda.
Enjoy the

local specialties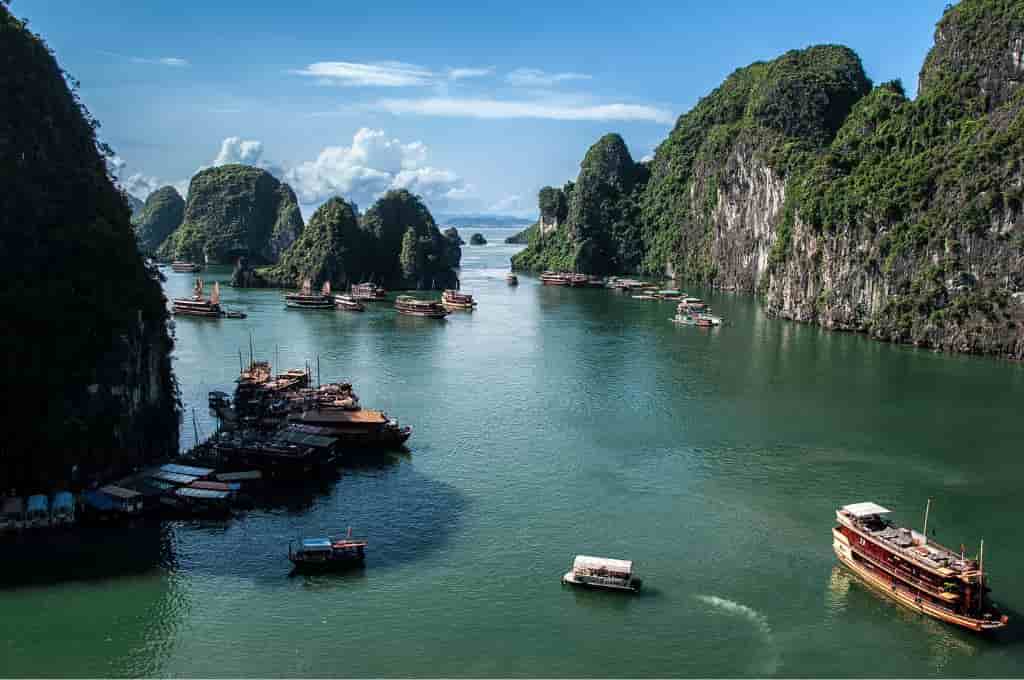 Day 3-4

of Vietnam Itinerary

:  Halong Bay
This will undoubtedly be the highlight of your trip to Vietnam. Halong Bay, a UNESCO World Heritage Site, is best known for its veritable forest of limestone karst peaks rising from the emerald-green waters of the Gulf of Tonkin. Nearly 2,000 stunning islands stretch as far as the eye can see. The spectacular seascape of limestone islets is uninhabited mainly because of its precipitous nature. Taking a cruise and getting up close to the caves, coves, grottos, and tiny islets is the best way to experience the breathtaking Halong Bay.
Choose an overnight cruise based on your budget, which can range from low to extravagant. Whatever company you choose, most cruises will pick you up from your hotel (if it is in the Old Quarter) and drive you 2.5 hours to the marina. Cruises depart from three major ports: Tuan Chau (the largest), Hon Gai, and Got Pier. The cruises are all-inclusive and will allow you to see mesmerizing sunsets and sunrises, discover hidden caves, swim in glistening waters, and paddle kayaks.
Nearly every cruise itinerary includes a tour of the Sung Sot Cave, which is known for its stalactite chandeliers and cathedral-like halls. Spa, jacuzzi, squid fishing, karaoke, and cooking classes are among the activities available onboard. The cruise meals are a mix of traditional and fusion fare. Vegetarian options are available on request. The cruise ends at around 11:30 am on our 4th day. By the time we take the shuttle and reach Hanoi, it is nearly 2:30 p.m. We've seen enough of Hanoi, so we'll take an evening flight to Da Nang (80 minutes), our next stop.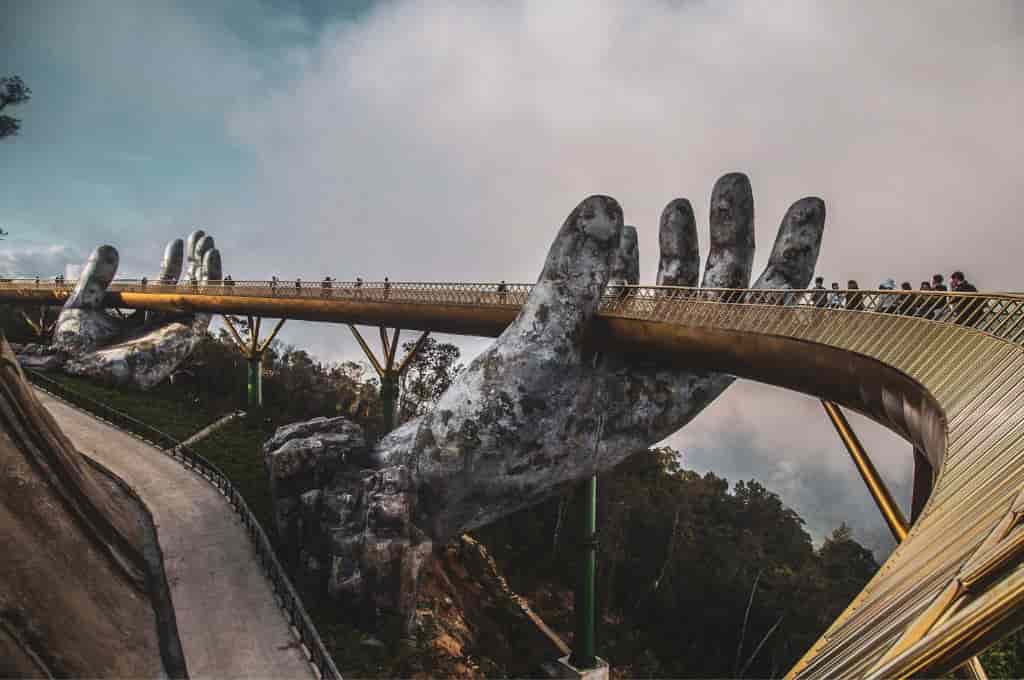 Day 5

of Vietnam Itinerary

:  Da Nang
Kickstart your day with a trip to the Ba Na Hill Mountain Resort. The cable car will transfer you to the beautiful mountaintop retreat, where you will spend the next few hours partaking in a wide range of activities. Stroll through the replica of a French village, take photos on the magnificent Golden Bridge, ride the Alpine Coaster, or simply enjoy the scenic views from the top. If you arrive early and move quickly, you might be able to squeeze in a visit to other attractions of Da Nang like Marble Caves, Dragon Bridge, Lady Buddha, and the sandy beaches. You have the option of departing for Hoi An today or early tomorrow morning. If you are staying the night in Da Nang, experience Vietnam's nightlife at Bach Dang Street.
PS: On weekends after 9 p.m., Dragon Bridge exhales fire and spits water from its mouth. If you're in Da Nang over the weekend, don't miss out on this exciting event.
Day 6

of Vietnam Itinerary

:  Hoi An
Hoi An is only a short drive away from Da Nang (45 minutes). The historic port town is a UNESCO World Heritage Site with an eclectic mix of historic Vietnamese, Chinese, Japanese, and French colonial buildings. The Japanese Bridge, Chinese Assembly Halls, and Chua Ong Pagoda provide brilliant backdrops for your Instagram posts. You can rent a bike and explore the town's beaches and laid-back cafes. Hoi An becomes completely magical at night. Once the sun goes down and darkness falls, the entire area near the river is illuminated by thousands of colorful hanging lanterns. You should go on a boat ride, float a lantern, and make a wish. If not, grab a seat at one of the riverside restaurants and enjoy the enchanting spectacle. White Rose dumplings and Summer Rolls are must-tries in Hoi An.
Shopping in Hoi An is a delight. The quaint shops in the Old Town are brimming with local offerings that are amazingly affordable. Bags, paper lanterns, accessories, clothing, shoes, silks, and lots more. Hoi An is known for its custom clothing. There are dozens of small boutiques that will stitch an outfit measured to fit within a few hours. Simply select the fabric and design, and the clothes will be ready in a matter of hours. Some of the things to do in Hoi An:
Visit the Old Town
Explore the Chinese Temples and Assembly Halls
Bike around the town and cruise on a boat in Thu Bon River
Shop for the local handicrafts
Get a custom-made outfit
Enjoy the Lantern Festival in the evenings.
Day 7

of Vietnam Itinerary

:  Ho Chi Minh
Return to Da Nang early in the morning and catch an internal flight to Ho Chi Minh City (90 minutes). Ho Chi Minh City is not particularly interesting, but it serves as our final stop because it is well-connected to the rest of the world. If you enjoy history, you can visit the museums and palaces. A half-day trip to the Cu Chi Tunnels is your best bet. Cu Chi Tunnels, located 55 km south of Ho Chi Minh City, was the site of multiple military invasions during the Vietnam War. The network of underground tunnels is gloomy and claustrophobic, but it is a must-see for history buffs.
If you want to do something more exciting, you can go last-minute shopping at Ben Thanh Market, hang out in Saigon Square, explore Ho Thi Ky Flower Market, savor the street food, or simply enjoy your favorite version of Vietnamese coffee. Our 7-day trip to Vietnam has come to an end and it's time to go home.
Can spare two more days in Vietnam?
We were able to cover all of the highlights of Vietnam in just seven days. However, there is still a lot to see and do in this amazing country. So, if you have a few extra days, I've given you two options for places to visit.
SAPA 
If you have two more days and enjoy trekking, you can go to Sapa, which is 350 km from Hanoi. Sapa is best reached by taking a six-hour private sleeper bus from Hanoi, which departs late at night or early in the morning. The other alternative is to catch a 9-hour overnight train to Lao Cai Province, followed by a 45-minute cab/bus ride to Sapa Town. Sapa is located in the Hoang Lien Son mountain range and is known for its terraced rice fields, rich cultural diversity, and unspoiled rugged vistas.
From visiting the Holy Rosary Church and waterfalls to exploring the charming villages and Sapa market, there is plenty to do in Sapa. Cat Cat, Ta Phin, and Fan Si Pan are just a few of the amazing treks in Sapa. The Fan Si Pan Peak is the highlight, but reaching this summit can take three days. Since we only have a limited amount of time, it is best to use the cable car to travel to the Fan Si Pan peak. After two days in Sapa, take a bus or train back to Hanoi and continue with the itinerary outlined above.
Phu Quoc
Plan a couple of days in Phu Quoc if you want to unwind on the beach. It is a short one-hour flight from Ho Chi Minh. and can be easily added to the itinerary. Vietnam's largest island, Phu Quoc, is located in the country's south and is known for its idyllic beaches, lush forests, and tranquil vibes. The beach town has it all: luxurious resorts, turquoise waters, beachside activities, charming cafes, and snazzy bars. If you're looking for an adrenaline rush, the Vinpearl Phu Quoc Amusement Park has a variety of indoor and outdoor attractions that will keep you entertained for hours. Visit the traditional villages, sprawling National Parks, and Buddhist pagodas while you're there. Vietnam food is always a big draw in all parts of the vibrant country.
Things to know before Traveling to Vietnam
Best Time to Visit –

Much depends on which part of the country you are visiting, but

November

to March are generally good months to travel to Vietnam.

Summers

(April to October) are hot and humid, with the rainy season peaking in July and August.
Visa – Passport holders from 24 countries can enter Vietnam without a visa for a limited time. You can check here to see if you need a visa. Citizens of other nationalities need a visa. Although there are several ways to obtain a Vietnamese visa, an E-Visa is the quickest and easiest option. It is a simple and straightforward procedure that can take anywhere from 3 to 7 working days. This is the official website for applying for an E-Visa to Vietnam.
Currency – The Vietnamese Dong is the official currency (VND). At the moment, one dollar equals 23585.00 VND. Credit cards are only accepted in larger hotels and shops, and most businesses charge a 3% transaction fee. As a result, it is always advisable to carry local currency with you. ATMs are very easy to find. Dollars are also widely used by everyone.

Transportation –

For this itinerary, we have primarily traveled between cities by plane and car due to our tight schedule. Flights and taxis are both very affordable in Vietnam. However, if you have the time, you can take buses and trains.

Local Transport –

Uber does not operate in Vietnam. Download the Grab App to summon a car or a motorcycle. You can also use the estimated cost of your trip on Grab to bargain with other taxi drivers.
Language – Vietnamese is the official language. Communication is difficult because most locals do not speak or understand English. They heavily rely on Google Translate to converse with tourists. It is recommended that you also download the app to make your life easier.
Food and Drinks – Vietnam is loved for its coffee and cuisine. It would be a pity not to try the local cuisine. Bun Cha, Banh Mi, Com, Pho, Com, Banh xeo, Dim sums, Banh Canh, Egg Coffee, Vietnamese Coffee (with condensed milk), Civet coffee, and Bio hoi are just a few of the local specialties to try.
Vegetarian Food – Finding

vegetarian

food in Vietnam is difficult because the majority of the diet consists of meat and seafood. However, knowing what to order makes things easier. Among the

vegetarian

dishes available are Banh Mi Chay, Ph chay, Sticky rice, Rau Muong Xao Toi, Banh Khoai Tay Chien (fried potato cakes), Gi Cun Chay, Dau Sot Ca Chua, and Che Bap.
Shopping – Everything in Vietnam is very cheap, even by Indian standards. However, you must really haggle if you don't want to be ripped off.
Traffic – Traffic in Vietnam is extremely chaotic, and there are no serious traffic regulations. Pedestrian crossings are non-existent. Since nobody will stop for you, one must be extremely cautious around scooters when crossing streets.
Water – Tap water is not drinkable in Vietnam.
Cellular Data – You can easily purchase a local SIM card at the Hanoi airport. They are also available at tourist offices and tour operator shops. Almost every

hotel

and restaurant provides free Wi-Fi.
Subscribe to Our Newsletter