Turkey is the ultimate holiday destination. It is a country that is unlike any other in the world and offers unforgettable experiences. Straddling Asia and Europe, Turkey, is enveloped by sea on three sides. The influences of both continents can be seen in the vibrant culture of Turkey. The country is steeped in unusual history and has witnessed the rise and fall of empires like the Romans, Greeks, Ottomans, and Byzantines. Different civilizations have left their mark and the historic region is packed with prehistoric ruins, archaeological sites, ancient cities, abandoned villages, & priceless artifacts.
But Turkey is not just about history. From the bustling metropolis, sun-kissed beaches, & spectacular landscapes to incredible food, iconic landmarks, & bustling bazaars – Turkey is a visitor's delight. It is definitely not possible to see all of it within 7 days as the major tourist attractions are scattered in the four corners of the country.  However, if you plan and make some smart choices, you will be able to explore the best of Turkey in 7 days.
Best time to visit Turkey?
Turkey is big and well-spread out and the weather is extremely diverse throughout the country. So, you can always find out regions to visit in all seasons. Generally speaking, spring (March-May) and fall seasons (September–November) are the best time to visit Turkey. The temperatures would be moderate, the skies would be sunny, the crowds would be sparse, and everything would be cheaper. During Ramadan (which falls between March and May), few shops and eateries would be closed during the daytime. The summer months (June-Aug) will be scorching hot, crowded, and expensive. However, it is a good time to enjoy the Mediterranean coastline.  Cappadox Festival is also held in May in Cappadocia, and it's definitely worth visiting. Winters (December–February) are extremely cold and receive maximum rainfall – definitely not an ideal time to visit Turkey.

PLACES ON OUR ITINERARY
ISTANBUL, TURKEY
Located at the crossroads of Europe and Asia, Istanbul is the highlight of your Turkish holiday. The city has been in existence for 2000 years and is generously peppered with ancient ruins and monuments. Start your day in the old city of Sultanahmet where you will be able to explore most of Istanbul's iconic attractions – Hagia Sophia, the Blue Mosque, Topkapi Palace, & the Basilica Cistern, and a few more. Everything is clustered together and you can visit all of them on foot. Take a cruise along the Bosphorus and admire the most stunning architectural mansions along the way including Bosphorus bridges, Ottoman Residences, Ciragan Palace, & Dolmabahce palace. The public transport system of Istanbul is very efficient and you don't need to use taxis.
Keep in mind that Grand Bazaar is closed on Sundays & national holidays and Topkapi Palace on Tuesdays. Blue Mosque is not open to visitors Friday mornings before 1:30 pm. Non-worshippers may not be allowed to enter the mosque during the 5 prayer sessions. 
If you are done with sightseeing for the day, head towards Grand Bazaar for a surreal shopping experience. It is one of the biggest and oldest covered markets in the world. The labyrinth bazaar offers a mind-boggling range of local products & souvenirs and is a true test of your haggling skills. Spice Bazaar is another attraction where you can find essences, dried fruits, ceramic products, & textiles in addition to countless aromatic spices. Don't miss checking the trendy bars, cafes, and restaurants for the local flavors and cuisines. Visit the Ottoman Suites, Dolmabahce Palace, and Bezmi Alem Mosque if you want to explore further. If you are looking for some happening spots, the lively districts of Beyoglu and Istiklal Caddesi won't disappoint.
Must-Visit in Istanbul:
Hagia Sophia – Once a cathedral, later a mosque, and now a museum; Hagia Sophia is an enormous architectural marvel.
Topkapi Palace – UNESCO Heritage Site and the oldest surviving palace in the world. The ancestral residence of the Ottoman Sultans has been converted into a museum.
Blue Mosque – An architectural masterpiece decorated with around 20,000 hand-painted blue Iznik tiles. The grandeur and splendor of the mosque will leave you awestruck.
Basilica Cistern – The subterranean grand structure was built in the 6th century and is full of visual wonders like the weeping column and inverted head of Medusa.
Grand Bazaar – Vibrant and colorful, Grand Bazaar is one of the first "shopping malls of the world". It has 61 covered streets and more than 4000 shops.
Bosphorus Cruise – A cruise through the middle of Europe and Asia giving you gorgeous views of waterfront palaces and houses.
Galata Bridge and Galata Tower – The 500 AD watchtower is the best place to get a panoramic view of Istanbul.
CAPPADOCIA, TURKEY
Cappadocia has seen a sudden surge in popularity charts and may soon overtake Istanbul as the star attraction of Turkey. The region is made up of several towns, all having unique landscapes. Stunning vistas, fairy chimneys, amazing rock formations, & underground cave dwellings – Cappadocia is truly a magical destination. The popular spots include Goreme Open Air Museum, Pasabag Monk's Valley, Devrent Valley, Tokai Kilise, Goreme National Park, Red & Rose Valleys, Cavusin Castle, and Uchisar Castle.
The region is renowned for hot air balloon rides and you have to get up early morning to see hundreds of hot air balloons floating in the sky over the moon-like landscape. The views are simply spectacular – from the ground level and from the basket of the balloon. Plan at least two nights in Cappadocia, so that you have an extra day to enjoy a hot air balloon, in case the weather plays spoilsport. Book in advance as only 150 balloons are allowed per day and they are always in huge demand. If you're looking for a reliable and top-rated hot-air balloon trip, Viator is a great place to start.
Use the second day to visit the farther-out attractions. It is best to book a local tour so that you can explore the region without getting into logistics. There are 200 underground cities in Cappadocia, and Derinkuyu and Kaymalki are the best of the lot. You will have to ascend and descend hundreds of steps to see the underground cities, but it will give you vivid glimpses into the living style of the ancient residents. Another spot that should be visited is the Ihlara Valley. It is home to numerous cave churches and rock-cut buildings set in a unique landscape. Stay in one of the many cave hotels that dot the region for a surreal experience. Travelers highly recommend Sultan Cave Suites and Kelebek Special Cave Hotel.
Must-Visit in Cappadocia:
Kaymakli Underground City – The city has 8 floors below ground but only 4 are open to the public.
Devrent Valley – Known for its unique fairy chimneys.
Derinkuyu Underground City – The deepest underground city in Turkey (200 feet underground) with an extensive network of passages and tunnels
Pasabag Monk's Valley – For the mushroom-shaped pinnacles
Goreme Open Air Museum – Rock-cut churches and Christian monuments dug into the hills and dating back hundreds of years.
Uchisar Castle – The fortress offers panoramic views of the entire region
Ihlara Valley – A majestic 15km gorge that was formed thousands of years ago by volcanic activity in the region. It is 100 meters deep in most places.

EPHESUS, TURKEY
Ephesus Ancient City, built by the Ancient Greeks in the 10th century BC, is the largest and richest open-air museum in Turkey. Ephesus was the capital of the Eastern Roman Empire and the center of trade and commerce in the ancient world. Today, it is one of the most well-preserved ruins in Turkey. Isabey Mosque, Temple of Artemis (one of the seven wonders of the ancient world), Ephesus Grand Theatre, a 25,000-seat amphitheater, Celsus Library, Basilica of St. John, Hadrian Temple, Sirince Village, and the House of Virgin Mary are the places that you can explore in and around Ephesus.
PAMUKKALE, TURKEY
Pamukkale means 'cotton castle' and there is no better way to describe this picturesque area. Pamukkale has pools of natural thermal spring waters with healing properties. Peral stepped-water terraces and white-colored travertines have been created on the mountain slopes due to deposits of calcareous salts. The natural springs have been popular since the 2nd century BC. People came here to find cures for their ailments. Pamukkale is a visual treat and a photographer's delight. Wander the travertines, take a dip in the Cleopatra Pool, admire the stunning views, and visit the archaeological site of Roman Hierapolis city – lots to keep you occupied.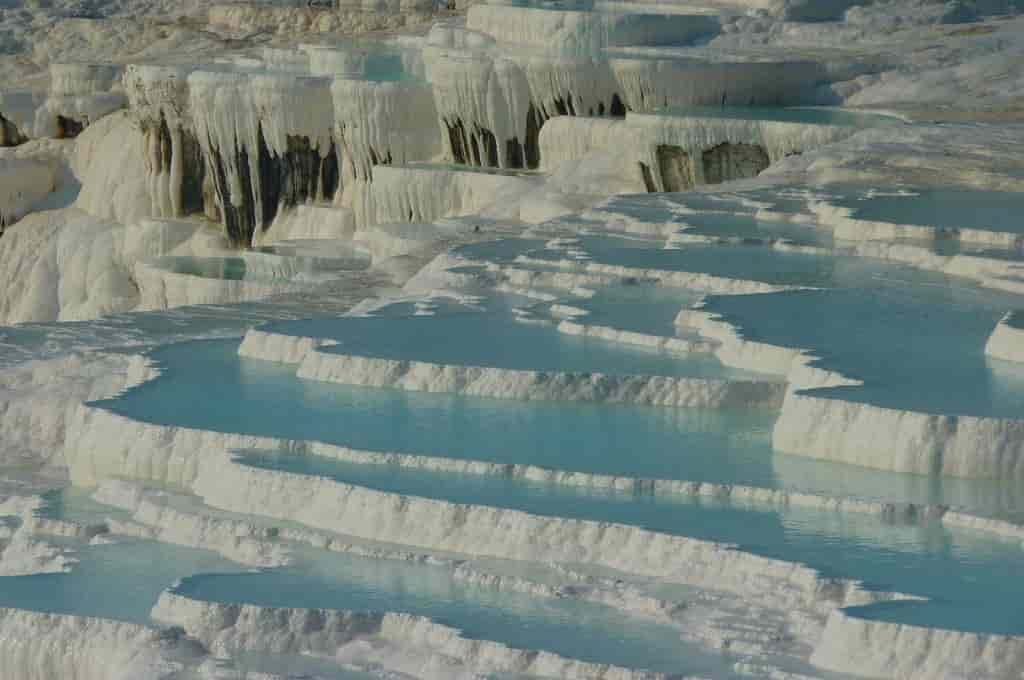 7-Day Suggested Itinerary for Turkey
Our itinerary starts in Istanbul. Istanbul is an aviation hub and very well-connected to all parts of the world, so reaching it is never an issue.
Turkey Itinerary Day 1: Reach Istanbul and spend the day exploring the Sultanahmet region and other must-visits. Try to reach Istanbul the day before or early morning, so that you can have a full day of sightseeing in Istanbul. Stay overnight in Istanbul.
Turkey Itinerary Day 2: Spend the second day in Istanbul. Take a cruise, have a leisurely meal, or visit the other attractions on your list. Today we are going to depart from Istanbul for Cappadocia. The easiest way of getting to Cappadocia from Istanbul is by plane. Cappadocia is not a city, but a region in the heartland of Turkey. Take a late evening flight to Kayseri or Nevsehir airport. They are an hour's drive to most towns in the Cappadocia region. Stay overnight at Cappadocia.
PS: The cheaper option is to take an overnight bus from Istanbul to Goreme, the main downtown area in Cappadocia. The bus journey takes around 11 hours and you will reach Cappadocia on the 3rd morning of our itinerary. If you take a bus, you won't be able to go for a hot-air balloon ride on the 3rd day.
Turkey Itinerary Day 3: Get up very, very early so that you can enjoy a spectacular sunset from your hot balloon. You are in for an unforgettable experience. Explore the unique attractions of Cappadocia. Stay overnight at Cappadocia.
Turkey Itinerary Day 4: Use this day to explore the nearby attractions in Cappadocia. Don't lose track of time as we have to leave for Izmir today. Take a flight from Cappadocia (Kayseri) to Izmir in the evening as late as possible. You have a couple of direct flights between Kayseri to Izmir, the rest come via Istanbul. Book your accommodation in Kusadasi or Selcuk (Both are around one hour from Izmir). The ruins of Ephesus are very close to Kusadasi (18km) and Selcuk (3km), hence they are perfect places to stay for a trip to Ephesus.
Turkey Itinerary Day 5: Explore Ephesus at leisure. It is best to use a guide that will help you understand the historical significance of the numerous ruins. Overnight at Kusadasi/Selcuk
Turkey Itinerary Day 6: There is no direct bus to Pamukkale and the best option is self-drive/taxi/tour. Explore the gorgeous travertines. After, you had your fill, depart for the hotel. It's a long way back to Kusadasi/Selcuk where you are going to spend the night. You also have the option to go directly to Izmir and stay the night there as you have to catch a flight from Izmir in the morning.
Kusadasi-Pamukkale:  By Train – 4h35m, By Road – Around 3h
Selcuk-Pamukkale:      By Train – 3h15m, By Road – Around 3h
Pamukkale-Izmir:        By Train – 4h35m, By Road – Around 3h
Turkey Itinerary Day 7: Take the flight to Istanbul from Izmir. If you have time in hand before your return flight, you can explore Istanbul further, or maybe enjoy some last-minute shopping.
7 Days Turkey Itinerary on Map

  Things to know before you travel to Turkey:-
Flights

are quite affordable in Turkey. Driving takes up lots of time as we have to cover long distances to reach the desired locations. So, it makes sense to travel by air. If you are planning to drive between cities, check the offers at Localrent.
If you have a European Union passport, you don't need a visa to visit Turkey. Nationals of other countries mostly need an e-visa to enter Turkey. You have to apply online and your visa is processed within minutes.
Museums are generally closed on Mondays.
Booking.Com is banned in Turkey, but you can use VPN to access it.
Outside the tourist areas, English is not widely spoken in Turkey. It is advisable to learn a few basic words in the Turkish language to make life simpler.
The currency of Turkey is the Turkish Lira. It is equal to 0.10 USD. Most places in big cities take credit cards, but you will need some

cash

for taxis, street vendors, small shops, tips, and public transport. It is easy to find ATMs all over Turkey.
Turkey is very safe to travel to as a solo female traveler. However, you need to be conservative in your dress as Turkey is majorly a Muslim country.
One should follow proper

etiquette

and respect the local culture. Public display of affection is frowned upon.
Always cover your shoulder and knees while visiting any religious places in Turkey. Scarves prove to be a big savior in such cases.
It is common to see stray dogs and cats everywhere in Turkey.
Water is generally safe for drinking, but it has a bitter taste. Better use bottled water for drinking purposes.
Most

hotels

, restaurants, and public places have western toilets. However, while traveling around Turkey, you are bound to come across a squat toilet. The prospect may look daunting, but such toilets are cleaner and more hygienic. Few public toilets charge for usage, so always carry loose change on you.
Disclosure: This post contains affiliate links. If you use these links to buy something we may earn a small commission, at no extra cost to you. Thanks for your understanding.
Subscribe to Our Newsletter