It's unlikely that you haven't seen images of the Maldives on social media or while surfing the web. The picturesque Indian Ocean islands are a dream location for the discerning traveler. The turquoise lagoons, vibrant reefs, alabaster white sandbanks, opulent over-water villas, and exquisite sunsets are enough to entice you to visit this tropical paradise. The emerald seas also have a spectacular underwater world where you can get up close and personal with rays, dolphins, sharks, whales, and a plethora of exotic fishes.
Even better, some of the world's most luxurious resorts are located on secluded islands. It's not surprising that everyone aspires to visit the Maldives at least once in their lifetime. The Maldives are positioned in the Indian Ocean to the southwest of Sri Lanka and India. Despite spanning approximately 90 square kilometers, the Maldives has a land area of less than 300 square kilometers. A double chain of 26 atolls connects the 1192 volcanic & coral islands. The average size of the islands ranges from 1km to 5km.
Many Maldivian Islands remain unexplored and uninhabited. There are more than 130 "Resort Islands" and around 200 'Local Islands'. Even after being one of the most sought-after destinations in the world, there are many misconceptions and ambiguity about the Maldives. So, before you travel to the beautiful island nation, check these Maldives travel tips. This guide will help you in planning a memorable and safe tropical vacation.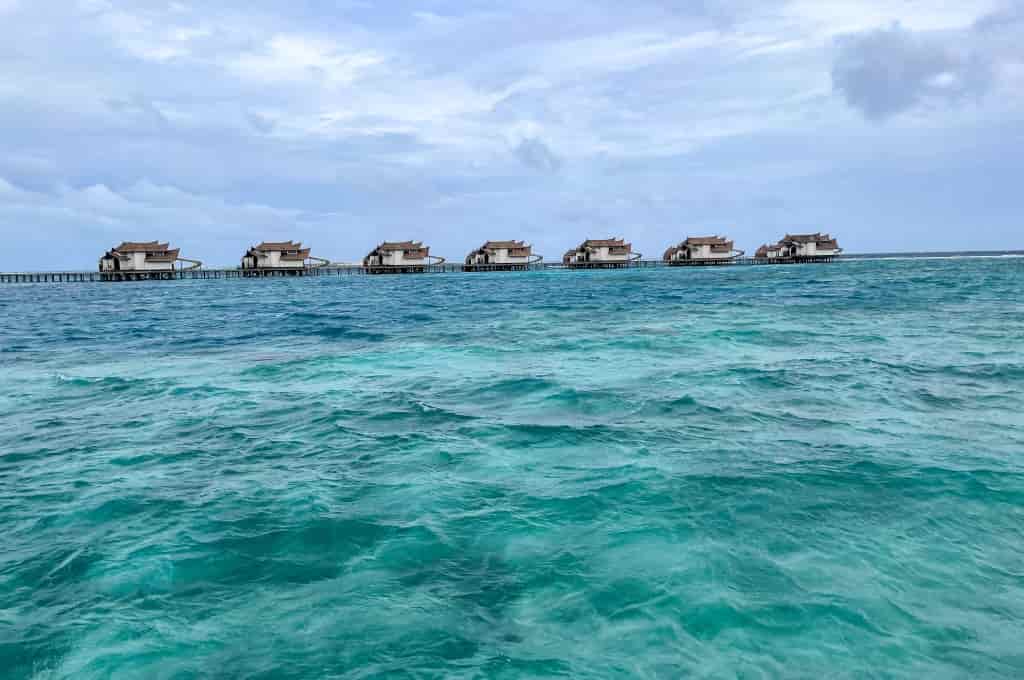 1).  Travel Requirements
To visit the Maldives, you must have a passport, proof of sufficient funds, a vaccination card/RT-PCR, hotel booking confirmation, and a return ticket. In addition, you must complete an online Traveler Health Declaration Form 72 hours prior to boarding your flight, both inbound and outbound. The Maldives do not require a pre-arrival visa. On arrival, all visitors to the country are given a free 30-day visa. The passport should be valid for one month. However, your airline may refuse to let you board unless your passport is valid for another six months, so double-check. Click here for more details. 
2).  Keep the Weather in Mind
The Maldives is a year-round destination with temperatures ranging from 23 to 31 degrees Celsius. The best time to visit the Maldives is from December to March when the weather is warm, dry, and sunny. However, hotel and travel costs will be exorbitant. If you want to get a better deal, you can plan a visit in April and November. 
Monsoon season in the Maldives lasts from May to October. This is not the ideal time to visit the Maldives. The strong winds make the sea choppy, and you may be unable to enjoy water activities many times. The overcast sky can dull the blue seas. However, you will be able to enjoy sunny days in between few and far rainy spells. The weather is unpredictable but rarely bad enough to completely ruin your vacation. If you don't mind a few inconveniences, you can take advantage of the reduced rates to visit the beautiful country during the rainy season.
3).  How Long should you stay in the Maldives?
If you enjoy diving and snorkeling, you can easily spend ten days in the Maldives. When flying from the United States, anything less than a week makes little sense given the amount of time, money, and effort needed to reach the Maldives. You can choose to stay for 5 days if you are on a limited budget. If you are traveling from India and are not interested in scuba diving, a three-night stay would suffice. I would recommend that you spend at least four nights in the Maldives. Many resorts offer additional deals such as a spa, dolphin cruise, snorkeling session, motorized water sports, and dinner at a specialized restaurant if you stay at their property for more than three nights.
4).  Don't skimp on the experience
The Maldives is a once-in-a-lifetime vacation and a generous dose of indulgence is part of the deal. If you are on a tight budget, you can opt for affordable hotels on the local islands. However, if you want to experience the ultimate in luxury and solitude, arrange a stay on one of the stunning resort islands. Every resort in the Maldives is built on its own private island. On rare occasions, two or more hotels coexist on the same island, but this is the exception rather than the rule. The world's most premium hotel companies compete with one another to provide visitors with unprecedented degrees of luxury. So, make sure you have enough funds to treat yourself to a luxurious holiday. If you want to get the best deals, book ahead of time on sites like Booking.com.
5).  Seaplane or Speedboat?
All flights to the Maldives land at Velana International Airport, located on Hulhule Island, near the capital of Male. Depending on the distance to your resort, you will need to take a speedboat, a domestic flight/seaplane, or a combination of both. Speedboats are far less expensive than seaplanes and are frequently included in accommodation prices. Seaplanes are operated by Trans Maldivian Airways and can only be reserved through your resort. The return flight might cost anywhere from $350 to $600 and is mostly not included in the hotel tariff. The views of the islands from above are breathtaking. The seaplanes only fly during daytime hours, so you'll have to spend the night in Male if you arrive late. Keep all of this in mind as you compare prices and plan your trip.
6).  Consider an All-Inclusive or Full Board Resort
Try to book an all-inclusive or full-board package, as extras in the Maldives can be extremely expensive. The majority of the items are imported into the Maldives and then sent to the islands, which significantly increases the costs. If you stay in a resort, you will come across outlandish resort pricing. Even water is not free. When you're on a luxury vacation, you don't want to keep track of your spending. So, it makes sense to include at least the basic meals and drinks in your package. The offerings of all-inclusive plans differ. Please double-check what is included before deciding on a resort. Meals, alcoholic/non-alcoholic beverages, water activities, excursions, specialty restaurants, mini-bar, spa treatments, free WIFI, & resort transfers are just a few of the things to look into.
7).  Over-water Villas or Beach Villas?
Don't miss the opportunity to stay in an Overwater Villa while in the Maldives, even if it means spending a little more. Traditional beach villas are also fantastic in the Maldives, but they can be found in any beach resort across the world. But you rarely come across overwater villas where you are surrounded by sea on all sides, can watch a sunrise from the comforts of your bed, and have the freedom to slide into the ocean from your room itself. Spend at least one night in an overwater villa, even if it is the ultimate extravagance. I would recommend splitting your stay between a beach villa and an ocean villa. The beaches in the Maldives are stunning, and you won't want to miss out on the chance to enjoy your own private beach. Beach villas are a better and safer alternative if you are traveling with children. A word of caution: Overwater villas might be a touch scary during stormy nights.
8).  How do you pick a Maldives resort?
It's difficult to choose a hotel in the Maldives when you have no idea where you want to go. Make a list of your top priorities and work your way down from there. Lots depend on your particular preferences, what you want to do during your stay, and whom you are traveling to Maldives with. The cost will be the most crucial factor. Transfers, private pools, restaurants, room selections, WIFI connectivity, distance from Male, and duration of stay are some of the additional considerations.
There are few resorts that cater to adults only, while others are designed for family vacations. You must make an informed decision. The size of the island is also significant, as some are only 300 meters long. If the island is really small, there will be nowhere to walk and you will easily become bored in the resort. Don't forget to check the entertainment options like a spa, gym, pool, excursions, water activities, bars, live performances, dance floor, etc. 
Some Maldives islands have a lesser chance of spotting marine life as they are reclaimed, manmade, or have been affected by coral bleaching. If you're in the Maldives primarily for snorkeling and scuba diving, head to the reef islands. Few islands lie in close proximity to Hanifaru Bay, Ari Atoll, and Baa Atoll, where the reefs are teeming with incredible marine life. If you want to relax on the beach along with some diving, choose an island with a larger lagoon. Make sure you can explore the underwater world around your villa. Otherwise, you would have to travel outside of the island, which would be inconvenient and expensive. If you are simply interested in the beach, select a hotel with a large beachfront. Check with the hotel, do your homework, and then make a reservation.
Bonus Tips
The Maldivian Rufiyaa is the official currency, but US dollars are widely accepted. Outside of the local islands, most shops show pricing in US dollars. All hotels take credit cards, but you should keep some cash on hand for gratuities and other miscellaneous expenses.
The Maldives is a Muslim country, and conservative culture is still dominant on the local islands. Public displays of affection are frowned upon. Do not wear bikinis and other revealing attire on the local islands. You can wear whatever you like while lounging on the resort beaches, but going topless or naked is not permitted.
Avoid traveling to the Maldives during the 1 month of Ramadan as the availability of food and services will be severely impacted. Shops will be closed, while hotel employees will be occupied with family functions. Not ideal to visit this paradise.
Tourists are not permitted to carry alcohol into the country or consume it on the local islands. Resorts are allowed to serve alcoholic beverages.
Island hopping is a complicated and tedious task. Moving from one island to another wastes time and serves no purpose. Choose one resort or hotel and stay there for the duration of your trip. Unless you intend to stay in the Maldives for an extended period.
Rooms in resorts typically have sunset or sunrise views. Choose a room keeping in mind your sleeping cycle.
The Maldives is 30 minutes behind Indian Standard Time. However, several resorts have their own time zones to allow guests longer daylight hours. Do not be amazed if your resort is one or two hours ahead of the time in Male. Keep that in mind when you plan your return trip to Male.
To safeguard their guests' privacy, many Maldives resorts have a 'No Drone' policy. Please check ahead of time.
Resorts and private organizations offer parasailing, wakeboarding, sea kayaking, jet-skiing, fun tubing, dolphin/whale watching expeditions, snorkeling, and scuba diving, among other activities. Non-motorized water sports are generally free, while others may be charged.
After diving, it is suggested that you wait at least 24 hours before boarding a plane. This is due to the possibility of decompression

sickness

. So, schedule your diving trip as soon as possible.
Don't

forget to pack

a sun hat, a beach bag, swimsuits, sunglasses, sandals, flip-flops, sunscreen, mosquito-repellent, shorts, dresses, t-shirts, cover-ups, and other lightweight outfits. Carry a couple of formal in case you decide to dine at an upscale restaurant with a dress code.
The Wi-Fi in most hotels is excellent. If you want to stay in touch even when you're not at the resort, it's better to get a sim card at the airport once you arrive. It is impossible to connect to the airport's free Wi-Fi.
Tipping is not a common practice in the Maldives. However, you can always tip the staff if you have received excellent service. It is always appreciated by them.
The Maldives is disappearing, so plan a

visit before it's too late

.
Subscribe to Our Newsletter