21 Unique Ways to Experience India
21 Unique Ways to Experience India
A visit to India is often the trip of a lifetime due to its spectacular topography, magnificent architecture, rich history, and mind-boggling diversity. But hold on, there's more. India also offers some of the most incredible travel experiences that will enhance your vacation in the best way possible. If you've already explored India's major tourist destinations and want to try something new, you've come to the right place. From the riotous colors of its festivals and the spiciness of its delectable cuisine to the magnificence of its palaces and the laid-back charm of the backwaters, we have curated Indian experiences that will make your Indian holiday an adventure to remember.
Never settle for anything ordinary while in India because there are so many unusual, bizarre, and challenging thrills waiting for you. Scroll through the list below and get ready to discover the best of India with these 21 incredible experiences.
1).  Full Moon Night at the Taj Mahal
You've probably already seen the magnificent Taj Mahal, but nothing beats the allure of visiting the iconic mausoleum on a moonlit night. The white marble structure transforms magically after sunset, sparkling, shimmering, and glowing like nothing you've ever seen before. Make your plans ahead of time because the tickets are limited to a small number of people.
2).  Witness the Ganga Aarti on The Ghats of Varanasi
A number of sacred towns in India along the Ganges can be visited to witness the fascinating aarti, including Rishikesh and Haridwar. Still, nothing beats the charm of participating in the aarti in one of India's oldest cities – Varanasi. Ganga Aarti is an Agni Pooja performed daily in the evening by a group of priests at Varanasi's Dashashwamedh Ghats. Huge brass lamps are lit with oil during the ritual, and priests chant holy hymns. You can watch this surreal scene from the Ghats or from a boat floating down the Ganges.  Exploring the countless temples and Ghats of Varanasi, of course, is an added bonus.
3).  Spend a Day in a Houseboat at the Kerala Backwaters
Kerala is known for its backwaters which are a maze of small canals, brackish lagoons, still rivulets, and remote waterways that run parallel to the Arabian Sea coast. The luscious palm-fringed backwaters of Kerala are unique and a sight to behold. And there is no better way to experience the tranquil backwaters than by cruising on a houseboat in Alleppey or Kumarakom. During your stay on a houseboat, you can drift past rice fields, visit small villages, go fishing, and watch the beautiful sunset.
4).  Exploring the Great Rann of Kutch
Visit the Rann of Kutch to experience the untamed, vast, barren land. The geographical wonder, located in Gujarat's Kutch district, is India's largest salt desert, where you can walk for miles into nothingness. The shallow mudflats are submerged during the monsoon, and the seasonal phenomenon is only visible in the winter. Make a trip to the Great Rann of Kutch during the Rann Utsav, which takes place every year from November to February. The vibrant festival brings together Kutch handicrafts, folk dances, local food, colorful culture, camel rides, romantic bonfires, and adventure activities. If you can go during the full moon, all the better because the white desert glistens and reflects the glorious sky.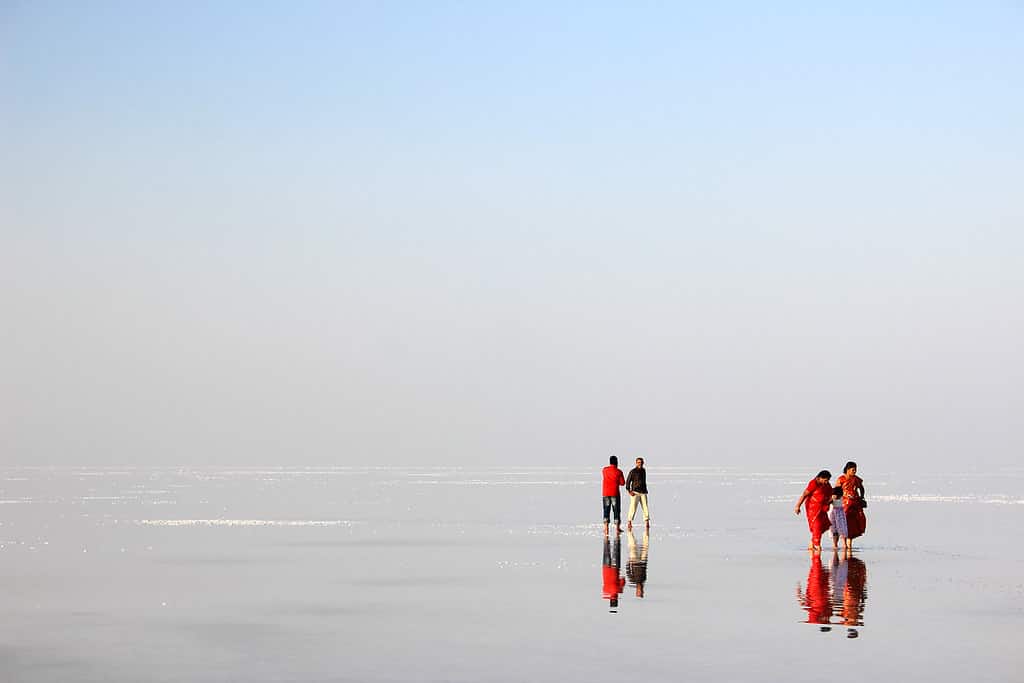 5).  Watch the Border Closing Ceremony at Wagah
Every day since 1959, a unique martial show has taken place in Wagah with unparalleled pomp and ceremony. Wagah, near Amritsar, is a village on the border between India and Pakistan. Witness the ceremonial closing of gates and lowering of flags of India and Pakistan at the Wagah Border during the Indo-Pak Beating Retreat ceremony. The flag ceremony represents the two countries' long-standing rivalry, but it ends with handshakes. Thousands of people gather every evening to watch the ceremony, which salutes rivalry with full patriotism on both sides.
6).  Chase Tigers at the National Parks
If you are a wildlife enthusiast, you should plan a trip to one of the many National Parks that dot the country. If you are lucky to spot the majestic tiger, India's national animal, it would be a dream come true. There are more than 50 tiger reserves in India, but for the best possibilities of encountering the big cats, go to Bandhavgarh, Pench, or Kanha National Parks in Madhya Pradesh, or Ranthambore National Park in Rajasthan. The jeep safaris will take you through dense forests, giving you a chance to glimpse other wild animals and rare birds in addition to the elusive tigers. Most national parks are closed during the monsoon season.
7).  Stay in a Heritage Hotel
India is deeply rooted in history and the country is generously peppered with historical palaces, forts, lodges, and havelis. In almost every city, you can find ancient, landmark structures. Amazingly, many of these heritage properties have been converted into luxurious hotels. If you want to experience the royal lifestyle, stay in one of these heritage hotels. It's one of the best ways to experience India. The hotels have been refurbished with all modern amenities, so you will have the best of both worlds. Lake Palace (Udaipur), Umaid Bhawan (Jodhpur), Samode Palace (Jaipur), Rambagh Palace (Jaipur), Taj Falaknuma Palace (Hyderabad), and Nadesar Palace (Varanasi) are just a few of the heritage properties that should be on your bucket list if you can afford these high-end hotels.
8).  Dune Bashing in the Thar Desert, Jaisalmer
Another novel activity that you can experience in India is dune bashing. Simply embark on a wild desert safari by jeep or camel in the Thar Desert for an unforgettable experience. The safaris culminate in sundowners on the golden sand dunes. If you're looking for more adventure, you can sleep under the stars in one of the many desert camps set up across the Sam Sand Dunes in Jaisalmer. Furthermore, you can interact with locals, learn about their culture, take part in folk dances, and sample their local cuisine. Khuri Sand Dunes is the place to go if you want privacy, exclusivity, and serenity.
9).  Travel by Train
India's railways are the second largest in the world, carrying an estimated 23 million passengers per day. Trains in India may not be up to European standards, but the quintessential Indian experience should be on your list because it is sure to broaden your horizon. Chug across vast distances while taking in the stunning countryside, mingling with the locals, and learning about Indian culture. Choose an AC coach for better infrastructure and facilities. 
If you have the means, book a luxury train ride on a royal train such as Palace on Wheels, The Deccan Odyssey, Maharaja's Express, or Royal Orient Train. On these opulent trains, you can explore some of India's most well-known locations while traveling in opulent style, privacy, and extreme comfort. Or enjoy a nostalgic ride on the Darjeeling Himalayan Railway, which has been in service for over 140 years and has been designated a UNESCO World Heritage site. A popular route between Ghum and Darjeeling, the "Toy Train," also provides panoramic views of the region's stunning mountains.
10).  Explore the Coral Reefs of Andaman
The Andaman and Nicobar Islands are an archipelago of 527 islands located in the Bay of Bengal, off the coast of India. These far-flung islands are well-known for their sun-kissed beaches, azure waters, phenomenal marine life, and abundant natural beauty. Havelock Island in Andaman is the place to be for all water sports enthusiasts. The crystal-clear water, rich coral reef formations, colorful marine life, sunken ships, and raven volcanic lava make for an incredible diving experience. There are several dive sites spread across the island where you can learn to dive with the help of professionals. Dive into the ocean and discover an underwater world like you've never seen before. The best part is that you don't have to be an expert swimmer to obtain your PADI certification.
11).  Motorcycle Tour on the Manali-Leh Highway
If you're looking for some serious adventure, ride your motorbike down the Manali-Leh highway. Biking on the barren, wobbly roads snaking through the rugged terrain may be crazy and hazardous but it is well worth the risks. You will have the fortune of witnessing jaw-dropping sights every few kilometers. The striking scenic beauty of the snow-covered mountains, lush valleys, and crystal-clear lakes, as well as countless monasteries and stupas, is enough to entice any adrenaline junkie. Prepare for extreme weather as you travel through five high-altitude passes. If a motorbike ride isn't your thing, you can always drive down the Manali-Leh stretch.
12).  Experience the colorful festivals of India
India is exuberant, chaotic, and a riot of colors at all times, but it reaches a peak during its myriad festivals. The country hosts a slew of festivals throughout the year. It is impossible to list all of the festivals celebrated in India. However, there are a few festivals that should not be missed if given the chance: Diwali (festival of lights), Holi (festival of colors), Janmashtami (birthday of Lord Krishna), Dussehra (festival of good over evil), and Durga Puja. The festive fervor and flamboyancy of Holi in Vrindavan/Mathura, Durga Puja in Kolkata, and 9-Day Navratri in Vadodara deserve to be kept in mind when planning your trip. Diwali, India's biggest festival, is celebrated throughout the country with equal zeal, and you'll see brightly lit houses and massive fireworks everywhere you go.
13).  Boat Ride through the Sundarbans Mangrove Forests
Another thrilling experience in India is cruising through the largest mangrove forest in India and spotting the Royal Bengal Tiger. Sundarbans National Park is an untamed and remote biodiversity hotspot where three mighty rivers (the Ganges, Meghna, and Brahmaputra) meet the Bay of Bengal. Snakes, crocodiles, tigers, and other predators thrive in the maze of mangrove forests, mudflats, swamps, riverine islands, and canals. Devastating cyclones are a constant threat to this delicate ecosystem that hosts a number of rare and endangered species. Another location to look for spectacular sunrises and sunsets.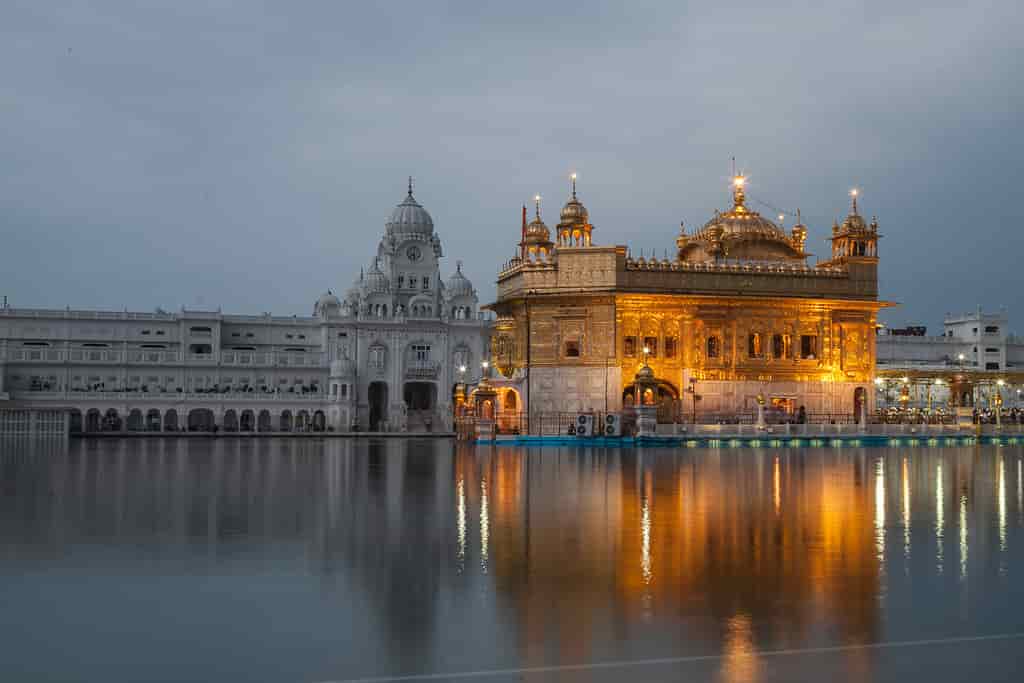 14).  Visit the Golden Temple to experience the Divine Presence
The popular Gurudwara is the holiest place for Sikhs, but it is open to people of all faiths. The best time to visit Amritsar's gleaming Golden Temple is before dawn when the revered Guru Granth Sahib scripture is installed amid ritual chanting. The entire complex is illuminated as the shimmering gold of the dome is reflected in the Amrit Sarovar, a limpid geometrical pond. With its gold-plated exterior, gliding chandeliers, marble floors, and intricate designs, Golden Temple is an architectural wonder that is sure to WOW you. 
Guru Ramdas Langar, a phenomenal community kitchen, serves vegetarian food to up to 100,000 devotees throughout the day. If you want to get into the spirit of the place, volunteer in the kitchens for the communal meal.
15).  Attend a Traditional Indian Wedding
Weddings in India are traditional, extravagant, and a lot of fun. If you are lucky enough to be invited to an Indian wedding, you will have an unforgettable Indian experience. You can participate in wedding rituals, sample the best Indian cuisine, make friends with locals, dress in beautiful ethnic attire, dance to Bollywood music, and have a great time. Even if you don't know anyone getting married in India, you can still attend an Indian wedding. JoinMyWedding, a new start-up, allows you to take part in a genuine Indian wedding by connecting travelers with Indian couples who don't mind sharing their wedding with the world – for a fee, of course.
16).  Pamper Yourself with Ayurvedic Spa
Ayurveda Spa is another experience that is unique to India. Ayurveda, a holistic approach to healing, was born in India alongside yoga. Deep body exfoliation is followed by an oil massage as part of the treatment. The country is teeming with Ayurveda retreats that provide treatments for every ailment. Make sure you choose a reputed and skilled retreat that will provide you with renewed energy and rejuvenation. If you have the time (and money), book a stay at a wellness retreat like Ananda Spa in the Himalayas, which offers a variety of well-being services that will pamper you from head to toe.
17).  Trekking on the Frozen River in Ladakh
The Zanskar River completely freezes up and develops a sheet of ice during the harsh winters. Extreme adventure seekers from all over the world travel to Ladakh for access to the Chadar Trek, a seven-day trek over a frozen river. Walking on a thick ice sheet with an icy river raging beneath you is an exhilarating experience. Definitely not for the faint-hearted.
18).  Savor the Delectable Indian Cuisine
If you relish food, you will have a fantastic time in India. Traditional Indian cuisine is authentic, flavorful, and delicious. The recipes have been passed through centuries. They liberally use local vegetables, herbs, and spices, which add an incredible flavor to the food. Whatever part of India you visit, you will find delicacies that are impossible to resist. The staggering variety on display includes everything from tantalizing spicy curries to crispy savories to irresistible desserts. It would be a memorable experience to go on a food tour and sample the regional specialties of different cities. Dosa, Idli, Dal-Baati-Churma, Biryani, Chole Bhature, Pav Bhaji, Dhokla, Chaat, Samosa, Kachori, Lassi, Masala Chai, Rasgulla, Gulab Jamun, Jalebi, and Kulfi are just a few of the items that should be on your wish list.
19).  Meditate in the Matrimandir of Auroville
Auroville, located near Pondicherry, is an experimental township that welcomes visitors from 55 countries seeking a cultural and spiritual experience. It is claimed to be a self-sufficient settlement with no currency, government, or religion. Auroville is surrounded by a green belt that acts as a buffer against urban intrusion. Matrimandar is a meditation center built with god-plated discs in the heart of the spiritual community of Auroville. The lotus-shaped Matrimandar encourages people to practice yoga in order to focus on their inner selves and find mental peace. Only a select few are permitted to enter the Matrimandir Inner Chamber, which exudes a palpable sense of calm and tranquility. Along with Auroville, you can also visit Pondicherry, India's elegant French colony.
20).  Relish Street Food at Chandni Chowk
Any trip to India would be incomplete without indulging in some of the country's mouth-watering street food. And what better place to experiment with Indian street food than Chandni Chowk? The narrow alleys are crammed with shops, hawkers, tourists, shoppers, and vehicles all jostling for space. However, it is in this 'organized chaos' that you will find the yummiest food. From spicy parathas from the famous Parathe Wali Gali and luscious kachoris from Jang Bahadur Kachori Wala to tangy Dahi Bhallas by Natraj and succulent Kebabs by Karim, Chandni Chowk never runs out of street food options. 
Take your fill, but remember that spicy and oily foods can upset your stomach if you overeat.  Amazing street food can be found across India, not just in Delhi. You shouldn't miss the Vada Pav & Pao Bhaji in Mumbai, Pyaaz ki Kachori & Jalebi in Jodhpur, Puchkas & Kathi Rolls in Kolkata, Lassi in Jaipur, and Dabeli in Ahmedabad if you happen to be in the area.
21).  Shop at Bazaars
India is a shopper's dream, and you cannot leave without doing some serious shopping. The local bazaars and street markets are brimming with vibrant textiles, exquisite Indian wear, traditional paintings, embroidered cushions, local handicrafts, aromatic spices, hand-knotted carpets, silver jewelry, Pashmina shawls, ethnic footwear, Ayurvedic products, leather bags, and anything else you can think of. Delhi, Jaipur, Jodhpur, Kolkata, Hyderabad, Chennai – everywhere you go there is a bazaar waiting to be discovered. 
Exploring the chaotic bazaars, finding little treasures, and haggling with the vendors to find an acceptable price is a lot of fun. Everything is reasonably priced, and you can shop until you drop. If you're looking for something exclusive, you won't be lacking in options. You simply need to look for the elite shops hidden among the crowded bazaars. You must bring home a few souvenirs from this wonderful nation so that they will serve as a constant reminder of your favorite moments there.
This list of Indian experiences is far from exhaustive. In fact, no compilation could possibly encompass the wide range of unforgettable experiences that India has to offer. However, you can use this article as a starting point for your trip planning and continue from there. If you want to share a favorite experience, please do so in the comments section below.
Subscribe to Our Newsletter