Switzerland Itinerary - 7 Days / 9 days
Switzerland Itinerary for 7 Days / 9 Days
Who doesn't dream of visiting Switzerland? Snow-capped mountains, emerald meadows, shimmering lakes, melting glaciers, fairytale castles, and lakeside towns – Switzerland lives up to the hype and will leave you spellbound with its incredible beauty. You can go for spectacular hikes, gorge on the luxurious Swiss chocolates, savor the hand-crafted cheese, buy quality watches and engage in some thrilling adventure activities – everything needed for a perfect vacation. Planning a 7-day or a 9-day itinerary in Switzerland should not be difficult as it is a small country. However, all attractions close at around 5 pm. leaving you with very limited time to explore. And when you have so much to see and do, deciding on a perfect itinerary can be tricky.  The itinerary decided will depend on the season, starting point, and interests. Check this ultimate 7-day / 9-Day itinerary for an amazing vacation in Switzerland.
Suggested 7-Day Switzerland Itinerary 
Switzerland Itinerary, Day 0-1:- Zurich & Rhine Falls
Most visitors start their trip to Switzerland from Geneva or Zurich as these two are big cosmopolitan cities and very well-connected to all parts of the world. Our itinerary starts in Zurich and ends in Geneva. If you arrive early in Zurich, spend the day exploring the city. Zurich is a picturesque historical town with a river running through it. Walk around the old town, do some window-shopping in Bahnhofstrasse (shopping street), visit the Lindt Home of Chocolate, or just relax in your hotel room. The 7-Day itinerary starts the next day.
Today we are going to Schaffhausen, a small historic town in Northern Switzerland. You can reach Schaffhausen from Zurich in less than an hour, by road and by train. Schaffhausen has beautiful Renaissance buildings and a charming riverside location, but travelers visit the town primarily to explore Switzerland's largest fall – Rhine Falls. The sheer power of the falls is really impressive, especially in summers when water flows in the Rhine Falls basin at the speed of 600,000 liters per second. 
The quaint villages and the surrounding forested areas are gorgeous. You can explore the region and admire the Rhine falls from various viewing platforms, a cliff-top castle, and the pedestrian bridge. There are two sides to Rhine Falls – north and south. Another popular way to experience the falls (April-November) is by taking a Rhine Falls Cruise. Yellow Line Rock Cruise is undoubtedly the best way to experience the magnitude and power of the falls. Head back to Zurich and leave for Interlaken that day only. There is a lot to do in Interlaken and you would like to start early in the morning. 
By Train: 2 hours / By Car: 1 hour 40 minutes
Switzerland Itinerary, Day 2:-  Interlaken
Two places that manage to find a spot in every Switzerland itinerary are Interlaken and Jungfraujoch. Interlaken is nestled between two crystal-clear emerald lakes – Lake Thun and Lake Brienz. The popular Swiss resort town is surrounded by three majestic mountains (Eiger, Monch, and Jungfrau) making it an ideal location for countless adventure sports. The picturesque neighboring villages make the entire region look incredibly beautiful.
Mannlichen will be our first stop. Travel by train from Interlaken to Grindelwald and then by gondola to Mannlichen. Mannlichen is a 2343-meter-high mountain in the Swiss Alps that provides beautiful views of the Lauterbrunnen Valley. And if you can manage a 15-minute trek up to the summit, you will be rewarded with fantastic views of Lauterbrunnen Valley on one side and Grindelwald Valley on the other. Begin your descent to Kleine Scheidegg with a 3-mile (1.5-hour) trek from Mannlichen. The 'panorama trail,' which offers glorious views of the Eiger, Monch, and Jungfrau, is highly recommended.
Take the train from Klein Scheidegg station to Lauterbrunnen and discover Trummelbach Falls, a series of ten glacial waterfalls thundering down inside a mountain. They are Europe's largest subterranean waterfalls, made accessible by tunnels, lifts, and illumination. You can either walk (35 minutes) or take a bus (11 Minutes) to the falls (11 minutes). From the falls you could have the option to come back to  Lauterbrunnen station or catch a train back to Interlaken. Alternatively, you can also ride a gondola to Murren if you have the time and stamina. Murren is a lovely alpine village with breathtaking views of the three peaks. Proceed to Lauterbrunnen for your train to Interlaken.
Enjoy your evening by Lake Brienz or visit Harder Kulm – a must-visit for a perfect view of Interlaken and the two lakes. Other local attractions include Oberhofen Castle and Beatus Cave. Adventure junkies have lots of options – para-gliding, skydiving, bungee jumping, canyoning, hand gliding, mountain biking, etc. These activities will give you perfect vantage spots to admire the awe-inspiring vistas, Stay overnight at Interlaken.
Switzerland Itinerary, Day 3:-  Jungfraujoch
Start early as we have a full day ahead of us. Jungfraujoch, Europe's highest railway station, is situated 3454 meters above sea level. Jungfraujoch can be reached via cable car or cogwheel railway. The train cuts its way through the Jungfrau and Monch mountains, offering stupendous views of the mountains and countryside. As you stand surrounded by snow, mountains, and glaciers, the view from the top will take your breath away. Jungfraujoch offers a variety of winter activities such as sledding, toboggan rides, skiing, and snow tubing. There are numerous restaurants, chocolate shops, and an ice palace exhibiting ice sculptures.
One could easily spend the entire day there, but we only have so much time, so don't linger and instead take the train to Grindelwald. A 10-minute walk to the Firstbahn gondola station and a gondola ride from there will bring you to Grindelwald-First. The First is an excellent starting point for a variety of exciting activities, including the First Flieger, First Glider, First Cliff Walk, Mountain Bikes, and Trottibike, to name a few. From First, you can also trek to the enchanting Lake Bachalpsee (a 50-minute hike one way). Return to Interlaken and spend the night in the delightful town.
Switzerland Itinerary, Day 4:-  Travel to Zermatt
By Train: 2 hours 40 minutes / By Car: 2 hours 15 minutes 
Leave early morning for Zermatt via train. There is no point in traveling by private vehicle as no cars are allowed in the charming mountainside town. Zermatt is so small that you can walk almost anywhere. Skiing is the major attraction in Zermatt but the pretty town is worth visiting in all seasons. Zermatt is traversed by the Matter Vispa River which will captivate you with its jade blue hues. Hiking trails, bustling town, gourmet restaurants, a touch of history, and lots more to keep you busy for 2-3 days.
Wander about the town to see some of the best views of the Matterhorn. However, if you want to see the Alps up close, you must ascend to higher elevations. Take a cogwheel train to the summit of the Gornergrat, a rocky ridge that runs alongside the Matterhorn. The 30-minute scenic trip is stunning, with tantalizing glimpses of the majestic Matterhorn. On the way back from Gornegrat, you can get down at Rotenboden station for a short 15-minute hike to Rifflesee Lake. The lake is a photographer's fantasy, with a flawless inverted mirror-image of the Matterhorn reflected on its shining surface. You can have a picnic there because the trains operate at 50-minute intervals. Return to Zermatt by train or take a stroll through the town (2 hours walk). If you want to go hiking or skiing, you have several possibilities depending on your skillset. Stay in Zermatt for the night.
Switzerland Itinerary, Day 5:– Matterhorn Glacier
You can't leave Zermatt without taking the cable car to Matterhorn Glacier Paradise (Klein Matterhorn), which offers some of the best views in the area. The world's highest 3S cableway brings you 3883 meters above sea level for some incredible 360° views. 14 glaciers and 38 4,000-meter peaks are visible from there. The Alpine wonderland will mesmerize you with its beautiful ski slopes, ice carvings, and amazing views of the Matterhorn and the Breithorn. Glacier Palace looks magical with its colorful frozen sculptures, ice slides, and photo sites – a must-see for youngsters of all ages. Walk around and admire the unending expanse of snow, or dine inside the restaurant with phenomenal views. 
Stop at Schwarzsee on the way back to Zermatt for some Instagram-worthy shots with the majestic Matterhorn. If you have time, take the train from Zermatt station to Sunnegga and then the gondola to Blauherd. This is the starting point for the famed Five-Lake Trail, three of which mirror the Matterhorn in all its glory. Those with constraints can stop at Stellisse because it is the best of the bunch and there is no need to make an extra effort to see the others. If you're looking for some adventure, ride a mountain cart from Blauherd to Sunnega. This is also your chance to spot Wolli sheep – the black-nosed sheep that happens to be Zermatt's mascot. Catch the train back to Zermatt from Sunnegga and enjoy a leisurely evening in Zermatt. Stay in Zermatt for the night.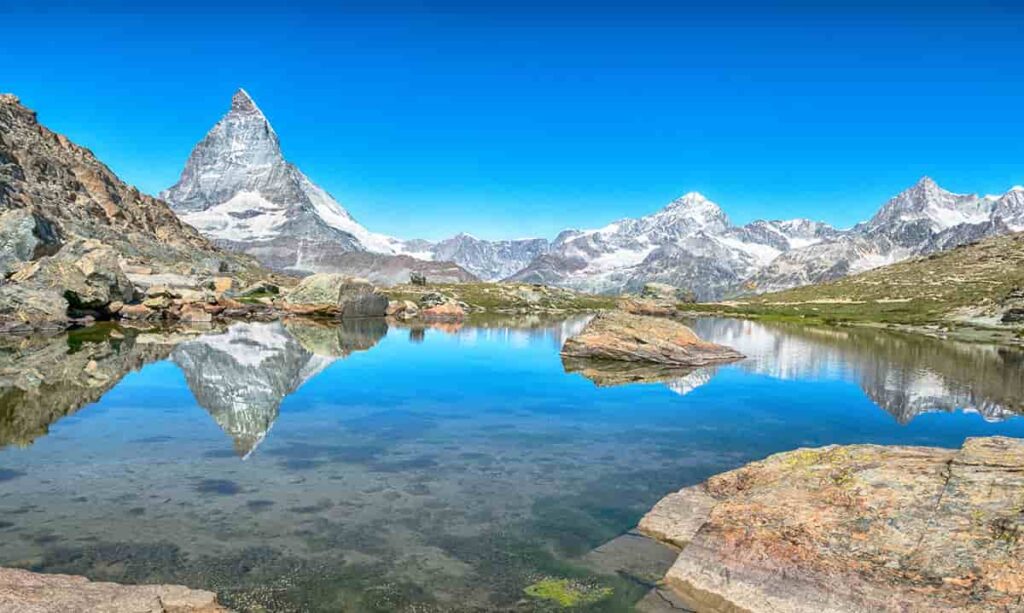 Switzerland Itinerary, Day 6:- Travel to Montreux
By Train: 2 hours 40 minutes / By Car: 2 hours
Montreux, a lakeside town near Geneva, provides elegant views of Lake Geneva against the backdrop of the iconic Chillon Castle and the unspoiled Alps. As you stroll around the charming town, you will appreciate the city's slow and peaceful vibes. The sleepy little town comes to life in the summers when tourists and locals flock to participate in the yearly two-week-long Jazz Festival and other summer festivities. After you've explored the lake promenade and the town center, head to Chateau de Chillon, an 11th-century medieval castle with fantastic views of the graceful lake and majestic mountains. Trek to Rochers De Naye for some breathtaking views along the way. Stay in Montreux for the night.
Switzerland Itinerary, Day 7:– Travel to Geneva
By Train: 1 hour 5 minutes / By Car: 1 hour 15 minutes
Geneva is the capital of the UN and a globally recognized city. This is the last day of your vacation and you can spend the day exploring Geneva. Geneva is known for its beautiful lakes and taking a cruise on Lake Geneva is a good idea. Old Town, City Centre, St. Piere's Cathedral, Flower Clock, Treille Promenade, Jet d'Eau, and UN Building are some of the attractions worth visiting. Geneva is the best place to shop for fancy Swiss watches and delicious Swiss Chocolates, so you can indulge yourself in some last-minute shopping. Take a flight back to your next destination.
PS: Our itinerary starts in Zurich and ends in Geneva, but you can try this itinerary backward also. If you want to fly back from the same city, you can easily and quickly reach your port of arrival at the end of your trip. Whatever route you choose, it should take about the same amount of time.
Suggested 9-Day Switzerland Itinerary
If you can extend your visit to 9 days, you can also visit Lucerne and Mt. Titlis. Check the 9-day itinerary for Switzerland
Day 0-1: Zurich and Rhine Falls.
Day 2-3: Reach Lucerne. Train: 50 minutes / Car: 45 minutes
A picturesque town located on the banks of Lake Lucerne. Spent one day in Lucerne and take a day trip to Mt. Titlis the following day. Mt. Titlis is a popular mountain peak that can be reached by a revolving cable car.
Day 4: Reach Interlaken. Train 2 hours / Car: 1 hour 
Day 5: Jungfraujoch
Day 6: Reach Zermatt. Train: 2 hours 40 minutes / Car: 2 hours 15 minutes
Day 7: Matterhorn Glacier
Day 8: Reach Montreux. Train: 2 hours 40 minutes / Car: 2 hours
Day 9: Reach Geneva. Train: 1 hour 5 minutes / Car: 1 hour 15 minutes.
Things to know before you travel to Switzerland:
Switzerland is a very small country. It has an area of 15,940 sq mi extending 220 miles north to south and 216 miles East to West
 The official currency of Switzerland is the

Swiss Franc.

 The currency is abbreviated as CHF. Merchants may accept Euros but the change given back will usually be CHF. One Euro = 1.1050 CHF and One USD = 0.9300 CHF
Switzerland is one of the most expensive countries in the world. Food, hotels, trains, shopping everything is pricey.
Switzerland has a very low crime rate and is considered one of the safest countries in the world. Swiss people are reserved but not unfriendly.
It is very safe to drink tap water in Switzerland.
Most people in Switzerland speak English. French, German, and Italian are also used in the country but they are confined to specific regions.
Switzerland is a stunning destination that can be visited year-round. Each season has something unique and beautiful to offer. The best months are from April-August when the weather is warm and pleasant. During the winter months, thousands of people flock to Switzerland to enjoy skiing and water sports. Depending on what you want to see and do, you can decide the best time to visit Switzerland. The above-mentioned itinerary is best suited for summer travel.
Weather in Switzerland can be unpredictable with frequent storms, so keep some alternative activities lined up.
The country has a very efficient and widespread network of on-time high-speed trains that makes traveling around the country very easy and convenient. Download the SBB app if you plan to use the train network extensively. You can check the timetables of trains as well as boats, buses, and cable cars.
It is a good idea to buy a Swiss Travel Pass. It is expensive but it covers not only inter-city travel but also some free scenic trains, boat cruises, cable cars, public transport, and museum access. 
It is easy to drive in Switzerland but they are very strict about the speed limit. Road trips in Switzerland are a lifetime experience as every turn will reveal more jaw-dropping views. It also gives you the flexibility to stop anywhere and take your fill of the lush landscapes.
It makes sense to plan your inter-city journeys in the evenings. Everything, including the shops, closes around 5 pm, so it's best to use that time for traveling and start sightseeing early in the morning,
Subscribe to Our Newsletter