Jaipur Itinerary For 2 Days
Jaipur Itinerary For 2 Days
Jaipur, the capital city of Rajasthan and part of the famous Golden Triangle is a highly sought-after tourist destination. The city may be chaotic and crowded, but the charm of historic landmarks, traditional handicrafts, mouthwatering cuisine, and warm hospitality is difficult to resist. From the glorious palaces and imposing forts to the colorful markets and busy byways, Jaipur is a mesmerizing fusion of art, culture, and heritage. If you only have 2 days in Jaipur, this well-planned itinerary will help you experience the magic and mystery of this vibrant city.
Brief History of Jaipur
Maharaja Jai Singh founded Jaipur in 1727, and the meticulously planned city reflects the ruler's love of mathematics and science.  The city is surrounded by a wall with seven gates, which were built to protect the residents from enemies and outside threats. The development took only four years and adhered to Vastu Shastra principles. Jaipur was built on a grid system and was divided into nine rectangular sectors known as Chokris. In 1876, the entire town was painted terracotta pink to welcome the Prince of Wales, and Jaipur became known as the 'Pink City' from then on. The city is still known by that name, and the pastel-colored walls are repainted each year to maintain their vibrancy. Only the old city, however, retains the lovely pink hues.
Best Time to Visit Jaipur?
Jaipur, like the rest of
Rajasthan
, is best visited between October and March. Since
December
and January are high travel seasons,
hotel
and flight costs will skyrocket. Winter mornings and evenings can be quite cold, so pack your woolen. In October/
November
, you may have the opportunity to participate in the festivities for Dussehra and Diwali, two of the country's biggest
festivals
. January witnesses two popular fests – Jaipur Literature Festival and Makar Sankranti (Kite Festival). Summers (May to June) are
oppressively hot
, with temperatures occasionally reaching 45 degrees. The
months
of July and August would be sultry, humid, and rainy.
How to Reach Jaipur?
Jaipur is a very travel-friendly destination that is easily accessible from all parts of the country via railways,
flights
, and roads. By Air: There are frequent flights from major Indian cities such as
Delhi
,
Mumbai
, Kolkata, Chennai, Ahmedabad, Hyderabad,
Goa
, Bangalore, Chandigarh, and others to Jaipur International Airport. It also has international connections to places like
Dubai
, Kuala Lumpur, and Bangkok. Book your flights ahead of time to get the best deals and avoid last-minute price hikes. By Train: Taking the train to Jaipur is a great alternative, especially if the travel time is less than 6 hours. Domestic flight travel in
India
is tedious due to long queues and complicated security checks. As a result, it makes sense to use low-cost high-speed trains. Jaipur Railway Station has trains arriving from all parts of
India
. It only takes about 5 hours from
Delhi
and 3 hours from Agra. If you are traveling from afar, consider taking an overnight train to save time and money. Train tickets must be reserved in advance because they are always in short supply. By Road: You can travel by bus if flying or taking the train are not viable options. There is a well-connected roadway as well as National Highways that link Jaipur to cities such as Mumbai, Ahmedabad, Delhi, Lucknow, Gwalior, and Agra. The Volvo bus journey from New Delhi and Agra to Jaipur takes 6 hours and 4 hours, respectively. You can also take overnight buses from other distant
Indian
cities. Hiring a taxi from Delhi or Agra is also highly recommended.
How to Get Around in Jaipur?
Uber and Ola are the two cab-hailing apps that are available in Jaipur. They can also be used to hire an auto (Tuk-Tuk). These Apps are the most convenient ways to get around Jaipur. You can also flag down an auto on the street, but you'll need to haggle over the price before getting in. Autos are inexpensive and ideal for short distances. Taxis are also reasonably priced, and you can reserve one for the entire day. If money is an issue, you can also use the public bus system and the metro to get around.
 Jaipur Itinerary: Day 1
On the first day, we will be exploring the sites located within the city. Because the major attractions are close together, we should be able to see the majority of the highlights in a single day. Aside from the historical structures, we would spend time discovering the
bazaars
and sampling the scrumptious local cuisine.
1).  City Palace, Jaipur
Begin your first day by visiting the Jaipur City Palace, which is located in the heart of the city. Arrive early in order to avoid crowds. Maharaja Sawai Jai Singh built the beautiful palace in 1797 when he relocated the capital from Amber to Jaipur. The royal palace was a work in progress, and the architecture is a striking blend of Rajput and Mughal influences. The sprawling complex includes gardens, courtyards, temples, gates, and opulent rooms fit for a royal residence. Highlights include the Diwan-e-Aam, Diwan-e-Khas, Chandra Mahal, Mubarak Mahal, Pritam Niwas Chowk, City Palace Museum, and Shri Govind Dev Temple. The Royal Grandeur or Royal Splendor ticket is required to visit the Blue Room, Pritam Niwas, Chandra Mahal, and other private areas. If you are deeply interested in history, buy this ticket; otherwise, the regular ticket will suffice. Basic Entry Fee for Indians/Foreigners: Rs 300 / Rs 700 Timings: 9:30 am – 5 pm Night Visit: 7:00 pm – 10:00 pm Visiting Duration: 1-5-2hrs
2).  Jantar Mantar, Jaipur
The Jantar Mantar Observatory, located just behind the City Palace, is the next stop on our itinerary. As was already mentioned, Maharaja Jai Singh had a passion for science and mathematics. He built 5 astronomical observatories across Northern India. The open-air observatory in Jaipur has a collection of 19 architectural instruments that facilitate astronomical observations. It houses India's largest sundial, the Samrat Yantra. The unique observatory is still operational today and has been listed as a UNESCO World Heritage Site. Hire a guide if you really want to understand how these instruments work. Entry Fee For Indians/Foreigners: Rs 50 / Rs 200 Timings: 9:30 am – 5 pm Visiting Duration: 45 minutes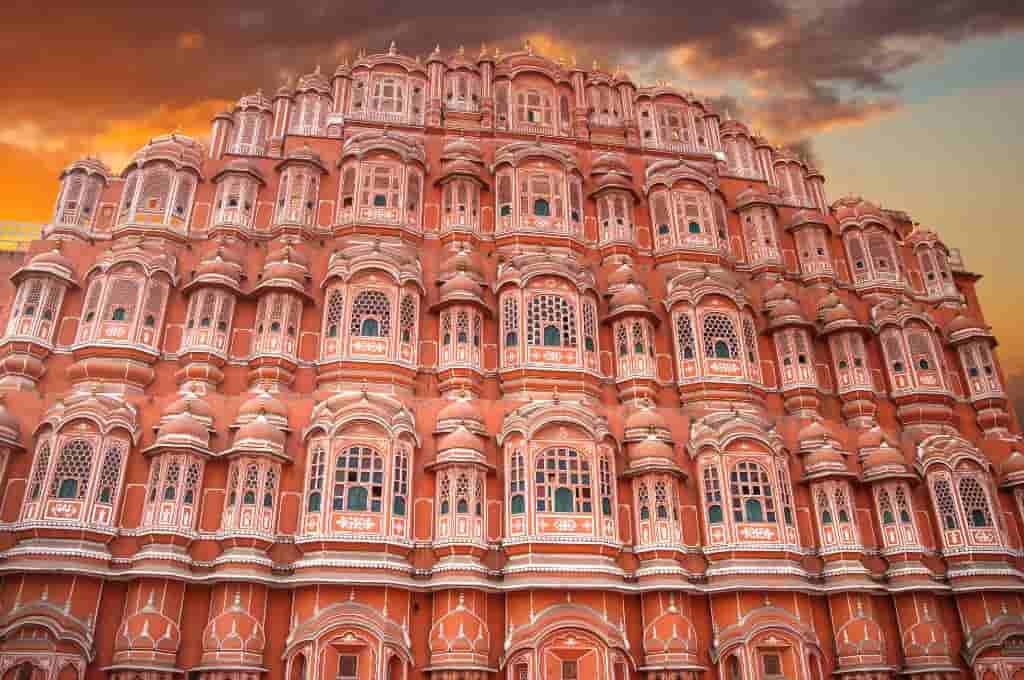 3).  Hawa Mahal, Jaipur
Our next stop is the Hawa Mahal – Palace of Winds. It was built in 1799 by Maharaja Sawai Pratap Singh and features 953 Jharokas (windows) with latticework. The royal ladies used the small windows to observe festivals and daily life outside without being seen. The tiny windows also served as air pockets, allowing cool breezes to flow through the structure, giving the palace its name. The five-story red and pink sandstone palace is one of Jaipur's most
Instagrammable
landmarks. The iconic façade that you see everywhere faces the main road but is actually the building's backside. Unless you are particularly keen, do not enter the Hawa Mahal itself. The best view of the Hawa Mahal is from one of the numerous cafes across the street. Entry Fee For Indians/Foreigners: Rs 50 / Rs 200 Timings: 9 am – 5 pm (to explore the interiors) Visiting Duration: 30 minutes
4). Jaipur Bazaars
Spend the rest of the afternoon discovering Jaipur's vibrant bazaars. Everything is nearby, and you can wander in any direction and go wherever you want. If walking through the congested lanes isn't your thing, you can always hail a rickshaw and get a ride to your next stop. The shops are brimming with quirky
handicrafts
, juttis, bangles, textiles, bedsheets, utensils, spices, rugs, gemstones, miniature paintings, blue pottery, leheriya/bandhani stoles, and so much more. The bazaars are organized into sections. If you're looking for jewelry (silver, gold, and gemstone),
souvenirs
, Jaipuri quilts, and ethnic wear, Johari Bazaar is the safest bet. Bapu Bazaar is the best place to shop for textiles, juttis, and leather goods. Chandpole Bazaar is packed with miniature paintings, spices, and perfumes. Those looking for utensils and bangles should visit Tripoli Bazaar. You will need to master the art of haggling if you don't want to be fleeced. Take advantage of the opportunity to try some of the popular
street food
options in the area like samosa, kachori, lassi, and kulfi. Hop over to Laxmi Misthan Bhandar for some lip-smacking chaat and
sweets
. Timings: 11 am – 9 pm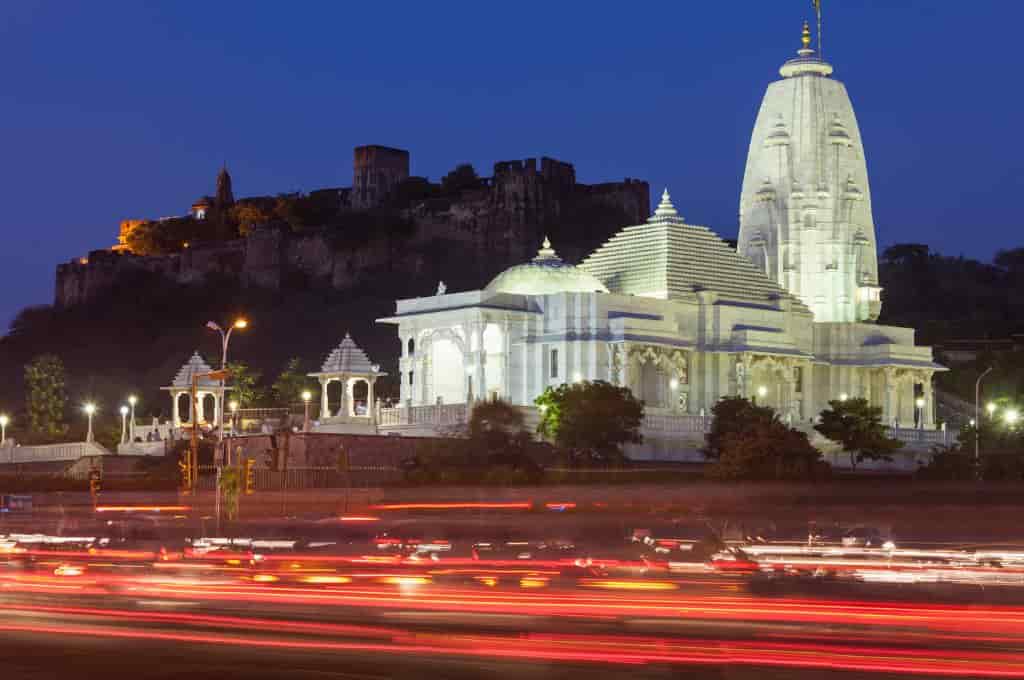 5).  Evening Activities
Watching a typical Bollywood film at the famous Raj Mandir cinema hall is a fun way to spend your evenings. The cinema hall is a favorite among tourists due to its opulent interiors. Those seeking peace and quiet can visit Birla Mandir, which is open until 9 p.m. The white marble structure is set against the Moti Dungri Hill backdrop and looks divine and elegant when illuminated in the evening. If you want to eat in style, visit Jai Mahal Palace or Ram Bagh. A dinner or stay at one of these palace-turned-hotels is perfect for experiencing the royal lifestyle.
 Jaipur Itinerary: Day 2
Today we will leave the city and explore the magnificent forts on the outskirts. What better way to experience Jaipur's grandeur and heritage than by visiting some of its legendary forts? Here is our recommendation for the second day's itinerary.
1).  Amber Fort, Jaipur
The UNESCO World Heritage Site is 11 kilometers from Jaipur. Start early because Amber Fort, also known as Amer Fort, is the most famous fort in Jaipur and is always crowded with tourists. It was founded in the 10th century by the Meena tribe, but what you see today was built by Maharaja Man Singh I, a trusted general of Mughal Emperor Akbar. The imposing fort is an architectural marvel with a perfect blend of Rajput and Mughal architecture. The construction started in the sixteenth century and took 100 years to complete. The massive compound is divided into four sections, each with its own courtyards and gates. The must-see attractions include the Ganesh Pol Entrance, Sila Devi Temple, Diwan-e-Khas, Sukh Niwas, and the Sheesh Mahal. Maota Lake can be found at the fort's base. You can either walk up to the fort (15 minutes) or take one of the cars/jeeps available near the fort's base. An elephant ride is an additional option. Climb the fort walls to reach Amer Fort Viewpoint, which offers panoramic views of the surrounding area. Hire a tour guide who can take you through
mysterious
alleys, secret rooms, and maze-like passages while entertaining you with fascinating folklore. Entry Fee For Indians/Foreigners: Rs 100 / Rs 500 Timings: 8 am – 5:30 pm Visiting Duration: 2-3 hours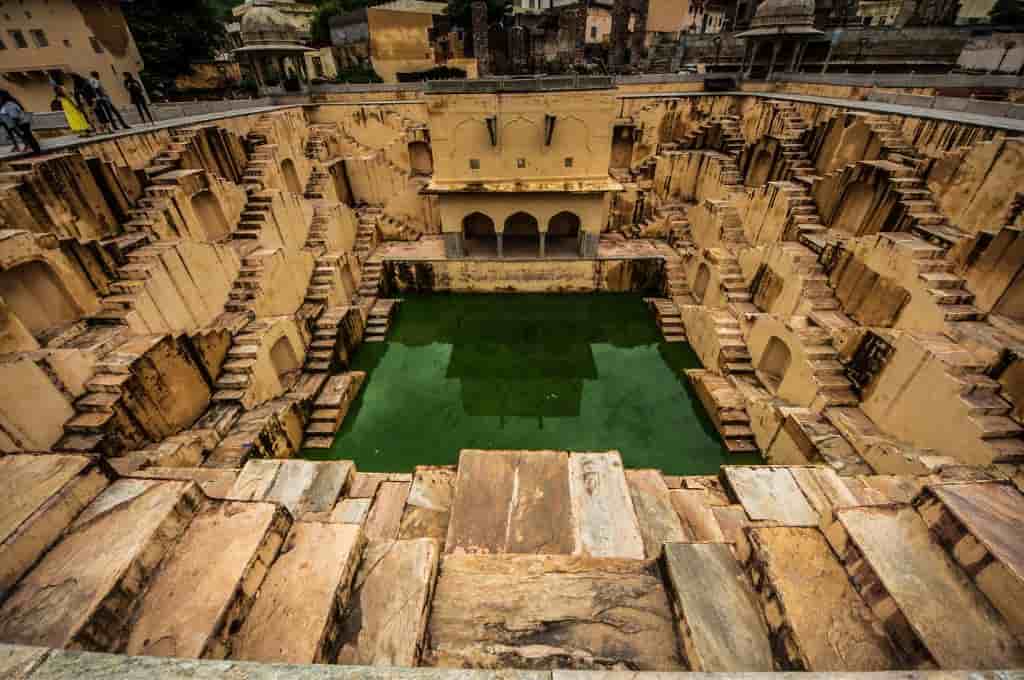 2). Panna Meena Ka Kund, Jaipur
We will make a quick stopover at the 16th-century Panna Meena Ka Kund step-wells, which are only a 15-minute walk from Amber Fort. In
Rajasthan
, step-wells are frequently used to store monsoon rains for the dry months. As the water level fluctuated throughout the year, the staircase made it possible for people to access the pool. The muted colors, recessed doorways, octagonal gazebos, and stunning symmetry of the historic stepwell make it an excellent spot for photographs. Entry is free.
3). Jaigarh Fort, Jaipur
The magnificent Jaigarh Fort (8kms away) is another fort that is included in our itinerary. In 1726, King Jai Singh erected Jaigarh Fort as a defensive structure to safeguard his people from outsiders. Jaigarh Fort provides an amazing panorama of the entire Jaipur city and the Amer Fort. The impressive fort showcases courtrooms, triple arch gateways, gardens, reservoirs, temples, an armory chamber, and a central watch tower. There is a secret tunnel between Jaigarh and Amer Fort that could be used to escape if Amer Fort were to come under attack. If you are up for a walk, you can take the tunnel from Amer Fort to Jaigarh Fort. The fort is renowned for its massive Cannon on Wheels (Jaivana Canon), which stands atop the fort. With a weight of 50 tons and a barrel length of 20.19 meters, it can fire in all directions. You can drive inside the fort to save time on your itinerary. Entry Fee For Indians/Foreigners: Rs 50 / Rs 100 Timings: 9 am – 4:30 pm Visiting Duration: 1 hour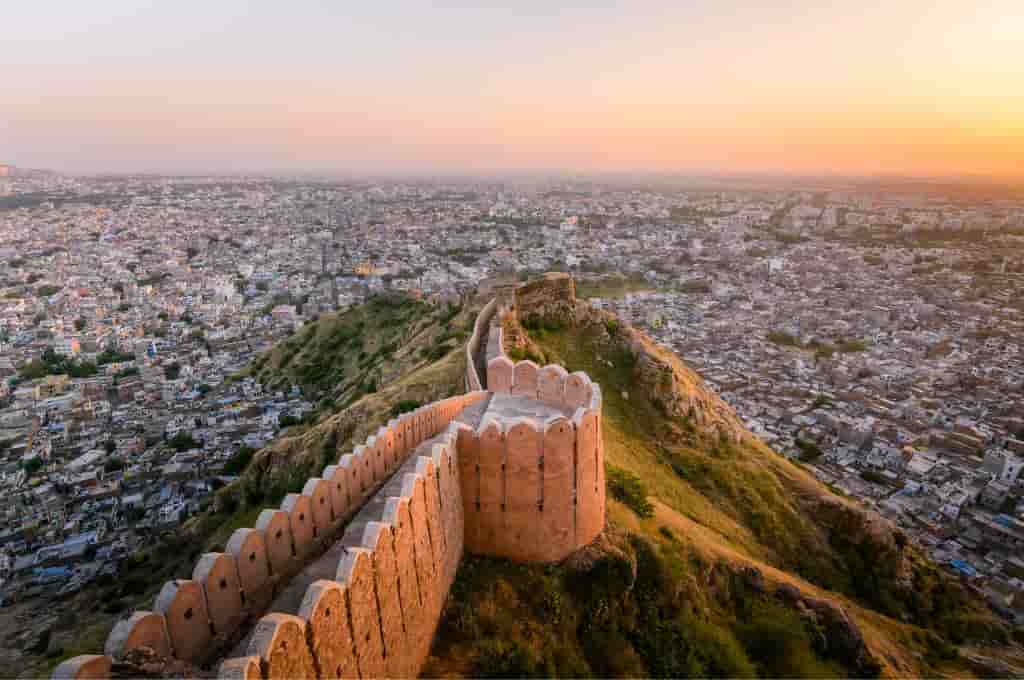 4). Nahargarh Fort, Jaipur
Near Jaigarh Fort is Nahargarh Fort (8-10 km). Strategically perched high on the Aravalli mountains, the renowned 18th-century fort was built as a form of city protection. It is one of the few Indian fortifications that has never been attacked by the military. As a result, all of the walls and buildings remain intact, with only the demands of time to battle with. The palace includes the two-story Madhavendra Bhavan, which was built by King Sawai Madho Singh. It has 12 identical suites for the king's 12 queens. However, Nahargarh Fort is not about architecture but to enjoy an unparalleled view of the lively city below. It is also well-known for being one of the best places in Jaipur to watch the sunset. If you want, you can stay until dusk. There are several food stalls and bars where you can sit and enjoy the view. Entry Fee For Indians/Foreigners: Rs 50 / Rs 200 Timings: 10 am – 5:30 pm Visiting Duration: 1 hour
PS: If visiting so many forts doesn't appeal to you, you can skip Jaigarh or Nahargarh Fort. Amer Fort is a must.
5). Jal Mahal Place, Jaipur
Stop at the picturesque Jal Mahal on the way back to Jaipur (Water Place). This palace was originally built in 1699. It was later refurbished and used as a hunting lodge by Maharaja Jai Singh in 1799. The yellowish sandstone palace appears royal and elegant as it floats on Man Sagar Lake. In fact, when the lake is full, four floors are submerged. The only floor that is still visible to visitors is the top floor. You are not allowed to enter the palace, so you'll have to settle for a photo from the promenade facing the Jal Mahal Palace. Visiting Duration: 30 minutes
6). Dinner:
Once you arrive in Jaipur, have dinner at one of the many eateries that dot the city.
Local Cuisine:
Food is an integral part of the overall experience, and no trip to Jaipur is complete unless you try some of the local delicacies.
Rajasthani cuisine
is flavorful, rich, and delicious. A few dishes you must taste in Jaipur include Dal Baati Churma, Gatte ki Sabzi, Ker Sangri ki Sabzi, Pyaaz ki Kachori, Samosa, Lassi, Lal Maas, Rabri, Ghevar, Misri Mawa, Mawa Kachori, Jalebi, and Kulfi.
Where to eat in Jaipur?
Café Palladio, Bar Palladio, Steam, Johari, Choki Dhani, Tapri, Anokhi Café, Tattoo Café, 25 Degrees East, Masal Chowk, Zolocrust, Nothing Before Coffee, Nibs Café, Surya Mahal, Coffee Roasters
Subscribe to Our Newsletter