Gir National Park - A Complete Travel Guide
Gir National Park -Travel Guide
Gir National Park & Wildlife Sanctuary, one of India's oldest and most visited wildlife sanctuaries, is the last remaining abode of Asiatic lions. The national park, also known as Sasan Gir, is about 37 miles southeast of Junagadh, a district in Gujarat. The Sasan Gir village serves as the official entrance to the sprawling Gir forest. The park has a total area of 1412 square kilometers, of which 258 square kilometers are the core of the national park and the remaining 1153 square kilometers are the wildlife sanctuary.
Indiscriminate hunting expeditions by Indian rulers and British colonists resulted in a drastic decrease in the population of Asiatic lions in the nineteenth century. At the start of the 20th century, only a dozen lions were left in the Gir forest. Junagadh's rulers, aided by Britishers, then took the initiative to protect the endangered species. In 1969, the Indian government came forward to safeguard the endangered species and declared the area a sanctuary. Subsequently, in 1980, it was recognized as a national park.
In 2005, the Gir forest's Asiatic lion population was 359. Hunting and poaching were prohibited in the area by the government. Conservation efforts paid off, and the number of lions increased significantly. In 2015, there were 523 lions in the Gir forest. The  National Park had 674 lions in 2020, according to figures released by Gujarat state. The Gir National Park is now known as the world's only protected area where Asiatic lions can be found.
How to reach Gir National Park?
By Air – There is no direct flight to Gir. The nearest airport is in Diu, which is 92 kilometers (2 hours drive) from the reserve region. Rajkot, the next closest airport, is approximately 160 kilometers (3.5 hours' drive) from Gir. Rajkot has direct flights from both Delhi and Mumbai. Diu is not well-connected.
By Rail – Regular trains run from Ahmedabad and Rajkot to Junagadh (65 kilometers from Gir) and Veraval (45 km from Gir). After arriving in Junagadh/Veraval, take a taxi or bus to Sasan Gir. Trains (meter-gauge line) run daily from Junagadh and Veraval to Sasan Gir station, but their timetables may conflict with your jungle safari schedule.
By Road – As previously stated, Gir National Park is 60 kilometers from Junagadh and 360 kilometers from Ahmedabad. From most locations in Gujarat, you can take a bus or a taxi to get to the Sasan Gir region. There are several private and government-owned vehicles that can drop you at the closest access point to the sanctuary. Use Google Maps to find the exact location of Sinh Sadan's entrance.
What is the best time to visit Gir National Park?
It can get very hot in April and May, but this is the best time for sighting the Asiatic lions. Artificial bodies of water are created throughout the forests to provide animals with easy access to drinking water. This makes it easier for visitors to spot the elusive mammals, but the heat (which can reach 45°) can be oppressive. It is best to visit Gir National Park between November and March when the weather is cool and pleasant. It gets very cold at night in late December and early January. Due to the monsoon season, the park is closed from mid-June to mid-October every year.
Wildlife in Gir National Park?
The Asiatic lion is the main draw of the Gir National Park as it's the only place in the world where they can be found. In addition to these beautiful creatures, visitors to the Sasan Gir can see 2375 different types of fauna. The most spectacular and popular species include Indian leopards (over 300), striped hyenas, crocodiles, cobras, reindeer, sambar, jackal, fox, vultures, Indian Mongoose, wild boar, porcupines, Monitor lizards, jungle cats, eagle, owl, and many more rare species. Overall, wildlife enthusiasts will have a memorable experience in the densely forested hills, plateaus, and valleys of the Gir Forest
How to plan for Jungle Safari in Gir National Park?
To visit the forest, you must book your Jungle safari well in advance. Permits are only available online and can be reserved at girlion.gujarat.gov.in. To book a safari, you must have your identification details. If you are an Indian citizen, the permit will cost you between Rs.800 and Rs.1000 for up to 6 people. For foreigners, the entry fee for a group of six is between Rs.5600 and Rs.7000. Aside from that, guide and open SUVs are available on the spot for a fee ranging from Rs.2100-Rs.2400. Once you have obtained a permit, you must arrive at the starting point half an hour before the safari for verification. They will check the ID of the member who made the online reservation and issue you the safari permits. Private vehicles are not permitted in the jungle, and each jeep can carry a maximum of six people. In short, a Gir Jungle Trail would be expensive.
The jungle has 13 routes that intersect at various points. The forest authority assigns you a route and requires you to stick to it. The earlier you go, the more likely it is that you will get a better route.
Approximate timings of Jeep Safari – The forest is open from Monday to Sunday. The duration of the safari is three hours. There may be slight variations in safari timings depending on the season.
Winter Morning:  6:30 am to 9:30 am & 9:30 am to 12:30 pm
Winter Evening:  3 pm to 6 pm
Summer Morning:  6 am to 9 am & 9 am to 12 am
Summer Evening:  4 pm to 7 pm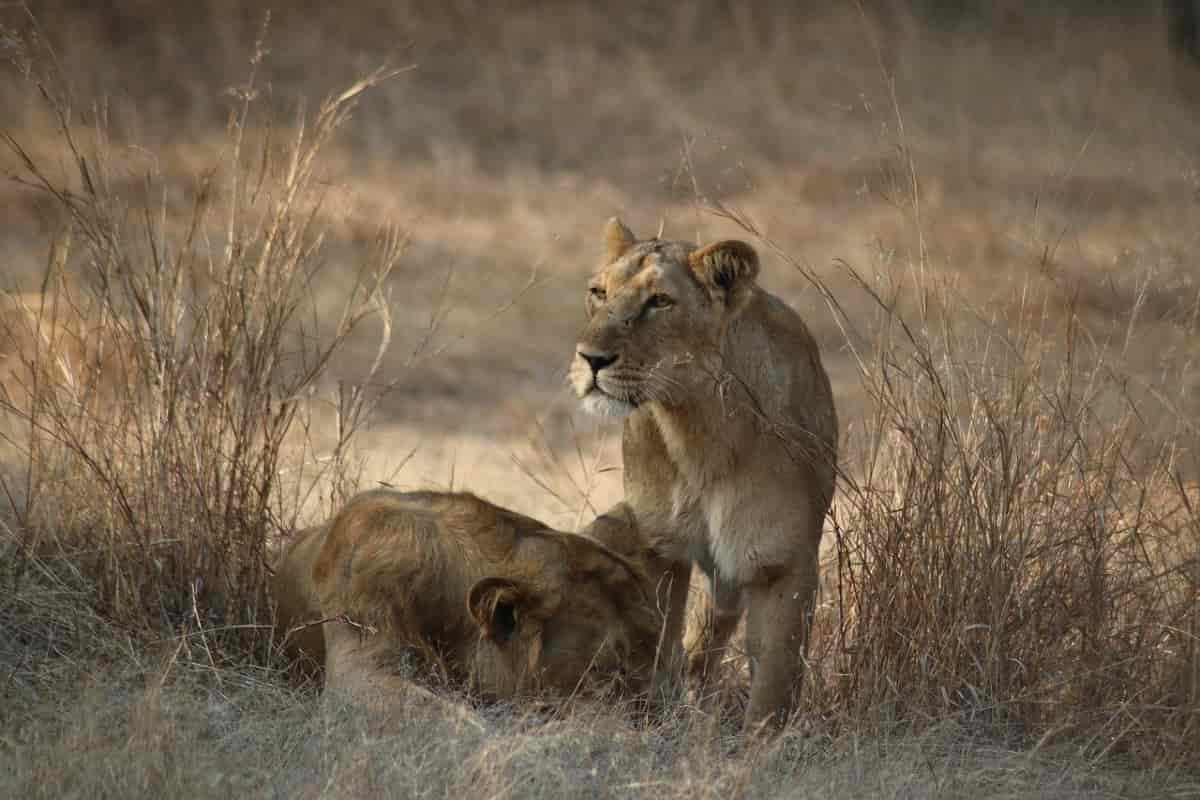 What are the chances of spotting the Asiatic lion in Gir National Park?
According to local guides, you will spot a lion 80% of the time. However, the type of sighting will vary depending on the route, time of day, and season. Early morning safaris are best because lions are most active at that time. They are usually sleeping in the bushes during the day and can only be seen from a distance. The second option should be an evening safari, and the last option should be an 8:30 a.m. safari. If you visit the park between March and May, you have a good chance of seeing the lion. The giant beasts are out looking for water, and this is your chance to spot them. During the summer, there is a good chance of glimpsing lions with cubs.
Lions are frequently tracked with the assistance of a rescue team. They would find out the lions' exact location and spread the word. You would soon see the jeeps clustering near the lion's whereabouts. Unlike African lions, Asiatic lions do not live in large groups, so you are more likely to see 1-2 lions together rather than a pride as seen in African jungles.
If you are unable to obtain a permit or see a lion during a jungle safari, you have another option. Visit Devalia Safari Park, a fenced-in area of the sanctuary where rescued animals are housed. The sightings are guaranteed, but the atmosphere is more akin to a zoo. There is no need to book ahead of time, and you are taken around on a bus.
Tourist Attractions in Sasan Gir?
In case you are staying in Sasan Gir for a couple of days and have some time between safaris, you can visit the local attractions like Kamleshwar Dam, Crocodile Breeding Farm, Tulsi Shyam Temple, and Zamzir Waterfall
Nearby Attractions?
If you have come this far and can afford to linger, it makes sense to visit nearby attractions.
Somnath – It is believed to be the first of the 12 jyotirlingas of Shiva. It is a very important pilgrimage and tourist destination in India. Bhalka Tirth, Triveni Tirth, Prabhas Patar Museum, and Somnath Mahadev Temple are worth visiting in Somnath. Somnath is around 70kms away from Sasan Gir
Girnar – Situated 60 km from Sasan Gir, Girnar is one of the most ancient and sacred pilgrimages for the Jain community. Not only did Jain Tirthankara Neminath attain Nirvana at Girnar, but Hindu Lord Dattatreya also performed penance on the top of the hill. Due to its religious significance, several Jain and Hindu temples are built on the ridges and summit of the 3660-foot-long hill. Previously, you had to climb 9,999 steps to reach the final summit, but now a ropeway has been started which drops you at Ma Ambaji temple which is located midway at 5000 steps.
Diu Island – A popular beach destination, Diu is located 95 km from Gir. The island is popular for Diu fort, Naida Caves, St. Paul's Church, Diu Museums, Panikota Fort, and multiple beaches.
Accommodation at Sasan Gir?
If you are looking for a luxury stay, you have three options. Woods at Sasan, The Gateway Hotel Gir Forest by Taj, and The Fern Gir Forest Resort. Woods at Sasan is the most expensive but has rave reviews. It is a contemporary new hotel with manicured gardens and many activities to entertain you. Taj hotel has the advantage of being located on the edge of the Gir forest and comes with the famed Taj hospitality.
Looking for budget accommodations? Check out Asiatic Lion Lodge, Gir Pride Resort, Hiran Holidays, and Carina Retreat.
Few Useful Tips for Gir National Park:
If you're going to the park in the winter, bring plenty of warm clothes. You will need gloves, caps, scarves, and jackets for the early morning safari. Wear layers that can be removed as the temperature rises during the day. Scarves and hats should be worn to protect your face and head from dust.
The driver will stop the jeep once during the safari so that you can use the restrooms. They have built portable washrooms in strategic locations for the convenience of visitors
Carry your ID proofs with you, as they are checked at the safari gate
Wear clothes in browns, greens, and other neutral shades that blend with the surrounding jungle.
You must pay Rs.200 to carry a professional camera inside the jungle. For foreign nationals, the charges are $20
Plastic bottles, plastic packets, etc. are not allowed in the park. You will get thirsty during the safari, so carry water in steel bottles.
It can get bumpy during the long drive and your mobile, sunglasses, and wallets may fall off the vehicle. So, plan accordingly.
Sunscreen, binoculars, comfortable walking shoes, extra clothing, cameras, etc. should be added to your

packing list

.
Liquor is prohibited in the state of Gujarat and smoking is banned inside the park.
Do not irritate or disturb the animals.
Hiking, camping, and picnicking are not allowed within the park.
You will find a few restaurants in the region, but all of them would be serving Gujarati or

Indian cuisine.
Any more questions? I would be happy to answer them via the comment section below.
Subscribe to Our Newsletter