How to eat Street Food in India without getting sick?
11 Tips to eat Street Food in India
If you are traveling to India and want to fully experience the country's culture and traditions, you should taste the local cuisine. Street food in India is one of the most interesting ways to sample traditional Indian delicacies – it has the original flavors, is really affordable, and has an amazing variety.  As you explore the crowded lanes, you get a chance to come in contact with the locals and imbibe the sounds and sights of the buzzing streets. It also gives you a fascinating insight into the ingredients and process of preparing the local dishes.
Sadly, most travelers to India are afraid to experiment with street food as they have heard of the famous 'Delhi Belly'- traveler's diarrhea. The fear is understandable, as no one wants to suffer from an upset stomach while holidaying in a foreign land. The state of the public washrooms in India creates more panic. However, if you really want to eat mouth-watering food, save money, and experience the traditional culture, then you must try street food in India. That doesn't mean that you should rush to every makeshift stall that you come across. Follow these tips and basic guidelines so that you can relish the scrumptious street food in India without falling sick.
Best Street Food in India:-
India is a huge country and you are bound to be impressed by the mouth-watering street food you can find here. Each region has something different to offer that is going to tantalize your taste buds. It is humanely impossible to check out the wide range of street food available, as the selection changes at every turn. To help you decide what to taste, here is a list of the most popular Indian street food: Pani Puri, Dahi Papdi, Vada Pav, Pav Bhaji, Chana Kulcha, Chole Bhature, Rajma Chawal, Thali, Dosa, Idli, Poha, Mumbai Sandwich, Momos, Bhel Puri, Sev Puri, Omelet, Jalebi, Kathi Roll, Kachori, Samosa, Misal-Paav, Sprout-chaat, Parathas, roasted corn, slushies, Paan, Lassi, milkshakes, fresh juices, etc. 
Interestingly, the name and flavors of a few of these delicious snacks change with the region. For instance, Mumbai's Pani Puri becomes Gol Gappe in Delhi, Phuchka in West Bengal, Paani ka Bataashe in Rajasthan, and Gup Chup in Odisha. The recipe is almost the same, but the taste, flavors, and spice level varies.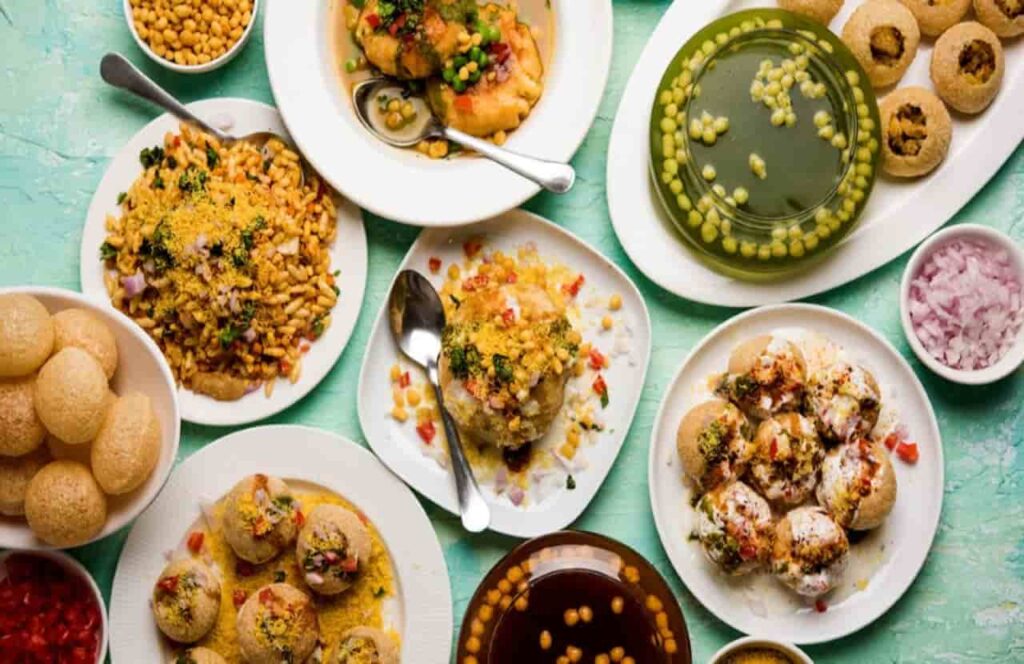 Ten Tips to follow while eating street food in India:-
Make sure that it's freshly cooked – Focus on the street food that is prepared in front of your eye. It should be fully cooked and served hot. Freshly made food is tastier and safer. Pakoras, jalebis, omelet, dosas, etc, are low-risk. Many times, the vendors will refry the snack to reheat it. The process helps in killing the bacteria, so don't get stressed. If the oil smells foul, avoid that food. The oil has gone rancid due to overuse and it could be harmful to your stomach.
Look at the length of the queues – The stalls with the longest queues are the safest bets. The vendor is having a great turnover, so the food must not be lying for long in hot and humid conditions. It also guarantees that the stall is popular and hygienic as people are unlikely to queue for contaminated or unpalatable food. If you can spot the

elderly

or kids in the queue, all the better. Safe to assume that the food can be digested by sensitive stomachs.
Eat where and when the locals eat – You can trust the local people if you want to find good street food. They visit the areas on a daily basis and would have checked most of the vendors. If the locals are staying away from a stall, there must be a reason for it. So, instead of following tourists, follow the locals. It is also a good idea to eat when the locals have their meals, as the food would be freshly cooked and hot during that period. If your mealtime does not match with the locals, you might be served leftovers.

Juice Vendor.     Pixabay.com

Avoid drinks that are cold – In

India

, it is very unsafe to drink tap water. Most tummy problems can be traced back to contaminated water. So, it's best to avoid all non-packaged cold drinks as they might be using adulterated water or ice made with tap water. Keep away from drinks like lassi, slushies, milkshakes, fresh juice, and cold coffee. Go for hot tea and coffee. They are harmless as water has been boiled at high temperatures. Ask the hot drinks to be served in paper cups or earthen kulhads. The digestive system of local people has become adapted to drinking unfiltered water, so don't blindly follow them.
Stay away from fruits and salads – As the tap water is unsafe, give cut fruits and raw vegetables a miss. They are likely to be washed with unclean water. If you want to avoid food poisoning; eat cooked vegetables and peel-able fruits. The safest fruits are ones that can be peeled like bananas, mangoes, oranges, pineapples, melons, etc. Eating grapes, strawberries, apples, Jamuns, and cherries can be a bit dangerous in a polluted country like India. In fact, salads and fruit platters should not be eaten anywhere in India, including the high-end hotels & restaurants.
Pay attention to cleanliness – This is a no-brainer. If the cutlery, plates, chopping board, knives, pans, glasses, etc. are not clean, skip eating at that stall. Dirty utensils can be a source of contamination, even if the food is freshly prepared. Always carry sanitizing wipes with you so that you can wipe the plates and cutlery of the residue water left on them during cleaning. If possible, carry your own disposable cutlery. All food items in the stall should be covered. Joints that are plagued by mosquitoes, rats, and flies should be avoided at all costs. The stall should not be located near a garbage dump or some dirty drain. And don't forget to check if the hands of the stall owners are clean as they don't use any gloves while preparing dishes. If things look unhygienic, move on to the next cart.

Jalebi.         Pixabay.com

Turn Vegetarian – if you are really bothered about food poisoning, focus on

vegetarian food

while traveling to India. The street vendors generally buy meat from butchers who keep the flesh hanging outside their shops. The water is infected, the street vendors don't have refrigeration facilities and you don't know how long has been the meat sitting there before it is finally used. It makes sense to avoid meat when looking for cheap food options. In India, a large chunk of the population is vegetarian and you can find a mind-boggling variety of vegetarian delicacies. So, keep your love for non-veg food at bay for some days and become a

vegetarian

in India.
Avoid some food items – There are a few items that are always suspect and best avoided. Chutneys are mostly uncooked and may contain tap water. Dairy products are also risky, especially in summers and monsoons – so no Dahi-Papdi, Dahi-vada, etc. Even eating potato-based products can be harmful in summer. This means you may have to give Vada-Pav, Samosas, Pao-Bhaji, etc. a miss when the temperatures are soaring. The problem is that the street vendors have no refrigerators with them. If the food items, that need to be kept cool, are left at room temperature for a considerable amount of time, they become a breeding ground for bacteria. That can be dangerous and lead to a bad case of food poisoning. If you have acidity problems, stay away from tamarind or raw-mango-based chutneys. They are cooked, but the sweet and tangy taste may give acid reflux if your stomach is sensitive.

Pao Bhaji.        commons.wikemedia.org

India's all-time favorite street food, Pani Puri, is also not recommended for travelers. The crispy, round, hollow puri is filled with a mixture of tamarind chutney, potatoes & spicy water – not a very safe combo. So, resist the temptation unless you are sure the vendor is using packaged water.
Go easy with spices – Indian food is spicy and oily, so keep that in mind. Spices can act as mild laxatives and it is not something that we are looking for. Start with steamed dishes like poha, Momos, Dhoklas, and Idlis (sans the chutney), and then slowly build up your spice tolerance. You can even ask the vendor to tone down the spice level of the dish. Accompany it with rice, bread, chapatti, and dosa to bring down the impact of the spicy curries.
Do not overeat – Indian cuisine is delicious and tempting, but you should never overeat. Your digestive system will not be able to handle this overdose of fried, spicy, and unknown food items. Overeating street food is definitely a recipe for disaster.
Stay Away in Rainy Season – One of the worst times to eat street food is during monsoons. In the rainy season, lots of flies, mosquitoes, and other insects sprout and hover over the food lying in the open. The damp weather promotes bacterial growth. This can be really dangerous. Eating street food in peak summers also comes with risks as the perishable food items get spoiled very easily when they are kept in hot temperatures. Winters are the safest time to gorge on street food in India.
Final Thoughts:–
Eating street food in India or anywhere in the world comes with risks. However, if you are vigilant and trust your instincts, you should be fine. Wash your hands before eating, keep a sanitizer handy, check the seal of the bottled water, and be on guard. If the food doesn't feel, taste, or smell good, just leave it. Carry tablets for fever, diarrhea, and vomiting with you at all times.  You may still fall ill as getting sick from food is inevitable if you travel frequently. If it happens, don't fret unnecessarily. Take a break from sightseeing, visit the doctor, take fluids, and rest in your hotel. You can have rehydration salts, toast, packaged curd, rice, and bananas. Most importantly, don't panic.
Subscribe to Our Newsletter