Goa Travel Tips - 10 Tips for First-Time Visitors
India has countless must-visit destinations, but Goa continues to be one of the favorites. The perfect beach town attracts every type of visitor – couples, solos, groups, families, party lovers, hippies, etc. and is equally popular amongst Indian and international travelers. People do not visit Goa just once. They keep coming back again and again – for bachelorettes, honeymoons, celebrations, sightseeing, partying, relaxing, boozing, weekend trips, and lots more. The popularity of the smallest state in India is not surprising. Goa has something for everyone – exquisite beaches, water activities, beach shacks, wildlife sanctuaries, architectural landmarks, late-night parties, bustling flea markets, mouth-watering cuisine, luxury hotels, and laid-back vibes. If you are planning to visit Goa, go through these tips so that you can enjoy your stay in the sunshine state to the fullest.
1)  Best time to visit Goa
Goa experiences a tropical climate and winter is literally non-existent. The best time to visit Goa is from November to February as the weather is just perfect with pleasant temperatures and less humidity. It's also the party season and the town is abuzz with music festivals like Sunburn and Supersonic. Book in advance if you don't want to make a big hole in your pocket. It is better to skip the last week of December as room rates skyrocket and the city is packed with tourists. March to May is the summer season in Goa and definitely, the worst time to visit Goa.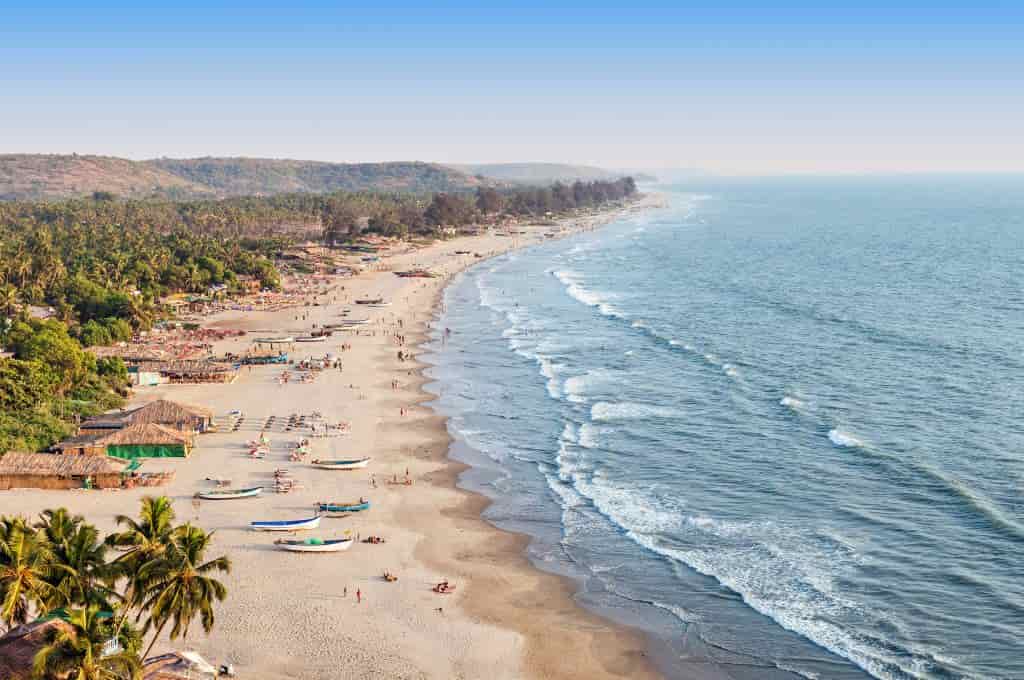 Monsoon falls between June to September and the temperatures are moderate but it can be very humid with heavy rainfall. But it is still a good time to visit the region as Goa is the greenest during this season. All the rivers, lakes, & waterfalls are full and spectacular and there can be no better time to explore the waterfalls, sanctuaries, & spice plantations. However, beaches become inaccessible and water activities & beach shacks are not operational. October gets better, as rains stop and things start opening up in prep for the coming high season.
2)  Traveling within Goa
Goa is huge and traveling from one point to another can be tricky. Uber and Ola are not available in Goa and taxis are quite expensive. GoaMiles is the government's licensed app-based taxi service. However, the interface is quite basic and it's not easy to find a cab. If you are able to book a cab on the app, it is a good option to reach your accommodation from the airport. The government has also fixed rates for auto-rickshaws. cab drivers (it's still on the high side), but many of them don't follow the pricing and ask for an exorbitant amount. If you are comfortable with the idea, you can opt for bike taxis. They are very affordable and easy to spot. The city is not very well-connected by buses.
One of the best ways to explore Goa is to rent a bike/scooter. Bikes are cheap and easy to rent and they will give you the freedom to explore as you desire. They can be rented for as low as Rs.250 per day. The other option is to rent a car, but that would be more expensive and you won't be able to access many nooks and corners of the city. If you decide to self-drive, always carry your driving license, make sure you are sober, and don't break any traffic rules. If you are a foreign traveler, you will require an International Driving License to drive in India. Don't trust Google Maps blindly.  In case money is not a constraint, you can hire a private chauffeur-driven car to take you around.
3)  Explore North Goa and South Goa
Wherever you may decide to stay, explore both the regions of Goa – North, and South. North Goa is crowded and known for its scintillating parties and crazy nightlife, while South Goa is preferred for its secluded beaches, serenity, and relaxed vibes. Both of them have their own appeal, so give yourself time to visit both districts. Beaches in North Goa like Calangute and Baga host vibrant parties almost every night and are immensely popular. This region has the Old Goa settlement and you will have a chance to visit the top tourist places of Goa. If you are looking for secluded beaches, offbeat experiences, local flavors, and some peace, you should be spending more time in the South of Goa. Beaches like Palolem, Agonda, Colva, Benaulim, and Cavelossim are a few of the best beaches in South Goa. Vasco Da Gama and Old Goa are the added attractions in the South.
4)  Things to Pack for a Goa Trip
Goa is called the 'land of sun, sea, and sand', so pack accordingly. Beachwear, hats, sunglasses, scarves, sarongs, sanitizer, flip-flops, sandals, sunscreen, mosquito repellants, beach towels, etc., are the must-haves. Stick to one-piece swimsuits if you are going to public beaches. It is never really cold in Goa, so always go for kinds of cotton, linens, and other lightweight clothing. Skip body-fitting clothing as the weather is hot and humid mostly. Pack some conservative outfits for the churches, mosques, and temples. If you wish to enjoy the amazing Goan nightlife, you will need formal outfits and shoes.
5)  Explore the different Beaches in Goa
With a coastline spanning more than 100 km, Goa has countless beaches, and you are spoilt for choice. The beaches are known for their shacks, nightlife, watersports, and hippie vibes. Besides these lively beaches, there are many unspoiled and rustic beaches that look gorgeous with their translucent clear water, golden sand, weird rock formations, and lava rocks. Don't restrict yourself to popular beaches like Calangute, Candolim, Vagator, Morjim, Colva & Baga. They are beautiful but crowded. If you want some tranquility and solitude, add beaches like Anjuna, Kakolem, Aschwem, Hollant, Cavelossim, Mobar, & Butterfly to your itinerary. Beaches in South Goa have calmer waters whereas beaches in the North have a bit more waves. 
6)  Go beyond the Beaches
Goa is India's ultimate beach destination, but there are lots more to Goa. Don't spend all your time beach-hopping. There are many off-beat places to explore. Goa has beautiful countryside peppered with spice plantations, lush paddy fields, gorgeous waterfalls, & Portuguese-style houses. Visit Old Goa with its quaint churches, wildlife sanctuaries, museums, forts, and lots more. UNESCO Heritage sites like the Basilica of Bom Jesus, St. Cathedral, and the spectacular Doodhsagar Falls are definitely worth a visit.
7)  Don't miss out on Nightlife
Goa has amazing nightlife and is known for its pubs, bars, clubs, and night-long parties. Central Goa is alive with trance parties, casinos, and nightclubs till the wee hours of the morning and you can dance the night away. However, you should be vigilant while partying, especially if you are a woman. Don't accept drinks from strangers and never leave your drinks unattended. Call for help if someone is harassing you. Possession and consumption of certain drugs and intoxicants are illegal in Goa and may lead to rigorous punishment. So, be aware and vigilant at all times.
8)  Follow the rules and protocols
Goa is very liberal compared to the rest of India, but you should respect the local culture. When visiting religious places, proper decorum should be followed. Cover your heads and shoulders while visiting temples, mosques, & churches. Public display of affection in public places is still frowned upon. Nudity is not allowed on Goan beaches and is even punishable under the law. Don't litter and leave trash on the beaches.
Some beaches in North Goa have strong waves and undercurrents, especially in monsoons. Keep a lookout for red flags, warnings, and signs as the high tide can sweep you out into the sea. Always embark on water sports under proper guidance and use the life jackets available. If safety procedures are not followed, things can quickly go out of hand. Public smoking and consumption of alcohol in public/beaches are prohibited in Goa. While tasting local liquor like Feni and Urrak, dink slowly with caution as they are potent. Do not drive any vehicle on the beaches as it is prohibited by the law.
9)  Savor the Local Cuisine
Goan cuisine is one of the best in the country. It is a mix of Portuguese, French, and South Indian cuisine. Seafood is the local specialty and must not be missed by people who relish it. Goan fish curry, vindaloo, sorpotel, and Bebinca (Goan dessert) are very popular. The Goan curries can be spicy, so request the chef to go easy on spices while ordering curries. Always drink bottled water after checking that the seal has not been broken.
10)  Money Matters
Your budget might be shoe-string, mid-range, or high-end – Goa will not disappoint. There is no dearth of beach shacks, homestays, hostels, villas, wellness retreats, boutique hotels, heritage properties, & budget hotels in Goa. W, Fort Aguada, Leela Goa, Taj Exotica, and ITC Grand are a few of the best high-end resorts in India. Try to book a place near the beach for the best experience. Don't miss out on the flea markets and night markets in Goa. The products (wooden artifacts, lamps, incense, jewelry, handicrafts, spices, etc.) are sold at very affordable prices, but be ready to use all your bargaining skills. Government Emporiums are good options if you are looking for quality and genuine products.
Be careful about pickpockets and never leave your luggage unattended. Cash is the preferred currency in local markets and street joints. Do not carry too much cash with you and don't flash valuables or large sums of money. Use ATMs to withdraw money as often as possible. Cards and digital wallets like PAYTM and Google Pay also work in most places. Beware of touts who are lurking in tourist places looking for their next target.
Follow these tips and you are in for a memorable vacation in a beach town in India. And I am sure Goa will be added to your list of favorite destinations
Subscribe to Our Newsletter