Best Places to Visit in Srinagar
30 Best Places to Visit in Srinagar
Srinagar, the summer capital of Jammu & Kashmir, is also called the "Venice of the East". A picturesque town located on the banks of the Jhelum River, Srinagar is known for its clear lakes, forested mountains, lush pastures, blooming gardens & unparalleled scenic landscapes. The countless waterways and canals are dotted with Shikharas, gondolas & houseboats. Srinagar is popular amongst domestic as well as international travelers. Traditional handicrafts, pashmina shawls, saffron, carpets, dried fruits, etc. are a few of the things that you can buy in Srinagar.
Srinagar enjoys a pleasant climate. The best time to visit Srinagar is between April and October. During these months temperatures are mild, flowers are blooming, the town is abuzz with activities, and everything is just perfect. During winters, the temperatures dip into minus and it can become really cold. However, each season has something unique to offer, making Srinagar a round-the-year destination.
How to Reach Srinagar?
Srinagar is accessible by direct flights from many cities like Delhi, Mumbai, Chandigarh, Bangalore, Kolkata, and Lucknow. There are no direct trains to Srinagar. The nearest railway station is in Jammu which is well-connected to all the major cities of India. From there you have to take a taxi or bus to reach Srinagar. The city is linked to Delhi, Jammu, Chandigarh, and Leh by bus. Other options to reach Srinagar are to hire a taxi or self-drive. 
Places to Visit in Srinagar:-
Srinagar is packed with diverse and scenic tourist attractions catering to all sorts of travelers. You have the option to book a tour or visit them on your own.  Here is a list of the must-visit places in Srinagar for your easy reference. Pick & choose the ones you like, depending on your interests and the time at hand. 
1) Dal Lake:
Covering an area of 26sq. Km, Dal Lake is rightly called the Jewel of Srinagar. Dal Lake is part of a natural wetland and includes floating gardens. The lake is encompassed by a boulevard lined with Mughal-era gardens, parks, hotels, and houseboats. Set against the eloquent backdrop of the Pir Panjal mountains, the glistening lake is home to kitschy Shikharas, floating gardens, and iconic houseboats. If you want to experience the lake's vastness and panoramic views, the Shikhara cruise is a must. During winter, the lake freezes and becomes a site for ice skating.   
2) Shalimar Bagh, Mughal Gardens:
A UNESCO-recognized world heritage, Shalimar Bagh was constructed during the Mughal era. Mughal emperor Jahangir built it for his beloved wife Noor Jahan as a token of his love. Adorned with stunning Persian architecture, stellar fountains, lush green trees, and a wide array of flowers; the Mughal gardens look elegant. The Dal Lake flows right next to the charming gardens, adding to the romance and beauty of the place. 
3) Jama Masjid:
One of Srinagar's most blessed places is the grandiose Jama Masjid. Built 600 years ago, it is one of the oldest and largest mosques in Jammu and Kashmir. The mosque is an integral part of Srinagar's history and has witnessed historical events for centuries. There can be no better place than the serene mosque if you are looking for tranquillity and spirituality.
4) Nishat Bagh:
Nishant Bagh, also known as the Garden of Joy, was established in 1633 by Asaf Khan (brother of Nur Jahan). The 12 terraced gardens are filled with rare flowering plants, manicured gardens, and numerous fountains. The long avenues are full of Cypress & Chinar trees and offer enigmatic views of Dal Lake & Zabarwan Hills. The surreal beauty of the gardens attracts tourists as well as picnickers.  
5) Hazratbal Shrine:
The mosque of Hazratbal can be found on the west shore of Dal Lake. It is a place of worship for Muslims who consider it sacred. It is believed that the relic of one of Prophet Muhammad's heirs, Moi-e-Muqqadas, is kept there. The relic is kept private and not open to the public, except for special occasions. The shrine will impress you with its perfect blend of Mughal and Kashmiri architecture.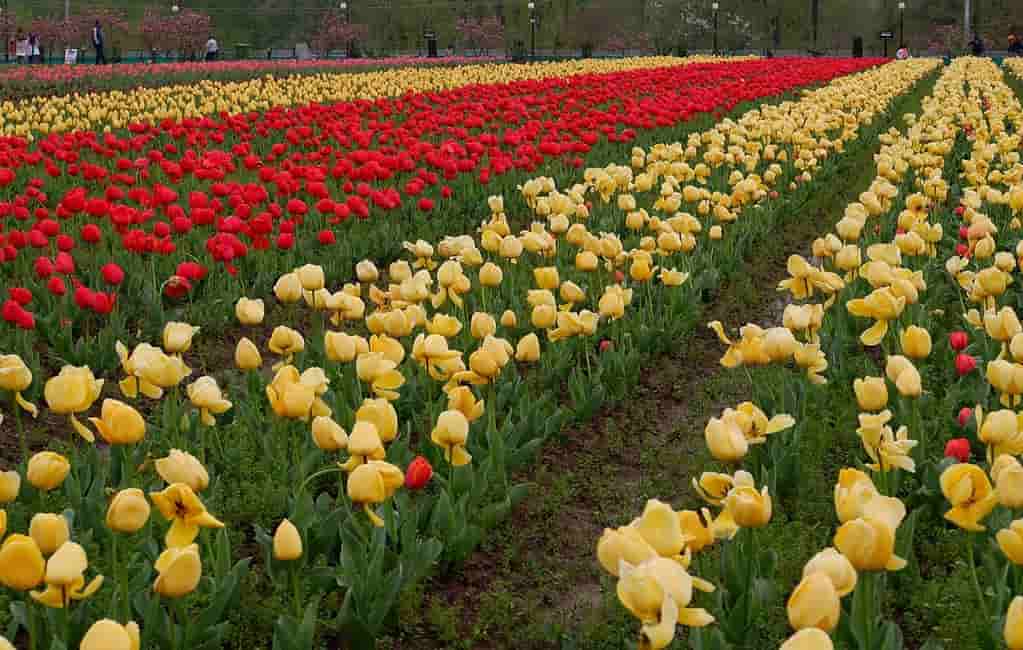 6) Indira Gandhi Memorial Tulip Garden:
Rows and rows of colorful tulips with the majestic Zabarwan Hills in the backdrop – this gorgeous sight will remain etched in your hearts forever. The Tulip garden is adorned with over 48 varieties of tulips. The flowers are in bloom for a very short time during the months of March & April. If you want to witness this spectacular spectacle plan your visit accordingly
7) Char Chinar:
If you are enjoying a Shikhara ride on Dal Lake, you must take a slight detour and stop at Char Chinar island. Located in the midst of Dal lake, Char Chinar is covered with lush green Chinar trees and looks really picturesque.
8) Shankaracharya Temple:
Shankaracharya Temple is one of the must-visit places in Srinagar. The temple is dedicated to Lord Shiva and is said to have been established by the famous Saint Shankaracharya who attained enlightenment in the temple. You have to climb 243 stairs to reach the temple that is stationed on a hill peak, but the view from above is worth all the effort.
9) Wular Lake:
Fed by River Sutlej, Wular Lake is India's largest freshwater lake. The lake is one of the 26 wetlands of India and is loved by nature lovers and photography enthusiasts. As you sail across the lake, you are left spellbound by the scenic vistas surrounding you. It is also an ideal spot for bird-watching. You can spot birds like golden oriole, alpine swift, short-toed eagle, etc around the lake. The adventure-lovers can enjoy water sports, water skiing, boating, and many other fun activities.
10) Baramulla:
Nestled between the mighty Himalayas, Baramulla is one of the best places to visit in Srinagar. The incredible views, Wular Lake, Buddhist Stupas, and mosques are a few of the reasons that make Baramulla worth a visit.
11) Yusmarg:
This quaint hill station of Jammu and Kashmir is a well-kept secret. The unexplored hill station is a paradise for nature lovers, adventure seekers, and peace lovers.  The vibrant flowers, lush valleys, and staggering mountains make the place look gorgeous. If you are spiritually inclined, visit the Charar-e Sharif and the river Doodh Ganga.
12)  Chinar Park: 
Chinar Park is a recent addition to tourist attractions in Srinagar. It houses three islands, old Chinar trees, and colorful flowers, There are musical fountains, kiosks, a theatre, and swings to keep you occupied.  Many cultural programs are organized in the evenings. You can also enjoy swimming and camping in Chinar Park. This is a great spot to picnic with your family or friends.
13) Challi Point:
If you want to enjoy a laid-back evening, visit Challi Point. Challi Point also offers impressive views of Dal Lake and the Shankaracharya Temple.  It is a storehouse of vivid Shikharas and the point from where you can book your Shikhara ride in Dal Lake. Don't miss the opportunity to taste the lip-smacking local delicacies like toasted corn-on-the-cob and Seekh Kababs from the street stalls.
14) Nehru Garden:
Located on the foothills of the Zabarwan mountain range, Nehru Gardens offers delightful views of Dal Lake. Constructed in 1969, the well-designed botanical garden is segregated into four sections – Plant Introduction center, Research Section, Recreational Garden, and Botanical Garden. Visitors can view a wide range of rare Kashmiri tropical plants, ornamental plants, and oak/willow/cedar trees. You can also enjoy a paddle-boat ride on the lake.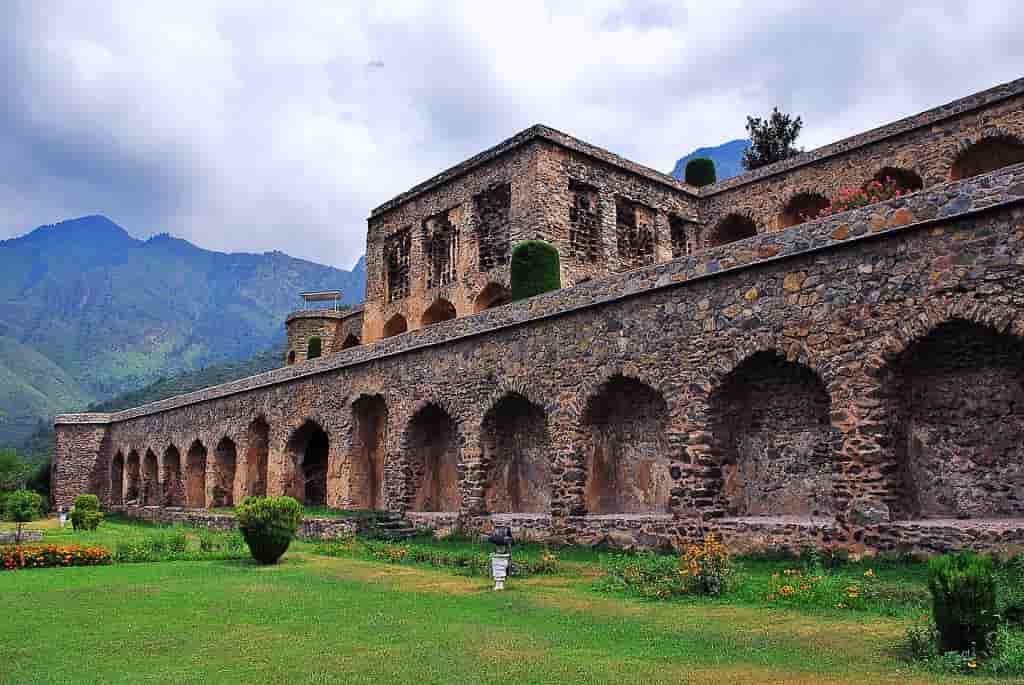 15) Pari Mahal:
Also known by the name 'Palace of Fairies', Pari Mahal is perched on the top of the Zabarwan mountain ranges. It was originally built as a Buddhist monastery. Later it was converted into a school for astrology by Dara Shikoh, the oldest son of Shah Jahan. The monument is surrounded by 7-terraced huge gardens that are peppered with exotic flowers and orchards. Pari Mahal offers spectacular views of Dal Lake, the entire city of Srinagar, and the surrounding mountains. The serenity of the surroundings is an added attraction.
16) Chashme Shahi:
One of the most elegant of the Mughal gardens, the Chashma Shahi Garden has water pools, lush greenery, and a large fountain at the entrance. This garden is famous for its natural springs which are believed to have therapeutic properties. Discovered by a female Kashmiri saint, Rupa Bhawani, the park has a fascinating blend of history, culture, and aesthetics.
17) Nigeen Lake:
The lake is approximately 6 km from Srinagar and is also known as the "Jewel in the Ring". Connected to Dal Lake through a narrow stream, the lake is nestled between a circle of tall trees. If you want to avoid the touristy Dal lake, you should visit Nigeen Lake for a romantic ride in Shikhara.  The famed floating markets of Srinagar can also be seen in Nigeen Lake.
18) Floating vegetable Market:
A unique experience that should not be missed is visiting the Floating vegetable market. A wholesale vegetable market begins early morning on the placid waters of Dal lake. Vendors throng the market in Shikhara laden with fresh fruits, vegetables, and flowers. The market lasts only a couple of hours but is a visual treat and a photographer's delight. Rumored to be the second-largest floating market in the world, a visit to the floating market in Srinagar is definitely a memorable experience.
19) Dachigam National Park:
The name Dachigam means ten villages. The original purpose of the national park was to provide drinking water for the town. However, it is now a sanctuary for the conserved wildlife of the valley. It is home to Himalayan Brown bear, Himalayan Grey Langur, Kashmiri Stag, Owlets, etc. So, if you love wildlife, take time to visit Dachigam National Park.
20) Khanqah of Shah Hamdan:
Located on the banks Jhelum river, Khanqah of Shah Hamdan is another sacred place in Srinagar. It is a remarkable example of wooden architecture that draws inspiration from Hindu, Buddhist, and Islamic styles. The interior walls of the shrine have religious sermons and ancient texts inscribed on them. If you get a chance, visit it on the 6th day of the last month (according to the Islamic Lunar calendar).  It is the death anniversary of Mir Syed Ali Hamdani and the place is abuzz with religious fervor.
21) Anantnag:
If you love nature, add Anantnag to your list. It is situated near the confluence of three rivers – Sandran, Brengi, and Arapath. The three sub-streams combine to form the mighty Jhelum. It is a rejuvenating and relaxing spot and should not be missed. Anantnag is also known as the trading center of Jammu and Kashmir.
22) Charar-e-Sharif:
This Muslim shrine is dedicated to Hazrat Sheikh Noor-ud-din Wali and was built around 600 years ago. He is known for being the first person to propagate non-violence, vegetarianism, communal harmony, and tolerance in the valley. His remains were buried at this shrine and now it is a revered spot for people of all faiths who visit the holy shrine to seek his blessings.
23) Sri Pratap Singh Museum:
Constructed in 1898 by Maharaja Pratap Singh, the museum has a rich collection of archaeological artifacts and Kashmiri handicrafts collected from all parts of Jammu and Kashmir. It is home to royal edicts, manuscripts, paintings, textiles, decorative art, etc. If you are a history buff, you must visit Pratap Singh Museum to get a glimpse into the history, culture,  and heritage of the Kashmir Valley.
24) Kheer Bhawani Temple:
This temple is dedicated to Goddess Bhawani and is a sacred temple for the Kashmiri Pandits.  It is located in Tul Mulla, a village near Srinagar. Rice pudding (kheer) is offered to the deity by the worshippers, hence the name Kheer Bhawani. The temple is surrounded by Chinar trees and built over a water spring. Carved with beautiful grey stones, Kheer Bhawani Temple is one of the most sacred Hindu shrines in the valley of Kashmir.
25) Badam Wari Garden:
It's located on the foothills of Hari Prabat and is endowed with flowers, shrubs, and bushes. The Badam Wari garden looks captivating in spring when it witnesses almond bloom. The beautiful white flowers and the fragrant air is really refreshing and tourist flock there to enjoy the aromatic gardens.
26) Apple Orchards:
During the summer months, you will be able to see Apple orchards laden with apples. The orchards not only look beautiful but also smell divine. Nothing can beat the flavors and taste of freshly plucked apples. A visit to the apple orchards is an amazing experience.
27) Chatti Padshahi Gurudwara:
This is the most sacred pilgrimage for Sikhs in Kashmir. The historical Gurudwara is located near Hari Parbat Fort and is named after the sixth Sikh Guru, Guru Hargobind Singh. It is said to have been visited by Guru Nanak Dev and Guru Hargobind when they traveled through Kashmir. The Gurudwara also provides accommodation and langar food to worshippers as well as visitors.
28) Burzahom Ruins:
A must-visit for history buffs, Burzahom Ruins is a UNESCO World Heritage Site. This popular archaeological site gives glimpses of four major periods in history – Neolithic I, Neolithic II, Megalithic, and post-megalithic era. At the site, you can find actual remnants of an ancient human settlement in the valley like pottery, carvings, artworks, tools, and skeleton remains.
29) Makhdoom Sahib Shrine:
A sacred place of Islam dedicated to the spiritual leader Sheikh Hamza Makhdoom. It is a 2-story mosque that stands on intricately carved pillars and is a perfect amalgamation of Mughal and Islamic architecture. However, only men are allowed to visit the holy shrine.
30) Kathi Darwaza:
This is the main entrance to Hari Parbat Fort built by the Muslim rulers. It has a central dome chamber along with two recesses on either side. Intricate inscriptions in the Persian and Mughal languages have been etched on the walls and ceilings of this gate.
Srinagar is the perfect place to enjoy a vacation for every type of traveler – from honeymooners & solo travelers to families & adventure-seekers. Enjoy the phenomenal landscapes, go on long hikes, take part in adventure activities, gorge on the delicious local cuisine, visit the countless parks & lakes, or embark on a spiritual journey – there is no dearth of things to see and do in Srinagar. You will definitely fall in love with the city and will always look for opportunities to revisit Srinagar.
Subscribe to Our Newsletter