5 Ways to Satisfy the Travel Bug at Home
5 Ways to Satisfy the Travel Bug at Home
All our plans have been put on hold and most of us are stuck at home. I am sure everyone is now tired of watching non-stop movies on Netflix and browsing randomly on the net. The travel industry is in pause mode and we all are grounded. It can be quite depressing when your travel plans are washed away by the menace called Coronavirus. But can't we try and recreate that magic and bring that sense of adventure sitting at home? As Jesse Ashlock said 'It's important to remember that travel is a state of mind and you don't necessarily have to go far away to feel "far away".
Time to accept the fact that we are by the travel bug but are quarantined at home. Why not bring the thrill of travel back into our humdrum life so that we remain entertained and inspired?    
Organize your pictures  – I am sure you have hundreds of pictures that are just waiting to organize. Why not use this time to sort them out and make a scrapbook? If you are of the old school, try making a physical scrapbook or album of your printed photos in the traditional way. I am sure it would be a lot of fun. Since all the pictures would be in digital form, the easier option would be to use online tools like Smilebox, Mpix, and Shutterfly to create digital scrapbooks, slideshows, calendars, and more. It all depends on your creativity and inclination. Reliving those beautiful memories is sure to lift up your mood.
Plan your next trip – I know you cannot select specific dates for your travel, but you can still plan your next vacation or maybe a once-in-a-lifetime trip. A trip cannot become a reality unless it is planned. One of the fun of traveling is planning your vacation so why not start now when you have so much time in hand? Do in-depth research about hotels, flights, local transportation, budget,  attractions, experiences, restaurants, weather, history, and everything you can think of. Plan an itinerary and build a Pinterest board to give shape to your coming holiday. It is inevitable that we all will be traveling soon, so why not be prepared when it is time to pack your bags again? Planning in advance is the best way to get cheap deals.  Even if the trip never happens, it will keep you engaged, expand your knowledge, and maybe prove useful to someone else. So start planning.
Learn a new skill – It is a perfect time to hone your photographic skills which will help you in clicking those Insta-worthy clicks on your next trip. Excited? I knew this would definitely get you going. There are many online courses available that teach you to click amazing pictures with even your phone. And what about a foreign language? Languages like Spanish, Chinese, French, and German can be learned online and are really handy when you go on vacations to those exotic locations. Golden opportunity to learn a language, preferably one that is spoken in the region where you plan to travel.  Duolingo, Babbel, Memrise, HelloTalk, Busuu, and Lingua.ly are some of the Apps which you should check if you are interested to learn a new language. Even if you learn a few basic words, it would be nice to converse with the locals.
Travel virtually –  Nothing can replace the sense of excitement and discovery which we experience when we travel, but these are difficult times. We have to look for alternatives and one of them is to travel virtually. There are lots of VR travel apps that help you access some of the most awesome sights from the comfort of your couch. You can visit exotic beaches, tour iconic national parks, explore top-notch museums, and admire the famed attractions- in short travel the globe virtually through your computer screen. Google Earth VR, VeeR VR, and YouVisit are some of the Apps which can be downloaded for a surreal travel experience to overcome your travel bug.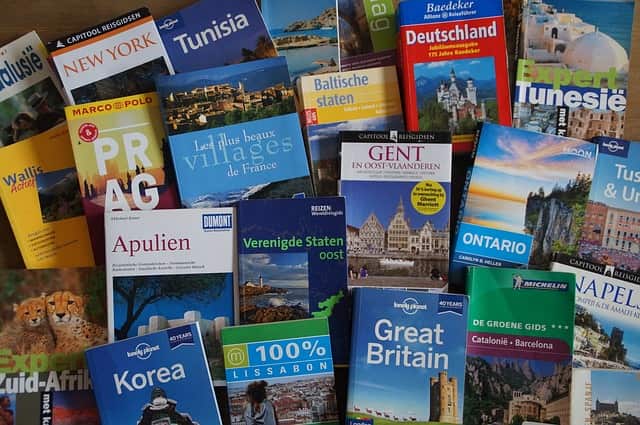 Get Inspired –  Check out the incredible travel blogs, travel vlogs, youtube channels, and Pinterest boards to get inspired and informed about the amazing locations of the World (It is self-promotion, but you can start with my blog). This is the best way to get a firsthand experience of a destination with all the dos and don'ts. You may get some ideas to update your bucket list. If you want to have a break from the screen, opt to read some real books. Nothing can beat the charm of holding a book in your hand and immersing yourself in its pages. It will be a refreshing change to discover spectacular locations through written words and not images. Some of the good travel books which you can read as a great way to travel at home are – 
On The Road – JackKerouac

The Alchemist – Paulo Coelho

World Walk – Steven Newman

The Cat who went to Paris – Peter Gethers

Turn right at Machu Picchu – Mark Adams

World Travel: An Irreverent Guide – Anthony Bourdain

Journeys of a Lifetime: 500 of the World's greatest trips – National Geographic
So keep your spirits and travel bug alive. This too will pass. This World is not going anywhere. Try to satisfy your travel urge from the comforts of your home by trying the tips above. Keep safe and I am sure we will all be following our dreams and traveling soon. Have any more ideas? You can comment below
Subscribe to our newsletter