Rajasthan Itinerary - 7 Days / 10 Days
Rajasthan Itinerary - 7 Days / 10 Days
A trip to India would be incomplete unless you visit Rajasthan. This northwestern Indian state is a popular destination for tourists and for good reason. The colorful cities, glorious history, grand palaces/forts, intricately carved temples, and golden dunes are sure to entice almost any type of traveler. Not to mention the vibrant culture, welcoming locals, traditional bazaars, exotic wildlife, and mouthwatering cuisine.
Rajasthan is India's largest state, covering approximately 3.5 lakh square kilometers. Planning an itinerary for Rajasthan can be challenging. Traveling throughout the vast state takes time because internal flights are limited and 'popular' cities are far apart. Unless you visit Rajasthan for a month, you cannot visit all the attractions. Most of us, however, have limited time and can only spare a few days for a vacation. This 7-day and 10-day itinerary will take you to the must-see attractions in Rajasthan.
All the big tourist cities in Rajasthan like Jaipur, Jodhpur, and Udaipur are linked to Delhi and Mumbai by flight. So you can choose any of them as your starting point. I would recommend Jaipur because the capital city is well connected to all major cities in India. There are convenient options available to reach Jaipur whatever may be your means of transportation. Flights to Jodhpur and Udaipur are extremely limited and frequently canceled or rescheduled. Recently, flights to Jaisalmer have started, but they are only offered during the busiest winter months.
PS: The sites marked with a '*' are must-sees.
Jaipur is an integral part of the popular Golden Triangle route, so getting there is never an issue. The chaotic and cosmopolitan city of Jaipur may not impress you at first glimpse. However, you will quickly fall for the "Pink City's" charms. The majestic forts, the impressive City Palace, the captivating Jal Mahal, and the blush-hued streets of Johari Bazaar make this city a sought-after destination.
Handicrafts, gemstone jewelry, bangles, bedspreads, jutis (traditional shoes), and the colorful Bandini and Leheriya scarves (Rajasthani style tie-dye) can be found in the crowded bylanes of Johari Bazaar, Bapu Bazaar, Nehru Bazaar, and Chameli Bazaar. If you don't want to be ripped off, you'll need to use all of your negotiating skills. Don't forget to savor the local delicacies – Ghewar, Phinni, Daal Baati Chuma, Mawa Kachori, and Pyaaz Kachori.
Places to visit in Jaipur:
Amber Fort* – The chivalrous Rajput rulers lived in the spectacular 16th-century fort built on a hilltop. The sprawling complex has been designated a UNESCO World Heritage site. Enjoy a guided tour of the fort and take an elephant ride up to the entrance.
Nahargarh Fort – The fort was built in 1734 as a royal Rajput family retreat. Enjoy panoramic views of Jaipur during sunset.
Jai Mahal Palace – A water palace built in the middle of a lake
City Palace* – The magnificent palace, which still houses the royal family, is a perfect blend of Mughal and Rajasthani architecture.
Hawa Mahal façade* – Visit the iconic Hawa Mahal (Palace of Winds) and explore its intricate architecture. You can skip going inside
Jantar Mantar – An astronomical observatory built in the 18th century. It features the world's largest sundial
Jodhpur is nicknamed 'The Blue City' a section of the city is painted in all possible shades of vivid blue – a perfect destination if you are looking for some striking pictures. The Mehrangarh Fort, perched on a hill and offering panoramic views of Jodhpur, is the city's main attraction. The stunning Umaid Bhawan Palace is worth a visit, though only a small portion of it is open to tourists. The remainder has been transformed into a luxury heritage hotel. If you're flush with cash, you can spend the night at the royal retreat.
You should take the Blue City Heritage Walk*, which takes you deep into the historical old city. The narrow, chaotic lanes are the best place to taste the local flavors of Jalebi, Mirchi Bada, Samosa, Kachori, and Makhaniya Lassi. Still not done with shopping? All of the traditional items can be found in Jodhpur as well, possibly at a lower price.
Places to Visit in Jodhpur:
Mehrangarh Fort* – The grandeur and size of the fort, which is home to many beautiful palaces and courtyards, serve as a reminder of past royal splendor. Many rare artifacts are on display at the museum. Take in the stunning views of Jodhpur from the fort's ramparts.
Umaid Bhavan Palace – This magnificent palace is one of the world's largest royal residences.
Jaswant Thada – A beautiful marble cenotaph built in memory of Maharaja Jaswant Singh II. The elegantly crafted white marble mausoleum displays beautiful Jaali work and opulent domes.
Toorji Ka Jhalra Stepwell* – The recently restored architectural marvel depicts the age-old traditional water management system.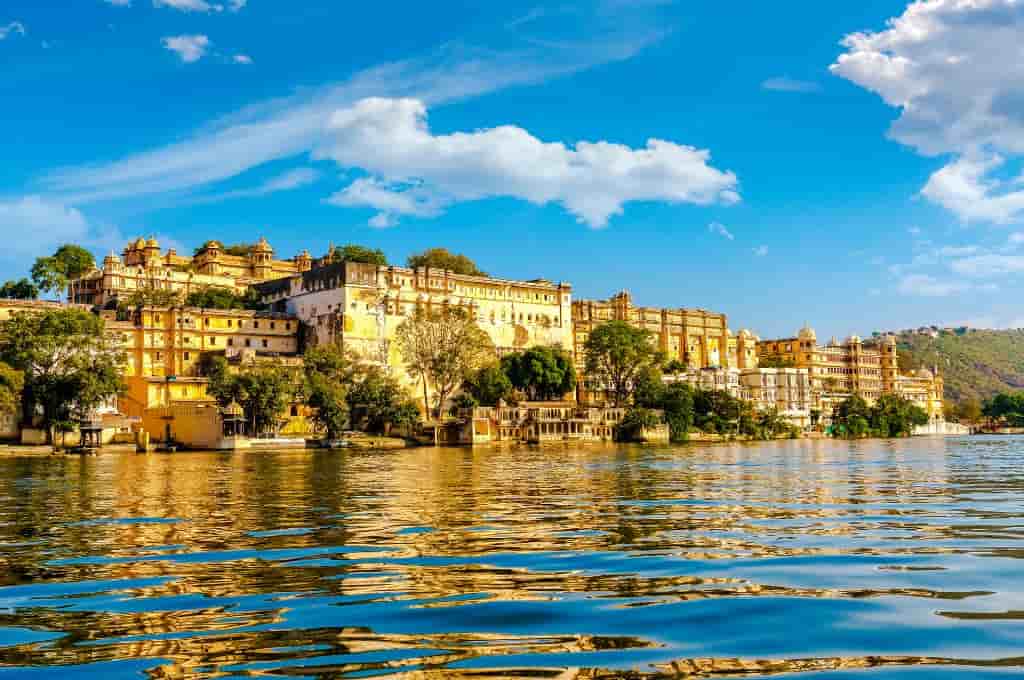 Udaipur, nestled between the majestic Aravalis, is unquestionably the most beautiful city in Rajasthan. The stunning Lake Palace, built in the middle of sparkling Lake Pichola, and the fascinating City Palace are the jewels of Udaipur. Grand palaces, ruins, gardens, sacred ghats, forts, Havelis, and lakes can be found just about anywhere.   In addition to the famed Lake Palace, Udaipur is home to some of the world's most luxurious hotels, including the Oberoi Udaivilas, Raffles, and the Leela Palace.
The romantic city has been dubbed "The City of Lakes" and "Venice of the East" as it is surrounded by many picturesque artificial lakes such as Fateh Sagar Lake, Jaisamand Lake, and Rajsamand Lake. During the rainy season, Udaipur is simply breathtaking, with lush green mountains, brimming lakes, and gushing waterfalls sprouting all over the countryside. Explore the picturesque waterfront pathways and eat hot fire-roasted corn cobs from roadside stalls. Udaipur is known for its handicrafts, heritage jewelry, and Rajasthani sculptures and paintings. The city is one of the safest places in India for women to travel alone.
Places to visit in Udaipur:
City Palace* – A sprawling complex of 11 palaces, courtyards, art galleries, and sprawling gardens constructed by various Warrior Kings. Check out the Crystal Gallery and the Vintage Car Museum within the palace complex. From the top, you can get some spectacular views of the city and Lake Pichola.
Lake Pichola* –  Take a boat ride to observe the golden sunset. The lake is surrounded by mountains, palaces, and ghats, offering breathtaking views, especially in the evenings when the city lights up. During the boat ride, you will pass by the legendary Lake Palace. (If you are in the mood to splurge, stay at the Lake Palace Hotel).
Jag Mandir- Another palace built on an island in Lake Pichola. The royal family used it as a summer retreat.
Saheliyon Ki Bari – The royal gardens, which are located on the shores of Fateh Sagar Lake, were created by Maharana Sangram Singh for his queen. The beautiful garden is adorned with fountains, kiosks, marble elephants, and a delightful lotus pool.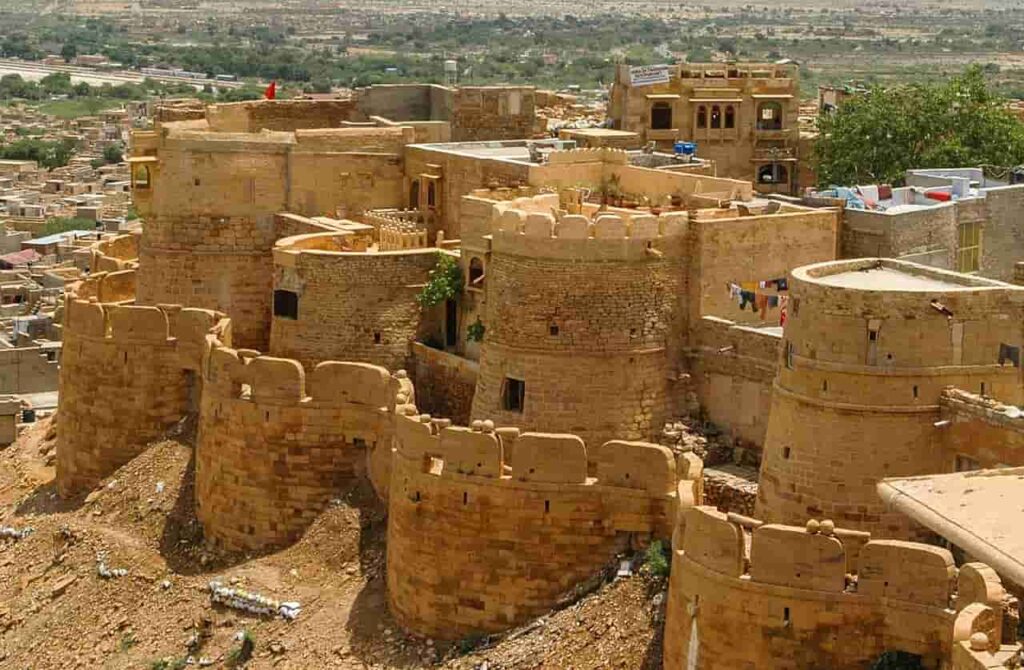 Jaisalmer is located in the far west of Rajasthan and is difficult to reach, but it is well worth the effort. The Sonar Fort, which still houses 4000 people in golden sandstone Havelis, is the highlight of "The Golden City." The town is situated at the edge of the yellow sand dunes of the Thar desert. You can't come this far and not take a camel/jeep ride across the vast desert to admire the spectacular sand dunes. Spending the night in a tent on the golden dunes is highly recommended. Jaisalmer is well-known for its brightly colored mirror-work-embroidered fabrics and camel leather products.
Places to visit in Jaisalmer:
Sonar/Jaisalmer Fort* – The 'living fort' is buzzing with shops, cafes, and Havelis. There are many beautiful Jain temples within the complex.
Gadisar Lake reservoir – Artificial reservoir surrounded by temples
Bada Bagh* – The big garden housing the Royal Cenotaphs.
Explore Havelis – Patwaon ki Haveli, Salim Singh ki Haveli, and Nathmal Ki Haveli
The small town of Pushkar is built around the sacred Brahma Lake. Pushkar is home to the world's only Brahma temple, making it a popular pilgrimage destination for Hindus. Countless temples and Ghats can be found throughout Pushkar, where devotees engage in a variety of religious rituals. The town is also famous for its annual Camel Fair, which takes place in November.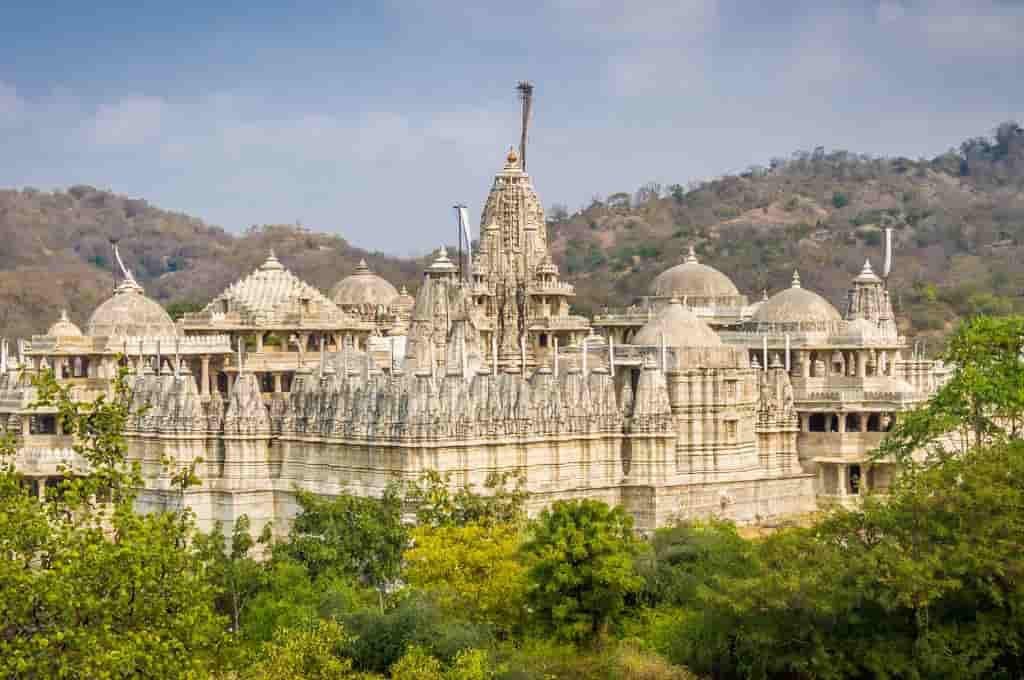 The magnificent Ranakpur Jain temple is dedicated to Tirthankara Rishabhanatha, the very first Jain God. The Ranakpur temple, built in the 15th century, is an architectural marvel supported by over 1400 pillars. Each pillar is intricately carved and is said to be one-of-a-kind. The detailed carvings of mythological figures and animals on the pillars and domes will leave you spellbound. Ranakpur Jain Temple is one of India's five most sacred pilgrimage sites for Jain devotees.
Things to know before you travel to Rajasthan
Rajasthan is best visited between October and March. The weather is pleasant and temperatures are cooler compared to other times of the year. Daytime temperatures range from 20°C to 30°C (68°F to 86°F), while nights can get chilly, especially in the desert regions. So don't forget to

pack

your woolen clothes.

December

and January are peak months, so hotel and flight prices will be on the higher side.
Summertime in Rajasthan is sweltering, with many locations experiencing temperatures above 40°C (104°F). The soaring temperature can make outdoor activities uncomfortable. During the monsoon season, Rajasthan receives occasional rainfall, providing relief from the summer heat. The landscape becomes lush and green, and the temperature begins to fall slightly. However, heavy rain and roadblocks may occur in some areas, causing travel plans to be hampered. If you don't mind occasional showers and want to experience the state's natural beauty, you can consider visiting during the monsoon.
Rajasthan is a conservative state, so dress accordingly, especially when visiting temples. Wear loose cotton/linen during the day because the weather is usually warm. Scarves can be useful for covering your shoulders and knees. Women in Rajasthan generally do not go out alone at night, so solo travelers should take all necessary precautions.
Locals in small towns and villages are unable to communicate in English. They are, however, accustomed to hearing people speak English due to the large influx of tourists. If you speak slowly, they are willing to help you.
Tourists are easy targets, so be cautious when shopping, taking local transportation, visiting temples, and purchasing tickets.
Public restrooms leave a lot to be desired, and toilet paper is rarely available. Look for good restaurants and hotels, as their restrooms will be much cleaner and better equipped.
Once you are in Rajasthan, internal flights won't save any time. The most convenient way to travel between cities is to hire a private taxi for the duration of your stay. Taxis in India are not very expensive if booked through the proper channels. The roads are quite good, and having a car for the duration of your stay can be quite convenient. If you're on a tight budget, intercity trains and buses are always an option. They are very comfortable, efficient, and reasonably priced.
Local transportation options range from tempos/buses and tuk-tuks to auto-rickshaws and cabs. Autos rickshaw and cabs do not have set prices and may not start the meter. To get around the city, use Uber/Ola or book a local tour. Buses and tempos are very basic and overcrowded, so avoid them unless you're on a shoestring budget.
Never, ever drink tap water. It is best to use bottled water from a reputable company. Be careful while eating street food. Make a note of other things you should not do in India.
All of the cities have plenty of lodging options, and you can always find something within your price range. Check the reviews before making your reservations because hygiene and cleanliness may not meet Western standards. If you want to live like a royal and have unlimited funds, you're in for a treat. Rambagh Palace & Raj Vilas in Jaipur, Umaid Bhavan in Jodhpur, Suryagarh in Jaisalmer, and  Lake Palace/Udaivilas/Raffles in Udaipur are a few of the most luxurious hotels in the world. Check out some more

India Travel Tips 

Pushkar.           Flickr.com
Suggested 7-Day Rajasthan itinerary
Day 1-2: Arrive in Jaipur to begin your 7-day Rajasthan itinerary. You'll be in Pink City for two days, exploring historical sites, local bazaars, and delectable local cuisine.
Day 3:  In the morning, depart for Jodhpur via Pushkar. The drive to Pushkar will take approximately two hours. Spend 2-3 hours in Pushkar before leaving for Jodhpur. You can also take a train from Jaipur in the morning. If you travel by train, you will have to skip Pushkar.
Jaipur-Jodhpur: Distance-380 km / Driving Time-: Around 6 hrs  / Train Time:- 5 hrs
Day 4:    Spend the day sightseeing in Jodhpur. Explore the historic city by starting early and taking the Blue City Heritage Walk.

Day 5:    Udaipur is the final stop on our 7-day Rajasthan itinerary. We'll stop halfway at the magnificent Ranakpur temple. You'll arrive at the temple in three hours. After a few hours in the sacred town, depart for Udaipur. Have a relaxing evening. If you want to see another fort, you can stop at Kumbhalgarh Fort on your way from Jodhpur to Udaipur.
Jodhpur-Udaipur: Distance-250 km / Driving Time-Around 4.5 hrs / No direct train
Day 6-7:  You need at least two days to explore the beautiful city of Udaipur. You have the option of departing by train on the seventh night or flying to your next destination on the eighth morning.
If you can spare three more days, use the opportunity to explore Jaisalmer. Check the 10-Day Rajasthan itinerary below.
Suggested 10-Day Rajasthan itinerary
Day 1-4: The first four days of this 10-day itinerary will be spent following the same route as mentioned above: Jaipur-Pushkar-Jodhpur
Day 5:    As you have a long drive ahead, leave Jodhpur for Jaisalmer early in the morning. The remainder of the day will be spent exploring the Golden City.
Jodhpur-Jaisalmer: Distance-285 km / Driving Time-Around 4.5 hrs / Train Time:- 5-6 hrs

Day 6:  Another sightseeing day in Jaisalmer. You can spend the night under the stars on the golden sand dunes of the Thar desert.

Day 7:  Have a leisurely morning and depart for Jodhpur when you are ready. Udaipur, via Jodhpur, is the next stop on our 10-day Rajasthan itinerary. We cannot travel directly from Jaisalmer to Udaipur, so we must return to Jodhpur and spend the night there.

Day 8-10:  On the eighth morning, drive to Udaipur, stopping en route at the Ranakpur temple. Spend a couple of days in Udaipur before boarding a flight/train to your next destination.
You can take a different route if you can find a convenient flight/train from Jaisalmer to your next destination. Jaipur-Udaipur-Jodhpur-Jaisalmer-Go back home. It will save you an additional trip from Jaisalmer to Jodhpur.
The 10-day itinerary can easily be extended to 14 or 21 days because we left out so many locations. Mount Abu, Chittorgarh, Bikaner, and Ranthambore National Park are just a few of the places in Rajasthan that should not be missed.
Subscribe to our Newsletter